From our private database of 30,900+ case briefs...
Cay v. State of Louisiana, Dep't of Transportation and Development
Louisiana Supreme Court
631 So. 2d 393 (1994)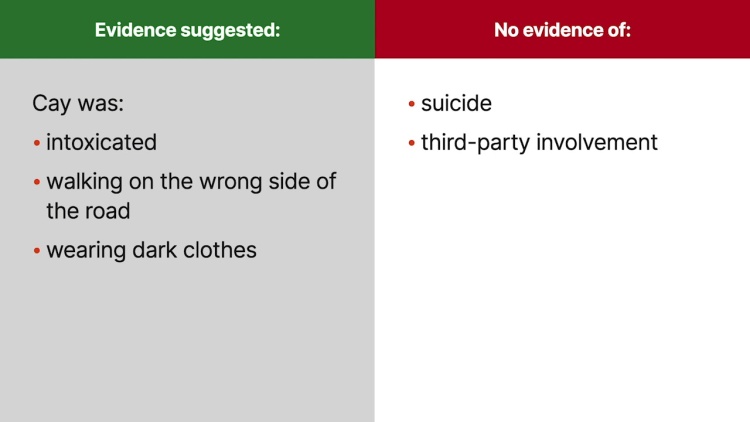 Facts
Keith Cay, a 27-year-old offshore worker, left a bar late one evening intoxicated, walked across a bridge traversing a waterway on his way home, moved sharply toward the railing, and fell over the side. Keith's body was discovered five days later. There were no witnesses to the event, and investigating officials could not say with certainty what caused Keith to fall. Keith's parents, James and Annie Cay (plaintiffs), filed a wrongful death action against the State of Louisiana's Department of Transportation and Development (DOTD) (defendant), the state agency responsible for construction and maintenance of the bridge. The Cays alleged that the guardrails on either side of the bridge were 32 inches high, which was four inches lower than required by the American Association of State Highway and Transportation Officials (AASHTO) for bridges allowing pedestrian crossovers. At trial, evidence was presented that Keith had been wearing dark clothes, was intoxicated, and had been walking on the wrong side of the road for pedestrian traffic on the night he died. There was also evidence that DOTD knew pedestrians used the bridge to cross from one side to the other and failed to correct the height of the guardrails. The trial court held for the Cays. In its ruling, the trial court concluded that while Keith had contributed to the accident by being intoxicated, the DOTD had breached a duty to pedestrians by failing to correct the height of the guardrails. DOTD appealed. The court of appeals affirmed and held that the inadequate railings were a cause in fact of Keith's death. The Louisiana Supreme Court granted certiorari to review.
Rule of Law
Issue
Holding and Reasoning

(Lemmon, J.)
What to do next…
Unlock this case brief with a free (no-commitment) trial membership of Quimbee.

You'll be in good company: Quimbee is one of the most widely used and trusted sites for law students, serving more than 553,000 law students since 2011. Some law schools—such as Yale, Berkeley, and Northwestern—even subscribe directly to Quimbee for all their law students.

Unlock this case brief

Read our student testimonials

Learn more about Quimbee's unique (and proven) approach to achieving great grades at law school.

Quimbee is a company hell-bent on one thing: helping you get an "A" in every course you take in law school, so you can graduate at the top of your class and get a high-paying law job. We're not just a study aid for law students; we're the study aid for law students.

Learn about our approach

Read more about Quimbee
Here's why 553,000 law students have relied on our case briefs:
Written by law professors and practitioners, not other law students. 30,900 briefs, keyed to 984 casebooks. Top-notch customer support.
The right amount of information, includes the facts, issues, rule of law, holding and reasoning, and any concurrences and dissents.
Access in your classes, works on your mobile and tablet. Massive library of related video lessons and high quality multiple-choice questions.
Easy to use, uniform format for every case brief. Written in plain English, not in legalese. Our briefs summarize and simplify; they don't just repeat the court's language.