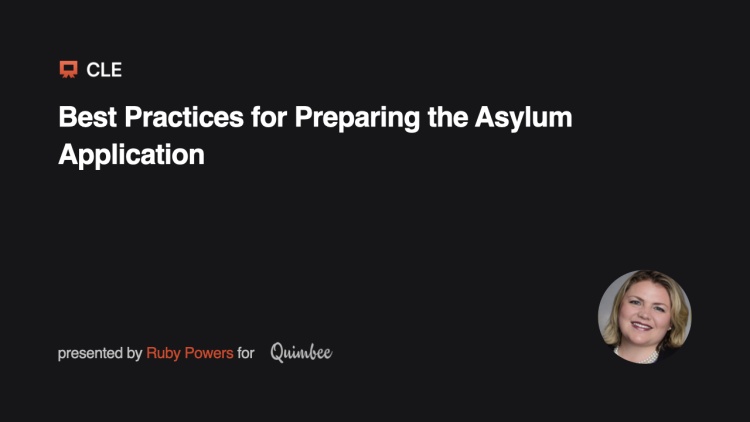 Best Practices for Preparing the Asylum Application
In this beginning to intermediate course, learn from an expert with more than 14 years of asylum experience on the best practices and tips on how to prepare the asylum application and additional supplemental materials to put your client's best case forward. Whether it's your first time, or you have experience, compare notes and learn suggestions from a diversified successful asylum practice by immigration attorney Ruby L. Powers. Learn asylum office specific advice on preferences for filing deadlines and specific details of various asylum offices. In addition to the application and supplemental materials, learn how to prepare your client for the best asylum interview or immigration court hearing experience. This course will cover the three sections of the affirmative asylum interview and best practices to prepare your client for a smooth experience in an already stressful process. Assimilate the best practices on how to prepare your client for the immigration court hearing and being cross examined by the trial attorney and the immigration judge. Study how to formulate and anticipate questions so your client will be prepared for the interview or hearing.
Hi everyone. My name is Ruby Powers with Powers Law Group in Houston, Texas. I'm a Board Certified immigration attorney, one of about 180 or so in Texas. And I am here today talking about the Best Practices for Preparing for the Asylum Application and your Client for the Asylum Interview or Immigration Court Hearing. I would say this is a great course for a beginner and also intermediate for someone who's filed some applications or maybe affirmatively, but not in removal proceedings and would like a refresher. I think it's always good to learn from each other as to best practices and experience. So a little bit about myself. I have my firm Powers Law Group in Houston, Texas for the last 13 years. I have been practicing 14 years, but even before that, I was in internships and nonprofits and immigration clinic at my law school preparing and being exposed to asylum applications. My first time to ever be in immigration court was as a law student before I graduated and was representing two children from Honduras. I've run my law firm from Dubai remotely, a decade or so ago. And I've also wrote a book about law practice management called "Build and Manage Your Successful Immigration Law Practice Without Losing Your Mind." So let's go ahead and begin. So, I'm speaking to you today from having, I'd say 15 plus years of asylum experience, because I have represented individuals over the last those many years, from up 34 countries. And as you can see, it's quite a diverse group. I find that some practitioners have a niche in one area maybe as the country has issues and they might become a specialist in that. Depending on where you practice in the United States, it's dependent on your clientele that you have access to. And my firm, as a solo practitioner, or being owner of my own firm, I can choose the cases I'd like to take and having become more of an expert in asylum over the years, we've had people come to us from around the country and we've represented individuals, I think in about five or so different asylum offices, and about, I don't know, maybe six or so different courts around the country. And that's just with myself and occasionally some associates helping me. So we've had about a 90 to 95% approval rating. And we also are in the fifth circuit predominantly for most of these cases, sometimes we travel, like we said, to the other locations. But I bring this up because this is what I'm speaking from having experience with a multitude of individuals from various countries. And I find that once I've done one or two from that country, then I'm able to bring a lot more context to subsequent cases. But when you're working on that first case from that country, it can be a little bit daunting and you really have to... There's a steep learning curve. So let's move on. So today, we're gonna be talking about various learning outcomes and objectives, including determining the ideal components to an asylum application, supplemental evidence. And this can be applying to whether or not you're applying affirmatively. You're preparing for defensively. Second, we'll learn how to identify the best evidence needed for your client's case. Every case is a little bit different, and you want to do the best to represent them. Third, we'll talk about the three major parts of an asylum interview or hearing. And then fourth, we'll talk about how to prepare your client for the interview or for the defensive asylum immigration hearing. So, as we begin, we are moving on to the basics of asylum, which is essential that we go over that because sometimes we forget these things and we need to be able to remember them. So basics of asylum. People come to the United States all the time seeking protection, but ultimately, asylum is unique and difficult. Lots of people think asylum is easy, or they might think that everybody's applying for asylum, everyone's getting asylum, but that's really not the case. And being a practitioner in a border state here in Texas, where lots of people enter from and do attempt applying for asylum, I know that many people are not successful and you can look just to the TRAC records, I think Syracuse University puts together and you can see the denial rates of judges based on where they are located. You can see a lot of high denial rates in the Houston area, but in Texas in general. And you can look specifically to your courtroom. Okay, so this is just big picture and we'll go deeper down into it, but basically, it's that they have to have suffered past persecution or fear of future persecution on account of one of these five protected grounds, race, religion, nationality, membership at a particular social group. And this is where you can sort of craft that particular group. And this is where you look to case law. And what is the law of the land at the time, we've seen a lot of changes, in the Matter of A-B-, Matter of A-R-C-G-, lots of things moving, coming and going, but that you have to look to that at the time of application and at the time of adjudication or the hearing, and then a political opinion. I find in Spanish, everybody calls it asilo politicol. They all think it's like asilo political asylum, but there's all these other five grounds. The other thing to note is that sometimes the issue could be intertwined between a couple of the protected grounds. And so you have to work to help explain what's going on there. And so this is the high-level concept. What's important to note is that there's a constant case law always updating the interpretation of particular social group, the scope of different aspects of the five protected grounds. So what I would say is that this is a really good refresher on the key points, but you should look to your particular case and see what the case law is at the time before proceeding. Okay, so these are the high-level basics of what you need. And I like to explain this in the consultation, because I want them to understand if you don't meet all of these elements, then you don't have a really good chance and it's not just because something horrible is happening in your country or to you. I mean, if it's just general violence, if you're not protected under particular ground, then you can't get it. If it's a personal vendetta that can't be put underneath one of these protected grounds, then you're not going to be able to get it. And so, I mean, I also come from a lens in a fifth circuit in Texas where it's hard to get, but I think it also helps make me a really good practitioner because I'm always thinking how we're gonna do this because we have the law pretty much against us, almost always. But hopefully, you just have to sort of review the whole aspect. And I think also there's a lot of discretion in this. And so when I see that there's a chance I let the client know, and then we decide if we want to proceed, even if it's not a slam-dunk case. And the ones that are not a slam-dunk case, those are the ones that you have to work really hard because you know it could go either way, right? Okay, so continuations of the basic asylum. So you have to prove there's nowhere else in the country you can relocate, right? So if you had a problem in one part of the country, but you could move to this other remote part of the country and they would be perfectly fine, the bad guys wouldn't be able to find you, then really, you're gonna have a hard time proving that you're eligible for asylum. But, for example, if the government's the actor and the government's everywhere in the country, then that's pretty much a good reason that you can prove that you can't relocate. Secondly, there's nowhere in the world you can relocate. So this is where you have to say, or you have to prove that there's no other valid visas that you could go to or no other citizenships. If you have another citizenship, then you're basically applying for asylum from that country as well. I once had a client that was from Burundi and Rwanda. So it was almost like twice the asylum, and we were able to win, but we had to apply... We had to basically explain he couldn't relocate to the either country. Valid visas, this is where you have to explain that... It's more about residency. So if you have residency in another country, that's still valid and you're not afraid to go back then that means you should go to that country instead. So this is a really important screening tool. If you have a spouse that has dual citizenship, but the other spouse has only one citizenship, you might wanna put it under the one that only has one citizenship. If that spouse, that individual still has a strong case, because then the other spouse will be included in that application. So there's some strategy involved there. Then moving on to, you have to apply within one year. We're gonna go over those exceptions, but that's really important. Some field offices are really picky about the one-year entry, but there are change circumstances and extraordinary circumstances. So you need to make sure that you explore those and explain it clearly. And then you must be physically in the United States. This is another thing that people get wrong. They think they can be in another country and apply for asylum. No, you can only apply once you're here. So during the two years or so, year and a half of restricted travel, we had a low affirmative asylum, a filing rate, because people weren't able to get in. And those who were already here had to decide within that one year, if they had met one of these one-year filing exceptions, whether they could apply. Now that the restrictions have been lifted, we're seeing a lot more people coming in, whether on student visa, tourist visas, or some other visas, we're seeing a lot more people applying affirmatively, like pre-COVID era. So the one-year filing, oh my goodness, this one gives people grief. Okay, so let's say you came in on January 1st, 2022, then you would need to file by January 2nd, 2023. They don't count the day you arrived as a day, it's the day after. But if you're getting close to counting days, double check beyond that one, depending on if they've changed the case law on that. But I mean, I hate having to know that I hate having to work under that pressure. I think I filed one this year because the client came to me so late with under that. But anyway, the biggest point is don't wait till the last minute, because it can take almost many weeks for them to give you the receipt. And in years past, we'd even seen that things get rejected, and we would lose, be really close to missing the deadline. So here, let's talk about these one-year filing exceptions. So a change circumstances is changes in the law, changes in country conditions. So maybe the country has gotten way worse. And then the other one is ending a relationship in a previous filing. So, for example, if the individual, the couple is getting divorced and one of them wants to go and file on their own, then they would file and be able to use the same filing receipt date from when they were previously dependent on their application. So these are change circumstances. Extraordinary circumstances are disability or extreme illness, death of legal representation or maintain lawful status. The maintain lawful status is the one that I see the most. For example, I had Nepalese who came in. This was towards the beginning of my career. They were on F-1s they were about to graduate and they realized Nepal still hadn't improved. And so that's when they started falling for asylum, because they knew that their status was about to end, and they were gonna have to go back home. This can also apply for E-2s, 8-1 s, I mean, pretty much lawful status, right, F-1. I have seen in some field offices that they interpret this differently, I think you really have to push them on it, but as long as you can prove that lawful status, then the one-year of filing deadline is not... This is an exception. And if you use the F-1, what's important to do is to have the I-20 and the transcripts to prove when they actually stopped being in school or had the termination letter. The burden of proof is the applicants, like almost always, it seems like and standard of proof is satisfaction to the attorney general. So know your circuit case law well, and double-check this. And I would even put something in a memo, a cover letter, a brief, just so that you can spoon-feed this answer to the officer or judge so that you don't have to argue too much and spend too much time about it if it is an issue. The one of the very... So speaking about application submissions, one of the most key points to submit is the personal statement or affidavit. There's different schools of thought. Some people like a lot of people, some people don't like too much. I've seen people put number the paragraphs. I've seen people do more of a narrative. I like paragraphs. I like spacing. I like font that's easy to read. We don't want to bore the individual reading it. We also don't wanna overwhelm them with too many pages. I think if you stay somewhere between like three and seven pages, that's pretty good. I don't think you initially have to rehash the country's history and country conditions. I think as long as you can give a quick summary to why it applies to your client. There's also different schools of thought about whether to put a lot of detail or not. I think that when in doubt, don't put as much detail. If the client is highly traumatized and has a forgetful memory that later they might purger, not purger, but being consistent in the future. But I think it looks highly suspicious if you omit something very key to the story. So this is why it's really important to do a good job. Make your first affidavit a good one or else you'll likely have to add a supplemental one later to clean things up, but you might even have to do a supplement even if your hearing is 10 years later, which I have one of those, or if it's the asylum interview, I've got a lot of cases pending seven and six years affirmatively still. So we'll have to update them, but that wasn't because we did a bad job on the first affidavit. It's just that you just wanna do a supplement. So I like to consider things in chronological order. I like it to tell me that little bit beef, just like a movie, right? You're building character development, then you tell the story and then you get into like the first event, a prosecution, the second, the third, or whatever, how many there are, and you tie it together with your protected ground. And then at the end, I talk about why there's nowhere else to go in the country, nowhere else to go in the world and what would happen if they returned. Boom, that's what you do. You hit up all the elements like we said in the very beginning. And you wanna make sure that this is very critical. If they speak, let's say, Spanish, then have them write it in Spanish and then have it translated. Or if they speak a language and it might be more work to translate it then just have them work with a bilingual individual who can sign off that it was transcribed in their language to English, but you need to make sure that there's the signature by the applicant, and also the person that transcribed it. This is really critical. Every interview or hearing is going to ask, did you prepare this statement? Did you review your application? So make sure that that language is there. Moving on to the application submission. You're gonna wanna identify who the person is. So give them the birth certificate with English translation or whatever the equivalent of a birth certificate is. Any marriage certificates or divorce. If you have to establish who they're married to, the birth certificates of all children and evidence of previous marriages. And if they marry or divorce while the case is pending, you wanna update the file. I think this is something people don't know, but if an individual applies by themselves and then they later get married, they can add their spouse to the case. And it's as if they were added the day that the original applicant filed. So I've been able, they go get married, then they add their spouse to the case, and then we are able to apply for the work authorization for that individual, because the time had passed for the original applicant, that time still counts for their spouse. So, the other thing is that this can also depend on what that country, what documents they're able to get. You probably wanna cross check the foreign affairs manual for some guidance on what documents are normally available from that country, if you're not as familiar with it. As to the application submission, you need one color passport photo. We started taking photos in the office and just cropping them, it's pretty easy. Or they can email us the photo, and then we format it. Copy of the entire passport. We do that. I think it's required on the application, but you could also to bring it to the interview. The main reason we do that is to identify all the visits or passport, the stamps and trips. Now, some people have traveled a lot more than others think in general, a lot of my cases haven't traveled a ton. But I had a one-country case that I've been doing a lot of, they seem to have a lot more means, and they've been traveling a lot more. Travel is really important about, basically connecting it to when you apply for asylum. But anyway, you need to have the proof of the visa, the I-94, this is also important if you're using the exceptional circumstances for the one-year filing deadline, and you want the supporting documentation as well, including relevant newspapers, affidavit of witnesses or experts. When you get these experts, you also can be looking for... You can get an expert who specializes in that country's condition. And it's good to look for that individual who, who can give you some perspective if you needed something more specific. For example, I had a case of a rocky atheist, agnostic individual, and we were able to get an expert from... I was able to get an expert I was able to find, to write a report after reading their statement. I've done that before. A lot of times, you need to show their resume, have a signed report and be able to submit that in time for the officer or judge to be able to review that. So that's another thing to consider. A lot of times, judges and officers would prefer that over we don't have witnesses come to asylum interviews, but instead of having them giving live testimony, have their report provided. Now, you want to make sure that you have any psychological records or medical, if you're wanting proof of that they were harmed. Also, if you're explaining anything about a M-A-M hearing, or if you wanna help explain why they're gonna be having a difficult time to be able to give testimony because of their trauma. So, those are all things to consider and you wanna do that timely so that you can use those records. If you need to make any considerations while you're giving your interview or hearing. In fact, when you go to asylum interview, they usually ask if you have any medical conditions that could impact or prevent you from being able to testify. And also, that can be consideration for any changes in the way, you would conduct the interview, the hearing for court. You also wanna have your criminal records if there are any newspaper articles, we mentioned that. Relevant photographs that are specific to your individual case, official documents, and make sure there's a translation for everything. I think a lot of times you're just busy trying to get this all together. And you might overlook the fact that you need translations for every single thing that's not in English already. And it needs to be... I was preparing for asylum packet to go out and they got it translated while they were in a Russian-speaking country. And it said that this Turkish document was translated from Russian to English. That I was like, no, no, this is a Turkish document. So even if it's translated, you wanna make sure that it's been translated the right language, and then there's not like an oversight because that could be a big problem, because then they might just say, this doesn't get to be included or give you a request for evidence later. Have your applicant approve the I-589. So we give out a questionnaire, we have them complete it. And then we populate the form. Sometimes we might just have them fill out the form. I mean, if we're in a rush or something like that directly, and we work through the edits, but once they've reviewed the I-589 and it's been spoken to them in their language, I would suggest either having them initial it, every page that they approved it. So that later on there, nobody can say, I didn't know that was on there. I had a case recently where the client had somebody else as their attorney before. And there was a lot of misinformation put in that application and said some really damaging things that were not true. And my client said she didn't see the final version. It wasn't explained to her in Spanish, and she just signed, and she didn't know what it actually said. Of course, that makes it a huge tall order for the subsequent attorney to help establish consistency. So that's just things to consider. But this also helps protect you if the client says I didn't see that. I didn't know that, or whatever. So, I would do that as a course of protection for yourself and also for consistency. Make sure to factor in a possible rejection by the service center. Don't wait too late, if you can help it. I know clients can be last minute. At the time of this recording, I'm hearing rumors of about a six-week wait, I think that's true for getting receipts from the Texas Service Center depending on where you are practicing and what's going on when you're listening to this. But just be cognizant of that, you might want to check in with others if you haven't filled an asylum application in a while, what they're seeing is the processing time. And give your time application to breathe and be reviewed by staff on the office before submission. Don't just think that you can amend it closer to the interview or hearing. Like, honestly, there's times when you're like in a rush and you're like, okay, let's just get it out. But having been the receiver of multiple applications as the second, or maybe third attorney for hearings or whatever, it's just makes things so much harder to clean stuff up if it wasn't done well the first time. So try to do the best you can and try to make sure that you have a few people in the office review it and consider... And maybe even team up with someone who's done some asylum from that country on a basis to have them review it confidentially, of course. But just have a couple people take a look at it in the office and don't rush it. So primary evidence is generally the government reports on the country conditions, travel warnings, legal opinions or expert reports and human rights conditions for the country. The judges and officers already know the state, the secretary, I mean, the department of the state one's conditions, but we still put them in there. And I think it's important to provide them with information they might not normally get, because if you just get all Google in English, you probably aren't seeing things that the client might be able to get in their country or from the news sources that are specific to where they're from. So I like to ask them for help to collect that information as well. And actually, sometimes I just say, here's a Google talk, dump some articles, links in here, and then we'll go through them and see which ones we want to be translated and put in your packet. So what other evidence should be added? Well, I mean, definitely the country conditions, letters of support. Like if you know somebody else who got asylum had a similar case, then try to get them to write a letter or show their ID, or show proof of that they were in asylum. I had a case where the brother of my client got asylum in another country and that actually helped. And that was a case I had in Pennsylvania. And then I had a court case where the brother got asylum in Canada, and my judge didn't even want me to include that. I was like, but they have the same cases. In fact, my clients got a stronger case. I don't know. I don't get it how it can be so different depending on your circuit, your judge, but I think that's why it's really good if you're practicing in a city or a state or a court that has a different... You should reach out to somebody who's practiced before that judge or that field, that asylum office, if you can, just to get some intel. And that's what I do. And in fact, in Houston, we have three immigration courts now. They're completely independent of each other. We have the Greenspoint in the north, we have Downtown Center, and then we have South Gessner and they all have their own set of rules and bosses of their courtrooms, the AIG. But anyway, you get what I'm saying. So they are completely three different separate ones. And a lot of new judges are getting on the bench too. So those are a lot of things to look into. Okay, back to evidence you should be adding, definitely, that affidavit, like we said, I sometimes include a map of the country because the judge or officer might be new to this country. They might not have seen it. Having done so many different countries. I find that a lot. So I like to put a little map and if the person had to relocate and fled in different parts, I like to put little highlight. And I say, they went from here to here to here. And a lot of times, I like to keep that in consideration when I'm writing. Like, so how many hours by travel does it take to get from the place you fled to the next place you went to, and you tried to flee. And we put that in the map. And also, in the statement, I also created a timeline of events when there's just very extensive events that happen, that they were harmed multiple times, because it gets confusing to keep track, like all the different times they were potentially kidnapped or threatened or raped or poisoned or anything that happened to them. So you want to make sure that... I do that as sort of like a little cheat sheet to sort of keep it in order for the officer, especially if the statement looks a little along, or there's a lot of different events. So specific evidence to support the story and claim. So you want to show more specifically, especially if you're dealing with a membership in a particular social count, group photographs, of course, what happened, and if you have anything specific. So application supplement. So after you've submitted the application, but before the interview or even the hearing, you consider the change circumstances, did the country's conditions get worse? Were there elections that happened something else happened? Like, for example, we had a case that we filed from Honduras in 2018. And by the time we had court in 2022 their president had been extradited to the United States. So actually, that was actually really helpful for that asylum case that we won. And so you need to monitor it. And that's like a brief sidebar. I mean, basically, when you apply, you need to meet the qualifications, but just like in every other application with government at the time of adjudication, you need to qualify. And so what can happen with these long wait times for countries is that maybe things get better and then they're not eligible by that time. So those are other considerations about these long wait time. So other things I like to include would potentially be a legal brief or memo. I spoke to another former asylum officer. He said, just basically keep it simple with the memo. Don't do a brief as much for asylum affirmative, but just get to the point as to how they meet the qualifications. I really think that there's that balance between less is more, and powerful is what you need and get to the point. Updated affidavits, I like to do that when more events happen, more country issues happen. If there was anybody put in jail or can anybody, a friend that was similar to them. I mean, honestly, almost always loved to do an updated affidavit that just sort of takes the story from when it was submitted to now to explain that it's still an issue. Any other additional evidence. So, I mean, as a practice pointer, this is happening a lot, a lot, a lot, because I've got so many cases that have been pending 7, 6, 5, 4 years in the affirmative space and then court, I mean, goodness gracious, they've been pending a long, long, long time, some of them. So now, with all the Doyle memo and dismissing a lot of the non-referred asylum cases, well, that's opening up a whole another situation there, but basically, there's probably gonna be a lot less weight in the future for asylum cases in court. So moving on, you need to anticipate surprises. It sounds sort of funny, but basically, that's what a good immigration attorney does, right? So you need to think like an adjudicator. When I go into a consult, I have half of my adjudicator hat on, and a half of my wanting to zealously represent the client. But I'd say it's probably more adjudicator in my mind because I'm not invested in this person yet. I'm still sort of like trying to size them up and see if they meet the qualifications. So I can be pretty direct with that. And I think that's why you need to keep that mentality. So be thinking about all the elements and actually in a consult, I give them a handout that has the diagram of what the elements of asylum are. And when I do that, my hope is that they understand we have to hit up all of the elements. If we miss one, we probably aren't, you're not eligible for asylum. And so you need to think like an adjudicator and you need to have a healthy dose of being the outside perspective, but also zealously represent them. I think this is also very helpful when you have at least one other person who knows asylum in your office, or who can review the case, just think with that experience. So you wanna keep that objective point of view. You also want to check out your client on Google, Twitter, Instagram, whatever to see what's going on. And you also want to do a FOIA of your client if they filed other things in the past. This is also a very good tip. If you are going to court and the case was referred from the asylum office, if you do a FOIA for the asylum officer's notes, which are not always added to the file for the judge, but they will have that, There's usually two things I see when I do that. One of them is I'll see that the questions they ask, which is really good, because when you're getting ready for court, you could maybe just use some of those same questions, you tweak them and everything, because you have to make your own questions, but you could use those. But second of all, you could try to figure out why it got referred and so where those weaknesses were. But third of all, they give you a little summary. They write up a little summary, I think they have to send to their supervisor. Now, sometimes it's redacted, but it usually says, it's clear as to, they'll say they weren't consistent with their testimony, or there was no nexus or whatever, right? And then you can work on making the case stronger and beefing up where they might have gone wrong. I mean, a lot of times, clients get their application filed by a Lothario, somebody who's not an attorney or doesn't have legal experience. And then they maybe go on their own to the interview 'cause they think it's gonna be easy. And then they get referred. They actually had a good case. It's just they just did a bad job getting prepared. And so then you have to sort of figure out what went wrong. And make sure you're skeptical, and you're identifying those red flags while you're reviewing everything with your client because that is gonna be very important. And we will go ahead and talk about red flags. So for red flags, these are some of the things that you need to have an answer for if you have any of these in your case. So you want to check for these red flags before you represent them, but you also want to make sure that they aren't red flags by the time they go to the officer or the judge. So red flags could be delayed filing. Why did it take so long to file? And you need to make sure that you can prove that it meets one of the exceptions of the one-year filing, or like, for example, they'd been in the US for a while, even on a status, but then they didn't apply until later, even though bad things were happening in their country or to them. You still need to have a good explanation as to what the person was thinking, why they delayed the filing. Usually, I hear stuff like, well, they thought the country was gonna get better. Sometimes even my client's parents or people kept them from being told what was really happening in the country until somehow they found out they were trying to protect them somehow. And another thing that happens for delayed, another good reason could be if it happens to your client, is that the news wasn't forthcoming, and they really didn't know really what was going on because so much of it was censored. So other red flags can include like convoluted statements. Oh man, if they're like all over the place or they're not in chronological order. Was it like "Pulp Fiction" was like one of the first movies that sort of was like not in the order and did something weird. You don't wanna be like that. You wanna be in chronological order. You don't wanna be creative. I really think sometimes I'm a movie producer here. I get the facts, and then I have to make it make sense. And I have to make sure it, it meets the qualifications for asylum and I'm trying to present it to the adjudicator so that they get it in the two or three hours that I have their attention, right? Because after that, they lose attention and they're moving on. Plus, there's a lot of fatigue from listening to these things all the time. So you also wanna make sure that there's no inconsistency in the timeline. If there is, you gotta really dig deep and try to figure that out. If there was multiple visits to countries that they're seeking asylum from, well, then you gotta go do when was that defining moment that you really were fearful? And I had this consult, I had this conversation with a client just recently. And she's like, well, it was a time when they were chasing me, and they were asking me questions, and I was like, wait a minute, wait a minute. That's not in your statement. When did that happen? And I was like... And I find, even if you're an amazing attorney, you have a team, the person's traumatized, there's always something, right? So that's why you wanna go back. And I really believe firmly in doing a lot of good prepping before the interview or the court so that there are no surprises for you as the adjudicator, I mean, you as the immigration attorney. So you wanna make sure that they didn't travel to any suspect country. I say that sounds... Well, what I mean is that there's certain countries that the USCIS thinks as suspect. The ones that have been hotbed of terrorism. And so if they travel to those countries, then they're gonna maybe take a double look, and they might even postpone with the background checks. And if there's not a clear nexus, and this is what I mean by like, there's just general violence, or they were at the wrong place at the wrong time. Or it was like a personal vendetta that doesn't really connect them to a protected ground. So you need to watch for all these things. And if you have any of them, in your case, you need to let the client know that this could hurt their case, and also try to find ways to overcome them or eliminate them as a red flag. Moving on to problematic factors by client. When you are in a interview or a hearing, you wanna make sure that they don't ramble or they don't answer the question. I've had clients like that. There's just some clients that are just not good to put on the stand or to be interviewed. One I had recently, she was just so timid. She was so soft-spoken. She just said, just like one word, two words. It was like, really, we had to prod her. I had another one, it was so traumatized. It was very similar to that. I mean, huge horrible things happened to her and she just wouldn't give detail or elaborate. And so that case is still ongoing, but we're gonna work on getting a medical or psychological report because I think she's disassociated to the trauma that happened to her. So if they ramble or they don't answer the question that can really annoy the officer judge. If they have non-linear thinking, I know some countries, they don't think linearly and the US seems to be really big in that. So we have to adapt, right? But if they're hopping all over in non-chronological order that really annoys off the adjudicators. The demeanor is really important. If they are rude or argumentative or have an attitude, oh, that's not good at all. A former asylum officer once told me, a lot of this can come down to discretion. And if that officer believes this individual should get it or would be a good future citizen, that's a lot to unpack there, but I think you're gonna wanna bring the best to that client. Like I had a client that didn't speak English, so we were gonna need a translator, but he had sort of like this aggressive tone, like body language, and I basically was like, look, you have a female judge, you have a female attorney representing you. And you seem to be very aggressive with your body language. We don't know your language. So I think you need to just sort of try to tone it down because we don't wanna interpret it as... Well, I don't think it necessarily matters whether you're female or not, adjudicator or attorney, but basically, we wanna make sure that you have to keep your demeanor and your body language in check. And because I think he appeared very aggressive and angry. And so by the time, we had the hearing he did well, and we got approved, but, I mean, it took a lot of work and sometimes you don't have a lot of time to do all this prep. So the nonverbal cues are very, very important. And you also need to watch for language about translations. So right now, for affirmative asylum, you don't get to bring your own translator like you did before COVID. Now they have the translator over the phone. So before it was, you bring your own translator that you had a chance to prep with. They had to know the case. And then the asylum office would what they called a monitor, monitoring the translation. That was good and bad because sometimes you couldn't get the translator there. But the monitoring seemed a little bit like it was there mostly to keep it in check. But now that you don't have to bring an interpreter, you don't have a monitor, if there's a bad translation and you don't know that language, then you can't correct it. So that's just something to keep in check. So if my client speaks enough English to be able to know if it's a bad translation, I tell them in advance, please let me know. But this has happened in court. After the fact, they told me that there was a bad translation, but they never told me. So this is a little key point. Tell your client if there's any way that they can communicate with you, whether in court or in an interview that there's a bad translation, make sure that they communicate that with you so that there could be a point of clarification. Interview preparation. So thoroughly review the application and statement, make sure the client has had a chance to review it before they go in. In the prep, review that I-589 with them, make a list of any amendments or changes. Verify those translations. Do another double-check, decide what needs to be updated, whether it's like a statement or country conditions or things, and simulate a mock interview. What I normally do for an affirmative is I'll do two-hour preps. But sometimes two hours is too long for anybody to sit down together. So we might do it in a series of one hours or two, one-hour preps. But bottom line, the first is to go over the application and what to expect... First is what to expect in the interview. Like everything detailed from the security to the sitting and the waiting, the showing up and where to go. Trying to give that detail so they can know already visualize where they're going and take away that element of fear and unknown, because it's already gonna be stressful day. And then I start going over the I-589, if there's any edits, 'cause that's what an asylum officer does. And then we try to get to the statement and then the next prep, we take it from where we left off and try to get all the way to the end. So what I'll do is I'll say, okay, I'm gonna be an officer and we're gonna go ahead and go through this interview. And so, to give you that mock stimulation, and whenever I'm gonna go back to being your attorney, I'm gonna do a timeout. And then that's when I'm gonna be back to Ruby, your attorney and I'm gonna give you some feedback, okay, and in real time. That's what I do. I don't know what you do, but that seemed to work for me. And so then when you're actually... So what do you need to be able to explain to them and these are the three major sections of asylum interview. One's the application review. Two, it's the statement or story, and three, it's the security questions. So I always say consistency equals truth. So the client should know that information better than anyone. And I consider the part one to be like a lie detector test. How much do they know their own life? Do they know where they lived? Where they worked when they moved? What's their phone number? What's their language, what's their ethnicity, or when do they enter the country? I mean, this really annoys the officers when the person doesn't have this information, just rolling off their tongue and readily available. If they're having to think, I mean, that's just so annoying to the officer and you really don't wanna spend too much time on part one. You wanna be prepared with the amendments or edits. One time, actually just a couple weeks ago, I had already had the edits in another color on my application and I just let the officer look it over while the client was talking to him because this is the one that was really quite timid and a minor. And so he just appreciated it 'cause he could just sort of look at it, went over it with her. I found that if there's a lot of edits, there's different schools of thought. But if there's a ton of edits, you could just make another I-589 and then sort of maybe highlight the ones that are changes because what they're gonna do is they're gonna make color ink edits to their I-589. The judge does this as well. They're not gonna accept like the other one. Like they're not gonna be like writing off of the new one. They're gonna be writing off the old one and making edits to that. And at the end, they tell you how many edits there are and they make your clients sign about that. But you wanna make part one as efficient as possible, whether in an asylum interview or court because you don't wanna waste too much time here. This should be easy. This should be biographical. You wanna move on. So try not to spend too much time here and make sure the client knows the answers to these things. A lot of times, they've been practicing. They haven't looked at it for so many years and they are traumatized. They don't wanna think about it. So you need to make sure you preface that. I know this is hard, but we gotta talk about it. And this is hopefully the last time you ever have to think about these things, but I need you to really know this information. So moving on to the statement or the story. So this is the huge part of the interview. This is the crux. This is the main part. A lot of times, the adjudicator has read it. It's just they're asking specific questions or in your case, if you're in court, you're asking the questions, you're trying to get that narrative and prove of the story. So one of the very first questions is why are you applying for asylum? I make sure my client knows that answer really well. Especially if I'm in court, that's the answer that I have to work off of for the rest of the questioning. And so I wanna make sure that they put on all those key elements why they're eligible. You wanna be able to prepare to discuss in detail, you were kidnapped. How many people? What were they wearing? What time of the day was it? How do you know who they were? What did they say to you? How did you get out of the situation? Like you wanna be able to have that detail. If that detail's not in the asylum statement, whatever the answers really are, you wanna make sure it still would work with what was said. And if there's a change, you wanna be able to know that there was a change for whatever reason, from what you had previously put in statement. You wanna be prepared to explain the story in chronological order. So really, it comes down to this. Why do you apply for asylum? Pretty much it's like, what was the first harm? What was the second harm, the third harm. And there's somewhere in there. I oversimplify it. But I'm like, who are the bad guys? Why do they want you? And why can't you go somewhere else in the country? Why can't you go anywhere else in the world? What would happen to you if you were to return? And sometimes, they might ask, when did you decide to apply for asylum? And they try to explain that with when you actually did apply. And when you learned about it and what happened. So the client knows their timeline is key. And making that timeline is necessary for an officer to follow especially if there's a lot of events, and practice with the client so they know they're inside their story inside and out, and are able to communicate it. They've been traumatized. It's been a long time. It's uncomfortable, but we have to be able to get these words out. And then, after that, you move over to security questions. So be prepared to discuss these questions in advance. It's usually the same questions. It's like, have you ever committed any crime? Have you ever hurt anybody? Have you hurt anybody, even if it was against your will? Have you ever touched a gun or a weapon? Have you ever been in the military? Have you ever worked for a foreign government? They ask like the terrorism-related and admissibility ground questions. It could be also specific to the country that you are from. And if you did do military training or experience, you need to be able to explain where you were, what you did? Was it mandatory, was it not? Usually, you have to have some type of document to prove what it was, could cause some more delays. But some countries do have mandatory training, and so a lot of officers might not know that. So you need to be able to explain that. And then this is very interesting, the asylum application has not changed very much over many years, and then doesn't ask a list of countries that you've traveled to on it. But they always ask that at the end, they ask how many countries have you traveled to, was it for personal or business? And so, like I said, I had some clients that just had extensive travel and I found that it was so annoying because we had to go over that. So what I started doing was I just started making that list in advanced as an extension of the application, basically, and I had it ready. A lot of officers were super duper grateful because by the time you get to this part, everybody is tired. You probably been talking for a few hours. And so I would suggest if they've had extensive travel besides the country, they're from and the country they're in now, you might just wanna have that list ready. So the country, for personal or business and also approximately the month and the year that they were there. Make sure you have all the passports that they ever had in their whole life. And if they haven't, don't have any of them explain why they don't have them, and the officer might want a copy of all the pages or you might wanna have already had that submitted. So on one quick thing, when you have a lot of family members, a part of the case, what they'll sometimes do is they'll let the spouse and kids do these security questions at the beginning and then let that them go to another room so they don't have to listen to the rest of the story. Plus also, they want to be able to talk to the individual more personally and closely. Okay, so best strategies for that asylum interview. The applicant's role in the interview is to know their timeline, understand the weaknesses of the applicant of their story. It's important to be truthful and to pace themselves. And I say know when a translator is necessary, basically, if you are able to communicate with them in English, but they prefer to do it in their own language, then just let them do it. That's fine. I mean, it's probably better for them to do it in their own language than to have to do it in English. Even if they speak enough to be able to talk to you in English. So those are all important. The attorney's role in the asylum interview is not to overwhelm the officer with documents on the day of, I would send those in advance. Some field asylum offices have rules about one week or two weeks. The thing is that usually, you only get three weeks notice, maybe even less, if it's an expedite. So you wanna send those in advance so the officer has had the leisure and time to review it. I usually just email it to my Houston asylum office, and they get it to the officer beforehand. I also bring a copy on the day of, just in case it didn't get there to their hands. Understand, be familiar with that submission. Ensure relevancy of the supporting documents. What I find is if we update anything on the day of, the officer usually says, so, what additional evidence have you submitted? And then I can just run it off like really quickly, because like a quick summary, and they love that. So, this is this article, this is this, and this is an update statement. You're gonna be actively listening, and I like to take notes when I could take my computer in and type on that, I love that, 'cause I could read my typing better than my handwriting. But make comments of what you think are problem areas. It's something that could be an issue later on. I might make a note about the demeanor of the asylum officer or had to go over an issue a couple times or there was any problems. And make sure your client doesn't forget the key points. And usually, the officer will say, does the attorney have any closing statement, and that is when your opportunity to shine? I've usually made some points where I've said, this is how my client, I don't go on forever. All I really do is I just sum up the whole situation. And I basically say, my client needs the past or the feature of future on account of blah, blah, blah. They applied as soon as they could. There's nowhere else for them to go anywhere in their country or in the world. And that's why we humbly request your approval, finding of approval for your asylum case. So that's what I say, and I think it's overall helpful. And then, at the end, preparing the client for the end of this asylum review, they need to make sure they reiterate why they qualify. So sometimes, the officer might say, is there something I didn't ask you that you like to say? Is there anything else you'd like to mention? So I usually like the client to just sort of summarize something if they can and the repeat key points, and then I will as well. And then at the end, there's generally just making little copies of a document or telling us they making them sign when they're gonna, have to come pick up the answer or how it'll be provided to them, and that what to expect. You sometimes can read the officer's demeanor, what you think it's gonna get approved or not. But also, sometimes they're hard to read. Ultimately, they're gonna write up a little summary, they say yay or nay, and then it goes to the supervisor and the supervisor either agrees or disagrees. One thing I didn't mention is that usually in the asylum office, the asylum officers are chatting with a supervisor or somebody during that time. So if it looks like they've come up with a question out of left field, or what have you, it's because they're chatting with somebody being fed some questions sometimes. Okay, so that is the asylum interview. And then you basically wait for the decision, which can really depend on where you're applying. So I have gone to the asylum offices of Houston, New Orleans, Arlington, Boston, and Newark. And I have cases in Miami, but in some, think some other places too, or maybe like up in the Midwest somewhere, Chicago. But you really have to know those office-specific little nuances. So if even if we're practicing federal law and I believe we're allowed to attend interviews over the phone now as attorneys, they had a pilot program, I think they've extended, but they just haven't made a big deal about it. Then you really could have clients anywhere in the country without having to travel to the interviews. But I do think it is helpful to be in person as much as you can to help calm your client down, to help be there, maybe help remind them of something and just sort of be able, especially if you're dealing with a translation, be able to communicate with them versus being on the phone. So it is important to check out those specific locations. Now, as we move over to a little bit more about the defensive asylum, you need to remember that there's the judge, there's the trial attorney, there's a translator, and then there's you. And then you have to think about what the format is. So the formats, normally you go through the housekeeping of the documentation and the exhibits, and then the oath and translation exhibits, all that. And then you pretty much go straight into being able to ask them direct questions as the attorney. But that's for the merits. So when we are preparing for the master calendar hearing, you need to know your judge, the circuit, the country. For asylum withholding CAT, we always wave the designation of the country of removability. You might wanna communicate with the trial attorney in advance, but usually, for a master, I don't normally do that. You wanna make sure that you have the address and some judges wanna know a little bit more about the claim. They might not wanna hear just asylum withholding, a removal and mentioning it. They might want you to explain it more. So you need to really know it in case, and you have to explain it. And some judges were requesting PSG statements to be clarified, or they might give you a deadline for that. But ultimately, the master calendar hearing is not that complicated. It's mostly about addressing the future establishing what your forms of relief are, the address and the name and number are correct, and then giving deadlines for submission of any supplemental bio graphs. Fingerprints done by the fingerprint deadline, and also, do your deadline for submitting any supplemental information. At the time of this recording the deadline is 15 days before a hearing, but some judges have their own particular way of doing things, and they give you 60 days, 45 days or 30 days. So you really have to know your judge. If you've ever been switched from one judge to the next, that can also be complicated. You might wanna just adhere to what the last judge told you. And if it's completely unclear, then just stick to whatever the manual tells you. But try to err on the side of caution so you won't have to do a late filing. Okay, so it's a lot like what we already said about for the asylum interview, but there's some other things you want to do that are more specific to court. You wanna spend a lot of time preparing your client. What I've been doing a lot recently since court picked up is that I'll be meeting with them like one hour at a time, about three months before the merits. I like to meet with them at least once or twice before the filing deadline of the supplemental documentation. So that if there's any edits, I need to make from having talked to them, I'll know what to do. I don't wanna wait till after that deadline. And then, once I have my list of questions prepared and we've already done the supplement, then I can sort of slow down the pace. And also, I'll email the supplement to the trial attorney and see if they'd be willing to stipulate to anything, once I find out who's assigned to the case. So while you're preparing your client, you wanna ask lots of questions. Don't be afraid to ask probing questions, try to think outside the box, think like the trial attorney or a judge. You might wanna have somebody else compare notes. Just like thinking from an outsider. If the client isn't clear, rambles, or doesn't is not very talkative or confusing, let them know that they have to repeat it. Are they trying to improve, give them examples of how they should answer it. Once or twice, just to give them example of what it's gonna be like on the stand. Of course, you're not feeding them the answers, but what you really wanna do is explain what it's gonna be like. And if it's hard for them to understand you, and you're usually gonna need a translator, what you might wanna do, even if you speak that language, you might want to ask them a question in English, have a translator in your office, say it in that language, say Spanish, then the client says in Spanish, then the translator. So they can understand how you have to speak in little bite-size responses and have time for translation. It's that dance where you wanna give the answer, you don't wanna ramble but at the same time, you wanna make sure that you tell your old story that you wanna stay, and you don't get cut off too quickly. So, it's like a dance or something that you have to sort of figure out so that they understand how it works, and that's part of the prep. The prep is getting their story out. You know the case, they remember the facts, but it's also about like, how do you do this little court tango, especially when you have the interview delays and you're not supposed to ask leading questions. Some judges are a little bit pickier about that than others, some trial attorneys as well. And like I mentioned, when you figure out who, we email to the OPLA duty attorney email, I don't know what it's like all over the country, but basically, then we find out who's the trial attorney assigned to the case. Then we send a communication to them and ask if they have any questions or if they'd be willing to stipulate to any of the elements of asylum. That seems to be very helpful. I'll just tell a success story that worked really well recently. I think it was before the Doyle memo went into effect. Yeah, or was it after. I'm sort of losing track of time? I think it was right after. It was right after it went into effect. I think my hearing was May 2nd. And what I did was... No, it was right before. Anyway, whatever, but it was around that time. How it happened was that I sent the whole packet to the trial attorney. The trial attorney looked over, and he says, I don't oppose a grant. And I just was like, okay, I don't see this very often. Oh my gosh, that's amazing. That's wonderful, okay. He says I'll let you know on the day of, if I still have that opinion or not. And so on the day of or the night before he said the same thing. So that hearing was literally 10 minutes long, but the judge, what he did was he put all the exhibits one by one. He named all the articles as exhibits. I think he was just trying to protect his record. And so, even normally, exhibit would just be the application and the supplement and maybe only four or five exhibits maybe. But he listed like 60 exhibits of all the articles. And I think the whole point was that he protected himself. Everybody was agreeing, it's basically 10 minutes. And we won in the asylum case in 10 minutes. And of course, it wasn't just 10 minutes. It was hours and hours, four hours owning that case and hours and hours preparing. But that was the power of the stipulations. And so, I just wanted to share that story. That was a really great success. So when you're preparing, moving on to preparing questions for that immigration hearing, you wanna prepare the questions. The asylum officer would ask when you're in hearing, like I said, you could either FOIA those, or you just know them because you do this so much, right? And so it's pretty much, you wanna have that biographical stuff, then you wanna have those, why are you applying for asylum, and then all the events. And then you have nowhere else to go, nowhere in the country or in the world. And like what would happen to you if you returned. You wanna anticipate and address any weaknesses, and you wanna prepare the evidence and testimony before you enter the court. You gotta know this case, right? I mean, you're gonna just be asking these questions, but the thing is that any point a trial, the judge could sneak in and start asking a question that sneak in, just sort of interrupt you. Sometimes they won't, they'll wait till their turn later, but sometimes they will. And sometimes, if you've stipulated to something, then you can completely scratch out something completely. Like the trial attorney might say, I stipulate to the first four pages, the asylum application. Okay, fine. That's basically just biographical information. Sometimes you wanna bring that up because you want to like I said, the character development, you wanna get that on the stage. You wanna get that on the stand so that everybody knows what's going on, 'cause you don't know how much they reviewed it beforehand. So preparing those questions, anticipate those weaknesses, prepare and be ready to go forward. And what I do is I'll print out the application, whether I'm doing it from WebEx from my office, which I've been doing a lot more in the last year, or I'm in the court, I print it off spaced out. I put headers like biographical event one, event two, so I can easily find it easily in like 1, 2, 3 stages. So if I have to cross anything out or speed, fast and adapt, then I can. That's what I do to prepare. And I like to print out that final version right before and I make a couple notes on it. So responses to trial attorney and immigration judge. Anticipate any particular arguments or questions they might have. Be knowledgeable about the country conditions. Have cases on hand that could help rebut like filing deadlines, if needed, or be able to explain that you do have evidence regarding something that they're asking and it's already in the file. I had a case from, I think, Jordan and I realized that the judge didn't really understand anything about Jordan. And they were basically trying to argue like, well, why didn't you just relocate? Well, basically, Jordan's really small. There's only like a couple big cities, including Amman. And we had to explain why it was dangerous for them to relocate other places. But I think you should go in with a healthy dose that this judge might not know anything about this country. And then if they do, yippee, and maybe not so yippee if they know too much about it, and know more than you, but you wanna make sure that you are ready to explain things and you have to become an expert on this country, on this case, on the law. I mean, it's a tall order. But basically, after you've asked your questions, the trial attorney can ask their questions based off of across against what you asked only about what you asked and then you can redirect at the very end. And then there can be some... There can be opening statement and a closing statement. Sometimes judges want both, but they might be okay with the closing statement. And then the judge usually can ask whenever they want to, they might wait till the very end to ask questions. It sort of depends on the judge. So, in my closing statement, I let the judge know why the client deserves this asylum withholding CAT, whichever one we're aiming for, or all of the above and use every opportunity to tell that story, including redirecting the client if necessary and making compelling, succinct closing argument. Like I said, everyone's tired towards the end. They might not be really listening to you, but also, you're developing your record in case this gets denied and you need to do an appeal. You're bringing getting it on the record. So, in conclusion, we know we've walked through a lot of things right here. We've talked about all the basics of asylum. We've talked about the elements of the different parts of asylum, how to prepare an application. We've talked about how to prepare them for the hearing, red flags, problematic clients, what to do in the interview. How to get ready for court, and sort of what to expect in immigration hearing in general and then responses. The other thing, one last thing about the responses to the trial attorney you mentioned is that they might have objections. You wanna have a short little cheat sheet list of all the responses to objections in case they object to lots of things like maybe the client, they might say it's leading, or they're rambling, or they don't think it's relevant and you need to explain why it is relevant. So that's one other thing to note. But in concluding thoughts of this whole presentation, I would just say, make sure you're prepared at all times. You don't wanna have any surprises. You wanna know every single thing relevant to this case. Usually, you will if you keep prepping the client and get to know their case. If you delegate too much, you might miss something. So you've gotta find a way to work with your team to still know the case, even if you might not have prepared the application initially, or you were limited involvement, or you didn't do the first prep, but you've gotta find a way to get involved, to know these details. You need to know the case inside out, make sure to get a mentor, compare notes with other attorneys who are practicing in that city or before that judge and that court, and or that country, that situation, that PSG, that protected ground. There's a lot of Facebook groups, or WhatsApp, or whatever about these different ways, people sharing ideas about asylum. And also, I wanna do a shout-out to the Center it's called the Center for Gender Studies in California, Center for Gender & Refugee Studies. It's CGRS. You can go there and find a witness database. They can also get some case assistance. And it's a great resource. I found a lot of great experts there and also compared notes with country conditions and situations like that. Also wanted to, I mentioned at the beginning, looking at the TRAC T-R-A-C, just Google, TRAC immigration judge, and you'll see that's trac.syr.edu. It gives you reports, and you can look up the decisions based on judge. And you can have a little bit of an understanding. There's a lot of new judges right now, so they don't really have all those judges' updates 'cause there hasn't been enough data. And then make sure you understand how much your client's lives depend on how this goes. You've gotta find a healthy dose of knowing that it doesn't all depend on you, but you also need to do the best you can. And you could say no to a case, if you don't feel like you can represent them, zealously represent them and have the bandwidth to help them. You could also say no if you're taking on too many asylum cases and you need to just take a break. So those are things to consider as an attorney and also monitor your staff and how they're doing by working on a lot asylum cases. But you wanna do the best you can. And this isn't just... Some people seem to just, maybe that was like file and try to get the work authorization. No, this stuff is complex. You really have to know what you're doing. And I mean, when you do the best you have, you can, and you work with your client and you work with mentors, and you research, it's a very rewarding feeling to help someone be able to find security and build the foundation first, a steady foundation for a future here in the United States. And so, I'm very grateful that the US has asylum law. I wish it wasn't so difficult for individuals to receive asylum, but I do think that there's ways, best practices to improve. And so, hopefully, I shared a lot of those with you today on our best practices for preparing for asylum application and your client, for the asylum interview or immigration court hearing. Feel free to stay in touch with me if you would like or have any questions. There's lots of ways and I'll include that information for you, but I wish you all the best. Thank you for listening today, and good luck.