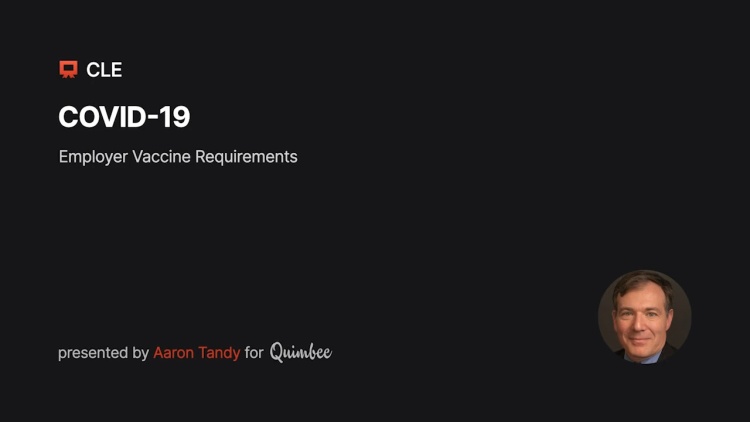 COVID-19 Employer Vaccine Requirements
President Joe Biden has signaled his administration's intention to actively encourage the reopening of physical workspaces and curbing COVID-19 outbreaks by requiring mandatory vaccination of federal employees and employees of federal contractors and direction the Occupational Safety and Health Administration to enact emergency temporary standard (ETS) regulations to require employers with 100 or more employees to require vaccination or submit to weekly testing. President Biden's announcement will require both employers and employees to confront new realities and to address both physical and operational changes required by the lingering effects of Covid-19 on the workplace. President Biden's announcement most likely will encourage employers not affected by OSHA's ETS to also adopt vaccine mandates. This program will offer a guideline for assisting employers to navigate what presumably the new ETS or other vaccine mandates will have on the workplace.
Aaron Tandy: Hello and welcome to our program. Today's program is the return to the office vaccine mandates. My name is Aaron Tandy, and I'll be leading you through a discussion to recognize the need to address early preparation to allow for implementation of vaccine mandates, recognize the segments of the workforce that maybe opposed to returning to the physical workspace and may resist vaccine mandates, recognize the need of modified or consider the manner in which employees comply with vaccine mandates to allow for accommodation under the Americans with Disability Act, the ADA, or religious exemptions that are available under Title VII.
Finally, we can talk about learning techniques to assist in the transition back to the physical workspace. Obviously, many of you have already heard President Joseph Biden who signaled his administration's intention to actively encourage the reopening of the physical workspace to curb COVID-19 outbreaks by requiring mandatory vaccination of federal employees and employees of federal contractors. Previously, federal employees had the option to self-test weekly rather than obtain a vaccination.
But in September, President Biden announced his intention to do away with the testing option and require all federal employees to be vaccinated or face furlough. At the same time, President Biden directed the Occupational Safety and Health Administration to enact an emergency temporary standard, or ETS, which would be regulations to require private sector employers with a hundred or more employees to require vaccination or submit to weekly testing. While we don't know the exact nature of the ETS that OSHA will finally enact, we do know that previously OSHA enacted an ETS in June of 2021 for healthcare facilities.
Those were facilities in which patients were seen, so nursing homes, emergency, laboratories, places where patients would attend or have to be physically present. An ETS was established requiring a set of criteria for those facilities to follow. We will be discussing some of them as we anticipate the ETS that OSHA will develop for private employers to require vaccine mandates or weekly testing. Obviously, President Biden's announcement will require both employers and employees to confront new realities and to address both physical and operational changes required by the lingering effects of COVID-19 on the workplace.
President Biden's announcement, in my view, will most likely encourage employers not yet covered by OSHA's anticipatory ETS to also adopt vaccine mandate programs. As a result, this program will offer some guidance for assisting employers to navigate the presumably new ETS that will be imposed on private workplaces. Let's step back a moment before we get to the ETS and talk about the background to President Biden's September 9th announcement. In May of 2021, the EEOC, the Equal Employment Opportunity Commission, promulgated COVID-19 guidelines to assist employers who at the time desired to implement vaccine mandates for their workplace.
The guidelines addressed mandatory vaccination programs, voluntarily vaccination programs, and vaccination programs administered by employer. Mandatory vaccination programs are permitted under federal employment law so long as provisions are made to provide reasonable accommodations under the ADA or Title VII for religious objections. For purposes of this program, I am only going to be talking about federal law because various states have discussed enacting their own legislation as it relates to vaccine mandates. Whether or not those state regulations where you practice will be complimentary to OSHA's ETS or hostile remains to be seen.
I will not speculate, but we will discuss what we can anticipate will be required for employers. The EEOC guidance indicated that for employees requesting an accommodation from a mandatory vaccination program, an individual assessment had to be made. And at the time that the mandatory vaccination program was announced, employers had to specifically notify employees of the right to seek an ADA or religious exemption. This is different than the OSHA guidelines for healthcare facilities which required the creation of a COVID plan and allowed in some instances for voluntary plans.
The ETS promulgated by OSHA in June of 2021 for healthcare facilities primarily was a mandatory program with only opt out for religious or ADA accommodations or for those employees who did not work with patients or other healthcare providers. For example, a hospital administrator who worked remotely would not necessarily be required under OSHA's ETS guidance to be vaccinated so long as he or she did not come to the physical workspace where patients were being seen. It remains to be seen what OSHA will promulgate for non-healthcare offices under President Biden's direction. We'll talk more about that later.
The EEOC mandatory guidance requires that there be manager training as to what may or may not be asked of employees with regard to a mandatory vaccination program and how to direct employees to make an accommodation request. For the most part, under the EEOC guidelines regarding mandatory programs, employers really could only ask whether the employee was vaccinated or unvaccinated or whether or not they had received their first or second vaccination shot.
All other questions under a mandatory program were deemed unnecessary since the mandatory nature of the vaccine mandate would require vaccination or furlough with the exemption again of an accommodation for medical disability or a religious exemption. The EEOC indicated in its May 28, 2021 guidance that employers were permitted to ask employees about their vaccination status, to require proof of vaccination, and to request confirmation if they had some question about the information they were getting.
Part of this the EEOC did because unfortunately there has been a black market situation with regard to fake COVID vaccination cards, which you may have also heard in the news. As a result, employers are able to test the voracity of the vaccination cards they receive. But in all cases, employers needed to take steps or need to take steps to keep such information confidential and avoid accidental dissemination of status information beyond the COVID-19 officer or those in HR who need the information.
Obviously part of the EEOC guidance is to avoid a situation in which a supervisor learns information about an employee which really is not part of the evaluation of promotion, raises, decisions about work tasks. But if the manager becomes aware of certain information, that might influence their decisions. And as a result, the EEOC cautioned employers about dissemination of COVID vaccine status under a mandatory vaccine program.
In addition, the EEOC guidance cautions that imposing a mandatory vaccine program can lead to unintentional disparate impacts on certain segments of the workforce based upon protected characteristics, including the fact that in certain areas, certain demographic groups that face barriers to obtaining vaccination. As a result, the EEOC guidance regarding mandatory vaccine programs or vaccination programs is to consciously test the program for unintentional disparate impact.
Part of the concern is that if work assignments are given on the basis of vaccine status, segments of the population who maybe in a protected class who don't have access to vaccinations may themselves find themselves without the opportunity to obtain a meaningful workspace experience or work assignments. Therefore, the EEOC while allowing that mandatory vaccination programs reminds employers that they cannot use the program for impermissible or adverse employment decisions. Under the EEOC guidance, an employer can choose to do a voluntary vaccination program.
Like mandatory vaccination programs, a voluntary vaccination program is not prohibited by federal regulations according to the EEOC or the Department of Labor. The EEOC cautioned in their guidance that while an employer may offer incentives to employees to provide information under a voluntary vaccination program or to obtain vaccination itself, employers must be careful not to compromise an employer's ADA or religious right to seek an exemption.
In addition, under a voluntary program, employers who offer an incentive to obtain information about the vaccination status can also request the status of close family members who live or interact with employees on a daily or significantly weekly frequency without violation of the Genetic Information Nondiscrimination Act or GINA.
GINA protects employees from having to disclose information about family medical history which may cause an employer to assume that the employee who maybe asymptomatic or actually undiagnosed might be more susceptible or prone to develop a genetically related medical condition that may cause the employer impermissibly to terminate or limit the employee's retention in order to avoid down the road increase in medical costs.
For example, an employee who has a family history of diabetes, but who themselves does not currently have diabetes. If that information was disclosed to an employer, the employer maybe concerned that down the road the employee would develop diabetes, thereby increasing the employer's healthcare cost on a long-term basis. As a result, they might not promote or retain that employee as opposed to another employee. The GINA Act, the Genetic Information Nondiscrimination Act, is indented to prevent employers from accessing or making use of such family medical history or genetic predisposition to make employment decisions.
However, because the EEOC recognized that employers who are acting or offering a voluntary vaccination program would have unvaccinated employees in the workplace, it was important for the employer to understand the status of other people who employees would regularly come in contact with to determine whether there was a higher risk that the unvaccinated employee might contract COVID from a close family relative who themselves was also unvaccinated.
Obviously, if employers obtained information about employees' close family members, under GINA, the employer is still required to maintain the confidentiality of such medical information, use such information only in furtherance of the vaccination program, and limit the personnel who have access to the data. Because a voluntary program is just that, unlike a mandatory program, the EEOC provided guidance on avoiding coercive programs which would be prohibited even under EEOC guidance. One, an employer in a voluntary vaccination program is prohibited from penalizing employees whose family members choose not to be vaccinated.
Two, employers may not treat employees with unvaccinated family members differently than others in the workplace. And three, employers may not penalize employees whose family members choose not to share their vaccination status or provide proof of vaccination, although requesting such information is not a violation of GINA as noted above. The fact that a family member of an employee chooses not to cooperate is not grounds for furloughing or treating that employee differently.
I want to remind people that while we're waiting for guidance and an ETS from OSHA with regard to mandatory vaccination programs or voluntary vaccination programs, some employers have already jumped the gun. You maybe familiar with the fact that United Airlines had announced that they were instituting a mandatory vaccination program in compliance with the EEOC guidelines. On Tuesday, September 28th, United Airlines announced that less than 1% of its 67,000 US workers covered by the mandatory vaccination program were unvaccinated. There was a 3% of the workforce who had applied for medical or religious exemption from the vaccine.
The airline indicated that those cases were being addressed on a case by case basis. As a result, in Tuesday's announcement, United Airlines indicated that only 593 of its workers faced dismissal for not complying with the requirement to get a COVID-19 vaccine or seek an exemption either under the ADA or Title VII. Obviously CEO Scott Kirby who sent the letter to United's employees that was released to the media indicated in his view, everyone is safer when everyone is vaccinated. Vaccine requirements work to make that happen. Whether or not other airlines will follow United Airlines in creating a strict employer vaccine mandate is yet to be seen.
But I will note, because one of the questions that was raised when President Biden announced mandatory vaccine program for federal employees was that most or a number of federal employees were unionized and the unions indicated that they believe that such a program should be the subject of a collective bargaining agreement as a challenge to President Biden's announcement. However, United Airlines also has several workers who are covered by collective bargaining agreements and at the present time, most of those unions had not voiced vocal objection to United's program.
Other businesses that have adopted mandatory vaccine programs or vaccination programs have also likewise seen significant cooperation by employees. For example, Novant Health, a North Carolina not for a profit system of 15 medical centers with more than 35,000 team members, saw a 99% compliance with its mandatory vaccine program, leaving aside those employees who sought a medical or religious exemption. According to Novant Health's release, the company president Carl Armato, "Without a vaccine mandate for team members, we faced a strong possibility of having a third of our staff unable to work due to contracting or exposure to COVID-19."
As a result, Novant Health adopted a mandatory non-furlough program in which the less than 200 employees who were noncompliant would be given the opportunity to comply by the end of September or face termination. I am not here advocating for what corrective action should be used by an employer to obtain vaccination rates or increase vaccination rates. But at the present time, federal law does allow for termination. We'll talk about that more about case law in which people have challenged unsuccessfully, I might add, mandatory vaccination programs by their employers.
Lastly, under the EEOC guidelines, employers could do a self-administered vaccine program. Large employers and those in the healthcare field maybe in the best position to execute and monitor a self-administrated vaccine program. For most employers though, this type of program is probably both cost prohibitive and administratively difficult. Given the various hurdles that an employer must do under even the EEOC guidelines, an employer approaching the decision to self-administer a vaccine plan should proceed with caution.
For my own part, although a self-administrated vaccine plan is permissible under EEOC guidelines, given the fact that employees have a right to question pre-screening questions during self-administrated vaccine plan and require the employer to justify the screening questions so that they are limited to job related and business necessity inquiries. Because of the concern of inadvertent disclosure of medical conditions or disabilities which are not supposed to be used by the employer to screen out employees, I recommend that most employers not engage a self-administrated vaccine plan.
Rather, I would suggest that employers simply announce a vaccine plan, mandatory or voluntary, and then rely on third party providers to get vaccine rates up in their workforce. If the EEOC had already announced that vaccine mandates were permissible, why did President Biden feel the need to direct OSHA to institute an ETS? Part of the reason for this, as President Biden himself announced, was that various state governors hospital vaccine mandates have depressed vaccine rates in their states, which of course, has impacted the workforce.
Further, some states like Montana had introduced legislation that would prohibit employers within the state from adopting vaccine mandates, whether mandatory or voluntary, as a condition of employment, thereby raising the stakes for employers who choose to impose vaccine requirements for return to the office. Some employers whose businesses are governed by federal rather than state law, such as cruise lines, have been imposing mandatory vaccine programs to be able to comply with the Centers for Disease Control mandate to allow the return of operations.
Here in Florida, you maybe aware that Governor DeSantis has challenged the cruise lines' ability to impose mandatory vaccination programs for their workforce and obviously to require what we call vaccine passports for customers to take advantage of cruising. While the courts are still trying to decide the issue, for now, cruise lines operating in the State of Florida are requiring their employees to be vaccinated or face furlough, for the most part unpaid. Even so, vaccine rates have been depressed in various manufacturing sectors.
A survey by the Department of Labor indicated that unfortunately many line workers who engage with customers rather than upper management of companies are still unvaccinated or the rate among those workers continues to be lower than upper management or C-suite employees. Frustration over the lack of progress in obtaining a significant pool of vaccinated workers to avoid disruption in business services and supply chain ability is one of the reasons that President Biden directed OSHA to establish the ETS.
The failure of voluntary programs to move the vaccination needle is part of the reason for President Biden's September 9th announcement, both with regard to federal employees and private employees. Whether or not President Biden's executive order directing the mandatory vaccination of federal employees will succeed in surviving a court challenge that has not yet been made is up to debate. I anticipate the executive order with respect to federal employees will be upheld under the president's authority to issue directives for federal employees and contractors similar to those made by other administrations.
For example, when they expanded Title VII protections for gay, lesbian, and transgender federal employees prior to the Supreme Court's recent decision in Bostock. On the other hand, whether OSHA's ETS and the authority to enact the emergency temporary standard directed by President Biden will survive a court challenge is less clear. Under certain limited conditions, OSHA is authorized to set emergency temporary standards which are intended to take effect immediately and stay in place until superseded by a permanent standard. In order to issue an ETS, OSHA must first determine that workers are in grave danger and that an emergency standard is needed to protect them.
OSHA then publishes the ETS in the federal registry where it serves as a proposed permanent standard. The validity of an emergency temporary standard maybe challenged in an appropriate US Court of Appeals. ETS' have been used in a handful of situations usually to address potential toxic exposure, not a viral outbreak. Previously OSHA issues rules for example regarding hepatitis B vaccinations, 29 CFR 1910.1030. But the rule only required employers to offer vaccinations to potentially exposed employees and was not mandatory. Without seeing OSHA's ETS, it's difficult to assess what challenges will be made and how successful those challenges will be.
Of course, the hundred employee threshold maybe subject to challenge as an arbitrary number without any connection to prevention of or curbing COVID-19 outbreak in the workplace. Similarly, some may argue that COVID-19 is not covered under the ETS regulation because there's not a substance or agent within meaning of the law. Even so, the fact that President Biden directed OSHA to issue the ETS will likely embolden private employers to consider more stringent mandatory vaccination programs. Currently, employees have not fared well in challenging private mandatory vaccine mandates.
For example, in Bridges v. Houston Methodist Hospital 2021 Westlaw 2399994, the Southern District of Texas in June 2021 denied a challenge my employees of a hospital to their termination for failure to get vaccine. The Texas court indicated that under Texas Employment Law, their employer was in its rights to terminate these employees for failure to abide by the mandatory vaccination policy. This court is on appeal to the Fifth Circuit which is yet to rule. Still, the guidance provided by the Texas federal court likely will have impacts in other cases.
In Klaassen v. Trustees of Indiana University 2021 Westlaw 3073926, the Northern District of Indiana in July 2021 denied a preliminary junction seeking to stop the university from enforcing a vaccine mandate. The Seventh Circuit affirmed in early August 2021 Westlaw 3281209 and that remained the case law after Justice Amy Coney Barrett denied an emergency application to the Supreme Court in mid-August.
On the basis of the Klaassen decision, more recently in August 2021, a federal district court in Florida in Hencey v. United Airlines 2021 Westlaw 3634630, likewise denied a plaintiff's motion for temporary injunction to prevent the enforcement of the vaccine mandate we discussed previously that United Airlines had imposed on its workforce. According to the court, based on Klaassen, it was unlikely that plaintiffs could meet the burden of establishing irreparable harm for having to comply with a vaccine mandate.
In dicta, the court indicated that monitoring damages for termination might be available to the affected workforce, but that issue was not before the court on the motion for temporary injunction. As a result, once OSHA issues the ETS mandating coverage for those employers with a hundred or more employees or providing an alternative for vaccination with weekly testing, leaving aside accommodation for those employees seeking an exemption under the ADA or Title VII, it's important that employees that will be affected by the ETS prepare their office.
To prepare, employers should undertake the following steps. Employers should assess whether they will be a covered employer. Remember to count part-time employees, employees on long-term leave or furloughs, and potentially employers that are covered under a joint employment relationship. Then assess how much of the employer's workforce is vaccinated. Review COVID safety policies to make sure they are up to date. Remember, OSHA issued COVID policies regarding sanitary and cleaning of office spaces. You should review that guidance to prepare the office workspace for return and make sure that you are compliant with OSHA's guidelines.
Obviously, I don't expect OSHA to come in as the cleaning police and monitor or audit workspaces. But if there's an outbreak traced to an office and that office failed to comply with OSHA's COVID-19 guidance with respect to workforce conditions, I expect that OSHA will issue fines. Next, create a form for allowing employees to seek an accommodation under the ADA or Title VII, including the type of information required or that can be requested. Therefore, you won't have to on the fly figure out what information you need. Create a team to handle request for accommodations to limit access to the information.
Remember at all times the process for an accommodation, whether under the ADA or Title VII, is an interactive process. Identify the type of reasonable accommodations that maybe available, that are reasons that certain accommodations may not be even if they appear to be generic. Remember, OSHA and the EEOC do not require that a reasonable accommodation means that you takeaway essential functions of the job, create jobs that didn't exist, or displace an employee who currently holds a job in order to make an accommodation.
Therefore, allowing continued teleworking or staggered working days maybe a reasonable accommodation under certain circumstances, but not all circumstances. Obviously you need to determine if you want to impose a voluntary program which would allow for employees to decide to remain unvaccinated with weekly testing or mandatory vaccination program. Discuss potential increases in healthcare coverage with your healthcare providers. Put policies in place to prevent or limit exposure to claims that unvaccinated employees are being treated differently.
Assess the risk of implementing a mandatory vaccine program in the face of potential state opposition. Determine who will pay for testing and whether time spent getting tested will be compensable. Currently, under OSHA's ETS guidance for healthcare workers, the time spent getting vaccinated, and remember, the healthcare program is a mandatory vaccination program with only limited exemptions for the ADA or Title VII religious exemptions, the time getting the vaccination is compensable employment time.
As a result, I anticipate but I can't promise that OSHA will instruct that the time employees use to get tested, the actual testing or the actual vaccination, will be compensable time, not necessarily the time to travel to get the vaccination or to get the test. Set up a process for employees who choose the option to self-test if you use a voluntary program to report their results in a secured communication.
Determine the employer's policy for paying for leave term for those employees who become expose to COVID or test positive for COVID and whether the approach will be different depending on whether people are vaccinated or unvaccinated when they contract or test positive for COVID. Certain employers are imposing a healthcare surcharge for those unvaccinated workers. I don't know, it hasn't been tested by the court, but it does seem questionable whether or not an increase in healthcare cost because somebody chooses an unvaccinated status in a voluntary vaccination program as opposed to a mandatory vaccination program would be permissible.
Obviously you need to determine in a mandatory program what to do about those employees who choose not to be vaccinated where a substitution job is not available. For example, American Airlines has indicated that customer facing employees who choose not to be vaccinated will be furloughed without pay. This includes flight attendants, pilots, ticket agents, baggage handlers within the airport, not necessarily out on the tarmac. Let's spend a little bit of time discussing accommodations that could be requested. Obviously an accommodation under the ADA follows typical ADA guidelines.
The ADA requires an interactive process to identify the precise limitations resulting from the disability and the potential reasonable accommodations that could overcome the limitations. 29 CFR section 1630.2 subsection O, subsection 3. The process requires that employees provide all medical documentation that is reasonably requested or face the dismissal of the accommodation request. For example in Gilliard v. Georgia Department of Corrections, 500F appendix 860 from the Eleventh Circuit in 2012, the failure to provide the medical information prevented the interactive process from being completed.
And when the employer failed to provide an accommodation, the court upheld the employer's decision to terminate the process for the failure of the employee to comply with its request. Remember, under ADA accommodation even for COVID-19 vaccination exemption, the disability must be specific and substantiate limited major life activities. The fact that an impairment may merely affect major life activities is not sufficient.
Recently in the case of Norman v. NYU Langone Health Systems, 491FL3D154 from the Southern District in 2020, the court concluded that the plaintiff did not suffer substantial limitation of a major life activity in relation to a flu vaccine, even though she experienced shortness of breath and anxiety and stress around getting the vaccine in other years, because the plaintiff did not demonstrated the type of severe intensified reaction that would count for disability under the ADA.
As a result, while courts have not yet determined an ADA accommodation question in the context of a COVID-19 vaccination, there is limited authority to suggest that simply because somebody claims that getting vaccinated creates anxiety or stress may not be sufficient to require the employer to provide an accommodation. As I said before, it's also important to remember that even with a COVID vaccine accommodation request, employers are not required to alter the essential functions of the job to provide the accommodation. I.e., you're not required to shift certain tasks to other employees to provide the accommodation.
For example, in the healthcare system, a nurse who maybe interacting with patients who does not want to get the vaccination, the employer would not be required to transfer that nurse to a limited administrative role say of reviewing charts away from patients simply because the nurse requested an accommodation under the ADA even if there was a major life activity affected if the vaccination was to be required. You don't have to create new jobs as we said before or displace a current employee. You don't have to alter the business process to provide an accommodation.
Again, if an employee asked for an accommodation that would require changing your business model, that's not a true accommodation request. Finally, you're not required to make an accommodation that would be prohibitively expensive or detrimental to the business operations. That being said, of course, there is no case yet that challenged a denial of a request for an accommodation under the ADA as regards a COVID-19 vaccination policy. We'll have to wait and see where the courts go. Some reliance on the EEOC's May 28 guidance is helpful.
The EEOC indicated that an employer can deny an accommodation if it can establish that a significant risk of substantial harm may occur that cannot be eliminated by the reasonable accommodation. The EEOC provided a series of questions to ask to determine whether even if an employee has a disability preventing them from obtaining the vaccine, the unvaccinated employee would propose a direct threat to themselves or others in the workplace which might not allow reasonable accommodation.
Note for office workers, it is unlikely that this direct threat assessment will be applicable given the ability of most employers to segregate an unvaccinated employee or to allow teleworking. But for some jobs, it would not be possible. You could imagine that a preschool teacher who asked to remain unvaccinated may create substantial harm because currently there aren't vaccination options for young children who maybe susceptible to COVID-19 especially from somebody who was unvaccinated.
As a result, under the EEOC guidance, this type of employee would not need to be accommodated in order to remain in their unvaccinated status and to remain employed. The May guidance from the EEOC also provides some reasonable accommodations that might exist. Isolate unvaccinated workers in the office. Require, of course, periodic COVID testing. Limited telework arrangements. Changing ventilation in the office. Requiring stricter mask wearing and social distancing.
But again, that only is required if the employer can establish that there is not a significant risk of substantial harm that could occur should an unvaccinated worker come into the workspace on a continuous basis. Remember, OSHA has not changed the obligation of employers to provide a safe workspace to their employees. In some circumstances, an unvaccinated worker may post that type of unsafe situation for the other employees who themselves are vaccinated. Religious accommodations also have not yet been tested by the courts.
Obviously under Title VII, an employer must accommodate a sincerely held religious belief or practice that is at odds with the employer's directive. Once the employee makes a request, the employer must engage an evaluation and offer reasonable accommodation that would not be an undue burden. According to EEOC guidance, an employer may ordinarily assume a religious accommodation is based on a sincerely held religious belief. If an employer has an objective basis for questioning the religious nature or sincerity of a particular belief, observance, or practice, the employer may seek additional supporting information.
See EEOC guidance CVG 2021-3 section 12. Further, while sincerity of a religious belief is generally presumed or easily established, a person may seek to obtain a privilege legal status by virtue of religion cannot preclude inquiry design to determine whether it is in fact a religion. C. Seshadri v. Kasraian 130F3D798 Seventh Circuit 1997. Even so, please remember as most employers don't usually or not usually confronted with a religious accommodation request. All sorts of religious observance is permissible to count for as a religious exemption.
For example, veganism has been determined to be potentially the basis for religious exemption. Indeed, an ethical or moral set of principles by which a person lives which may or may not be connected to an established religion also was considered to be sufficient for an employee to seek a religious accommodation and the failure of the employer to engage in an interactive process was sanctioned. Obviously an employer may make an assessment when challenging or evaluation accommodation requests to determine whether or not secular desires instead of religious observance is driving the request and whether the timing of the request is suspect.
See generally Brown v. General Motors Corp. 601 F.2d 956 Eight Circuit 1979. While employers should be cautious about such employees in testing the validity a religious or religious belief, the fact of the matter is that the timing of a requested religious accommodation may itself lead an employer to make a challenge. Outside the COVID-19 situation, for example, if an employer for a long time has been working on weekends and now the weekend shift maybe undesirable, an employee coming to you and saying that they now are religiously observing the Sabbath or Sunday in order to avoid an unpleasant shift maybe considered suspect under certain circumstances.
Remember, it's important to establish the difference between a sincerely held belief and a merely personal preference. A personal preference does not have to be accommodated. See Vetter v. Farmland Industries 120 F.3d 749 Eight Circuit 1997. However, just because the requesting employee has not been scrupulous in observance is not a reason to disbelief the sincerity of the request. A consistent observance of a religious custom does not void an employee's religious rights, but evidence tending to show that the employee acted in a manner inconsistent with his now professed religious belief is relevant to the fact finders evaluation of sincerity.
See Grayson v. Schuler 666 F.3d 450 Seventh Circuit 2012. And no, I didn't make up that page reference. In the context of vaccination as we've said, there are no specific cases addressing religious accommodation, but courts have addressed religious accommodation for influenza vaccinations to mix results. Compare Fallon v. Mercy Catholic Medical Center 200 F.3d 553 from the Eastern District of Pennsylvania in 2016, where plaintiff's opposition the vaccination was determined to be purely personal and secular.
With Chenzira v. Cincinnati Childrens' Hospital 2012 Westlaw 6721098 Southern District Ohio, December 27, 2012, in which a motion for some rejudgment by the hospital to dismiss a terminated employee's challenge was denied because the court determined that the employee's sincerely held belief that the influenza vaccine was inconsistent or inapplicable to their practice of veganism would be considered a sincerely held belief sufficient to require the employer to offer an accommodation or at least engage in an interactive process.
How courts will determine religious requests is a question especially where more recently it was determined that certain religious requests certifications had been filled out in mail order as opposed to getting a letter support from somebody within the community. How the courts are going to determine who is able to offer support for religious accommodation is also a question that hasn't yet been determined, nor is there EEOC guidance. I'm not sure whether OSHA's ETS will cover that question.
Finally, in our limited amount of time, I want to bring up two issues which are on the flip side of each other that may affect mandatory or voluntary vaccination programs. One is the instances of what has become called long COVID or long haulers. Those are people who have suffered from having been exposed to COVID, had COVID, and symptoms have lingered or additional physical issues have been created by their exposure to COVID. Some of the more dramatic ones are, of course, decrease lung function, shortness of breath, difficultly breathing, the need for additional breaks.
The EEOC has not offered significant guidance with respect to long COVID exposure or long COVID sufferers, but most should be treated as an actual disability under the ADA with an accommodation. To the flip side, there are certain employees who have brought claims for exemption claiming that they don't need a vaccination because their exposure to COVID or have had COVID has created a natural immunity. The natural immunity claim recently gained some traction when a bankruptcy professor in a lawsuit challenging George Mason University's COVID vaccination policy filed an action to the Eastern District of Virginia challenging the need for him to get vaccination.
The professor had medical testimony from his doctor that because he had high levels of antibodies in his system still from his exposure to COVID he was necessary or it was not necessary for him to get a vaccination. Ultimately, the university offered an accommodation and the lawsuit was settled for undisclosed terms, but it remains to be seen how widespread such accommodation request will be made. Obviously a natural immunity claim will require some supporting evidence from a medical professional who has actually treated the patient, but employers should be responsive and recognize when such claims are made.
I hope this program has helped you to prepare for the return to the office with a vaccine mandate in place. Again, my name is Aaron Tandy and I appreciate your attendance at this program. Thank you.