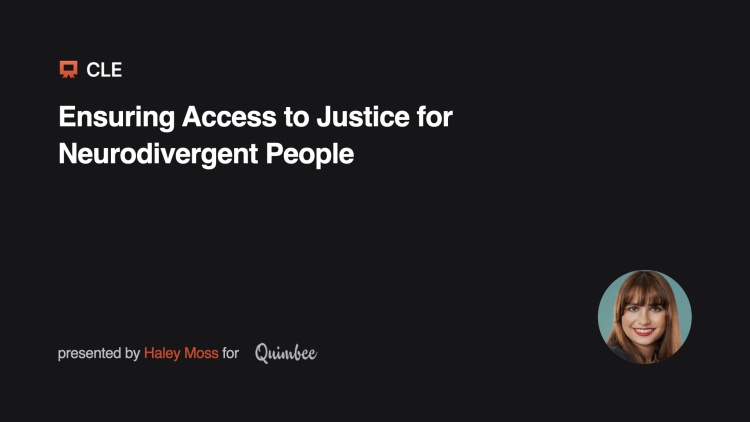 Ensuring Access to Justice for Neurodivergent People
No two brains are the same. An estimated 1 in 7 people are neurodivergent, including those with autism, ADHD, mental health disabilities, learning disabilities, intellectual disabilities or acquired brain differences. Given this prevalence, why are conversations around neurodiversity nonetheless so difficult, especially in the context of law practice? How can we dismantle the barriers for neurodiverse clients to ensure they have equitable access to justice? In this session, Haley will unpack the nuances of accommodations, ethical considerations for representing neurodivergent clients, navigating disclosure, advocating for ourselves and others, and building accessibility into our understanding of "inclusion" and access to justice. Come prepared for lightbulb moments, and leave feeling more empowered to tackle stigma.
- [Haley] Okay. Hello, everyone, and welcome to Ensuring Access to Justice for Neurodivergent People. It's wonderful to get to join all of you. My name is Haley Moss. I am from sunny Miami, Florida, and I am an attorney, an author, an advocate, and I am also autistic. We'll talk about a little bit what all that means to me and what it means to be an autistic person and a neurodivergent person getting to lead this program for you all later. Before we get started, I want to point out a little bit about accessibility and housekeeping. I know that we have all sorts of amazing features here at Quimbee. And something that might be helpful to you is, again, this presentation is recorded so you can always go back to things as you see fit. And we also have closed captions and a transcript available to you. If you are someone who is visual, you are someone who has a hearing impairment, or there's some other reason that that might be helpful for you in making this program accessible, then that's available to you. If there's anything that I can do in the future to make this more accessible for you, please let me know. Access is something that I take seriously. It's part of our title today. It's part of what we're working towards, and access is a team sport. It's not my job to be the person who gate keeps who can access this program or make it accessible to you. With all of that said, we are going to jump right into our discussion. So I'm off to the next slide to really just begin to talk about what neurodiversity is in the first place. I am very aware that this might be something that's new to you. If it is, that's totally okay, this is new to a lot of us. And when I talk about neurodiversity, I'm talking about this idea that all of us have different brains, that we are just as unique as anything else and our brains are no exception. Just like how some of us have different skin colors and eye colors and hair colors and personalities, all sorts of things that make us who we are in terms of our identity, how we process the world around us, is no exception to that. When we think about our different neurological profiles, our neurotypes, there's a couple different things that we're thinking about with how our brains are working, and the way that we tend to classify brains falls into two major categories. I don't like saying the word normal, because what really is normal, when we think about that? If you ask me, normal is a setting on my washer-dryer. It's a standard that is random and arbitrary at best. Our idea of normal, so to speak, at least when we talk about brains, is this idea of neurotypical. And what it means to be neurotypical is that your brain probably works in expected ways, that the way that you process information is pretty similar to the majority of human beings. Maybe you don't register things as too loud, or you don't register things as being overwhelming, or you're able to communicate very well along the lines of what's expected of you societally, culturally, or that it's just who you are as well. As for those of us who are neurodivergent, that really is our out-of-the-box thinker, our person who might have heightened responses to different stimuli. All sorts of different things. And when we think about what neurodivergence really is, we think about all these things that are differences and how we communicate and how we think. Most often, these are forms of disability. And I know that's something that seems complicated to think about, is we're talking about differences and disability in the same sentence, in the same concept. And what's happening here is that most forms of neurodivergence are cognitive impairments under the definitions from the Americans with Disabilities Act of 1990, and they limit one or more major life activities, which include things like communicating and thinking. Not everyone who is neurodivergent will identify with disability and not everybody with a disability is neurodivergent. A lot to think about there for a moment. And when we think about how many people might be these people who have these communication and sensory and thinking differences, it turns out to be a lot of us. Depending on how expansive your definition of neurodivergence is, that could be as many as one in seven human beings. I've seen estimates that are closer to about 20% or one in 20. I've seen all sorts of different numbers. But I also realized, depending on what part of the world you're in or how expansive your definition or net for neurodiversity is depends on what you get. The definition that I am using today is very expansive and that's because I don't think that it's up to me or anyone else really gate keep whose brain might be atypical for that matter. And the traditional definitions of neurodiversity have a tendency to exclude, which means when we think about neurodiversity if this is something that's familiar to you, your immediate assumption is probably just autism, ADHD and learning disabilities. That's because these are the folks who we think of as quote, unquote, desirable in the workplace, who are productive in society, who have something to contribute for that matter. And all of that is a bias we're going to unpack later throughout the program. But when we are talking about neurodiversity, also does include people who seem to be excluded more often than not. So folks with intellectual disabilities, people with mental health or psychiatric conditions, and even acquired cognitive disabilities, like Alzheimer's, dementia or traumatic brain injury. All of these things fundamentally alter or affect how somebody processes the world around them or information. Another misconception that I'd like to quickly clear up is I know that it's very quick to think that when we talk about processing information and our brains, we can go to this diversity of thought thing. And I'm not going for that. We're not talking about differences in opinions, we're talking about how we process information. So as we're here today, I have a scent diffuser in my apartment and I can hear the fan of it going constantly. Now, there's a very good chance that you won't be able to hear that, that it doesn't seem to stick out at you, that maybe you just know that you hear the sound of my voice, maybe it sounds very clear to you, maybe it sounds very loud depending on how you have your volume. All of those things are different experiences based on how your brain is processing information. It doesn't mean that you like the sound of the fan or you like the sound of my voice. It means that you are processing it as it's loud or it's quiet or it's calming or whatever it is that makes you process that information. I hope that helps clear that up a little bit. And moving right along to our next slide, I wanna talk about where this comes from and more about this idea of neurodiversity. But I did mention earlier that this might be new to you, and relatively speaking, neurodiversity is a fairly new term. It came about in the late 1990s from a sociologist in Australia by the name of Judy Singer. And she was writing about this idea in her thesis at the time, and she was corresponding with a journalist from the Atlantic by the name of Harvey Blume. And Blume wrote about neurodiversity for the very first time in 1998 saying that neurodiversity may be every bit as crucial for the human race as biodiversity is for life in general. And who can say what form of wiring will prove best at any given moment? I really like this as an explanation for what neurodiversity is all about, primarily because we're not viewing a lot of these cognitive conditions that we mentioned on the last slide and earlier in the program, as something that's wrong with people, that it's very easy to assume that this is a failed version of normal type thing. And what Blume is saying essentially, is that it's a lot like different types of technology, it's that we have some advantage when people are thinking differently or that they're processing things differently. One of the easiest explanations that I've ever received about neurodiversity is this idea of this Mac vs PC type thing. Or as I often do it at this point in time, this Apple iPhone versus Android operating system. And we're not saying that one is superior to the other, although you might have a very strong opinion about which is better, but one might be better for certain type of tasks or different interface that you prefer, and the other might have have different strengths and different weaknesses. And that's totally normal. And that's totally okay. And that's exactly what we would expect. But in certain tests, certain moments, one does come out on top of the other, but we don't know exactly which moment that might be or when that moment arises. I find that to be really powerful and really comforting. And that's something we're gonna talk about, especially when we talk about bias and stigma. So keep that idea of the two types of operating systems in mind because that's something we're going to play with a little bit later throughout the program. Next slide, please. When we think about neurodiversity as well, I know we just talked about how that it's not that this idea of failed version and normal or that something's wrong with us. In fact, like Blume was saying, neurodiversity can be one of our greatest strengths. And this list that is on the screen is not exhausted, that we have way more forms of neurodivergence than just autism, ADHD, dyslexia, dyspraxia, learning disabilities essentially, as well as a couple other cognitive conditions. But there are a lot of things that are in common with these things. And also, when we think about the strengths and we think about what this can do for us, our clients, us as lawyers, the people around us, the people that we love, I think that's really fascinating, is we often focus so much on the deficits. I mentioned when we began that I am a person on the autism spectrum, I'm autistic. And so often, people immediately want to assume what is difficult for me or what I struggle with. But really we wanna talk about the things that we're good at. We wanna think about what skills that we have that might be quote, unquote, best at any given moment, is a lot of us who are neurodivergent are people who think outside the box. We are constantly adapting to a world that doesn't always necessarily have us in mind. A lot of us are very creative. You have to be creative when you're adapting to things that might not always accommodate your different needs or a world that isn't exactly designed with you in mind. A lot of us might be extremely passionate and able to focus on things for hours that we get excited about. So that's especially true for the autistic and ADHD crowd. That's something that happens to me, I get really excited about something, there's something that I'm interested in, I will spend the whole day going down a rabbit hole of thought to learn everything that I can about it. Every person is different, but those are things that I know are very true to my own experiences. A lot of us might also be very passionate, very honest, reliable, we might have a lot of energy. Just the way that we are also compensating for the things that are hard for us. I often think about lawyers who I know are neurodivergent, and one of the first people who comes to mind actually, is David Boies. And I'm sure a lot of us are familiar with David Boies, whether it's because you recently watched a documentary on Theranos or the Hulu show or you go back to the memories of Bush v. Gore. And what's really fascinating to me about David Boise is he's dyslexic. And he's known for being a wonderful attorney. He said in an interview once that I remember reading, that he is not a very good reader or he has to slow down and he often, because of that, relies on memory and other tools at his disposal to be an effective attorney when it comes to arguing in court. And that ultimately is one of those things that makes dyslexia a strength for him, rather than just a, well, I just can't read very well or I read very slowly because it's difficult for me. I feel the same way about my own neurodivergence a lot, is that it is a strength, and I think that's something that we want to focus a little bit more on throughout our time together and something that we could be thinking about. All of us have these unique strengths and weaknesses that make us who we are. But when we really focus on everything that's hard such as maybe an inability to read effectively or differences in social communication, or perhaps in the case of some of our ADHDers, things like being easily distracted or unfocused at times, that we think so much about all these things that are hard or bad, that we don't focus on the things that are good and that bring a lot to the table, especially here in the legal profession and the people that we know even outside of the profession as well. How do we begin to focus on this? How do we do better? Next slide. Is we have to think about where we're coming from, and a lot of that ultimately boils down to the attitudes, biases, and stigmas that we already have. A lot of us aren't always very good about neurodiversity and disability. There's this idea, almost, that once we get off this well-worn path of, be nice to people, don't say the R-word and offer assistance, we get a little bit lost on what would be appropriate, what we can and can't say. I know there's lots about language that comes up throughout. All sorts of things. But some of the things that happen to me the most are these microaggressions that happen. I gave my top three of things that I experience on a regular basis, professionally and personally, here. One of the biggest things that people will say to me as an autistic person is, "I never would've known if you didn't tell me." And this usually comes from a very good place, as do most of these things, but what makes it so hard is as someone who does struggle at speaking the dominant social language at times or often finds myself missing social cues or struggles to initiate conversation at times, is when someone says, "I would've never known if you didn't tell me," what you're doing is you're recognizing a lot of my different coping skills. And it's something I've had to learn a lot. My goal isn't to appear as if I don't have a disability. My goal is sometimes to just make other people feel more at ease or more comfortable because a lot of us do have that discomfort. Because we just don't know, we don't really know what to do. We have lots of feelings about this. It's sometimes anxiety-inducing that we just don't know. And something that happens, and we're not going to get too detailed on this in today's program, is a lot of neurodivergent folks don't disclose at work. We don't disclose professionally. You probably work with people, clients, who might never tell you. And a lot of us don't tell you for a lot of different reasons. It's highly individualized. But something that happens a lot, especially for folks who are marginalized so women, people of color, other people with unique identities as well, so people who might be transgender, non-binary, different cultures, et cetera, that basically if you're not in this dominant idea, that a lot of us use this idea of suppressing neurodivergent traits as a survival skill. That you don't want to be profiled, you don't wanna be discriminated against, that you're purposely acting in a way that feels like almost having a permanent customer service personality, for lack of a better description. And that, people compliment. And it can be a really difficult thing to struggle with and feel that you can't always be yourself because you're really trying hard to make people feel comfortable with you. Other things that people say are things like, "Why don't you just get that?" "Why don't you just try harder?" "If only you applied yourself." All of these things. And I know they usually come from a good place of, we know you have so much potential, or, this is something that's super simple and you just don't get it, and they get frustrated. Now, let's think about what we talked about on the previous slide. We talked about a lot of different strengths that neurodivergent people have, we didn't talk a lot about the weaknesses. And just like anybody else. I and other neurodivergent folks have unique strengths and weaknesses. There are things that I can do very easily that a lot of my peers can't. I feel very comfortable having this conversation right now and I'm sure there's at least one person here who would be absolutely terrified to deliver a program of any sort. I'm not going to tell you that it's really easy because I know that everybody has things that they're good at, things that they're bad at, things that make them excited, things that make them nervous. That's just being human. And finally, one of the ones that people say a lot to me, is stuff like, "Everybody's a little autistic." And, "We're all on the spectrum." And usually this also comes from a good place, which is why it's confusing when we talk about some of these things. Is it's a way that's supposed to make me feel better about the things that are hard for me. And a lot of the things that are hard for me and hard for you might be very similar, might be very different. But the reasons why is really what separates that. For instance, I'm really bad at keeping my files organized. I seem to just always have papers all over the place. I work from home mostly so my kitchen table is just a scattered mess of papers. And I'll just be like, wow, I really need to get organized. I really want to do this. I want to make sure that it's not such a disaster zone on the table. And somebody else might go, yeah, I'm really disorganized too. That's an everybody thing, everybody's like that. If that's the case, we're all on the spectrum. And the difference is usually between you and me in this situation, is I want nothing more than to get all of my papers organized. I want to. And then I start going through them, I don't know what to throw out what to shred, what to save, what goes in a folder, et cetera. And I get extremely overwhelmed and then it never gets done. That is not the same as saying, I simply just don't care. Or I simply just don't want to do this, that my neurodivergent makes it really difficult and my disability makes it that these things are hard for me. And all of this has a root. When we think about where a lot of this comes from, it comes from this idea of ableism. And at its core, ableism really is prejudice, stereotypes and discrimination against people with disabilities. Ableism is simple or as complex as you want it to be. That's the simplest version of it. But a more complicated version of ableism comes from an attorney and scholar by the name of TL Lewis. And Lewis basically breaks down ableism as this way of how we assign value to people's brains and bodies and minds based on our ideas of who is normal, who is productive, who is intelligent, this idea of excellence and fitness. And all of this has roots that are intersectional. So it comes from things like eugenics, racism, misogyny, capitalism. You can really go down the line with Lewis' definition. And because of who falls into these categories or who we're deciding is productive and desirable and intelligent, and even how we treat people based on a lot of these stereotypes and discrimination and prejudice, that the biggest thing that Lewis also explains is that you do not have to be disabled, or neurodivergent for that matter, to experience ableism. People are treated differently sometimes when they hang out with me. I am treated different around people whose disabilities seem more apparent, for instance. My parents, when I was growing up, were treated differently than other parents because they had a, non-speaking at the time, autistic child. All of these things are rooted in this ableism. But when we talk about it specifically in a neurodivergent context, we are coming from this idea that there's something wrong with us, that medical model of disability, almost, of that we are treating the person and that the person is the problem and that they need to be fixed to act more neurotypical, that we need to act more normal. This be yourself but not like that type thing that I feel like I've experienced a lot. And think about this back to our original example of technology. We were talking earlier in the program about having two different types of phones. We have our iPhone, we have our Android. And let's just pretend for example's sake that I download a really cool app on my iPhone and I want to share it with you. You are an Android user, and you go to look for it on the App Store, whatever Androids have, and it turns out that it's not compatible. And chances are you'll just go, well, Haley, that sounds really awesome but it won't work on my phone. You'll have to show me some other time, or maybe there's something that will work on both of ours instead. And chances are we'll just move on from that conversation and go about the rest of our day. When we're dealing with people, we don't have that same approach. If I wanted you to download this app and we're talking about it in terms of how we talk about neurodivergence, the first thing that happens is, well, do you have an emulator for your phone? Is your phone broken? Let's try to troubleshoot why you can't do this thing. That seems so effortless for me. And that sticks with me because that's something that I know I've experienced, I know plenty of other neurodivergent people have, is this idea of, you're this failed version of normal, when that's really not the truth. It's just that for some reason, certain things just are difficult or they're just not compatible. If we're treating our technology better than sometimes we treat people that really does reinforce that idea of ableism. I know it's not always easy and I know that sometimes it's super complicated. We're going to switch gears just a little bit now that we got that out of the way. So we're off to our next slide. And we're gonna talk about law practice a little bit, because that's really what we're here for. After all, this is Continuing Legal Education, not just Disability 101. Next slide. And we think about who in our profession is neurodivergent, or even just neurodiversity as a whole because whether or not we know it, our profession is neurodiverse meaning that we have people with all kinds of brains in it. We're talking about our lawyers. We're talking about the staff we work with, our colleagues, our clients, witnesses we might one day call to the stand or people we might depose. And we're also thinking about our personal lives. I know many attorneys who are neurodivergent themselves. I've worked with many folks who have neurodivergent family members or friends. I know there's probably at least one person here who might know me and go, yeah, that's my friend, or something of that nature. So when we think about how this affects us, because I know a lot of diversity topics, sometimes we think, well, where does this come into my life? And the truth is neurodiversity is something that you interact with every day, whether or not you know it. Think about the people that you work with, the people that you represent, the people that you love, and chances are at least one of those people has a learning disability, a cognitive disability, a mental health condition. You can just go down the line and eventually you will land on at least one person. Or sometimes you might land on someone who has multiple different conditions. So you might land on someone who has depression and also has ADHD for instance. So we're very used to being around neurodiversity. And on our next slide, we're gonna chat just a little bit, actually, about how this affects our profession. When we talk about disability more broadly, there's a lot of disparity, actually, more than anything else, that when we think of who is self-reporting disability, it's a very small number of lawyers, less than 1% consistently from the National Association for Law Placement. Some of the most recent numbers look to be about 0.88% as of 2020. I will have to double check what those 2021 numbers are looking like. But generally speaking, it's in that 1% range or less consistently year to year. And that's also because there is a self-reporting metric. A lot of us don't self-report, or a lot of people who are neurodivergent particularly don't associate with disability. Disability is very highly stigmatized in our profession as I'm sure you can imagine. Whether it comes to bar admissions, whether it comes to staying licensed, whether it comes to even this idea of who is fit to practice, we can just really evaluate or who is going to be a good lawyer, what we think who the ideal lawyer is. What I think is really interesting though, is that there's certain forms of neurodivergence and disability that our profession tries to do a good job about, that we talk an awful lot about probably since the time you were at least in law school, actually. Things like anxiety, depression, substance use disorders. And the American Bar Association feels the same way that we're going to talk about anxiety, depression, and substance use, primarily alcohol. These are things that I know I've heard about since my first year of law school, or maybe even going back to orientation. And what we end up finding, at least what the ABA finds, is that a lot of these different mental health conditions do occur in lawyers in higher rates than the general population, that you have more anxiety, more depression, more substance use. But something that was really interesting in this landmark study from the ABA back in 2018 is that they mentioned that nearly 12.5% of lawyers reported meeting the criteria for an attention deficit or hyperactivity disorder diagnosis, or ADHD, and then, they never addressed it again. Now, this is an extremely high number for ADHD that in the general population, it doesn't look anywhere close to this. It shows that we have a lot of work to do and it's something that I'm surprised hasn't really been evaluated or studied further to be quite honest with you. When we think about lawyers with disabilities though, and why these things might not be investigated or really disclosed in the first place, there's a lot of factors working against you, that lawyers with disabilities are more likely to be unemployed or underemployed, which is also true for the general population when it comes to disability employment and especially for neurodivergent folks. Something that happens a lot is that autistic people actually have one of the highest unemployment rates of all disabilities. And we also have lower starting salaries than non-disabled lawyers. There was a study that estimates that this number is somewhere around the $10,000 mark for recent graduates, which is a lot of money to think about. And something else, if you look at other studies on disability employment, there's one in particular that is from the Ruderman Family Foundation that discusses that the higher level of education that a person with a disability obtains, the wider that salary gap is going to be. As attorneys, we all are very privileged. We have higher education. We have a JD. After all, you are watching this because you are a JD, you have an active bar license and you need credit, most likely. That you definitely are in this highly educated bracket and that your colleagues who might be open about a disability or that they have an apparent disability or neurodivergence might be being treated differently, even in terms of what they're being paid or what job opportunities are available to them. Despite all of this doom and gloom it seems, we have a good story to be telling. And that's that we all benefit from having neurodiversity within our law practice and our profession, is we have these unique problem solvers that we were talking about and different approaches to different legal issues and strategy. One of my fondest memories of being in law practice was when I first started. And I remember being assigned a case about judges and arbitrators. It was actually an arbitration. And we wanted to disqualify the arbitrator. I remember being asked to research different standards for disqualifying judges and arbitrators. And my boss was primarily focused on just disqualifying a judge or an arbitrator, and I was just looking at it and I was like, I think there might be two different standards here, I'm going to look into that. And I ended up looking into the differences between judges and arbitrators for disqualification 'cause it was almost assumed that they would be the exact same, and at the time they were not. And I brought back all of this research on both standards, and it turned out that that idea of looking beyond what I was asked was right. Ultimately that's what won the motion. And it was a really powerful experience for me and the folks that I worked with realizing that having a different approach to a problem that wasn't the one that I was expected to take could be one of our greatest strengths. Not this know-it-all type thing, but this, hey, there might be something that we're not thinking about, let's look into that, or this might be great. Something else that I've learned is a neurodivergent attorney or team might be the best lawyer for a specific client. A lot of us know what it feels like to be different. And I know that there are people who need that reassurance or want to be trusted or that want to trust you. I know that there are people that I've worked with throughout my career who have trusted me because of my approach or because I have been vulnerable with them and shared something about myself, or that it made them think that they could trust me, that I knew what I was doing. I think that's something that's really powerful and that could be one of the greatest assets that we actually have. And let's move right along, actually, on where this is gonna be a good thing for us, is that neurodiversity at work has been this really big trend that's been going on. It's something that we've seen a lot not just in the legal space, as we do have a lot of law firms that are realizing neurodiversity is good for us, but it's something that's been going on for the last several years, if not at least the past decade in the tech sector, in private business and even the public sector as well. But there's all sorts of amazing resources on neurodiversity at work nowadays. If this is something that you're interested in learning more about, you could check out some resources from places like Disability:IN, or even the US Department of Labor has all sorts of really cool resources on neurodiversity at work nowadays and I'll make sure that you have access to those as well. When we do have neurodiversity at work though, we all benefit from it. There are companies that end up having higher revenues and making more money by employing people with disabilities. I know that there's this almost default assumption that when we hire people with disabilities, that it's to make us feel good about ourselves. I think about this a lot because my local grocery store is very well-known for hiring people with autism, with down syndrome or people that seemingly do have a cognitive condition. And it's wonderful. It makes me feel good about it as a consumer that these people are in my community, active, employed, probably getting a fair wage, all that good stuff. And while we think that these businesses are also doing it at outta the goodness of their own heart, they're doing it because it benefits them too. That their profits go up. The public looks at them favorably. And we know as lawyers, the public does not always look at us favorably, but being a champion of people in our community who often don't get the chance or who are multiply marginalized, that's good for us. I always find myself saying that neurodiversity and disability inclusion isn't just this moral compass of good and the right thing to do, that don't just do it because it seems like it's a good idea. It's sometimes the only and the best idea that we have of making sure that we include everyone, people that are primarily unemployed or underemployed, people who don't get the chance and who deserve it and who want it. All these things are good for us. And of course, we all benefit from working with people who are different than we are, who think differently, who experience the world in ways that we don't. All of this is good for us. Which means we're gonna have to move right along just a little bit as well, just to have this shift into where does this come into our profession? Where does this come into this access to justice conversation? And where does that happen? That's probably the question I know a lot of us are thinking as well. Next, is a little bit about cultural competence. And something that gets lost on a lot of people is that there's all sorts of different rules. There's all sorts of different ways that we communicate with one another. I know that we have our biases about what is going on inside of someone else's head. That oftentimes, I think about the bias that I experience. That people immediately assume, based on autism, that I am really good at technology, that I don't want to make friends or talk to people, that I live in my own world, that everything is very loud and very crowded. That people automatically make a lot of assumptions that sometimes people will even be very explicit about this, that they might assume that autism also is an intellectual disability. There are a lot of autistic people who do also have an intellectual disability. But when people make this decision to assume that I have an intellectual disability, they often talk to me like I'm a young kid, and it's extremely frustrating to deal with. That a lot of these biases, they do have basis in somewhere, but they're also not true. I am not a computer genius as much as I wish I were. I did not major in computer science when I was in college. Like many of us, I went to law school because I wasn't passionate about the sciences or technology. I realized that I do love talking to people and working with people and having friends, and being in the tech sector isn't something that's for me. All of these biases are things that I have to often overcome as well as the fact that, at least for autistic people, that I am female. And that's a big deal because a lot of our images and our biases are, that's a little boys thing, not an adults thing, and not a woman thing, for instance. All these biases come into play quite a bit in my life and it's really frustrating having to unpack other people's biases as well. Also, just try to be open-minded. That's one of the best things that you can do when it comes to being culturally competent with people who are neurodivergent and who might be thinking differently and have a different social language than you. The best way for me sometimes to describe neurodivergence, or at least my experiences, is a lot like being a second language learner. And no matter how hard I try, I will always sound like I am from somewhere else even if I do speak the dominant social language fluently. And instead, what happens a lot of the time is when I get something wrong, so I miss an idiom, a turn of phrase, or some social cue, I get judged really harshly for it even though it's not my first language. And people often culturally don't try to learn the language that I naturally speak. For instance, I don't make a lot of eye contact with people primarily because I find it exhausting and all of my attention goes towards looking at you. One of the best things you can do is just know that's how I function and that's what works best for me, rather than just force me to look you in the eye as I've been told so many times to do, starting when I was probably in elementary school. All of these biases are things that probably take a lot of time to unpack. We're not always going to get it right. We just have to be patient with ourselves. And I know even when it comes to things like ableism and what is and isn't offensive, especially when we think about things like language, I don't always get it right either. And I want you to know that this is something that I'm not exempt from either just because this is also my community. And speaking of community, all of our communities have unique cultures, that neurodivergent and disability communities do have their own rules and cultures and customs. This is something that I wasn't always aware of either. As an autistic person, the autistic community is very separate sometimes than the broader disability community, and also has different ideas and rules and preferences than even other forms of neurodiversity. That if you talk to the autistic community largely, you've noticed that I probably have said autistic a lot and not just people with autism or people on the spectrum, for instance. That's a deliberate choice, because this community puts their identity at the forefront when talking about themselves as opposed to, say, people with intellectual disabilities might not refer to themselves as intellectually disabled. But that is, for instance, a rule. Just like in deaf culture, you have people who use lowercase d for deaf to refer to not having any hearing or a lack of hearing or hearing loss, or people who refer to themselves as capital D, Deaf, as a sense of pride or culture and community. All of these things are unique in rules. And even the way that I communicate with other neurodivergent people is very different too, that I might skip the customs. I might start talking to you like you're my best friend or that I implicitly trust you, all the things that oftentimes catch non-disabled neurotypical people off-guard. One of the easiest things that you can do though when it comes to language though, and trying to be culturally competent is try to avoid those euphemisms. And when I say euphemisms, I mean something very specific. I really am talking about how we can clean up our language in the easiest way possible, which essentially to me, is avoiding things like, handicapped, special needs, differently abled, different abilities. All of these things don't really help. And I know that sounds counterintuitive since a lot of this probably to you sounds a little bit nicer than saying disability or something like neurodivergence, that might have been a new word to you today. I say that we want to avoid these euphemisms primarily because they are not things that are chosen by people with disabilities, by neurodivergent people. A lot of them are chosen by researchers, parents, other stakeholders, and they actually contribute to stigma if you look a little bit deeper into some of the research. I often find myself really frustrated when people say that I have special needs. That one especially. And I know that for those of you who are in elder law or trust and estates, that a special needs trust has a very specific meaning. I am not here to attack that, but I do, if your jurisdiction does use supplemental needs trust to say the same thing, I will use that instead. When it comes to special needs though, why it's really frustrating for me is that my needs really aren't special. There's nothing that I need or want in my life that's really that completely unique compared to anybody else for that matter. I often want the same things you do. I want a career that I love. I want to be successful. I want to be happy. I want to be surrounded by friends and family and hobbies and love and all the same things that most of us want. Those needs, to have a roof over my head, a good education, all of that stuff. That's human. That my needs really aren't special then. They're human needs. I just might need different support to get there. So a lot of us might need things like accommodations, or we might need someone to help explain things to us a little bit more. All of these things are really paramount. And when you are talking about neurodiversity, if you want to avoid the euphemisms, you can always just use things like, disability. Disability is not a bad word I promise, you can talk about neurodiversity, or if you really want to be as respectful as possible, refer to the exact condition at play. So you might just say autism, ADHD, an intellectual disability, you get the idea. If you really, really don't know what to say, ask the individual. That's just like treating us like anybody else and respecting boundaries. Sometimes if I really don't know what to do, I will ask someone how they describe their disability or if they say, "I have ADHD," then I know exactly that they say that's how I refer to myself versus saying, well, I'm an ADHDer. And I know that there are folks who might use euphemisms to refer to themselves. If they do that, that is their preference. If you really don't know what to do, just ask what people use to describe themselves and honor that choice. One of the weirdest things that happens to me every once in a while when it comes to language, is people go, no, no, no, you're not autistic, you have autism. I made a deliberate choice that that's how I describe myself. It's part of my identity. I can't separate it from myself. I can't just put my autism down like a trendy accessory and then go off it and about my day. It just doesn't work like that unfortunately, or fortunately, I actually wouldn't wanna trade and be someone else to save my life, but that's just, you get the idea. Other things that we could do to be culturally competent is we have boundaries and deserve respect just like anybody else, just treat us like people. That assume that we are competent, assume that we understand things. I know that because we have this natural curiosity sometimes about experiences that we don't have, it doesn't mean that it's appropriate to ask those questions. I have been asked questions because I have disclosed that I know most of us would probably never ask someone we don't know very well. Consider your relationship with this neurodivergent person and then you can decide whether or not some of these questions are appropriate. You might not want to ask me, for instance, what I got on my LSAT. And people will ask me that without even knowing me or knowing where I went to law school or that I am so many years removed from it already. It's really wild to think that this is something that happens. The same goes for people who say this to a lot of people with disabilities, more broadly. This is something that happens to friends of mine who have physical disabilities, especially, is, what happened to you? Or, what's wrong with you? Please don't be the person who asks that question because you would not ask someone else that question just based on another characteristic of theirs. If you really want the honest answer, the answer is that nothing is wrong with me, I just happen to be born this way. And the thing with disability and neurodiversity that's really interesting, is it's the only minority group that you could join in any point in your life through no fault of your own, whether it's through an accident or just being lucky enough to be alive for a long time. Just treat everybody with respect and that's a really great way to get started and to be as culturally competent as possible. One of the easiest things that I wish that people did more often too is that we communicate directly with each other. I know. Communication is huge for us as attorneys and being direct is something that's really helpful. I am not good at reading social cues or reading between the lines. I love it when people mean what they say and they say what they mean. It makes it so much easier for me. It makes it easier for most of us as well. Something else that's really frustrating I think for a lot of neurodivergent folks, especially if communication takes a lot of effort or is very difficult, is small talk. I have never known really what to do with it, and I always tell folks, consider leaving that behind. It's okay to get straight to the point. I know for a lot of us, we view that as being rude. I promise that it's not in a lot of situations either, that it's just a social convention that we've done a very good job adopting at times. If you immediately say, "Now, let's talk about this matter because that's why I'm here," that's really helpful. It's a lot more helpful than, "Hi, how are you? We need to talk." If you say, "We need to talk," immediately I think I'm in trouble. When we go straight to the point or there's an agenda or things like that and we're very direct about what we're talking about or like, "Hi, Haley. Today we're going to talk about neurodiverse cultural competence." I'm gonna go, "Okay." And then I can mentally prepare myself and not think that I'm in trouble or I did something wrong or I can't tell if you're just trying to be nice to me, or you're trying to say something that, it eliminates a lot of the guesswork for me. And I find that really helpful when people are able to do that. One big thing as well is I know that when we talk about disability more broadly, we have this guide map that we've been given of, be nice to people, offer assistance, and don't use harmful slurs and language if possible. But something that we don't think about when we offer assistance is being prepared for yes answers and no answers. I get offered a lot of assistance that I don't want and I don't need primarily because people assume what my needs are just based on my disability. Everyone immediately assumes because of autism that I nee things presented to me a very specific way, that I need everything to be very quiet, that I don't want to interact with people. And it's really frustrating because a lot of the things that I need, especially in professional settings, might be clear communication. It might be a lack of ambiguity when you're giving me instructions to write a motion. Instead of just going, reply to this, tell me what the facts of the case were if I'm brand new to the matter. All of these things can be helpful. And think about how sometimes assistance might not always be helpful either. And this is something that is known as benevolent ableism, when you're basically trying your best to be kind and at the same time it doesn't go well because you're making decisions for another person. Typically the best image that I can give you of this benevolent ableism thing, of when we were offered assistance and it isn't wanted or needed, imagine that you are in a parking lot and there is a person with a wheelchair. And they're unloading or loading up their car, and then they're going to put their wheelchair in the car. And they're able to transfer into the driver's seat or they're an ambulatory wheelchair user, meaning that they could walk very short distances or sometimes can walk and other times not. And immediately some kind stranger insists on touching the chair, pushing the chair, helping fold it up in the back of the car even though this person has done it a thousand times, and that person's probably thinking or saying, "No, no, I promise I got this, I've done this a thousand times." And it takes away that independence and agency. Things like that happen every day to me and other people who are neurodivergent or disabled. If someone says no to you when you offer assistance, I promise they're not trying to be mean. There's a very good chance that we know our brains and our bodies very well. And at least speaking for myself, if I do need help I will be sure to let you know. And I am always appreciative of the offer, it just feels sometimes a little strange when people assume what my needs are without consulting me about them. I know that we want to be kind. And sometimes the kindest thing we can do is make sure that people have the independence to be able to make decisions or to be able to advocate for themselves. I know that we're very good at advocating for others as attorneys, but sometimes opening the door to allow other people to advocate for themselves is truly the greatest thing that we're able to do. Next. And how do we exactly advocate for others? And when we talk about disability, something really important to think about is the Americans with Disabilities Act. And the ADA is probably the major thing when it comes to disability rights and when it comes to protecting people with disabilities, whether it's in practice, whether it's in employment, in any type of situation here in the United States. And essentially the ADA was passed in 1990 in its original form by former president H.W. Bush. I know that some of us who work in ADA compliance or that have to deal with ADA matters might be saying we haven't had enough time to get this together, just to give you a little bit of perspective on that. The Americans with Disabilities Act is older than me. I've had time to go to law school. I've had time to learn this stuff. I am nearly going to be 30. You've had plenty of time. But when we don't know what the ADA does or is, then to help break it down for you, it is a very wide piece of federal legislation that prohibits discrimination against disabled people in a variety of contexts. There's five different titles. And title one is all about employment. Then we have title two that deals with state and local government programming and services, and also buildings. Title three is all about our public accommodations, so think of places like parks and businesses. Title four's our telecommunications. And then we have a fifth title that is essentially a catch-all for anything that isn't covered elsewhere. And what this really does is it allows people with disabilities to be part of their communities. A lot of the time when I talk about the ADA, I end up really in a title one context where we're talking about employment. And something else that we're going to be talking about next is a little bit more about what does this mean? What does the ADA do for us in a variety of contexts? As attorneys in our day-to-day lives, we are primarily dealing with titles one, two and three of the ADA. Again, that's talking about employment, the entire employment life cycle of hiring to firing. We're talking about our state and local government services and buildings, so even things like courthouses. We're thinking about our public places, even our own offices. All of these things. And to help understand that, we're going to move on to talk a little bit about what the ADA does on the next slide. Is that essentially it is the floor. It is the bare minimum of stuff we have to do. And what we're doing under titles one through three essentially, is we are required to provide reasonable accommodations to qualified individuals with disabilities. In the employment context, a reasonable accommodation is anything that essentially can assist the person with their job duties and things and doesn't cause an undue hardship. Basically, that it's not way too expensive or that it's not impossible to implement. That's pretty much what the undue hardship standard usually means. But what we also have to do when we're not just thinking about employment is we're thinking about what would be reasonable and how can we accommodate this person. So a lot of it is, we have to communicate with people to understand what would be helpful. What would make something more accessible or a little bit less terrifying for this person? All of this is a communication game, essentially. In my last job, my last office had fluorescent lights. And for me with my sensory processing differences, fluorescent lights are very difficult. They would give me migraines. They would hum all day long. I'm sorry if you have fluorescent lights now and you're thinking about how they hum all day long, but this for me was extremely distracting and also painful. So what I did is I wanted to talk about, how can we accommodate this? Because it makes it very difficult for me to do my job because of my disability. And what ended up happening is as much as I would've loved them to have replaced every fluorescent light bulb in the building, that would've been unreasonable. What we ended up deciding on is that I can shut them off. I could bring in a different lamp. That if I was worried about the humming, I can wear headphones at work. And that's exactly what I did. I wore noise-canceling headphones nearly every single day to block out the sound. And that was really helpful for me. If you are worried again about things like cost of accommodations, that's one of the biggest rumors that we have to dispel is that a lot of accommodations, especially in employment context, are usually free or low-cost. A lot of things, even in proceedings and client meetings, really are probably not that expensive for you to implement. Personally, I think it all comes down to communication. We came up with the solutions for me based on just having a conversation about, hey, these lights are really difficult on my brain. That's all we had to do. And communication is key here. Of course, when we think about things like proceedings, we're probably also thinking about how we can make court more accessible. And there's no perfect answer to this. I know a lot of courthouses might be in old buildings, that there might be ways that being on the stand or having to testify or even just be involved in the legal system is highly inaccessible. Depending on your jurisdiction, your circuit court or district courts might also have an ADA coordinator. You will want to contact that person about any accommodation requests or accessibility concerns regarding going to court or the proceedings that might be upcoming. When it comes to things like clients, I think about what their individual needs are or things that I think that might be helpful to anybody. One thing that I used to do in my last job is I always had different fidget toys on my desk. And I know that this might seem silly to some of you, but some of you might very much remember having things like fidget spinners or stress balls or things that somehow feel good to have in your hands. Or maybe you are someone who fidgets a lot because you click your pen or you to twirl your hair around, all sorts of different things. But I realize that for a lot of folks, especially me and other neurodivergent people, this might be something that reduces anxiety or helps them focus. That having that just little gateway to conversation or just letting them know, hey, it's okay if you take the stress ball off my desk, that would make people feel more comfortable and it would make something feel more accessible. Other different accommodations that might be at play, whether it's in litigation or outside of litigation, is maybe if you're doing depositions, that you allow for different breaks, that you have to accommodate people with disabilities under the law, especially if they tell you that they have a disability or that they're neurodivergent. I know that it seems more complicated than it might be. Everybody has a different way. Maybe that there's things that get done in writing. Maybe there's additional support people involved, all sorts of different things. But really, finding those answers is very individualized. I try to make it so that there's breaks. I want things to be accessible to everybody whenever possible. There's no perfect answer. And I know that we have a lot of different ideas. This is hard, I know. Mostly because there's no one size fits all even when we're dealing with the exact same form of neurodivergence. That when I told you the story about fluorescent lights, that might not affect every autistic person or neurodivergent person. They might have a different sensory sensitivity, or they might also have things that are a lot harder for them to decipher in terms of communication. There really is a massive spectrum and each person is exactly that, their own individual, and they each have things that might be difficult for them or accommodations that they need. It's really, really not the best idea to take this, I know one person with X, Y, Z condition therefore this is the accommodation solution that is going to work, approach. If you really don't know what to say or do, I always like to ask people how I can be more supportive or what would make this a little bit less scary. As we know, meeting with lawyers for the first time or any time if you have never done it or it's new to you or not something that's part of your regular life, is probably pretty anxiety-inducing in the best of times. So we have to think about how we could do that in a way that isn't very scary and is better for everyone too, which means we have to talk a little bit as well about our ethics. Next slide. And when we think about this, I want us to think about things like diminished capacity. I know this is something that comes up a lot in that we have to talk about presuming competence. I know that we have all sorts of rules that are talking about things like diminished capacity, I apologize for a second. When it does come to things like diminished capacity, I am thinking about how we can be helpful. I am thinking about how we can make it easier on folks to be able to understand. And what we need to do when it does come to this is we are thinking about having as normal as a client relationship as possible, that we really do want to be sure that we are being helpful, that we are allowing that person to be the decision maker. I know for a lot of people with intellectual disabilities, for instance, that they are viewed as having diminished capacity. Perhaps a parent or a guardian or other trusted person is who put you in contact with them, but remember, the client at the end of the day is still the client. They're the ones you want to communicate with. And a lot of this ultimately does boil down to communication, that if you do think that this might be a concern in ways that you might want to communicate more competently with your client, think about using something called plain language. And what plain language is, is essentially taking out the legalese, that we're boiling things down to be simplified. We're not making it so that adults can't understand or we're saying these topics are too mature, but think about something like confidentiality for a moment. Now, if you are a non-lawyer or maybe you're a second language learner, or you have an intellectual disability, confidentiality is probably a very complicated topic to explain. But you might say something like, "That means I can't tell your secrets, unless you say I can." That might be a plain language explanation that would be really helpful to potentially a defendant with an intellectual disability. That's how you can help maintain that reasonable, typical lawyer-client relationship. I know for those of us in the criminal arena, we're probably also thinking about competence. There's all sorts of different proceedings and different types of procedures to establish competence depending on your jurisdiction. Something that I like to do though, as a matter of culture and as a matter of respect, is that I like to presume my client, or whoever I'm speaking with, is competent no matter what unless I have a reason to believe or they prove or tell me otherwise. It is very easy to get written off just because of a diagnosis or a label. I always try to assume this person knows what happened, they know what we're talking about and that's when it's up to me to make sure that they're able to understand. That's when things like plain language come into play. And also, keep in mind there's many different ways to communicate. I have worked with a lot of people who are non-verbal or non-speaking, depending on which terminology you like to use, meaning that maybe they aren't very talkative, that they talk very little or they can't talk. That doesn't mean that they're incompetent and don't understand what you're saying. As a very good colleague of mine has said over the years, not speaking is not the same as nothing to say, which means it's up to you to come up with other ways for this person to communicate. Maybe they might be very competent in understanding and they use sign language. Maybe they're using talk-to-text or text-to-talk type apps, or AAC, alternative and augmentative communication. That it's up to you to be able to explore these things and to help do things in a way that feels safe and also proves that you are able to communicate and allow this person to prove that they're competent. Because you probably know that they are, unless you have reason to believe in which case that's a whole other thing to take into consideration. Another thing that comes up a lot is this idea of attorney-client privilege, especially for those of us who might need additional support. I know when we're working with folks who might say, need an interpreter, whether it's an ASL interpreter or what I've seen as well referred to as a cognitive interpreter in the case of a guide from the Washington State Courts, is that you might have someone in the room whose job is just to help make things make sense to the client, whether it is ASL or just trying to make sense of the legalese and boil it down into plain language. 'Cause sometimes that's a really hard skill for us too. That's very different than having supporters. Supporters are the people who break that privilege, that supporters might be say, if you bring your parents with you or your best friend. All of that type stuff. But when we have interpreters, it does not destroy the privilege, that interpreters are there to help it make sense to the client and allow us to have as typical of a relationship as possible, that they understand us and we understand them. Being understood and being accommodated and also keeping in line with our ethical duties and considerations is really important for us as attorneys and to make sure that when we are working with neurodivergent clients, that we're able to give them the attention and the representation that they deserve. And we deserve to do our best as well to be as professional and competent and communicative as possible. To help send us home, actually, I want to talk again about how we can be more inclusive and stuff. So the next slide, we're gonna talk about what we can do as well, and how can we be more inclusive? Ways that we can be more inclusive and helpful to the neurodivergent people in our lives is that we have the ability to be vulnerable and open with each other. I know I talk a lot about communication, but this is one of the easiest things that we can do. I know that a lot of us, especially if we're in big firms, or that we're new to the profession, or there's a generational difference because Millennials and Gen Z have a tendency to be a lot more open than previous generations, especially about things like mental health, that it often falls on the most junior people to be the ones who are leading these conversations and being extremely vulnerable. If you are a person in power with authority or privilege, it means a lot when you are the person who is sharing your stories, who is making it safe psychologically for other people in your firm or that you work with to be themselves as well. I actually teach an undergraduate course every couple semesters now. And when I teach my undergraduates, I actually disclose to them about why I'm teaching this autism and disability studies course. I let them know that I'm autistic and that's why it's important to me. And every semester there's always one student who needs an accommodation. They are always kind of embarrassed. They let me know. I tell them it's never going to be a problem, not to worry too much. And I actually will ask the students usually why they took my class on the first day. And the same student who gave me their form will be the student who says, I took this class because like you, I also have autism or something similar. And I'm always really surprised. And I realized that this happens because they perceived me, an adult who has some kind of authority or power, that I made it safe for them because they saw they wouldn't be the only one. And their peers were fairly accepting of me and that meant they would probably get the exact same response. Having that openness and that allowance of vulnerability is huge. It shouldn't just be something that feels superhuman or rare. One of the best things that we could do as well is we need to go beyond our stereotypes. I know it's very easy to box people in based on what we've seen on TV before or just that one person we know. What we're able to do when it comes to aligning people to strengths is we go beyond those stereotypes, we let people do things that they're passionate about, work they're good at. It was very frustrating at first being assigned to just do technology tasks around my last law firm office and experience, when I really just wanted to do research and writing because I was much better at that. And when I had the chance to research and write, I was excelling, I was so much happier. A lot of us are also super passionate. And when you allow us to explore those passions and use those passions, whether it's something you use as a communication tool or just something to help make it easier for us to do our jobs or that is part of our job, everybody's happier. I also love when we communicate very directly. I know we talked a bit about direct communication earlier in today's CLE, but when we talk about direct communication, especially if you're working with neurodivergent people, think about this for a moment. This is something that I like to do is a fun little exercise, is to come up with maybe three or four bullet points about how to work with you. That for instance, I might tell you that unprompted phone calls make me anxious. I might tell you I'm not a morning person. I might tell you that I love when you send a calendar invite and you have an agenda of what we might be talking about throughout the day. So maybe you'll say something like this is a meeting about our CLE that's upcoming, or this is about something else. I have had the surprise meeting where I thought that I was in trouble and it turns out somebody just wanted to talk about what happened on Game of Thrones. That was terrifying and very anxiety-inducing, and being able to communicate that I do not do well with that element of surprise and don't subject Haley to that element of surprise because it makes her anxious. And what I really like about using this type of communication is you don't know who is neurodivergent, you just know that each of us has different communication needs. That not everyone is a morning person. Some people are great texters and some people are great talkers. And that's just how it is too. That's just how our brains work. That's also feeding into this idea of universal design. And universal design as a concept is very expansive. It's really when we design our buildings, our products, environments, to be accessible to everybody, regardless of things like their age or disability or other factors. If you want to see some really great examples of universal design, I like to point to things that we sometimes take for granted typically, for instance, closed captions. Now I know I mentioned at the beginning of the program that we have closed captions here on our CLE today, as well as a transcript. These things are huge accessibility features and they do come from universal design. I am not deaf, I am not hard of hearing and I use captions on almost every program, whether it is a CLE or a television show, because it is more accessible for me. Why is that? Why do you perhaps do the same thing? Maybe you're watching a program in another language or a language that isn't your first language. Maybe you are really good at visual information and need extra cues. Maybe you're like me and you really like when you find out that characters are being sarcastic because they're scoffing instead of laughing. Or maybe you just really wanna know the sound in the background or the soundtrack, or you are someone who is mindlessly scrolling through social media and you're using captions because you are in public and don't want to turn the sound on. All sorts of different things. In that you still benefit from this universal design, no matter what factors are at play, or even though you're not deaf or heart of hearing. All of this is really powerful stuff. The same also goes for things like elevators that have the tones, they have the lights, they have the braille, they have all sorts of things that no matter who you are, you know exactly where you are in a tall skyscraper. All of this benefits us. Neurodiversity and disability ultimately do drive innovation, and I think that's one of the most beautiful, coolest things that you can think of. And finally, one of the greatest things that you could do is follow the lead of neurodivergent people. I often feel very blessed and privileged to be able to lead people into this discussion. That there's a very good chance that this might be one of the first times that you've been exposed to ideas about neurodiversity. I want to make it very clear that I am not a spokesperson. I do not want to be a spokesperson or the spokesperson of neurodiversity. I am one voice in a massive conversation. I cannot be here by myself, and I certainly am someone who sits on the shoulders of giants at times. What I am encouraging you to do is to keep learning and leading with curiosity. That you ask questions, you stay curious, you seek out voices, whether it is in our profession or even in your personal life and who you follow on your social media feeds, that people that don't look like me, people who don't sound like me, people who have different life experiences than I do, people inside and outside of our profession, you get the idea. Being able to expand your knowledge and perceptions is huge. I also realize what a privilege it is to be able to have this conversation with you. I have been to numerous CLEs and trainings and professional events about neurodiversity, and they are led by people who are neurotypical and don't have that lived experience. A lot of the time, what they're doing is teaching me how to assimilate, to be a better culture fit, that they are trying to help you be more normal, essentially. And that goes against the idea of what we want to accomplish. That really having this opportunity means a lot to me. It makes me really blessed and I hope that something that we talked about either helps you professionally or personally. And if you are someone who does realize, wait, I am neurodivergent and I didn't know that, I want you to know that you are so loved. You are so competent and you are worthy. And I'm glad that you found out something about yourself. And I hope that you come to find that you also have community. All of these things are important, and I'm really excited to know where you're going to go next and what you do with this knowledge and how you continue the conversation. Truly looking forward to keeping it going and what is next. After all, the world does need different kinds of minds working together.