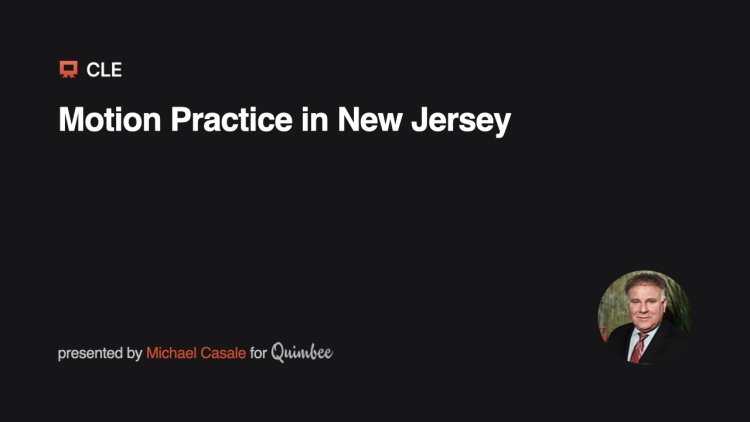 Motion Practice in New Jersey
Motion practice is an important component of every litigation attorney's law practice. The New Jersey Court Rule Book, with Comments, is the "Bible" for the litigation attorney. Yet, in my 20 plus years of experience as a trial Judge in the busiest county in New Jersey (Essex County), and as a Judicial Law Clerk (many, many years ago), it never ceased to amaze me that attorneys consistently ignore even the most basic rules of motion practice. In this program, the Honorable Michael R. Casale, J.S.C. (retired), currently "Of Counsel" at Greenbaum, Rowe, Smith & Davis (Roseland and Woodbridge, New Jersey offices), will help you navigate the New Jersey Court Rules as to motion practice. The program will examine Judge Casale's "Top Ten Issues with Motion Papers" and summarize the requirements for the most common motions in Civil and Family law.
- Good morning, my name is Judge Michael R. Casale, of the law firm of Greenbaum, Rowe, Smith & Davis, located in Roseland, New Jersey, and the main office in Woodbridge, New Jersey. I wanna talk to you today about New Jersey motion practice, specifically in New Jersey. And specifically, we're gonna be dealing with civil and family motion practice. Motion practice is an integral and important component of every litigation attorney's law practice. The New Jersey Court Rules, and specifically the rule book, with comments is the Bible for the litigation attorney. Yet, in my 20 plus years of experience as a trial judge in the busiest county, in New Jersey, which is Essex County, and as a judicial law clerk, many, many years ago, it never ceased to amaze me that attorneys consistently ignore even the most basic rules of motion practice. Sometimes they get complacent, sometimes they just get plain lazy. In this program, I will help you navigate the New Jersey Court Rules as to motion practice. This program will examine my top 10 issues with motion papers, and summarize the requirements for the most common motions in civil and family law. So let's talk about the top 10 issues with motion papers. Counsel, please follow the rules. Do not piss off the judge before he or she even hears your argument. Make the judge and the law clerk happy and ready to receive your argument. Issue one, notice of motion. Please set forth all relief in your notice of motion papers. The notice of motion, and notice of cross motion, should state clearly all relief sought. The certifications of the parties must address each relief requested in the notice. Many times certifications ask for relief that is not set forth in the notice of motion. Remember, if thou do not ask, thou shall not receive. Next, please make the requested relief stand out. Use bullet points, that is an easy and clear way to set forth the relief being sought and is easier for the law clerk and the judge to review when reviewing the papers, and the judge, when making the decision on the record. If there are several prayers of relief that are somewhat connected, or reference the same exhibits, group them together to help the court avoid flipping back and forth between pages and exhibits. Your certification should always follow the same order as a notice of motion, start with your first request and continue sequentially. Non-sequential arguments take longer to summarize and analyze. Exhibits should be in the same sequential order as the order of relief set forth in the notice of motion. This will make it easier for the court and the law clerk when tabbing the important exhibits and relating them to your motion relief. In other words, exhibit A should correspond with the first prayer of relief and so on. If several exhibits are referenced in one point of the certification, group them together. It is difficult for the court to read through motions in which one prayer of relief refers to several exhibits, which are scattered throughout. Now, let's talk about the second issue, the exhibits. Make sure you tab your exhibits. This is required under New Jersey Court Rule 5:5-4g, and Rule 1:6-2. Rule 5:5-4g is with respect to motions in the family court. Please, do not use cover pages for exhibits. You should have tabs, tabs that will stand out. It is very frustrating for a law clerk and a judge to try to find out where the exhibits start in relationship to the motion, the body of the motion. Also, difficult for the court and the law clerk, when there are numerous exhibits, to determine when one exhibit ends and the next exhibit begins. Issue three, the exhibits themselves. If you have an agreement, which is an integral part of your motion and is going to be an exhibit, please make sure that you attach the entire agreement order or judgment, not just a part of it that may help your case. It's fine to quote relevant provisions in the papers and it is helpful, but the court and the law clerk are gonna want to see the entire agreement order or judgment. However, you should only include relevant exhibits that support your position. Unnecessary exhibits, such as copy of every filed certification in the case, are unduly burdensome for the court and they detract from good arguments. Maybe you bill by the pound, counselor, but the court cannot. If the exhibit is very long, please identify in the certification, the page and paragraph of the relevant provision, that makes it easier for the court to determine the location of the relevant information. Issue number four, attach all prior orders referenced in your motion. Most chambers in New Jersey do not keep the files post-judgment. Enforcement motions pursuant to Rule 5:5-4a, motions for reconsideration, Rule 4:49-2, motion for a new trial, Rule 4:49-1, and many other motions specifically require this. Please understand that cases before 2010 are in Trenton, and require having the file scanned there. In fact, this may even be 2012, by now, as the court system is continually purging files from, the actual files from their courthouses and sending them to Trenton for scanning. It may take weeks before this information is received in the court's chambers. Assessing past motion papers, complaints, orders, et cetera, that is a time consuming, unpleasant process and will make the judge and the law clerk very angry. If the motion's a post-judgment motion, make sure you attach the entire judgment, settlement agreement, not just one page or excerpt. The court needs the entire document, especially if a different judge previously heard the matter. Issue number five, please be clear and concise, avoid irrelevant details. Scandalous text messages between the ex and the new girlfriend or boyfriend, they're not relevant in a child support motion. They may be relevant in a child custody matter, if there's an allegation that, it pertains to fitness of a parent, but it's not relevant to a financial matter. Brevity and conciseness are a law clerk's best friend, do not write just to fill page limits. Repetitiveness just to fill up pages, it's not helpful, it detracts from your good arguments. Issue number six, we're gonna talk about a specific type of motion in the family part. Namely, motions dealing with alimony and child support. These initial applications, the motion papers must include a case information statement with attachments. That's a specific court rule, Rule 5:4-4a. If you don't have one attached, when I was sitting on the bench, motion denied on procedural grounds, refile, do it right the first time, no mulligans in motion practice. Applications based on changed circumstances must include the case information statement filed at the time of entry of the order or judgment, setting alimony, child support, and an updated case information statement. Again, go to the Court Rule 5:5-4a. If you don't do that, motion denied, refile, costs your client money, costs your client time. Remember to attach the child support guidelines that were used to establish the current child support obligation, not just your proposed child support guidelines. If child support was established without guidelines, or you don't have them, then provide the court with as much detail as possible to give a baseline as to how they were calculated. It's helpful to the court, if the court has an idea of what information was used in the original calculation. For instance, the incomes, childcare, healthcare, overnights, et cetera. This helps the court to determine whether there's a change in circumstances warranting recalculation, prior to the court actually spending the time during a motion hearing to recalculate guidelines. Now, let's talk about cross motions. Do not insert from the language in a cross motion stating quote, denial relief requested by the other side, unquote, if you don't mean it. Many cross motions do this, as a matter of habit, but then in reading the certifications and/or the legal briefs, it's apparent there is agreement on some of the issues, the court's gonna wanna know that. If the court knows what agreements are consented, what issues are consented to, it could then move on to the contested issues quicker and more efficiently. Issue number eight, there are page limits. In family court practice, you must look at Rule 5:5-4b or request an extension in advance of the submission. Yes, the judge and the law clerk do notice when you go over these page limits prescribed by a court rule. And yes, we care, we have a lot of volume, we have limited time. You should be able to stress what's important in the page limits prescribed by the rule. In fact, we stop reading any pages over the limit. It's not fair to your adversary who abided by the court rules and had the appropriate amount of pages in their submission. Issue nine, filed motions which are not delivered the same day to chambers. When a motion is filed, even if it's done on time, it takes a while before it's actually delivered to the chambers. When motions or cross motions are filed, they are first sent to finance, then processed by the filing unit before finally making their way to the judge's chambers. As a result of this process, papers almost never make it to chambers on the day they are filed. If you are filing something the day it is due, especially a cross motion or a reply, when the court has time constraints to review papers before the hearing, please send a courtesy copy directly to the judge's chambers. There are countless times I have received a reply to a cross motion directly from an attorney, yet the motions filing unit never sent the cross motions to chambers. If timing is an issue, ask for an extension, but speak to your adversary first before contacting the court. In Essex County, courts are pretty generous regarding extensions, because it is more efficient to accept papers that are slightly late than not considered at all. That just leads to adjournments due to a busy court calendar, or motions for reconsideration, or appeals. Motion practice for the judge and the law clerk require organization. The organization starts at least 10 to 14 days before the motion day, where the law clerk segregates the opposed motions from the unopposed motions, the ones that are difficult and may require extensive time, for instance, summary judgment motions in civil cases, from the routine discovery motions. If the papers are not, if the opposition papers are not promptly delivered, then the court and the law clerk believe that that motion's unopposed. When they then come in later, then that motion requires special attention, and the judge and the law clerk are behind the eight ball on it. If timing is an issue, ask for an extension, but speak to your adversary first before contacting the court. In Essex county, the courts are pretty generous giving extensions, as I said before. Late submissions are frustrating for a law clerk, they are swamped with motions and late submissions, and make it difficult to prepare and plan the motion day scheduling. Late submissions mean less time for the judge to read and consider your arguments. The bottom line is this, please ask for extensions before submission to the court, our time is important also. Each division, family and civil, have motion schedules. These are published in the law journal, these are published online. Make sure you have these readily visible in your office. Now, issue number 10, proof the final draft. Make sure that all pages are in order, and the exhibits are attached. When things are missing or out of order, the court's job becomes much more difficult. Please understand that motion day is like a Broadway play or a sports contest, much preparation and practice occurs prior to the actual motion day oral argument, at least nine to 10 days before the motion day. Courts want motion days to run smoothly, organization is the key. Cooperation and following the court rules make the courts happy. Late papers, surprises, failure to follow the court rules, make courts sad, do it right the first time. Remember, there are no mulligans in the courtroom, only on the golf course. So those are the general top 10 issues with motion papers, what pisses judges off and their law clerks, and what makes them happy. Now, we're gonna talk about checklists for common civil motions. It's very important that you not miss a key requirement of your motion. Failure to follow a specific requirement may cause your motion to be dismissed on procedural grounds before it is even considered on substantive grounds. All right, first motion we're gonna talk about pertaining to civil, is the motion to withdraw or substitution of counsel, Rule 1:11-1. This is a very common motion in the civil division. As you know, the lawyer's bill is always probably the last one in the bill compartment to get paid. So, we're seeing this more and more often in the courts. The cases are lasting longer, litigants, at some point in time, cannot afford to pay their attorneys. A motion to withdraw, or substitution of counsel is under Rule 1:11-2, it has two parts to it. A, with the client's consent, let's talk about that. "Prior to earlier of a pre-trial conference or fixing of a trial date in a civil action, an attorney may withdraw with the client's consent provided substitution of attorney is filed naming the substituted attorney or indicating a client will appear pro se." "If a client is appearing pro se, the withdrawing attorney shall file a substitution." "An attorney retained by a client, had appeared pro se, which had appeared pro se, shall file a substitution as well." Now two, "After the earlier or pretrial conference, or fixing of trial date in a civil action, an attorney may withdraw without leave of court only upon filing of the client's written consent, and the substitution of attorney executed by both the withdrawing attorney and the substituted attorney, written waiver by all of the parties of the notice and the right to be heard, certification by both the withdrawing attorney and the substituted attorney that the withdrawal or substitution will not cause or result in delay." Now, the second part is without the client's consent, Rule RPC 1:16b, "The withdrawing attorney must show the client's failure to fulfill an obligation and reasonable warning." under 1:26b.4. "Representation is an unreasonable financial burden to the attorney or a client-made representation unreasonably difficult." under the Rule 1:15, RPC, excuse me, 1.16b:5. We're not talking court rules right now, we're talking the Rules of Professional Conduct. Rule 1.16.6, "Other good cause for withdrawal." Some other considerations, did the withdrawing attorney take reasonable steps to protect the client's interests? Is there such a breakdown of the attorney/client relationship that it makes it unreasonable for that attorney to represent that client, and for that client to have that attorney? In such instances, the court may have to look at certain documents in camera, if they're attorney/client privileged so that the adversary does not have privy to those documents. Another common motion is a motion for substituted service, we're gonna talk about the applicable case law and court rules. If you're unable to serve the defendant with summons and complaint, we have to look at Rule 4:4-4, 4:4-4i, 4:4-4:12, and NJSA 2a:15-30.1, and the seminal case of Feuchtbaum v. Constantini, 59 N.J. 167, a New Jersey Supreme Court case from 1971. So, under the checklist you have to ask yourself, has the complaint been dismissed as to the targeted party for lack of prosecution? If so, when? And if so, it must be reinstated before service can be made, see Rule 1:13-7. Service attempted by the sheriff at defendant's last known address, has plaintiff checked with the post office for any forwarding addresses? If no forwarding address, has plaintiff made a DMV inquiry for the defendant's address? If the party is requesting to serve an insurance carrier, has the movant demonstrated that the company is the defendant's insurance carrier? If there's a diligent, good faith inquiry, then your motion will be granted. If not, it will be denied. Another common civil motion is a motion to amend the pleadings under the Rule 4:9. Here's your checklist, is the proposed amended pleading attached? You have to give the court what your new pleading's going to state. Does the amendment relate back to the same transaction or occurrence? Is the amendment futile? When an amendment is waived or otherwise made futile, leave to amend does not have to be given. See Falco v. Community Medical Center, 296 N.J. Super. 198, a 1997, New Jersey Supreme Court case. Is the amended complaint application made for discovery end date pursuant to Rule 4:24-2? If not, the moving party must show good cause for the application to be granted. One otherwise responsible is not enough, you must have specifics and must exercise due diligence, see Demura v. Napic, 272 N.J. Super. 156, an Appellate Division case from 1994. You need to attach the appropriate court order, do it right, don't have the judge and the law clerk have to mark up that order. And that court order should include a deadline to file the complaint, and file the answer, specific deadline to serve any new parties and file proof of service, state that the court will not file the pleadings for the moving party, require all parties to turn over all discovery and pleadings, consider extending the discovery end date. Another common motion is the motion to dismiss for failure to provide discovery, it's under Rule 4:23-5a.2. So, let's first talk about dismissals without prejudice. For instance, for interrogatories documents, and an independent medical examination only. So, you have to identify the type of discovery. Next on your checklist, is the date discovery served. Then, is the motion made within the discovery period? Did the moving party certify that he or she either conferred by phone or sent a letter stating continued non-compliance would result in a motion being filed? Did the moving party certify his/her client is not in default of any discovery obligation? If not, the motion will be denied without prejudice. So, before you file any such motion, practitioners, make sure that your house is in order. From the other side, the best defense would be a good offense, they will just point that out, and then the motion will be denied. Does the order specify that this dismissal is without prejudice? Does the order specify which party is subject to dismissal? Is there really a motion for failure to answer? Is this really one of those, in a responsive manner? If there's a bonafide dispute over the responsiveness of answers, then it's error to dismiss a complaint. The true relief would be more specific answers. See the case of Adedoyin v. Arc, N.J. Super. 173, Appellate Division decision, 1993. Now the more serious dismissals, and the more serious motions are dismissals with prejudice. So, on your checklist, you make sure you put the date the order of dismissal or suppression was entered, that triggers the timeframes in this Rule. Have 90 days passed since the order was entered? This requires oral argument, even if you want it on the papers, it requires proof of service on the litigant, not just adverse counsel, but actually on the litigant. So, the notice of motion must be served on the defaulting party by regular and certified mail, return receipt requested, and accompanied by a notice in a form prescribed by Appendix 2-F. Many times I had these motions and the litigant appeared in court, and I was able to work the matter out. Another common motion, is a motion to amend discovery, excuse me, extend discovery under Rule 4:24-1. Checklist, is there a trial date? 'Cause if you're past a trial date, you need what's known as exceptional circumstances. Is there an arbitration date? If so, the arbitration office needs to be advised of the motion, they have their calendar too. Was discovery previously extended? Was it by consent of the parties? For how long? If so, there should be prior court orders. If there are prior court orders, make sure you include those with the moving papers that's pursuant to Rule 4:24-1c. Otherwise, there must be a next, a certification that there have been no such prior orders under the Rule 1:6-2c. Reasons to extend discovery, you must show what's known as good cause. If the arbitration date and/or trial date are fixed, or the motion is filed after discovery is closed, you must show exceptional circumstances. Does the certification state the moving party conferred in good faith? That's Rule 1:6-2c, it's only relevant if this is the first extension. Does the form of order conform with Rule 4:24-1c? Specifying the discovery to be completed and the dates for completion. You also need a precise explanation that details the cause for delay, and what actions were taken during the elapsed time. That's a necessary part of proving due diligence, which is required by Rule 4:17-7, for untimely amendments to interrogatory answers and exceptional circumstances, that's required by Rule 4:24-1c, to extend discovery after a trial or arbitration date is set. See the case of Bender v. Adelson, 187 N.J. 411, a 2006, New Jersey Supreme Court case. Let's give some examples of exceptional circumstances. One, council is diligent in pursuing discovery time period. Two, the additional discovery is essential to the issues in the case. Three, the reason why counsel failed to request an extension of discovery must be provided. And four, the circumstances surrounded by the failure to complete discovery are clearly beyond the control of both the attorney and the litigant seeking the extension. Couple of cases there that are important for you to look at are Rivers v. LSC Partnership, 378 N.J. Super. 68, an Appellate Division case from 2005. Szolantai, S-Z-O-L-A-N-T-I, v. Yazbo's Sports Cafe, 183 N.J. 386, a New Jersey Supreme Court case from 2005. That case affirmed the denial of an extension after an arbitration had already occurred. Now, one thing you need to know is the definition of good cause shown. Well, first of all, that standard is very flexible, it's not fixed. So courts, when they look at whether good cause has been shown, they look at whether an extension of discovery in the absence of a fixed arbitration or trial date, the following factors would be considered by the trial court. So one, and probably one of the more important ones, is the movant's reasons for the requested discovery extension. Two, the movant's diligence in earlier pursuing discovery. Show your efforts, what you did, why it hasn't worked out. All cases are not the same, some are more complicated than others, some require more discovery, some the other party is dodging discovery, leading to the delays, et cetera, and there's really not much, you as the movant, can do about it. So show it, document your efforts, and you should be doing that all along in your file with emails, notes of conversations, et cetera. Movant's diligence and earlier pursuing discovery, we just talked about that. The type and nature of the case, including the unique factual issues, separate your case from the run-of-the-mill one. Is there any prejudice to the movant if the extension is denied? Whether granting the application is consistent with goals of best practices. The age of the case, whether arbitration or trial dates have been established, the type and extent of discovery that remains to be completed, any prejudice to the non-moving party if an extension is granted, that's an important factor. What motions may have been heard and decided by the trial court, specifically look at the case of Leitner, not Leiter. Leitner, L-E-I-T-N-E-R, v. Toms River Regional Schools, 392 N.J. Super. 80, an Appellate Division case from 2007. No, that case does not involve Al Leiter or his family. All right, let's talk about another motion that's very common, and that's for consolidation of cases under Rule 4:38-1. So, first we have to ask, did this matter arise out of the same accident or incident pursuant to Rule 4:38-1? Is there a common question of law or fact pursuant to Rule 4:38-1? Are the docket numbers in ascending numerical order pursuant the Rule 4:38-1?. Did you go by the earliest number? Is any case to be considered more than two years old? If that's so, you may have to, the motion may have to be transferred to the assignment judge. Assignment judges being as busy as they are, sometimes they will take it and then just call the trial court and say, "Now you handle it." Is the motion returnable before the discovery end date pursuant to Rule 4:24-2? If not, are there exceptional circumstances? 'Cause that would be the standard that would be applied. Does either case have an arbitration or trial date? Very important. All right, let's now talk about another common motion in the civil court, and that's a motion to set aside the entry of default, pursuant to Rule 4:43-3. Again, this is the entry of default, not an actual default judgment. So, you have to ask yourself first, have all the parties been served? Do you have proof of service? Have you provided that, attached it to your motion? Is it supported by a certification? The moving party must show good cause, must also show a meritorious defense. And the defaulting party, there may be some conditions attached to vacating that entry of default. They may have to pay some of the plaintiff's counsel fees related to that application, some or all. Now we're going to contrast that motion with a motion to set aside a default judgment, pursuant to Rule 4:50. Here's your checklist, have all the parties been served? Do you have proof of service, have you provided that with your motion papers? Is it supported by a certification or affidavit? What subsection of Rule 4:50-1 applies? The movant must file a brief. If you are moving under subsection A, your certification must state the reasons why the failure to answer, appear, or defend, was excusable under the circumstances, and that there's a meritorious defense as to the cause of action, or quantum of damages. And remember, that certification must be based on personal knowledge, not hearsay, or information and belief, see Rule 1:6-6. However, these applications are viewed with great liberality by the courts. Every reasonable ground for indulgence is tolerated because the courts wanna make sure a just result is reached, that the case is handled on its merits. We don't like forfeitures in sports, and we don't like forfeits under the law. The key case there is Marder v. Realty Construction Company, 84 N.J. Super. 313, Appellate Division, 1964. As a condition of vacate to default, the movant may have to pay plaintiff's council fees or fulfill other conditions. Now there are time limits, pursuant to Rule 4:50-2, these are important to note. Under subsections A, B, and C. The motion must be filed within one year of the date of judgment or order. Other subsections D, E, and F, the motion must be filed within a reasonable time. Another key motion is a motion for summary judgment under Rule 4:46. Rule 4:46-2a requires that each fact be supported by a citation to the record, known as a statement of material facts. "The citation shall identify the document, and shall specify the pages, paragraphs or lines thereof, or specific portions of exhibits." The judge cannot grant summary judgment based on counsel certification, the exhibits must be certified as true copies, see Sellers v. Schonfeld, 270 N.J. Super. 424, Appellate Division case from 1993. The movant must file a brief. - I already called Fire. - The motion may be denied without prejudice for failure to file the required statement of material facts. Again, do it right the first time. Motions for summary judgment are very labor intensive, they also have to be filed at least 28 days before the motion day. Make sure you don't have to refile because you didn't put the required statement of material facts. The party opposing the motion must submit a responding statement, either admitting or disputing each factual allegation in the movant's statement of material facts and denials must state the specific citations to the record, that show the fact to which it is directed to be actually contested. In this manner, the court will determine truly what is uncontested and what is disputed, if anything. Now, the party opposing the motion may include in the responding statement additional facts the party contends are material and generally disputed, that were ignored in the movement certifications and filing. Rule 4:46 states the Brill standard for the granting of summary judgment motions. Just because a motion is unopposed doesn't mean it should automatically be granted by the court. The judge must be satisfied that the movant is entitled to judgment as a matter of law, see Chernesky v. Fedorczyk, 346 N.J. Super. 34, an Appellate Division case from 2001. The next important civil motion, we hope you don't have to file this, is a motion for a new trial, pursuant to Rule 4:49-1. Now the standard in a jury trial is that there must be clear and convincing miscarriage of justice under the law. So, that's what you have to show as the movant. And the court must give due regard for the opportunity of a jury to pass on the credibility of witnesses. After all, the jury observed the witnesses testify.
- I understand that.
- That motion must be filed within 20 days of the jury's verdict. A cross motion for a new trial must be filed within 10 days of the service of the motion. The motion shall be decided by the trial judge based on the trial notes without transcript of testimony, unless exceptional circumstances exist. Here's another motion you really don't wanna have to file, and that's a motion for reconsideration, pursuant to Rule 4:49-2. Now, there's strict time limits here, so be careful. It must be served within 20 days after service of the judgment or the order. The court is strictly prohibited from enlarging the 20-day time period for filing this motion. You must state, in your moving papers, specifically the basis upon which this motion is made. You must state the matters, a statement of the matters controlling decisions, which the movant believes the court has overlooked, or as to which it is erred. The elements, according to Rule 4:49-2 and Cummings v. Bahr, 295 N.J. Super. 374, an Appellate Division case from 1996, include the following. The court's decision must be clearly incorrect or irrational, the court did not consider the evidence, new information not previously available is now presented. Please understand, counselors, this is not a second bite of the apple. An appeal is then the proper procedure in that case. All right, so we've covered the civil motions, the checklists, again, it's really, I think, when you do this work for a long time, you sorta get complacent and sometimes you just eliminate a step, something in the checklist that you forgot. So, you always gotta go back to the Rules. If you have a checklist for each motion in a binder or on your computer, just look at it before you file the motion, or just make sure you've covered all the bases. All right, now we're gonna talk about family court motions and there's checklists for that, and the Bible is Rule 5:5-4a. Now the family court rules are governed by Rule 1:6-2b, the civil Bible motion rule. So 5:5-4a is the family division's counterpart to 162. However, it's more liberal in granting requests for oral argument on substantive and non-routine discovery motion. So, the family courts are a little bit more liberal than the civil courts, and I think a good reason for that is just the sheer volume of motions in civil cases. I mean, I'm hearing horror stories where some judges in civil are responsible for like 10, 12 docket numbers. Judicial vacancies, which are now 77 in the whole state, are at an all time high. All right, there are page limits in the family court Rule, and these exist unless the court otherwise permits for good cause shown, and except for a certification required by Rule 4:42-9b, and affidavit of service. Exhibits attached to the certifications are not counted in those page limits. Certifications in support of the motion shall not exceed 15 pages. All opposition certifications to the motion, or in support of the cross motion, shall not exceed 25 pages. And the reply certifications to the opposing pleadings shall not exceed a total of 10 pages. So there you have it, the moving party gets a total of 25 pages, 15 and then 10 in reply, and the opposition party gets the same 25 pages in their one filing. So, the time for service and filing is set forth in the Court Rules 5:5-4, "The service of the motion shall not be later than 24 days before the return date." So, it's not 28 for summary judgment as in civil, and the opposition in cross motions, "Not later than 15 days before the return date." And then the answers to the cross motion are the replies, "Not later than eight days before the return date." So, it's 24, 15, 8. Every motion shall include a notice to litigants language. And the Rule allows for tentative decisions by the court, if the parties request oral argument. "The tentative decision is filed prior to the return date by the court, unless either party renews the request for oral argument, and that request shall be deemed withdrawn, and the tentative decision shall become final, and shall be set forth in an appropriate order." "If either renews the request for all argument, the motion shall be argued as scheduled." Let's talk about orders establishing alimony and child support payments under Rule 5:7-4. "The court shall separate the amounts awarded for alimony or maintenance, and amounts awarded for child support, unless for good cause shown the court determines the amounts that should be allocated." If the first motion to establish alimony or child support application, if that's the first one, you must include a current case information statement. Another common motion in the family court, is a motion to enforce a property settlement agreement. The resumption is in favor of the validity of matrimonial settlement agreements, whether in writing or oral, see Davidson v. Davidson, 194 N.J. Super. 547, Chancery Division, 1984. "Therefore, a matrimonial settlement agreement entered into by the client's attorneys with the client's specific authorization thereto is binding, even though the client later refused to sign the agreement and attempted to repudiate same." "If the essential terms are agreed upon so that the mechanics can be enforced, even if the writing does not materialize due to parties later reneging." Another common motion in family court, is a modification of child support. Please understand that in a family case, the parents cannot privately contract to terminate their parental rights under Monmouth County v. GDM, 308 N.J. Super. 83, Chancery Division, 1997. "An unemancipated child has a right to receive support from both parents as child support is a continuous duty of both parents." See Blum v. Aler, 279 N.J. Super. Appellate Division, 1994. I had some litigants come into court sometime and say, "Judge, that's okay, I don't want to have parenting time with my children." "So, then therefore I don't need to pay child support." No, wrong, they're not interrelated. If you don't see your child of your free choice, you still have to pay child support, they're not interdependent. Please understand that support orders are subject to modification based on changed circumstances under Lepis v. Lepis, 83, N.J. 139, 1980, the seminal case out of New Jersey, from 1980. "Post-judgment change in circumstances analysis requires the court to compare the party's financial circumstances at the time of the motion, with the party's current financial circumstances." "At the time of the," excuse me, "The financial circumstances at the time of the motion with the party's financial circumstances at the time of the judgment of divorce." see Beck v. Beck, 239 N.J. Super. 183, an Appellate Division decision from 1990. So that's why there's a requirement for case information statements, the current one, and the prior one, so that the court can determine if there are indeed changed circumstances of a significant nature. Temporary unemployment is not a basis upon which to modify child support, see Bonnano v. Bonanno, 4 N.J. 275, 1950, Supreme Court case. And one cannot voluntarily diminish the earning capacity and expect to reduce their child support obligation. See Aaronson v. Aaronson, 4 N.J. Super. 354, Appellate Division decision, 1991. Another common motion is a modification or termination of alimony. And that procedure is set forth in the seminal case of Lepis v. Lepis, which we talked about earlier. So, first the moving party bears the burden of showing permanent and substantial changed circumstances, and that's why they need to produce a current and their prior case information statements. Next, after a prima facie case of changed circumstances has been shown by the movant, the court may order financial disclosure by both parties. And third, questions of fact exist. The court will require a plenary hearing. Now, cohabitation may be a basis upon which to terminate alimony, and the trial court needs to focus on the nature of the relationship. There's ever-evolving case law on cohabitation. The seminal case of Gayet v. Gayet 92, N.J. 149, a 1983 case, trial court there focused on the economic question of whether cohabitants has financially contributed to the supported spouse, so as to make the alimony partially or totally unnecessary. A showing of cohabitation creates a rebuttal presumption of changed circumstances, thus shifting the burden to the dependent spouse to show there's no actual economic benefit to the spouse or the cohabitant, see Ozolins v Ozolins, 308, N.J. Super. 243, an Appellate Division case from 1998. Emancipation, another common motion. There's no fixed time for emancipation, under Newburgh v. Arrigo, 88 N.J. 529, 1982, Supreme Court case. The court must look at all the relevant circumstances in the case, if the child has been continuing her education on a full-time status, the child's not emancipated, see Limpert v. Limpert, 119 N.J. Super. 483, an Appellate Division from 1972. The key issue is really whether there's evidence the child has moved beyond the sphere of influence of his or her parents, under Keegan v. Keegan, 326 N.J. Super. 289, a 1999, New Jersey Supreme court case. Relocation is another common one under NJSA 9:2-2, "Children who are residents of New Jersey may not be removed absent their own consent, or absent the consent of both parties, otherwise the court may grant an application upon good cause shown." The correct standard to be applied has changed in recent years since the New Jersey Supreme court decision in Bisbing v. Bisbing, 230 N.J. 309, a 2017, New Jersey Supreme Court case. In that case, New Jersey Supreme Court applied a best interest of child's standard to applications seeking to relocate a child permanently outta New Jersey. Motions in limine, there's no court rule for motions in limine, it's not meant to replace standard motion practice, not a disguise for a motion for summary judgment. The pre-trial order sets forth the timing for motions of dispositive motions. So make sure you file the time limits in that order, which sets the trial requirements and the trial date. It can be useful in framing evidence issues, such as, in a civil case, the standard of care, net opinion of an expert, to bar an expert report, establish a burden of proof, resolve document issues for trial exhibits. The courts are hesitant to grant these motions without hearing any testimony. The motion may be premature and may depend on trial testimony. Therefore, you may have, in a civil case, a 104 hearing outside the presence of the jurors. So, in conclusion, please remember to follow the court rules, be courteous to the judge's law clerk, secretary, and court clerk. There are three filings allowed for every motion, the original motion filing, an opposition or cross motion, and a reply. There are no serve replies without court permission. If a serve reply is filed without court permission, the court may disregard same. That's not fair to the other side. Remember, motion practice is based on fairness, fairness to the adversary, the court looks at the impact to the adversary by considering extremely late papers or considering papers that exclude, exceed page limits, fairness to the law clerks, and fairness to the judges. Discovery motions, my rule is proceed, withdrawn, or give me a consent order. No adjournments, if you say you need two weeks to get the answers and interrogatories, sign a consent order to that effect. And then, again, the main theme of this course is, do it right the first time. There's no such thing as an amended motion, there are no mulligans in the courtroom, only on the golf course. Thank you very much for listening to this presentation, have a good day, thank you.