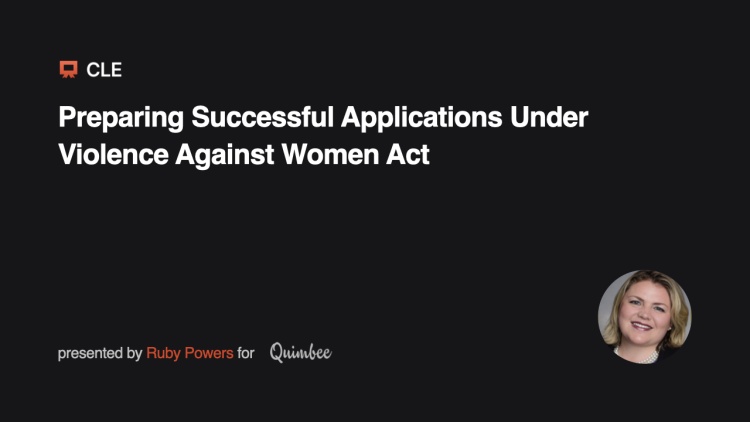 Preparing Successful Applications Under Violence Against Women Act
This program, taught by Board Certified in Immigration and Nationality Law attorney Ruby Powers, is designed to familiarize immigration attorneys with the successful tips and guidance in seeking relief under the Violence Against Women Act (VAWA). This course will cover how to effectively work with clients in preparing and filing the VAWA application and tips on special considerations and complications that could arise. Learn the differences between VAWA and VAWA Cancellation of Removal in immigration court proceedings. Attorney Powers will share her years of examples in representing VAWA applicants throughout the program to help clarify the elements and ensure a successful process.
Hi, everyone. Today, we're going to be talking about preparing successful applications under the Violence Against Women Act. My name is Ruby Powers. I'm a Board Certified Immigration Attorney in Houston, Texas. I'm one of 180 or so Board Certified Immigration Attorneys in Texas. Been practicing for 14 years, and have had my own firm, Powers Law Group, for 13 years. I also wrote a book called "Build and Manage Your Successful Immigration Law Practice: "Without Losing Your Mind" for the American Immigration Lawyers Association. Ran my law firm from Dubai about a decade ago and have been a strong advocate for immigrants' rights. So let's go ahead and dive in. Today, we're gonna be talking about a very sensitive subject and you really have to be trauma informed, you really have to be sensitive to the nature of your work. You also need to train your staff accordingly. This is not for everyone to do, and some people just choose not to do these types of petitions. So let's go ahead and talk about what we're gonna learn today. I would also like to mention, I think this is a great beginner, but it also could be a great intermediary level course where I'll put in little snippets of experience as well as also best practices. So I think this can be a great program for a multitude of practitioners, or those who are getting started in immigration, or who've been in it for a while but maybe haven't done a lot of VAWA applications. So look, first, we're going to identify the basic qualifications of VAWA petitioner, including eligibility for the driven applicants. Then we're gonna discuss necessary documentation to successfully prove the required elements, including tips on how to obtain difficult documents and documentation. We're also gonna talk about the standard process for VAWA application window by for adjustment status concurrently, or when to do with them separately. And also the ideal screening process for attorneys to perform during the potential consults and special considerations when working with applicants. And then finally, we're going to talk about cancellation of removal, and immigration court VAWA cancellation of removal and also the potential form of relief of VAWA in immigration proceedings. And at the time of this recording, the Doyle Memo has been into effect for a month and we're seeing a lot of terminations in court, so we'll talk about that as well. So what is VAWA and the... What is it? Well, it's the Violence Against Women Act. As a battered spouse, child or parent, you may file an immigrant visa petition under the Immigration and Nationality Act. And the provisions in the INA allow certain spouses, children, and parents of U.S. citizens, as well as certain spouses and children of permanent residents to file a petition for themselves. So it's self petitioning. Without the abuser's knowledge, this allows the victims to seek both safety and independence from their abuser who's not notified about the filing whatsoever. This is a concern of a lot of applicants who are afraid that their former spouse, or that child, or that parent, will find out about this, but they won't, not from USCIS. And this provides applications for both men and women, trans individuals, binary. This is not specific to one particular gender. It's a misnomer that it says Women Act, but it is to all individuals who meet the qualifications. And just for a little history lesson that I brushed up for this presentation, is that the VAWA is only from 1994. And so in the nearly three decades, they have been, our leaders have been working to renew and strengthen VAWA three times. First, it was in 2000, 2005 and then 2013. And then each time, President Biden worked to expand access to safety and support for all the survivors, and increased prevention efforts. There was an reauthorization of VAWA strengthens a landmark wall in 2022 to bolster the provisions of VAWA on lots of different aspects. And so this is something that comes up on a regular basis where they're trying to strengthen VAWA and it's reach. And they're just preventing and responding to gender-based violence whenever it occurs. And so this is wonderful that it exists, and I am grateful that they continue to strengthen this. So let's go ahead and get started with what are the details about this. Okay, so the three categories of eligibility are spouse. So you may file for yourself if you are or were, the abused spouse of a U.S. citizen or permanent resident. You may also file as an abused spouse if your child has been abused by your U.S. citizen or permanent resident spouse. You may also include, on your petition, your unmarried children who are under 21 if they have not filed for themselves already. We'll do a deeper dive into what I just said. But, secondly, would be parents. So one can file if they are the parent of a U.S. citizen, and you've been abused by your US citizen son or daughter. And then third, a child may file on their own if they abused child under 21, unmarried, and have been abused by a US citizen or permanent resident parent. Your child may also be included, on that individual's child may also be included on their petition, and they might also file for themselves as a child after 21, but before 25, if they can demonstrate that the abuse was the main reason for a delay. So we'll go into each one of those on a deeper dive. So what are the basic qualifications for AVAWA petitioner? So the eligibility for a spouse, we're gonna go one by one, but the spouse is the one that we see the most often, like the majority and in my firm, like that's like 95% of what I see, it's for the spouse. So they need to have the qualifying spousal relationship, which is generally like legally married. They need to have suffered battery extreme cruelty by the US citizen or permanent resident spouse. We primarily show that through statement, their affidavit, the police reports of applicable photos and proof of the spouses status. And one quick note, if you don't have proof of the spouse status, USCS can find it. But you should try to do the best you can. And then further, that they were entered into marriage in good faith and not solely for immigration benefits, proof of the relationship. You also have to establish that they resided with their spouse, and that they're a person of good moral character, which is why you need to submit a police clearance record. And some people forget that. And that's an important element. Now, there was a recent policy updates in 2022, actually February 10th, 2022, and USCS published a policy guidance in the USCS policy manual on eligibility filing and adjudication requirements for VAWA. And they were upgrading the interpretation of the requirement of shared residents to occur during the qualifying spousal or parent child relationship. Instead, the self petitioner must demonstrate they are residing or have resided with the abuser at any time in the past. So it doesn't have to be during the marriage. It could have been at any time. So that really is lowering the standard. It's even better for the petitioner. They were doing that nationwide in response to DeSilva the Attorney General and the US that held that evaluating the good moral character requirement and act or conviction is connected to the battery or extreme cruelty when it has a casual logical relationship. And then the other case, the didn't, I probably pronouncing that wrong, allow stepchildren and step parents to continue to be eligible, even if the parent step parent divorced. So this really expands those who are be eligible. So it's important to check with the USCS policy guidance. This can open up a lot more options. So let's move on for eligibility, for a child. They need to have a qualifying parent child relationship. So if the individual is a child of a US citizen or permanent resident abuser, or the child of the US citizen, or permanent resident abuser who lost citizenship or lawful permanent residents due to an incident of domestic violence. So this is really very beneficial because if a person lost their status because of them being abuser, it won't prevent an individual from being eligible to apply for VAWA. Now, under the child provision, they also had to have suffered battery extreme cruelty by the US citizen or permanent resident parent have resided with the abusive parent. And it says at any point, and then according to that policy guidance, we just mentioned, and then your person of good moral character. So a child less than 14 years of age is presumed to be a good moral character. And then last we're talking about the parent. So having the qualifying parent son or daughter relationship. So these are the ways they could qualify if they are the parent of US citizen or daughter who is at least 21 of age when the self petition is filed, or they're the parent of a US citizen, son or daughter who lost or renounced a citizenship related to an incident domestic violence, or they're the parent of a US citizen son or daughter who was at least 21, and who died within two years prior to filing the self petition. They had to also have suffered battery extreme cruelty by that US citizen, son or daughter have resided with the abusive of son or daughter, and are a person of good moral character. So what are the elements necessary to successfully prove a VAWA claim and the standard application process? Yeah, I told you a lot of requirements and everything, but it's all about collecting everything and putting it all together and knowing what it's gonna look like. So the elements required, first, you then you have to prove that battery extreme cruelty, and that couldn't include stalking. And if you really look at deep dive at what abuse is, it can be emotional, financial, psychological, mental, physical, unfortunately, a lot of people think it's just physical, but it isn't, it's actually more than that. And that's why some people don't apply for it because they don't know that it can be more than just physical. It has to have been done by US citizen or legal permanent resident, spouse, parent, or adult son, or daughter over 21. And with whom they resided at some point, as we talked about, and they have to have good moral character. There are waivers for an miss abilities. So that can be overcome. Now, we're gonna go step by step into each of the elements, battery, and extreme cruelty. So this can include, but is not limited to being the victim of an act or threatened act threatened act of violence if you see that including any forceful detention, which results or threatens to result in physical or mental injury. Acts of violence include psychological or sexual abuse or exploitation, including rape, molestation, incest. If the victim's a minor or forced prostitution. Additionally, crimes that would support issuance of an order of protection would be considered domestic violence crimes under states laws constitute battery as such as stocking is a crime in all 50 states, DC and US territories. So state stocking can also be considered battery. So this gives you a lot to work with as to what battery and cruelty is. I mean, generally when I'm talking to individuals, we're talking about being threatened, they call immigration that they were abusive. They threw things at them. They forced them into sexual relations. They took their phone away. They controlled them. They wouldn't let them see their friends, their family, they controlled their finances. It wasn't always physical, but there was a lot of other ways to demonstrate it. So then let's move on to good faith marriage. So this is the, when we're talking about the spouse, 'cause this is what we see predominantly, at the time of marriage. The couple must have intended to establish a life together. This is just like every other marriage based Green Card. The test was at the time they said I do, that they thought it was going to last forever. Now we know it, they don't all last forever, but that their intention was not fraud. And it was to go long haul with this individual. So separating after short marriage is not proof of marriage fraud, things can happen. And when I've done enough of these, it seems like there were red flags, but the individual was giving the abuser the benefit of the doubt, but the good faith marriage can be proven by lots of the co-mingling funds, living together, letters from friends and family. Now, one note about Bigga me, petitioner can qualify as themselves if unaware of the Bigga me when the marriage ceremony occurred. And when Bigga me, we might think a lot of intentional Bigga me by, well, basically, sometimes people are married to multiple people at the same time, and they don't even realize it, but also in the case of what we're talking about here, that if the abuser was intentionally married, but the victim or the one who are applying for self petitioning for VAWA is unaware of that. When the marriage ceremony occurred, then that doesn't hurt them, prevent them from being able to apply under VAWA. Now, and like, let's just go back for one second. The reason why that can matter is 'cause when you're establishing that you were legally able to marry that person at the time, you have to show the prior, everybody's like divorce degrees and marriage certificate and make sure that there's, that it was a legal relationship, unless there's that exception. So what's the application process. So and we're gonna talk about the screening, but we'll just get to the application process right here. So the form is called I-360. Now, I really don't like that form because it's used for lots of different other things. And when that happens, it causes a lot of confusion, but basically it's the petition for a marriage, widow, widower, special immigrant, including all supporting documentation. So now sometimes we file this concurrently with the I-45 when the visa is available or their immediate relative. And also we know that, and or we also think it's a strong case, but sometime they don't have the funds or they don't know if it's strong enough or the visa might not be available. For example, if your abuser was a legal permanent resident, then you need to double check the visa bulletin to see if the visa is current at the time. Now, you're going to be filing this to the Vermont Service Center. As I mentioned, it has a lot of confidentiality, rigor restrictions and they are well trained and then they will send a notification and that could include a Prima Facie determination notice that says basically a Prima Facie that they on the face of it appears a person's eligible. And then with that notice, they will be able to apply for certain public benefits to domestic violence. So that's the point about expanding the benefits of VAWA by being able to some of these benefits with the Prima Facie determination. So it's only valid for 150 days and then they'll get a new one in the mail. Sometimes it might be a teeny bit late. I've had clients complain a little bit, but sometimes it might be just a little bit right before it expires. It's not something that the attorney can go and apply for after, it's supposed to be issued by USCS on their own. So it doesn't grant the petitioner legal status in the United States, but it's basically saying on the face of it, it looks like you're eligible. And that's encouraging because these VAWA applications are taking a very, very long time. So we're gonna start talking about the documentation required. And as you're preparing, you can have your list of documents and then you can ask the client for those things, but they might have a difficulty in obtaining some of those things. So it's really good to have a list that sort of gives a variety of options. You could tell them what you absolutely need. And then you could talk about what is sort of like there's wiggle room. You also could try to do the best, you can at the time of filing, especially if you're in a tight bind and then you can supplement the record. You might get a request for evidence, or you might just supplement it on your own. Now, speaking of processing times at the moment of this recording in late May, 2022 UCSC, is taking 26 months. So for VAWA claims applications. So that is over two years, and that is pretty consistent with what I've been seeing as well. And in fact, some people it's taken a lot longer. I might as well just mention that right here, before we go into documentation required, I've had times where people had VAWA pending for a few years like maybe four or five, and then they hired me to do advocacy and we reached out, got the G28. That's what we had to do to talk to Vermont Service Center. And we were able to do an inquiry and get the case eventually resolved with an approval. I don't really know why that happens, but it seems like it's happened to several people. I've been like their second or third attorney on something. So just wanted to throw that out there. It does take a while, and that is unfortunate because people can't, I've seen, they can't move on until this gets resolved because this is a representation about this abuse. And so I really wish it wouldn't take so long for this to be adjudicated. So documentation required, so along the necessary forms for the petition attorneys should also include supplemental evidence. Okay, one of the most important ones is the notarized affidavit on behalf of the petitioner. So this is something that they prepare. I mean, you can work with them to get the story out and give 'em some tidbits on like what they should talk about. And what's the most important thing what to talk about in this affidavit. Now, but that is very central because a lot of times you might not have proof of every single thing that happened, but this is something that helps put the narrative and the story together. You also need to have the petitioner's birth certificate. And if we're talking about marriage, we need to make sure that we have the petitioner and abusive spouse's marriage certificate, joint bank statements if possible, credit card statements, financial records if possible, photographs the petitioner on the abusive spouse, photographs of communication, or chats or texts or whatever, and photocopies of statements from medical professionals, medical records of demonstrating the abuse. Now a lot of times this can be difficult to collect everything, but you should try to do the best that you can and know that there's not, they're not all the same cases. There's a lot of times when you're going to have different types of documents to prove these things. One of the things I did was, I found the abuser had a rap sheet, so a lot of criminal records. And so what I did was I got, I included that when I also, sometimes I've been able to get the abusers family members to even write letters and indicate that they saw the same experience and that speaks volumes. So basically it all starts with the affidavit. So you're gonna find out in the screening more about the details, and then you're gonna have them write the statement. You're gonna work with them on that. If they need a lot more work on that, it is very emotional. So it is important to make sure that, that is a strong document. And again, it does need to be translated into English if it was written in another language, but what are some other things that you could show proof of? You could between the photos and the membership at maybe a church or a gym or other things, you know, the taxes you can get tax transcripts. You know, the other thing that I wanna mention as a side bar practice pointer, is that if they come to you and they're still together, or they're like about to start living apart, of course you should talk about the importance of safety, but if they're still able to collecting this proof immediately before things get any worse or that they are in the divorce process is really important. And usually it's just a matter of downloading these documents somewhere safe before they lose access to some of these accounts, for example, bank statements, credit cards or other financial records. So when someone comes to me almost the first thing is, we talk about safety, and then we also talk about family law. I'm not a family law attorney, but I talk about why that's an important aspect to what we're talking about, especially we're talking about spouses, and then we talk about immigration. So the other practice pointer I'd like to mention is that you also want to make sure that you know, how you can communicate with them safely and confidentially. So are you allowed to leave a voicemail? Should you text, should you call them, should you, is the email safe? Because they, a lot of times the people are coming to you. It was a struggle, struggle to even reach out for help and get in a consultation. So you also want to be able to keep their safety in mind as you looking to work with them in the future and give them that guidance. So now that we've talked about the documentation required, it's important to continue to talk about derivatives. Now, each derivative that was included on the I-360 must file their own Green Card application, just like it is for U visas and I-130s it's this and I-140s and things like that. You can be under one immigrant petition sometimes depending on the circumstances, but when you're an actual derivative and you're under the I-360, but to get the Green Card, the ultimate goal that they're trying to obtain, you need to apply for their own individual I-45. So that's important to know. Now, let's move on to something really important about practice pointers. And this is about the ideal screening process. So to be able to do that before the consultation, before beginning the consultation process ensure the petitioners in the safe place. Like we talked about, to speak freely about the abuse and the petitioner, they could still be living together. And considering that we're doing so many things with the immigrant over Zoom or the phone, these are things to consider that where you wanna make sure that they're safe. Sometimes I've had consultations where I realize they seem to be really soft spoken. I don't know. I mean, during the heat of the quarantine of 2020, there was a lot of calls about this, and it was heartbreaking because a lot of people due to COVID were not able to relocate. And it was a very continuous situation, but make sure that you can read the room as you would say, if they're not coming in person over the phone or Zoom, to be able to know whether or not they feel comfortable and to talk to you. It's very often that they might be in a car by themselves at a quiet time. And so that's important. Now, what we do at my firm is that if we know they're going to talk about VAWA, we ask them to write a couple of paragraphs about the situation, just so we have a better idea so that when we start talking, we're able to really get to the point and to be able to give them as much benefit as possible, because we are gonna be talking about safety, family law, the requirements, and they might not be ready to file right now because they might need to go take care of the getting separated, moving out and finding their family law attorney and starting the divorce process. So a lot of times we know that we're gonna talk to the individual, probably at least twice before we start working together. So during that consultation consider the potential emotional, physical abuse experienced by the petitioner and explain it's necessary that the attorney have accurate account of those events. It's really, really important that you can build a bond and connection that the individual feels comfortable talking to you. And that's really important. You can't rush these consultations, and if they don't feel comfortable with you, they're not going to open up with you. So it's also important to note that trauma can affect a petitioner's thought process and make it seem like they're jumping around, or they might not seem like they're talking chronological order. But what I generally do is I take a lot of notes while they're talking and try to remember things that they are saying that they, I wanna make sure that later show up in their statement and affidavit. And it also helps me pinpoint what evidence I want them to start collecting. If we are going to file and work together, just giving them advice on some of those things. So during that process, the consultation asked the petitioner to provide any proof of the abuse sustained by the petitioner, text messages, emails, photographs, medical documents, or police reports, and see what is out there. Sometimes they might have recordings. Well that doesn't really work. You would have to transcribe that otherwise recordings will, we don't submit recordings. Also double check that it's legal to have made those recordings where they recorded it. The text messages, if they are in emails, if they're not in English, make sure that they get translated and only show the ones you really want to show. Photographs can show different things. One, they could show the good faith marriage originally, but then they also could show like bruises, is someone something being grabbed. Cuts, scars so they can show lots of other aspects of the other elements of VAWA. Medical documents are, can also be very important and psychological reports as well to verify what the individual said. I honestly, that's one of the things we do the most is the two biggest pieces of evidence are the applicant statement. And then a psychological report. Here in Houston, if they go to the women's shelter will do group therapy a few times. And then after so many times, then the leader will write them a letter that can be a good way to get therapy and to have some more additional evidence. And then also police reports. Now, sometimes with police reports, they might not have gone all the way to calling. There might be a way to pull reports as to like calls of complaints. Maybe the police didn't come, but there are individual called also could try to get the police reports when they did come and any charges that were made. So there's lots of different ways to try to collect that evidence. I think the other thing that's important. So the way we process our screening is if they say they're interested in VAWA, they usually have heard about it somewhere on the internet or from a friend. And so then we have the write that statement. They do their intake. We have that talk about safety, family law, and about this process and collecting evidence and abuse. If it's not clear, whether it's a strong VAWA case or not, I definitely have them go write, update their statement after having talked with me and send it to me again, this is what I do for asylum as well. And then I let them know what I think their chances are of approval. But I also it's a matter, not only do they make the requirements and the extreme cruelty and the abuse, you know, that can come in all different shapes of size, like we talked about, but also if they don't have a lot of evidence to back up things that they say, like that can make it, even, that can make it harder. So we have to sort of see what do they have. And we also have to explain the absence of documentation if we just absolutely can't get it. Now, one time I had a case where they were living in hotels and they were like, I don't know what their story was. It's been a long time, like, I think go over a decade. It's either they were like doing trucking or they were sort of homeless and like living in hotels occasionally. And I don't know what I just, I guess I just felt like I was gonna be able to figure this out. And so we did the best we could. 'Cause I mean, when they were living in hotels and the American was putting all the payments down and they just did not really have a lot of proof for the relationship, but you know what? It actually worked. And we were able to get that case approved. So if they meet the elements, but you have a hard time getting evidence, like sometimes you just have to gotta try the best you can and you might be able to find it in some different shapes or sizes. And so if you, they, a lot of individuals have talked to somebody like a relative, a sibling, a parent, a friend, of course, a lot of them are super embarrassed by what's happened to them. But even if that friend can help support them by talking about in writing it in a statement that is really, really important as well. So other components of VAWA that's important to note, the individual can self petition even if the abuse of spouse dies, they can self petition of the abuser spouse, lost residents, or citizenship, do domestic violence like we mentioned, and the self petitioner may petition even after divorcing the abuser or having the marriage annulled, if they can demonstrate a connection between the legal termination and the abuse. But in all these scenarios, the self petitioner must be filed within two years of the abuser's death or loss of immigration status, or within two years of the final divorce decree or annulment. So a lot of times when people come to me, they, and we're talking predominantly spouse petitions. They are still in the relationship. They might be living together. They are freaked out because they might have already petition, had been petitioned for the I-130 and the 45. They also, or were about to file for that. And they're like, well, wait a minute. I had this all planned out that they were gonna petition for me. And so that's why they usually come before safety. And the family law has been talked about because they don't know how this is all gonna play out, and this is essential to their survival. And then when you explain this two year requirement, then they, this is, you know, this is really important because for example, I have a case right now that he's about to be at his two year mark. And I think we talked last year and then I don't know where he went, what he was doing, he'd already was divorced, but he definitely was distraught last year. I remember him being just very traumatized. Let's just say. And so then he came back to me and now we only have a few months left to file. And I said, we gotta get going on this. And so you've got to look at that. That's one of the really important things you need to look at. If the abuser died, when did they die? If they've gotten divorced already, when did that divorce happen? And if for any reason, I haven't seen this happen to, in my cases yet, did they lost their status because of domestic violence charges, when did that happen? So a lot of times people come and it doesn't seem like there's a sense of urgency of knowing the power of knowing. But then there actually is a sense of urgency in filing within the two years. But normally when people come, they still haven't gotten divorced. They're still living with them and they're trying to make their decisions. Unfortunately, it seems like this is what's keeping them staying in that abusive relationship on top of it already is difficult to be in abusive relationship in the first place. And it chips away at your ability to think straight and know, and so that's why it's good that they have this two years. And because if it was any less, I think it would be very restrictive. So it's other moving on to the other considerations. There's special confidentially protections for those who apply for self petitioners and the law prohibits USCS from denying their application based on information provided solely by the abuser and other prohibitive sources. So for example, if the individual finds out that they, if the abuser finds out that the immigrant is applying for VAWA, they may try to write a letter to the Vermont Service Center somewhere saying, no, no, no, they were the one that was abusive, or they're trying to say they just married me for the papers or something along those lines. And so this per law is very helpful, but that it doesn't allow a USCS to just flat out deny the application just because they receive some type of communication by anonymous prohibited sources or the abuser. USCS cannot disclose any information about a petitioner to the third parties, except in certain very limited circumstances. So that is all very helpful to know because a lot of people are just super concerned about that. So one other really important factor as we were talking about all these other special considerations is also that you need to advise your client, that if they get remarried before the approval. So we're talking about the spousal petition primarily, if they remarry before the approval of the VAWA petition, it will be denied. But if they get married after the approval, then it's okay. So they need... So again, we've looked at the processing time at about 26 months. So just let them know that they need to not get remarried while the VAWA is being pending, but then they could get married after the I-360 is approved. So that's really important to specify. So, you know, you might want to make a, when I'm in the consultations, what I do is I have a list of, I have the hand a handout, and it talks about like what we talked about, the very beginning about what those key requirements are. And then I break down my legal fee about I-360, I-45, the filing fees. I have it in English and Spanish. 'Cause I have a lot of Spanish speaking clients. And I think what would be really helpful for you is to also remember these key things about the two year filing deadline, also the not remarrying while the VAWA is pending until it's approved and just being aware of the safety, the family law, the collection of documents. And so a lot of these things are really important to bring up at every consultation. You might wanna make a little checklist of things that we've talked about today, that you can use that are really important because you might not, if you don't do these all the time, you might forget some of these key points. So here's just some questions that you might hear in the consultation. So let's cover some of these right now. So what if my form I-360 is denied? Well, first of all, you probably get an RV first. Then you respond to that. And if you get a notice of intent to deny, then you respond to that. And if you get a denial, then you look to see why it was denied. Was it denied because they say you weren't really legally married to an individual or do they, because there's not enough proof of the good faith marriage or because there's not proof about the abuse or the extreme cruelty. I mean, it all depends, but you can file another I-360, but it's important to note that if they've already gotten divorced and it took 26 months for them to adjudicate this, then you're probably too late to refile this. Actually I have a case like that right now where the individual filed it's been pending a long time. They got the request for evidence. No, actually I think, I don't know if it's an RFE or no notice of intent to deny, but the point is that we have to win because it's already been two years. And so that's since the divorce. So then that means it's you wouldn't be eligible otherwise. So that's another thing. So basically answer is you fight it, you analyze it. If there's something that, you know, that USCS is right, and you're wrong, then you might look at the timing and maybe just file again, if you are eligible. So, can a man file a petition for himself under violence against women act? Yes, they can. I think, unfortunately, because I worked with a lot of clients, who've been in traumatic situations and abusive situations. And I mean, first of all, it's very hard for them to be aware of what's happening. Second of all, to get out of the situation. Third, when it's intertwined with their immigration status, it is very, it's disability. It prevents them from being able to see clearly because their future is intertwined with that relationship. And then on top of all of that, if you are a man and you are talking about violence against Women Act, I can think that it must be very, very humbling, but it's regardless of gender, you can apply for this. Like we've mentioned. Do I have to remain married to my visa spouse until the form I-360 is approved? No, no and no, you don't. I don't know why people must hear lots of weird things when they pass around the folk core of immigration, but by all means, I hope that the individual can start living their new true life and start moving on. I already see this from practice that individuals can't move on until they get an approval from the I-360, because like I talked about the intertwined aspect of their immigration status with this abusive relationship is just keeps them from being able to move on. That fear is a paralysis and it keeps them back. So can a divorce spouse seek relief by filing form I-360? Well, I mean, you have to meet all the other qualifications. And it has to be within the two years of that divorce and you can't have already remarried. So like everything we mentioned. So those are important to mention. So what if my abuser is a citizen or legal permit, resident spouse, or parents, or abuser daughter, son, or daughter filed I-130, this is a really good question. Petition for alien on my behalf, which is still pending or was withdrawn. Okay, so if there was an I-130 and it was already, let's say it was already approved. What you can do is you can show proof of the I-130 and you can ask them to convert that showing the additional elements. So that already shows the good faith marriage and that they live together. So then you can for spousal, then you can just show the additional abuse requirement, extreme cruelty, and have it converted into an I-360. Actually, when they come to you with that approved I-130, that means that a lot of work has already been done because they've already approved that relationship and that good faith marriage if it's in spousal. Now, if it was still pending, you could ask them a lot of the work had already been submitted. Proving that relationship and that they lived together, or the, you know, with the son daughter, parent, child situation, it doesn't always mean that they live together. But if, depending on what they submitted, it could help prove that. But if the key I-130 was pending, depending on what was submitted to for that, a lot of the work has been done there as well. And so then you would just need to add the elements that were not, and then maybe update it a bit. Now, what if it was withdrawn? Well, still a lot of the work was done to submit that, so this is what you gotta do. You gotta get a copy of these things. So let's say they had another attorney, hopefully, or maybe it was a note, or maybe they did it on their own, but you know, worst, worst, worst case you do four years, but you probably can't wait for a FOIA to come back for this type of stuff, because the timing is of the essence. So that's the other key thing you wanna do in the consultation, is you wanna ask them who filed it? Who filed the I-130? Who has a copy of it? Who has the receipts? Sometimes their prior attorney, you know, if it was spousal and there's a conflict of interest, they should be withdrawing themselves from this. And so they might give them a hard time giving a copy of the file, but that is really important to have a copy of it so that you can use some of the elements of those things, you know, as it has proof of the Green Card, proof of the citizenship, proof of the marriage divorce, as proof of the relationship, it has a lot of things in there. So you wanna make sure you get a copy of that. So that's a really good point. Now, another question could be asked, oh, let me just mention this also practice pointer. Okay, so let's say they had I-130 approved and or pending, and they also file the 45, what I've been able to do. And it gets a little tricky because the I-130, the I-360 can two years. What I've been able to do it sometimes. And I'll just say it is tricky. You have to really communicate it, is that you could try to keep that I-45, that was attached to the original I-130. So you don't have to pay for I-45 again. Now sometimes that confuses USCS but sometimes they might, if you're at the field office. So let's just say, scenario, you filed the I-130, the 45, and then the relations gets abusive. So then the immigrant self petitions and converts the I-130 to I-360, while they could hold the 45 in advance for the I-360 to be adjudicated. So they don't have to file the 45 again, that's a possibility. I'm trying to do the same thing in court right now for a case that I inherited maybe a year ago, and it's been in court or in some shape or form for about five or six years. But I do think that USCS gets confused by those types of things. So you have to see what does your field office do, but that's another practice pointer where you could try to save the client money and not have to completely redo it. Now, sometimes if you don't wanna have to deal with that and they have the funds, then you might wanna just start it from scratch and apply the I-45 with your I-360, if the visa is available in an immediate relative. And that makes the most sense. And you're in USCIS not in immigration court. So the other question that could be asked, is can anyone else assist me? Well, I mean, you know, they're talking to you in a consultation. They might have already exhausted their options with going to pro bono attorney or a nonprofit, but a lot of nonprofits generally try to help in these types of things. They just might not have the bandwidth because of the timing of it. So, yeah, I mean, they can probably go somewhere else, but because it's taking 26 months to adjudicate, and if you've already gotten divorced and you have to file within two years of the divorce, I mean, you really just don't want to mess with the timing of this. But yes, I'd say they can explore, see if nonprofits have availability or you can assist them. Now, as we're getting closer to the end. I think when it remind people that there is this thing called VAWA cancellation of removal. So this is when you're in immigration court. And you meet these requirements. So it's designed to stop removal proceedings of victims of abuse by you assist or legal permit, resident, spouse, or parent. And if successful, it results in a legal permit, residency status, you have to prove that you've been subjected to battery or extreme cruelty by sister or legal permanent resident, spouse, or parent second, that you've been physically present in the US for continuous period of three years or more to your VAWA application and the issuance of a notice to appear. Okay, so a lot of my clients came to me and they filed adjustments and they, well, you know, it really it's hard to say, but basically I've had a lot of people be eligible for VAWA, but not VAWA a cancellation removal because they had gotten a notice to appear before the three years. And so this is really important. Be physically present in the US for a continuous period of three years or more prior to the VAWA application and the issuance of the NTA. That you have been a, and just a sidebar about best practice of the issuance of NTA. Remember, there's a lot of arguments about what is a deficient NTA, you know, the ITBD And so you really can look at that as well. You know, if that cut off the clock for you with the notice to appear if it was too soon. So just keep an eye out that, but generally, if they're eligible for, there's a lot of overlap between regular VAWA and VAWA cancellation removal, that you've been a person of good moral character during the last three years, and that your removal would cause extreme hardship to you, your children, or your parents, and that this certain admissibility grounds do not apply to you like criminal convictions. Now, what, you're not this, why what makes this better than VAWA, is that you're not required to show good faith in marriage or joint residents. So that can be helpful for some individuals that might be hard to demonstrate. So if it's a granted, you'll get legal permanent residency. And so this is one option to have. Now, the extreme hardship can be demonstrated by the nature extent of physical, psychological consequences of abuse, the loss of access to US courts to enforce protective orders, you know, abroad that you say, that the law of the land that you would be deported to, wouldn't be able to protect your children and your, you know, just basically the visitation and things like that. But the batterers family associates causing harm are in the home country, and they could target you and put you in harm, the needs for social medical, mental health, services that are unavailable in the home country. And then also the abuser's ability to travel home to the home country and authorities unwillingness to protect the applicant. So these are all really good reasons to explain why you would need the cancellation of removal of VAWA and that you would need to stay in the United States as opposed that if you were to go to your home country, you would be put in harm, or your family would be put in harm if you were to return. So normally, this can be a very good option for individuals, and it's not the only option when you're in immigration court. So, and otherwise qualified law with self petitioner may be ineligible to file the self petition if they divorced or the abuser lost their Green Card more than two years ago, they're in removal proceedings before the priority dates current, and then their abused child of a US citizen, legal permanent resident, but did not file a self petition before 21. So this is another reason why the cancellation removal can be beneficial. It has more of an expanded options. Now, the it's, this is, if another consideration that you want to keep in mind is that if you are not eligible for, you're in immigration court, but you're not eligible for VAWA cancellation of removal, for whatever reason, maybe you got NTA before you were, before the three years here, or whatever other reason why it may be that you don't meet the requirements. But what you can do is you could file the I-360 or convert the I-130 into I-360, and then you could keep postponing court until the I-360 is approved, which is 26 months. And then you can file the I-45 in court. Once the I-360 is approved, or as I was mentioning about the Doyle memo, as long as you're not a priority, the Doyle memo, April 3rd came 2022, that came into effect April 25th, 2022 says that, OPLA has the power to terminate cases unilaterally. If the individual is not a public safety threat, a national security threat, or a border threat, which really means, individual did came before November, 2020. And all of those things combined, what I'm seeing is that individuals who have an I-360 pending with USCS we are able to get the court cases dismissed, which means terminated. And then we can, if they are an immediate relative or the visa is current, we're able to immediately file the I-45 with USCIS before we were not able to file with court. And so the individual had to wait those 26 months or so before it was approved, then they could file the I-45. And what that meant was that people weren't able to get their work authorization. So what we're doing for individuals who are in immigration court, if they're not otherwise eligible for VAWA cancellation of removal, is that we're getting their cases terminated so that we can file the I-45 and also their work authorization while they're waiting for all of that to be progressed. So do check if the individual is in court, if they meet the cancellation of removal, but if they don't then doing the, getting them out of court and then to file the 45 is actually a really good option. And then that allows the individual to be able to get that work authorization and not have to be completely on hold with their life while they're waiting. And that's other another really, really important point. A lot of times they have to wait until that 45 was pending to get that work authorization. And so being in immigration court has really prevented a lot of individuals from being able to get the work authorization, even though they had the VAWA pending. So in summary, as we were concluding our presentation today, I mean, I think it's really important to note several things. One, you should ideally make a handout that you have for your clients that you can hand them, because first of all, they're coming to you. It's a lot of information, they're traumatized. You can email it to them while you're talking to them, if it's over Zoom or phone, and you want to be able to give them that information so that they can be as informed as possible. I think, secondly, you need to be not cognizant about their safety and what their living situation is. And if you have a list of other options to provide where like women's shelters or shelters in general, that they could go. You also many times have family law attorney recommendations or referrals so that they have somebody that they can reach out to. I also give them a list of ideas of what to collect in terms of evidence. And so then that is something that they can do. And then I also explain the importance of the statement and that affidavit and that's just really important because they need to be able to have that. And like I mentioned, a lot of times when they're coming to us, they are not ready to file. They still need to take care of a lot of other, the hierarchy of needs. But when they do come to you, if they've already started writing that statement and have some of those things written down, then they don't have to be like, as much re-traumatized to put that together. So that is what I generally like to have them do so that they walk away with some knowledge is power, right? So they have that as they're progressing through their journey. And I think a lot of the cases that I get honestly, are ones that they were recommended by a friend, because this is just such a sensitive subject. And so just keep yourself, you know, one other like concluding thought is just, keep yourself in check and your staff, as you're working with traumatized individuals and knowing how to work with them so that you can get the information you need, help represent them as fully as possible, but also not put them in any way, in a harmful environment or sort of push them, pressure them at that stage of vulnerability and rawness, if you will. And so be very cognizant of that when you're doing the consultation, I like to have them something to give them to also remind them about those the two years. We mentioned about the, you know, within the two years of the divorce or the death, or of the, in the individual losing their status. And then also, it's just important to mention if there's any children derivatives, and also to go over those basics, that if we're working under the child or the parent of requirements. So those are just things to consider. And then if they are in immigration court, make sure that you know when the next hearing is, has anything been filed. And another thing about concluding thoughts is get a copy of everything that was filed and also do a FOIA if you really need to. So those are all really important things to consider, and this is very difficult work. So it's important to keep in mind, do you want to do this work or not? And if you don't want to do it and, or you're not good at it, and you cannot work with individuals in this sensitive, traumatized state, then you might want to not do this line of petitions. And even if you do the consult, but you have your legal assistance, doing a lot of the work, be cognizant that they, your staff doesn't get burnt out, that they have the right tools to work with individuals, especially when very sensitive data and very disturbing facts can be presented. So just be aware of all of those things as you're doing this work. So I think that we covered a lot of detail. I think we covered a lot of territory. And I hope this was helpful. I know it's not an easy topic. It's pretty heavy, but you know what? I love seeing my clients when they get their Green Card that, and they can, they've had their therapy, their future's not tied to the abuser anymore. I love seeing them be able to flourish and grow and to be able to move on with their lives and potentially get remarried and have children and just have a life that they wanted to have, but they were on hold while they had to work on through this. And so it can be very rewarding. You just have to be very aware of what you're working with and who you're working with. So I hope you enjoyed today's presentation. You learned a lot. If you have any questions you can reach out to me, again, my name is Ruby Powers, with Powers Law Group in Houston, Texas. And thank you for watching and I wish you all the best.