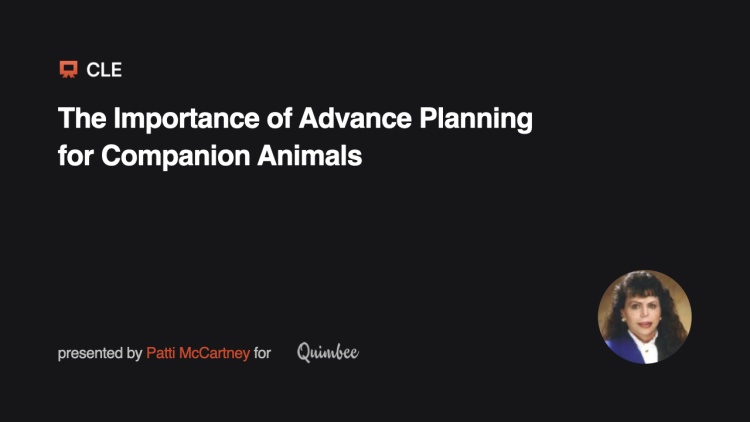 The Importance of Advance Planning for Companion Animals
Although a majority of Americans love their pets as members of their family, advance planning for companion animals is a common estate planning oversight. In this course, Dr, Patricia "Patti" Wilhite McCartney, an estates and trusts lawyer, Board-Certified Naturopathic Doctor, and Animal Naturopathic Doctor, offers a primer for incorporating pets into existing estate plans or as stand-alone trusts and directives, and discusses how to avoid and overcome common drafting issues and obstacles.
- Hi everyone, pardon me. I am a board certified naturopathic doctor, an animal naturopathic doctor, and a licensed Texas attorney. Today, I'm going to be covering one of my favorite topics, which is advanced planning for companion animals. The one question no pet should have to ask is what happens to me if something happens to you? And that's what we're going to be addressing today. I wanna begin by discussing some fun facts about companion animals. For example, did you know that pets can lower cholesterol? Research has demonstrated that individuals with pets have lower cholesterol and triglycerides, pets reduce stress and anxiety. When interacting with your favorite furry companion in as little as 10 minutes, your cortisol level, which is your stress hormone is lowered, and serotonin your feel good chemical response is increased. Pets reduce blood pressure, studies show that pets have a positive influence on blood pressure for parents and children resulting in increased heart health. Children that grow up with companion animals also have less allergies and asthma. Pet ownership has been shown to strengthen your immune system, and dogs have been shown to be able to detect cancer in people with up to 90% accuracy. Benefits of pet therapy, 74% of pet owners say their mental health is improved because of their animals. The US has over 500,000 service animals that help physical and mental ailments. There are over 50,000 trained therapy dogs in the US, over 60% of US colleges have a pet therapy program, 81.8% of children with autism prefer to play with animals over toys, 60% of US hospice providers use complimentary pet therapies. And again, the US has over 500,000 US service animals. Okay, a little bit about my background and how I got here. I was one of those who always wanted to be a lawyer and I was following my dream and on my trajectory when an arsonist broke in our family home, I was 20 at the time, I was completing my sophomore year of college and it was Memorial day weekend. I was awakened by our family dog Kiki who slept in my room, and I walked out just in time to avoid the fire that had been started in front of my room. Fires were started in front of each of the bedrooms and the connecting hallway. I attempted to rescue my sister and passed out in one of the places where a fire had started. I was rescued from the house, resuscitated on the lawn, and carried to Parkland hospital, which is one of the world's best burn units. I was given less than a 1% chance to survive and my parents were told not to expect that I would make it through the night. That experience gave me a front row seat to the best and the worst that the medical system has to offer. And when I say medical system, I mean allopathic or conventional medicine, the best being the amazing trauma teams that worked so hard to keep me alive, the worst being an infection I was exposed to which resulted in the amputation of my left hand. I was able to complete my dream of finishing college, sitting out a year between college and law school, then going on to law school and finally ultimately passing the bar. That experience left me with a very weak immune system, and I always thought it was the 40 plus surgeries I had been through but I firmly believe it was the overexposure to the medications, in addition to the trauma my body suffered. And that came to a head one day when I was coming back from probate court when I was rear ended and that event threw my immune system into a free fall. So in looking for answers where my doctors didn't have any, I began turning to natural health remedies. And through there accumulated multiple certifications that eventually led me to earning my doctorate of naturopathy. And then because of what I learned and wanting to apply it to animals in order to help what I call Paw'd Forward for the animal who helped save my life, I earned an animal naturopathic doctorate as well. So that's a little bit about me and let's dive into today's subject. What is a pet trust? A pet trust is a form of a revocable trust which details the care of a pet or pets once an individual is no longer able to do so. It identifies the guardian or guardians that have been preselected to step in and provide for the needs and desires for a pet's care in a manner that the guardian determines. A pet trust is a legally recognized method of providing for the care of animals without the necessity of court intervention. In fact, pet trusts are now legal in all 50 states. The customized trust terminates on the death of the animal, or if the trust is created to provide for the care of more than one animal, on the death of the last surviving animal named. And it allows for the pet owner to determine the distribution of the trusts remaining assets. Okay, a historicals perspective. Why do we need pet trust? In common law, people were unable to leave money and assets for the care and the comfort of their companion animals due to the inability to name a pet as a beneficiary of a trust which would've violated the role against perpetuities. As a result, people who wanted to make arrangements for the care of their companion animals after their passing had to use honorary trust, which limited the trust life to 21 years. As the name describes, the problem with an honorary trust is it relies on the honor code of the person you named to watch over your pet in that situation. The problem with honorary trust was that they were unenforceable in the courts, so it was left to the trustee's discretion to voluntarily honor the settler's wishes. This gave rise to individuals who could simply dispose of the animal and keep the allotted funds without fear of consequence. Since the companion animal was not an actual beneficiary that could bring suit against the trustee for enforcement, and the honorary trust was not a charitable trust that allowed for an attorney general to seek enforcement of the trust, the trustee was free to ignore the testator's intent and instructions. As you can imagine that absolutely defeats the purpose of creating a pet trust or trying to make arrangements for your beloved pet. So the uniform probate code came along and created a provision that effectively eliminated these difficulties that a testator previously encountered under common law and provided a trust for the care of maintenance of a companion animal by making trust for them valid, again in all 50 states now. So according to the UPC, subject to this subsection and subsection C, a trust for the care of a designated domestic or pet animal is valid. The trust terminates when no living animal is covered by the trust, a governing instrument must be liberally construed to bring the transfer within this subsection to presume against the mere precatory or honorary trust and nature of the disposition and to carry out the general intent of the transfer. Extrinsic evidence is also admissible in determining the transferers intent. The uniform trust code mirrored the UPC, and also created a similar provision. Okay, I wanna transition a little bit to a case study that puts this in perspective. This took place in the 1960s with a... This case study involves a singer who was very popular in the sixties in great Britain by the name of Dusty Springfield, many of her songs were also popular in the US. She was an animal advocate and adopted a cat named Nicholas. Nicholas was her pride and joy, and she lavished the feline during life. And when it was discovered that she was facing a terminal illness, I believe it was breast cancer, she wanted to make arrangements to ensure he would be well cared for after his death. Springfield provided detailed instructions for the cat's care in her will along with a presumed sum of money. And some of the details included the fact that Nicholas was to be fed a specific form of baby food imported to Britain from the US. Nicholas was to be maintained in the seven foot indoor Treehouse lined with catnip and scratch pads, a bed covered with Springfield's pillowcase and the night gown she wore when she passed, a stereo system was also to be maintained playing Springfield's hits at nighttime for Nicholas to go to sleep by. These were all things that Nicholas was used to and accustomed to during his life, and Springfield wanted to make sure that the grief of her passing would be somewhat modified or lessened by arranging these particular details for Nicholas. I believe she had a family friend that she consulted about this, and it was he who eventually took Nicholas and honored her wishes. Although gifts left directly to pets are unenforceable, it does appear that the items that issue were all left to Nicholas's caregiver for his benefit and were therefore valid. Springfield died in 1999, but it remains uncertain as to when Nicholas passed or to whom his inheritance was left. So now I wanna turn to another case study of someone named Leona Helmsley. She was nicknamed the queen of mean, she was a real estate tycoon in New York city and passed away in 2007, leaving her dog, Trouble, a 12 million dollar trust fund. After extensive litigation by disinherited heirs, Trouble's portion was reduced to 2 million dollars, awarding 6 million to the grandchildren who brought the challenge. The court also awarded the balance of the trust to charity. Helmesley's other wishes for Trouble were also disregarded, including the arrangements for Trouble's body after death which was supposed to be in the family mussolini. Unfortunately, despite Helmsley's wishes, Trouble was cremated after the cemetery refused to allow the canines remains to enter the cemetery grounds. I think there are some very interesting facts to consider and learn from here. Let me begin by giving a little bit of the backdrop story here. Evidently, Ms. Hemsley and her husband had one son who predeceased her, and she had four grandchildren. I understand that there was some sort of a strain with two of the grandchildren, presumably for their failure to visit their grandfather, whether it was visiting him during his life or paying respects to him after his passing. Either way, it was sufficient for Ms. Helmsley to feel betrayed by her grandchildren to such a degree that she wanted to disinherit them. However, rather than putting a provision in the will, allowing for them to receive a minimal amount, thereby limiting or hopefully blocking any challenge from them, this apparently wasn't done. Moreover, it appears that no effort to contact the cemetery was made to make sure that they would take an animal or allow an animal to be buried in the mussolini. And in fact, it was against the cemetery's policy. So Ms. Helmsley's great efforts and enormous expense in going through detailed provisions were not honored. We can question whether or not her wishes were reasonable, but nevertheless, the whole point and goal of an estate plan for anyone creating one is to set forth what their wishes are and to make sure that they're honored as practitioners, as lawyers who draft these, that is our responsibility. So I think this certainly is a cautionary tell, and it does raise some questions and potential drafting tips to consider in a situation such as this. Moving on, let's look at some drafting tips, but before we do, let's consider the fact that advanced planning is our opportunity to honor and celebrate the human animal bond, whether it's for ourselves or for the clients we draft, we need to recognize the emotional connection that individuals share with their companion animals and allow those to play an integral part in our estate planning consultations. And we should encourage our clients to include personal items in their arrangements, such as what we saw with Ms. Springfield. We'll talk about that a little bit more as we go through the presentation, but it's definitely worth considering that case study as an example. Through careful planning, our clients are able to ensure their pets are bonded to them even if separated by death. And again, this is something that we, as attorneys, are privileged to be a part of in the education and in the thought process and planning for our clients to make sure that they are properly caring for their pets. Our pets deserve more than their legal status, sadly, courts throughout the US continue to recognize that pets are merely property. This should motivate us as lawyers to educate our clients on the important role that estate planning offers by assisting our clients to make appropriate plans for the care of our pets, we are able to help them ensure their companion animals are treated as the treasured members of the family they are. This allows the planning for dignity and care, love and thought with regard to our companion animals. Failure to properly plan can sadly result in unanticipated outcomes, such as abandonment and even euthanasia. No pet parent or pet guardian wants to think of their pet's life ending that way. And as estate planning attorneys, we have the opportunity, and again the privilege, to educate them on the plans that they can make. And I've never known a pet parent or pet guardian who once made aware of the options to provide for their pet opted against such provision, whether the provision was in a will or in a trust, I've never known anyone who just didn't care and didn't want to make that extra effort. Okay, so let's discuss pet trust versus wills. Okay, money included in a will pet provision is viewed as a gift. So that creates a potential for the named caregiver to take the money and then decline to care for the animal. A similar problem, such as the common law honorary trust we've already discussed, whereas money left in a pet trust is enforceable if it's not used for the care of the animal. Okay, pet trusts also allows the pet guardian to be as detailed and specific as desired. There is no limit to the instructions that you can provide or your client can provide in the care of their pet. Pet trust, like any other trust, allow the guardian to avoid probate for any assets that are in the trust, that means any funds and the authority to take over caring for the pet are transferred immediately, not after several months or even longer through a probate proceeding. Plus unlike a will, a trust can go into effect while you're still alive. In addition, you decide how much money should be set aside to fund the care and the maintenance of your pets in the standard of living you desire. The pet trust takes effect, again, immediately upon your incapacity or death, without the necessity of probate. And any funds remaining after the death of your pet are passed to a loved one or a charity of your choice. Once again, you get to decide, or in this case, if you're in this area of law, your client gets to decide how he or she wishes the remainder of the trust fund left from the pet trust to go and how it should be resolved. Okay, let's look at considerations regarding the choice of trustees and caretakers. Many people mistakenly believe that their loved ones will automatically step in and care for their animals. We would all like to think that the people in our lives who understand how important our animals are to us would step in given the need, however, despite their best intentions, even if they wish to step in, even if they agreed to step in circumstances may prevent their ability to do so, based on geography, other pets, their own illness, etc. Practice tip, encourage clients to discuss living arrangements with prospective caretakers. Some clients may want to choose a caretaker that is able to move into the residence where the companion animal lives to avoid further trauma and disruption to the animal. Now, this may seem odd or bizarre but it actually happens. There are some situations where the circumstances allow for it and the caretaker agrees to move into the home so the companion animal whose world has already been turned upside down by the loss of their human, is able to remain in an environment that is still comfortable and familiar to that pet. Also, when considering the geographical issue, you need to consider the home where the pet would be going into, if the caretaker isn't moving into that home, where is the pet going? For example, is there already a pet in that home? Does the pet involved get along with that pet? Is it a situation where it's a pet in the home that is used to being the sole companion animal that might be resentful of another animal coming in? And also if your client has a companion animal that is used to being the sole objective affection being brought into a home where there are other companion animals, especially multiple companion animals may prove to be an issue for that pet. So these are all things to encourage your client to think about in who they're naming as a caregiver. Okay, pet trust funding options, this question always comes up. People wanna know how can I fund a pet trust? Our clients ask us, well, what funds need to go into a pet trust? Well, you can advise them that a pet trust can be funded with cash, investment assets, retirement benefits, and yes, even life insurance proceeds. Depending on the situation, depending on the amount needed for that pet's care, these are all sources that can provide the funding of their trust, including pet provisions in advanced directives. A power of attorney is another effective way to arrange for the immediate care of an animal. This is particularly recommended for those clients who opt for pet provisions in their wills. Yes, this is still somewhat limited, because again, as we know, a pet power of attorney or any power of attorney terminates at the passing of that individual. But there are benefits in case of incapacity where a pet power of attorney would be beneficial and would be a good stop gap measure. A properly drafted advanced directive can allow for a temporary guardian to immediately step in and have access to the funds necessary to maintain the animal in the lifestyle he or she is accustomed to. Again, this doesn't solve all the problems of having a pet provision in a will because you still have that potential gap from the passing of the testator to the time that the will is actually probated, which is why I am such a strong proponent of pet trusts. Okay drafting considerations, despite the type of trust chosen, clients should consider the following, how to identify the pet that is the subject of the trust? I usually recommend that on the cover of a trust there be a picture of the animal named and also any identifying marks on the animal. And this may seem again like it's unnecessary, but one would be surprised at the amount of cases where animals have been swapped out because the animal named in their trust had passed, or that animal may be worth more and substitute another animal. There are all kinds of nefarious examples that have arisen and could arise. So once again, the more specific and detailed a pet trust can be, even in the identification of the companion animal or animals, the better off it will be in enforcing it should the need arise. Okay, also determine the criteria for removal of the caretaker. So if you name a caretaker and something occurs with that caretaker, you wanna have built into the trust an option for the trustee to be able to remove that caretaker. So this gives you an opportunity to explore with your clients, what would give rise to that? Again, this is the map that your client is setting forth for the detailed care of their companion animal. You get to guide them in this and the more information you can provide, the better they can instruct you in the proper drafting. So also the designation of a successor or alternate caretaker, say, you name a caretaker or your client names a caretaker, and he or she is no longer able to act as caretaker for the companion animal. Say again, they move far off and that's not your wishes or your client's wishes for the animal to be moved to another area. Or again, circumstances could change, God forbid the caretaker becomes ill and is no longer able to care. So just like a normal power of attorney or a normal will or a normal trust, we want to have an alternate. And we want to encourage our clients to seriously think about the same criteria that they use for the original caretaker to apply those to the successor caretaker, whoever they wanna name as an alternate to make sure those same guidelines are met. This may proof challenging depending on who your client has in her realm of influence or in her world, or close proximity to her and the ability to care for his or her particular animal. So these are all thoughts to encourage your client to think about in making these plans. All right, also consider an independent person or entity to oversee the care of the pet, and one who may have the final word on medical and end of life decisions. If you don't think your caretaker will be able to make decisions regarding surgeries or end of life procedures, if you have strong feelings one way or another toward euthanasia of an animal, these are all things you need to make sure that you discuss with your caretaker. And if he or she is otherwise the ideal person to handle the care of your animal, but you just don't feel comfortable that he or she is able to make the decisions in such situations as end of life or major surgical decisions then you may want to name a trustee. Also include whether the caretaker can or cannot have other pets. And if so, what type and or how many. And again, this is the example we were discussing earlier that I covered with regard to what kind of home will your client want his or her companion animal to go to. And this particularly raises questions with regard to having more than one pet. Many Americans have more than one pet, if they have two or three dogs, or a dog and a cat, or three cats or two birds and a dog, these are all scenarios that you wanna consider so that you can properly advise your client to weigh in making the decision of who they're going to name for the care of your client's companion animals. So again, the home environment, whether the caretaker is coming into your client's home or the animal, or animals are going into the caretaker's home, again, these are all worth exploring with your client. I find clients are most satisfied when we give them the most amount of information for them to weigh and consider. The more detailed we encourage them to be, the more they understand how we care about honoring their wishes and having them explicitly set forth. I think that goes a long way towards our interactions with our clients and toward the legal profession and the image that people have of us, just as a side note. All right, drafting considerations continued. So, specific care detailed as to food preferences. So details regarding the specific food or dietary needs, grooming instructions, such as allowing a cat outside even, can be part of the consideration to include in the specific details. So let's look at food preferences, some companion animals have specific diets. For example, some pet parents cook homemade food for their pets. If that's something important to them, they wanna make sure that they're naming a caretaker who will honor that and keep that going. If there's a particular diet or a particular type of food, especially if it's more exotic or specialized, these are certainly things that your client would want to have detailed in a pet trust. Grooming instructions, if your client has specific grooming instructions, as far as how often, who does the grooming, a particular cut that is done with regard to the hair styling of a dog, for example, these again, should be expressed. Criteria for the caretaker's removal. Once again, if the caretaker needs to be removed on what basis is that going to happen? Additionally, instructions regarding a pet sitter or a boarding facility if the caretaker is on vacation or temporarily unable to care for the animal. Say that caretaker wants to take a month trip to Europe, what are your wishes for your companion animal, if you're the client, that you want to have expressed in a pet trust? These are again, drafting tips that we can keep in mind in advising our clients. Or if the caretaker, unfortunately, has to go to the hospital for a brief or even extended period of time, what is your client's specific wish regarding who would step in or whether the pet could go to a boarding facility or if your client would require a pet sitter come in on that situation. So these again are drafting tips to consider and thoughts to explore with your client. Additionally, provisions authorizing the trustee to purchase insurance, including liability insurance, and or an umbrella policy if animals regularly interact with other animals or humans. So certainly if your client has more of an aggressive animal or an animal that if put in a situation may act aggressively, it may be worth considering a liability insurance. Similarly, if you have a companion animal, you being the client in this situation have a companion animal that is more valuable, it may be worth considering having an insurance policy naming the caretaker or the trustee, whatever the client's level of comfort is, in case something happens to that companion animal. Additional considerations involve a provision, addressing the disposition of excess funds. As we discussed earlier, your client has the final say on where those funds will go once the trust terminates, once the animal passes, if there is no other animal covered in their trust, then he or she may want that money to go to a pet charity or a rescue organization or another family member. These, again, are things that our clients should explore and be able to state with specificity to enable you to properly draft a well defined pet trust. Reimbursement to the caretaker for out of pocket expenses incurred by the caretaker or possibly language specifying the trustees authority to invest in the Corpus or trust funds, and whether the amount of funds warrant naming an institution or trustee. The average pet trustee fund is set up for somewhere between 10 to $30,000. But there are cases when you're talking about an exotic animal or a show dog, or a special breed of cat, one of the higher end breeds of a cat or even horses that are show horses or horses that compete, race horses so forth. These again, would raise issues to additional amounts that would be considered in funding the trust. These considerations, these drafting tips are really going to be on a case by case basis, as you're discussing with your client on the animals involved and those that will be named in their trust, you'll get a better sense and a better feel of what types of questions to ask and what information. And another practice tip is it may be beneficial to have these points outlined on something that you give your client to take and consider as part of the questionnaire that they would complete. And that can make the drafting process much easier for you going down the road. Okay equine trust. I just referenced show horses, so here we go on equine trust. Yes, there are special considerations. Although equine trusts are equally beneficial, as other pet trusts such as a dog, a cat, a bird, etc. There are some special considerations worth noting, for example, housing. This gives rise to the fact that if your client has four beautiful horses that are used to staying in the stall and are not left out in the pasture, you wanna make sure your client is considering leaving them with someone who has those kind of arrangements. If your client has pasture horses, you wanna make sure that your client is considering someone who has sufficient pasture to support the addition of the horse or horses. As you can imagine, this becomes more of an issue based on the amount of horses your client may have. And again, the client will wanna make sure the designated caretaker not only has sufficient space for the horses, but also sufficient stall space, pasture space, etc. There are some expenses unique to horses such as Tack, barrier costs, possible insurance for the horse. Again, if this is a show horse or a high end horse breed, this becomes more of an issue, and other expenses, particularly if the horse is again, a performance horse. So there may be special needs with regard to training that horse, with regard to special care if that horse needs massages to help with cooling down between races or performances, these are all things to consider. And while I'm on this topic, this also raises the issue of discussing with your client, whether they have specific medical or health care preferences. As a naturopathic doctor, myself and an animal naturopathic doctor, I fully appreciate the importance of natural medicine. And I understand that there are many, my patients and others who prefer natural medicine, whether it's as a complimentary form of care for their companion animal or as the sole healthcare choice for their companion animal. So this is important because these are things you want to specify and to identify in a pet trust. If your client has a dog that is used to exposure to essential oils to calm him or her down, or there is a theory called self medication that involves exposing animals to herbs that the animals can select and eat based on what that animal is dealing with. Those are types of things if your client is familiar with those, then give him or her the opportunity to explain what complimentary care preferences he or she may have, so that you're assured to address those. Because again, if your client is one who prefers only natural medicine or naturopathic treatment and names a caretaker who believes in traditional veterinary care, then automatically there's going to be a conflict between what your client wants and what the caretaker intends to offer in the care of that animal. So once again, these are points to consider and explore with your client so they can then explore them with a potential care taker. Okay, let's look at some key takeaways here. So what are some key takeaways that we can explore a little bit further, encouraging clients to dedicate the same thought and care in planning for their pets as they give to the rest of their estate plan? I'm amazed at the lack of education in the public sphere, when it comes to pet estate planning, and as attorneys who are educated in this area, it is again, our privilege, our opportunity, but also our responsibility to educate our clients, not just for their own animal's care but then they can share that with others. And then we can ensure that animals are taken care of beyond just the cursory thought that somebody will step in, in case of an emergency, because sadly, that doesn't happen nearly as often as our clients would think. So again, encouraging our clients to take the steps to put into place the plans, and they should be as detailed and as specific as any other part of their estate plan. We want to make sure that they've given the same thought, the same degree of detail, the same specificity because pets aren't family members, and for many, they are just additional children or substitute children. So we want to explore that with our clients and make sure that they fully comprehend those options. Also pet trust can be added to existing estate plans or serve as standalone documents. So again, if your client has an existing estate plan, this does not have to be incorporated into a will. And as we discussed earlier, I don't recommend it be included in a will. A standalone pet trust, in my opinion, is always a better option for clients. And say, six months ago, you just completed an elaborate estate plan for your client, and you're wondering how on earth can I approach them with this? Well, based on our obligation to continually educate our clients and to provide ongoing care for those who have entrusted us with their estate plans, this gives you an opportunity to go back to your client and say, I recently became aware of this amazing option that allows for the care and the protection of your animal. So for somebody who represents a client who may not want to go through the expense of a pet trust, either in your drafting or in the funding options, there are pet care agreements, pet care planning agreements that are similar to a contract. They're not as thorough, I don't encourage them as much, but they are also a less expensive option for those who don't have the money to create a detailed pet trust and do not wish to leave an exorbitant or even a substantial amount, but they just want to make sure their pets are taken care of. So a pet care planning agreement is an option there. Also, I wanna address something else that I see and I recommend commonly, and that is pet care emergency cards. Often, we don't encourage our clients to think about an emergency situation when we should. For example, I heard an attorney suggest that in her part of the country, it's very common or has become common in recent years when the testator or the client has a power of attorney to put it on their refrigerator door, in case a first responder comes in and an emergency situation has arisen, they can go to the refrigerator, find that there is a power of attorney, find who's named in the power of attorney, contact whoever is designated for the pet care provision to step in. And that tends to be very successful. I have not seen that as a Texas attorney, nor have I heard of that being common place in my area of practice or in this state. For the most part, my clients have always been more protective of their information. However, it is certainly worth exploring with your client, whether or not they want to have a power of attorney available for a first responder or some kind of system where a first responder can have access. I know some clients have also wanted to have access to having those documents on their phone, that depends on whether your client keeps their iPhone or their smartphone locked, unlocked. So there are issues there, and whether the documents would be locked if there was a password granted in an emergency situation. First responders don't often have the time to explore these things, but anybody who may come back into the home or anyone who may be contacted as a next of kin can also be a source of this information. So once again, these are important points to explore with your clients and with regard to pet emergency cards, those are something that I offered in my practice and I still do in a self-help format. And what those are is their wallet sized cards that your client carries that identifies the fact that he or she has a pet at home, basically saying to any first responder or any rescuer who may come on a scene, any type of emergency situation where he or she is not able to articulate the fact that they have pets at home that are dependent upon them returning home that day. So for example, the card may say something to the effect of, if you see this card please know that I have X number of pets at home, if I am not able to make it home tonight, please contact, and then name who the primary caretaker would be, the subsequent caretaker, or just anybody who could step in, in case of an emergency, even if it's not the caretaker just to make sure that dog gets to go for a walk, that kitty gets fed tonight. These are the goals and the reason why pet emergency cards are certainly worth exploring with your clients. Again, one more safeguard to make sure that their pets are taken care of in case of an emergency. No one wants to think that an emergency situation will occur, but the planning and the preparation ensures that if it does occur, in the event that the unforeseen happens. And that being said, I wanna share a personal story of an encounter I had myself with a client who faced this very issue. I had drafted a detailed estate plan for him and was contacted and notified that he had been hospitalized. It was an emergency situation and his dogs had been left outside. These are small indoor dogs that had been left out in the Texas heat, it was summer at the time, and I was able to obtain his permission to enter his backyard and retrieve the dogs and take them to the vet where the dogs were cared for and had been boarded in the past and make those boarding arrangements for him. This experience certainly gave me a keen awareness of what can arise in these types of situations. My client had named individuals in his power of attorney, however, both of them were out of state and in such a situation as he encountered, they were not able to step in and take immediate possession in such an emergency circumstance as he encountered. Therefore, I have since learned that it is always worth counseling a client to name somebody closer, who is able to step in, even though we counsel our clients to do so, they may still name somebody far off, but it's certainly our goal, and I saw firsthand, the benefits of having access to the pets in my case, where I was able to step in and help ensure that my client's wishes were carried out. However, this is by no means ideal for any of us as attorneys to encounter either personally or professionally. So I definitely consider that a cautionary tell on advising clients to make sufficient plans and consider someone close at hand who is able to step in, in case of emergency, because naming someone, no matter how well intentioned, who is far off is not going to be able to step in, in case of an immediate emergency situation. So that's just a personal example that I encountered that I hope can help you in your drafting and in your practice on what to consider so that your clients won't encounter the same situation and certainly you won't either. Okay, that being said with regard to emergency cards, it's also encouraged, and I encourage my clients to do this, is to scan your emergency card and have it on your smartphone. Again, that is only going to be useful if your client leaves their phone unlocked, but it is another safeguard, say your client separates from his or her wallet or other source of identification, purse bag, etc, that's just one more way that your client has the pet emergency card, even their estate planning documents secure on their phone. In that case, obviously you would want to explore with your client, how someone would be able to obtain access in case of an emergency situation. Obviously, if you have passcodes in your wallet or in your purse and something happens to those, then it's going to be hard to unlock the codes. But again, these are certainly worth exploring yourself and then encouraging your client to think about. I love considering these issues because the more I consider them, the more factual scenarios I can anticipate and then pass those on my client so they can anticipate them as well, or at least when I was practicing in this area. Now I do mainly consulting and I offer self-help documents, but certainly as a practicing attorney that was something that I wanted to encourage my clients to consider because the broader they think the more expansive their perception of what to include, the better equipped whomever comes behind them or steps into their shoes as a case may be, will fill having that information. And so when it comes to issues of toys, what does a particular animal play with? What are their medications? Does your client have specific wishes with regard to certain toys that they should never have? For example, my dogs are not allowed to have rope toys, I consider them choking hazards. I actually had a lab who choked on the string, so those are forbidden for my pets. If somebody would were to step in and care for my dogs, they would instinctively know that little things like that. I also mentioned birds earlier, and for your client who has birds, there are specific wishes there with regard to who will take the bird, specific needs for the bird's environment. Obviously you don't want to give your bird to a house full of cats that consider birds toys or a food source, something like that. So again, these are considerations you can share with your clients as a practicing attorney and your clients can feel better informed. So also with regard to birds, a benefit of a pet trust is depending on the age of your client and the age of the bird, the bird may survive decades beyond the lifespan of your client. So making arrangements for that bird's care should be a paramount concern for your client. No one wants to think of birds going to shelters or rescue environments where they're not going to be properly cared for. So certainly just as with equine cats and dogs, there are issues regarding birds that should be explored. And again, because of the lifespan of a bird in particular, these are worth exploring with your client. So, as far as key takeaways, I hope that we've addressed most of them. Again, consider including protection language when drafting advanced directives, as we discussed, that can become incredibly important. Even for those who do have a pet trust, they may still want to have a separate pet power of attorney if the trust isn't triggered to start at that point or you haven't made arrangements with the caretaker, or if you just need somebody to step in temporarily, and you want that to be someone else. As the client, certainly advanced directives, including pet provisions, I think are always a good idea and always worth exploring with your client. And again, remember that companion animals count on their guardians and their guardians count on us to guide them in the proper planning and protection of their beloved pets that are members of their family, worth the time and effort to plan for. It has been my absolute honor and pleasure to present to you through Quimbee. If you have any questions or comments at all, please feel free to reach out, my contact information is included.