You trusted us through law school. Now, let us help you pass the bar exam.
Starting at $1,199,
Quimbee Bar Review features real, licensed questions from past bar exams; unlimited essay grading by real attorneys; and beautifully designed video lessons. All organized in an easy-to-follow study calendar.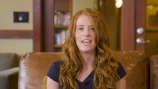 Quimbee's Bar Review course has you covered. Now available in 43 jurisdictions.
Imran Jaboor
New York Law School
Class of 2023
Quimbee Bar Prep for the Win!
I had a wonderful experience with quimbee. I had use quimbee before for law school courses, which made quimbee bar prep that much easier to understand.
for
Quimbee Bar Review
Reviewed 20 days ago
Kasey Knox
Northeastern University School of Law
Class of 2023
So Grateful for Quimbee
I am convinced that Quimbee is the sole reason I passed the July 2023 bar exam. I cannot say enough positive things about the course material and how it was broken up into easy and understandable concepts.
for
Quimbee Bar Review
Reviewed 23 days ago
Heather Thornburg
Atlanta's John Marshall Law School
Class of 2021
for
Quimbee Bar Review
Reviewed 27 days ago
Here's what you'll get with Quimbee Bar Review: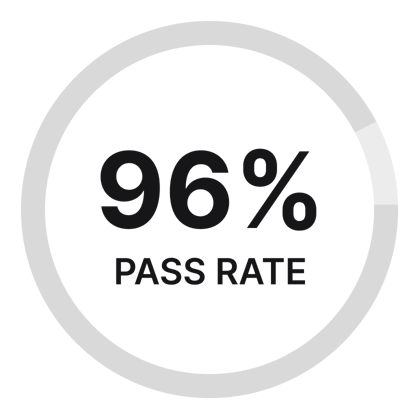 Best-in-class pass rates
96% of first-time bar exam takers who completed at least 75% of Quimbee Bar Review Premium (now Quimbee Bar Review+) passed the July 2022 Uniform Bar Examination.*
* The pass rate is calculated using a self-report survey with 200 respondents. Quimbee has not independently verified the information provided in that self-report survey. The pass rate is not a guarantee of success and is for informational purposes only.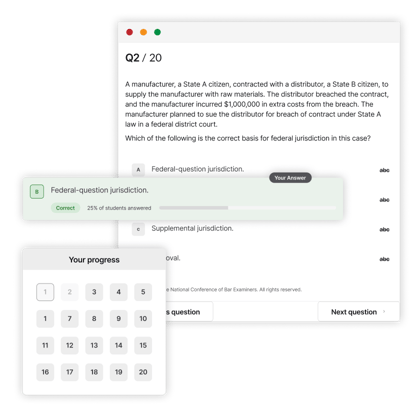 Practice with real, licensed questions
Study over 1,450 real, licensed questions from past bar exams, plus Quimbee's own sample question bank.
Real attorney feedback on the performance test and unlimited essay grading
Get personalized feedback on your performance test and unlimited essay grading, all from real attorneys.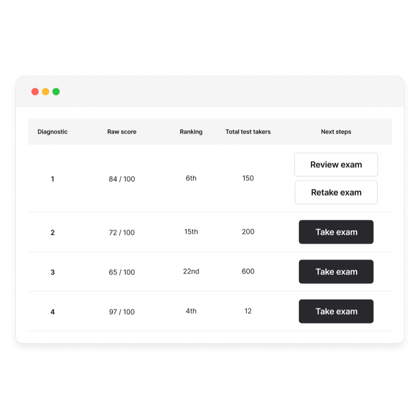 Four full-length diagnostic exams
Quimbee Bar Review+ includes 4 full-length diagnostic exams, licensed quizzes, and a simulated Multistate Bar Examination (MBE) composed of real questions from past bar exams. You'll hone your time-management skills and ensure that you have the right level of understanding to pass the bar exam.
Comprehensive outlines, in print and digital
Quimbee Outlines are perfectly tailored to the official NCBE subject-matter outlines for the MBE and MEE, so you can be confident you're studying what's important. You choose the reading experience. Print package included with your purchase of Bar Review+.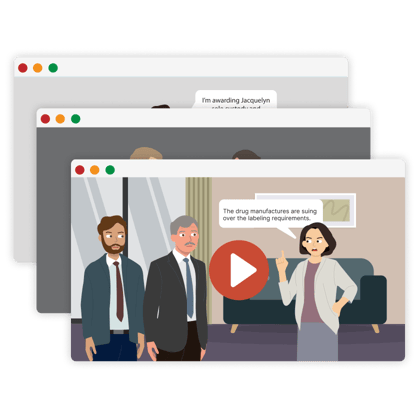 On-demand video lessons
Quimbee Bar Review includes beautifully designed video lessons that break down the toughest concepts tested on the bar exam into bite-sized, entertaining chunks.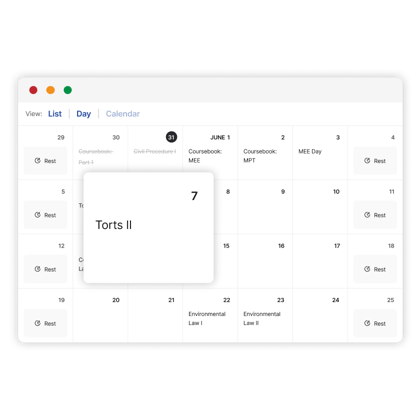 Your tasks, your way.
Your daily tasks form the basis of your course. With Quimbee, you'll be able to complete your tasks the way you want to complete them. You can follow our pre-made calendar, designed to help you study in the most effective, efficient way possible. Or, switch to list view and complete tasks on your own schedule. Either way, you'll be able to monitor your progress as you work your way to acing your exam.
In-depth performance reports
You'll have the opportunity to check your course progress and multiple-choice-questions performance at any time with just a few clicks. Our course-progress page allows you to gauge your progress against the expected course progress to ensure you're staying on track, while our multiple-choice-question performance page lets you know how you scored by subject and topic—highlighting the areas in which you've excelled and your opportunities for growth.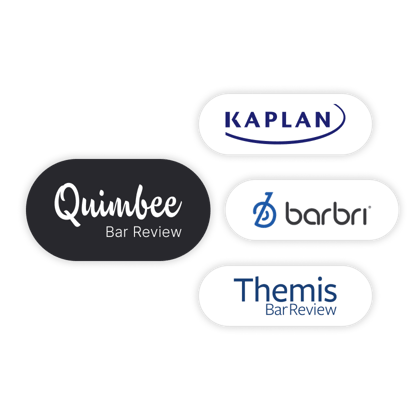 Compare Quimbee to the competition
We know you have a lot of options when it comes to bar prep, but we're confident that no bar review program offers the same combination of high-quality content, efficient delivery, and price-conscious value that you'll find with Quimbee Bar Review. See for yourself how Quimbee stacks up against the competition!
Study on your own timeline
Whether you're committing to a regiment of full-time study for the 11 weeks leading up to the exam or planning to study part-time over a longer period, Quimbee has your back. Elect between a full or part-time schedule at checkout.
More great reasons to trust Quimbee Bar Review