Need MPRE practice questions? You're in the right place.
Passing the Multistate Professional Responsibility Examination (MPRE) isn't easy.
Quimbee helps you study for the MPRE by giving you access to practice exams loaded with real MPRE questions.
Free MPRE Practice Questions
Our free MPRE sample questions were written by Quimbee's MPRE prep experts and are intended to simulate, as closely as possible, what you would encounter on the MPRE.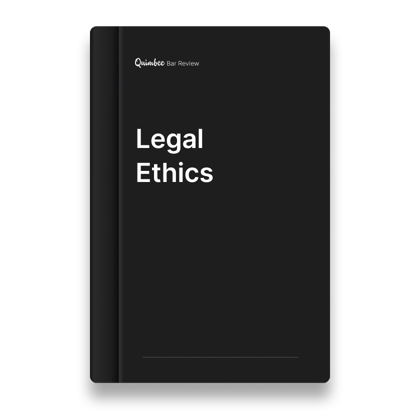 Need more help? Conquer the MPRE with Quimbee MPRE Review!
There's no better way to prepare for the MPRE than with Quimbee MPRE Review. Our MPRE review course is on-demand, so you can take it anytime you want.
Frequently asked questions
What is the Multistate Professional Responsibility Exam (MPRE)?
The MPRE is a two-hour, 60-question multiple-choice examination developed by the National Conference of Bar Examiners (NCBE). The purpose of the MPRE is to measure examinees' knowledge and understanding of ethical rules that govern lawyers. The MPRE is administered three times per year, typically on Saturdays.
When is the MPRE Administered?
In 2019, the MPRE will be offered on the following dates:
March 23
August 10
November 9
What states use the MPRE?
The MPRE is required for admission to the bars of all but three U.S. jurisdictions (Maryland, Wisconsin, and Puerto Rico). Connecticut and New Jersey accept successful completion of a law school course on professional responsibility or legal ethics in lieu of a passing score on the MPRE.
What score is required to pass the MPRE?
The MPRE is scored based on a scale ranging from 50 (low) to 150 (high). MPRE scores are calculated based on a statistical process known as "equating." that is commonly used on standardized examinations. Raw scores are adjusted account for differences in difficulty among different administrations of the MPRE. Equating helps ensure that no examinee is unfairly penalized or rewarded for taking a more or less difficult exam. Because of this process, it is not possible to determine in advance of the MPRE how many questions you must answer correctly to achieve a specific scaled score. Passing MPRE scores are established by each jurisdiction. The minimum-passing MPRE score ranges from 75 to 86.
What's it like taking the MPRE?
The MPRE consists of 60 multiple-choice questions: 50 scored questions and 10 unscored questions. The unscored questions are indistinguishable from those that are scored, so you should answer every question and not waste time trying to discern which questions are unscored.
Examinees have two hours to complete the MPRE.
Like questions on the Multistate Bar Examination (MBE), each question on the MPRE is followed by four possible answers. MPRE scores are based on the number of questions answered correctly. Points are not subtracted for incorrect answers, so you should answer all MPRE questions. There are no scheduled breaks during the MPRE.
Many students consider the MPRE to be a much less difficult test than the bar exam. The material tested on the MPRE is narrow in scope, so examinees don't have to worry about studying multiple subjects at a time. Additionally, the principles tested on the MPRE are heavily rooted in the Model Rules of Professional Conduct, which are clearly written and don't require the same mental gymnastics that must be employed with some of the more contrived topics on the bar exam.
Still, the MPRE is not a test to be taken lightly, as nearly a quarter of examinees score at or below 70—a failing score in even the most lenient of jurisdictions. Don't get caught off guard; make sure you provide yourself ample time to study for the MPRE.
How can I maximize my chances of passing the MPRE?
Many students assume that their ethics class taught them everything they need to know to pass the MPRE, but this is often not true. Legal ethics courses may not always cover every subject on the MPRE, or they may not cover particular topics with the right level of detail. Additionally, legal ethics courses tend to focus on the ethical gray areas that are difficult to test on an objective exam like the MPRE. Quimbee's MPRE prep course was specifically designed to maximize students' chances of passing the MPRE by providing students with the most efficient and effective study and practice methods.
Do you offer any other MPRE study materials like MPRE flashcards?
Quimbee MPRE Review offers a number of study materials. In addition to countless MPRE practice questions, Quimbee's course includes 590+ ethics flashcards keyed to MPRE topics, as outlined by the NCBE. Quimbee MPRE Review students also have the ability to supplement their MPRE preparation with Quimbee's 30 legal ethics videos, complete with multiple-choice quizzes and answer explanations. No other MPRE study guide or prep course on the market provides the comprehensive coverage you'll get with Quimbee MPRE Review.