Understand your casebook readings in seconds
Use our case briefs to comprehend your casebook readings faster, supplement your notes and outlines, and outshine your peers in class.
See our casebook coverage
Plans starting at $19/month. Learn more
What makes Quimbee Case Briefs so special?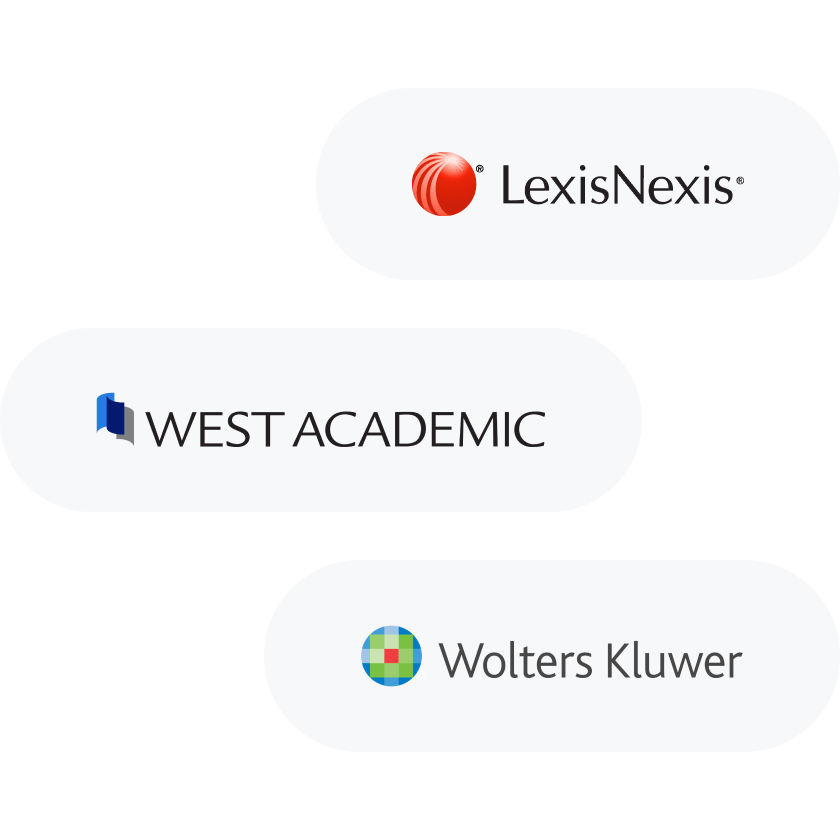 The most casebook coverage. Anywhere.
Quimbee has over 36,900 case briefs keyed to 984 casebooks. You won't find a more comprehensive library of case briefs anywhere. Quimbee's case briefs are keyed to the most popular law school casebooks, so you can be certain that you're studying the right aspects of a case for your class.
See our casebook coverage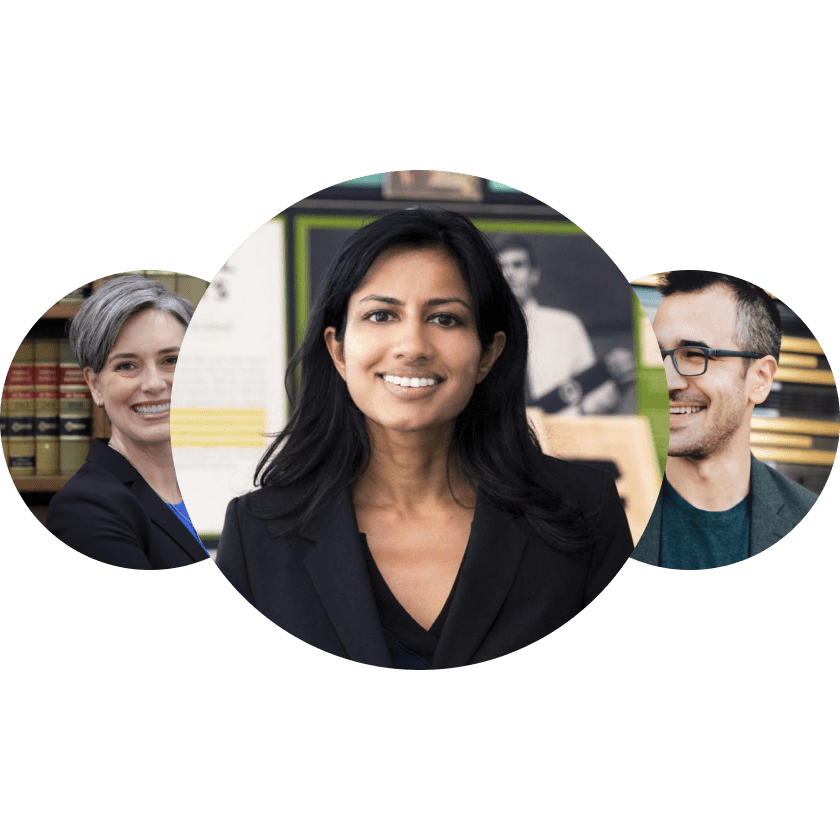 Written by expert attorneys
You can be confident that the brief you're reading was written by someone with a deep knowledge of the law. As with all Quimbee content, Quimbee case briefs are written by real attorneys. Plus, Quimbee's editorial process ensures that each brief meets our exacting standards.
Meet Quimbee's experts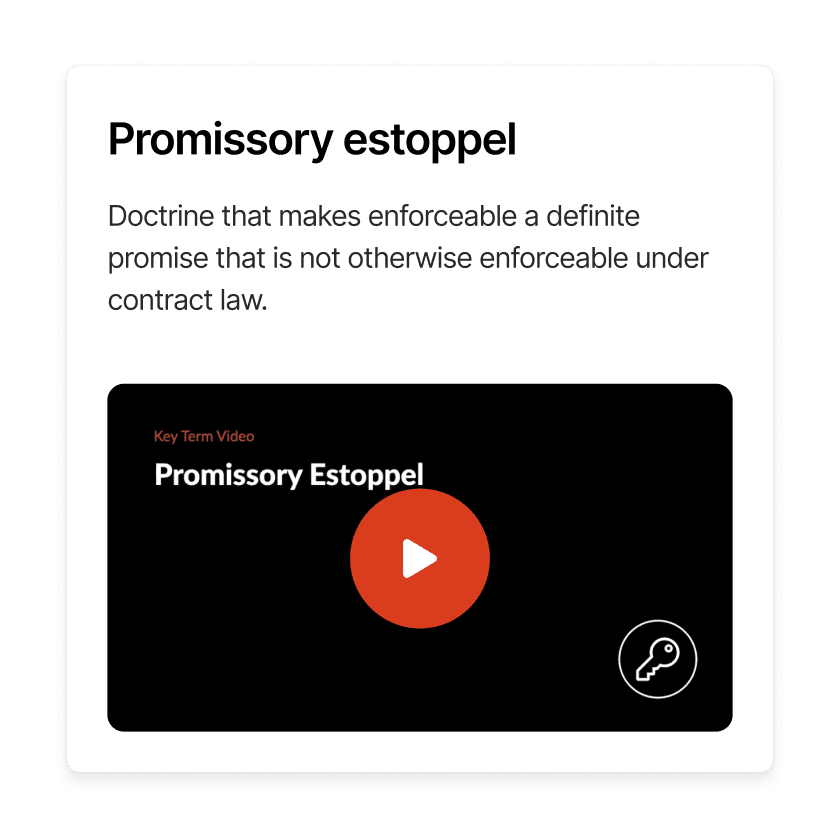 Key terms unlock the law
Quimbee's attorneys pick out and define the most important legal concepts and key terms in every case brief. We'll also list other cases that include the same key term, so you can dive deeper into a particular concept.
Read our definition for promissory estoppel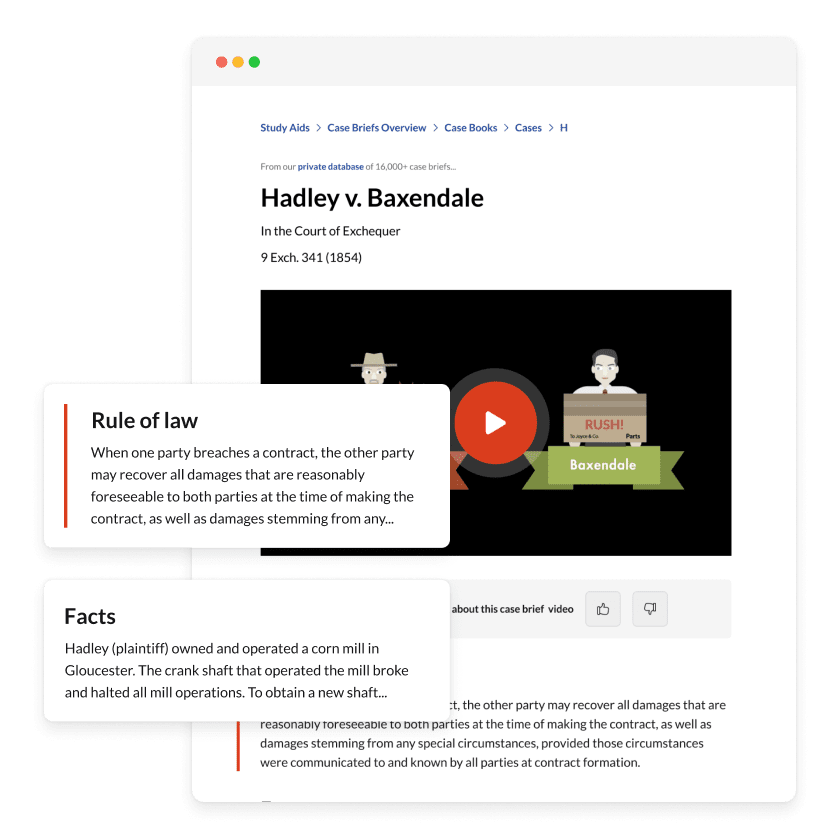 A clean and uniform format
You'll always know what you're getting with a Quimbee case brief. Each brief includes:
The black-letter law
An identification of the parties
The operative facts
The cause of action
The procedural history
The dispositive legal issue
An explanation of the holding and reasoning
The procedural disposition
Start your FREE 7-day trial
What law students say about Quimbee
"When used consistently and responsibly along side course work it becomes a very helpful supplement."
"Great selection of briefs and casebook; straightforward and informative tutorials; and fantastic outlines, especially the Quicklines."
"A preponderance of evidence would suggest that Quimbee rocks my socks off and significantly prepared me for exams."
"The case briefs and outlines have really helped me understand the material better."
Frequently asked questions
What is a case brief?
A case brief is a concise summary of a legal opinion designed to help law students better understand and remember the important points in the case. Think of it like CliffsNotes for legal opinions. Law students use case briefs to better understand their casebook readings, prepare for class, and (hopefully) survive Socratic attack.
What can I expect from Quimbee Case Briefs?
Every Quimbee case brief is keyed to the excerpt included in your casebook, meaning you can be sure that your brief covers the exact material you'll cover in class. Each case brief is clearly organized to ensure that you can find the information you need when every second counts. The facts section contains a concise summary of the legally relevant facts of the case and a summary of the procedural history. The issue is the legal question the court had to answer to resolve the case. The rule of law outlines the black-letter law or legal principle on which the court rested it's holding. The holding and reasoning is a clear explanation (in CREAC format) of the court's explanation and application of the law to the relevant facts, resolution of the issue, and procedural disposition. Oh, and if your casebook includes any concurring and dissenting opinions, Quimbee Case Briefs will summarize those too. In short, you can expect Quimbee Case Briefs to give you confidence that you understand your casebook readings.
Who writes Quimbee Case Briefs?
Quimbee hires only the top legal writers and educators to author its content. You can learn more about Quimbee's brilliant slate of authors. 100% of the case briefs you'll find in Quimbee's library were written by law professors or experienced attorneys (most who graduated with honors from top law schools). Quimbee Case Briefs are never crowdsourced or student generated. And all Quimbee's briefs are subjected to rigorous editorial standards before they ever go live on the site.
Why pay for case briefs if you can find them elsewhere for free?
To put it simply—quality. There's just no way to know who wrote those case briefs and whether anyone fact checked them. Free case briefs are typically written by students (and who knows if they were good ones!), rarely updated, and offer practically no support. Our case briefs are written by attorneys and law professors, constantly updated, linked to a massive library of related video lessons and practice questions, and offer top-notch support.
Are Quimbee Case Briefs keyed to my specific casebook excerpt?
Yes! Quimbee's case-brief authors write in what we call a "closed universe," meaning they are not permitted to consult outside sources. Rather, Quimbee's authors must carefully analyze and concisely summarize exactly and only the material included in the casebook's excerpt.
How can I use Quimbee Case Briefs to prep for my law school classes?
Great question. Here's what we recommend. Before you crack open your casebook, skim Quimbee's case brief to get an overview of what's important about the case and why it's included in the casebook (the pedagogical purpose). Next, read the case, paying attention to the key points raised in the Quimbee brief. You can all but guarantee that your readings will go much faster and you'll understand the material much better than if you'd read the case cold. Now, you're ready to draft your own brief and compare to Quimbee's. Don't forget to peruse the Quimbee brief before class and have it handy in case you get called on. Get ready to awe your classmates and wow your professors.
Is my casebook covered?
Quimbee's database includes 36,900+ case briefs keyed to 984 law school casebooks, including the most popular ones from legal publishers such as West Academic, Wolters Kluwer, and LexisNexis. Quimbee covers nearly every 1L casebook and all the most popular 2L and 3L casebooks. Feel free to browse our casebook coverage. And in the rare case that your casebook isn't covered (bird law, anyone?), you can suggest it using our request form.
Is there a limit on the number of case briefs I can access per month?
Absolutely not. When you sign up for any of Quimbee's subscription plans, you'll have unlimited access to our entire library of case briefs. Why bother buying separate study aids for every single class when you can get everything you need in one place for one low price? Let Quimbee save you the expense and inconvenience. And we're constantly adding new case briefs and expanding our casebook coverage. Please note that during your free trial, you'll be able to access up to 10 case briefs. Activate your subscription to unlock unlimited access!
Are Quimbee Case Briefs available on the Quimbee app?
Yes! Quimbee's entire library of case briefs is at your fingertips on Quimbee's free mobile apps for iPhone, iPad, and Android devices. Download the app today at the Apple App Store or the Google Play Store.
Can I get a free trial of Quimbee Case Briefs?
Definitely. We're so confident that you'll love our product that we offer free trials of any of our plans. Simply visit our pricing page, choose the plan that's right for you, and
start your 7-day trial
absolutely free.