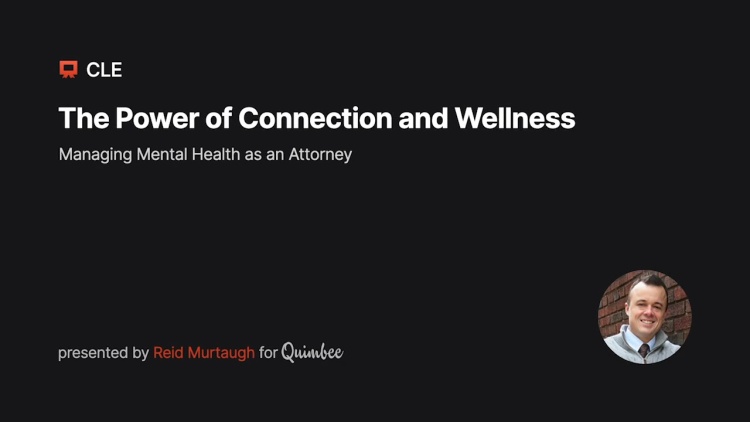 The Power of Connection and Wellness: Managing Mental Health as an Attorney
In this course, Reid will share his lived experience coping with mental health issues as a lawyer, including the decision to publicly disclose his bipolar II diagnosis in 2017. You will learn how to identify signs of burnout and poor mental health in lawyers, as well as self-care techniques, coping skills, and mental fitness exercises to improve well-being and work performance. You will also learn about Reid's volunteer and advocacy work to help others, including serving as a facilitator for peer support calls for the Lawyers Depression Project.
- Hi, everyone. Glad to be with you today. I'm gonna talk to you about "The Power of Connection and Wellness: Managing Mental Health as an Attorney". My name is Reid Murtaugh and I'm an attorney in Lafayette, Indiana. I have a solo practice where I focus on estate planning, corporate law for business owners, and real estate. And today, I'm gonna start by telling you about my personal experience with Bipolar II. So everything for me started during the senior year of high school. So one day after school, I went out for a run and I felt something come over me that I had never experienced before. And it wasn't just a physical sensation, it was like my brain was shutting down. So I really just didn't know what was happening. It was very confusing. While I was running, I had to stop, try to gather myself. I ended up actually like going to the ground and kind of laying down and just feeling kind of almost mentally paralyzed, and it was a struggle for me to make it back home. I kind of like was able to get up and walk for a while, have to lay back down, and eventually made it back home. And this was something that I had never experienced before in my life. So obviously, it was a concern, and we wanted to figure out, me and my parents wanted to figure out what was going on. So went to medical doctors, they did a lot of tests, and all the physical tests came back clear. I didn't have anything wrong with my blood levels or anything like that. And so it was eventually determined that this was a mental health issue that was going on. I was eventually diagnosed with generalized anxiety disorder. So this was not just an isolated incident that happened that one time while I was running, it was something that continued on. So while I was going to school, I had trouble making it through an entire day, where before, every other grade level, had no issues with that. But I would be fine a lot of times, like for certain periods, and then all of a sudden, I would kind of have a similar experience or episode where I felt very tired. I would shut my eyes, but not fall asleep. And yeah, it was just kind of like, almost like paralysis. And so someone would kind of have to help me, once I hit that point, leave the classroom, 'cause obviously I couldn't continue with the class, and help me walk down to the nurse's office. So fortunately, I was able to eventually learn some techniques and recover from that and learn how to avoid kind of lapsing into that. So I worked with a therapist who came to my high school and would meet with me in the nurse's office. So that was a big component of it. Just kind of learning about what was going on, what is anxiety, and what I can do to help myself avoid those situations where I am experiencing basically like a panic attack. And it's getting to the point where it's just interfering with my ability to function and live a normal life. So I did have to make some changes like that. Fall semester, I dropped a class, I studied less, I got some reduced assignments, but I was able to complete all my classes. And then really through taking medicine and through the therapy, I was able to kind of continue on and get back on track to take a full load of classes that spring. I then graduated and it was my senior year. So I had the summer and then I was off to college. And at that time, there was a lot of concern within my family and with most people at the time regarding medicine and side effects of medicine. So I had decided, since I was feeling better, I had kind of gotten through the episodes or I was at, by that point of graduation and summer, I really wasn't experiencing those symptoms, to stop the medicine. And then also I stopped going to therapy, which in hindsight probably wasn't the best decision, but we kind of just treated the situation as if it had been completely resolved. And that's not how it's turned out for me, it has turned into kind a lifelong thing that I've dealt with. So when I went to college, I certainly did drink alcohol, like many other people, but did probably use the alcohol as self-medication for my condition and definitely did have some times where I would drink too much, but that really was my experience for the four years of college that I did not engage in any mental health treatment, no therapy, and was not on medicine. I then graduated and went to law school with the same approach. And then as I experienced additional stress in law school, I experienced more symptoms of depression and felt that I needed to go back to engage with a therapist and did that my last year, so my third year of law school. I think I was starting to think about applying for the Bar and wanted to be prepared for that and knew that I might have to disclose my mental health treatment that I had previously. So I went through a process to get my diagnosis reviewed. And at that time, I was diagnosed with cyclothymic disorder, which is a mood disorder that's similar to bipolar. And for me, I've always had primarily depression and then I've experienced some periods of hypomania. So never full on mania where I've had issues with like excess spending or not kind of being able to make normal decisions or have any kind of loss of sense of reality. Like I've never had experienced that type of mania. The hypomania that I've experienced is more along the lines of irritability, feeling like that I don't need to sleep as much. And sometimes just feeling like I need to having higher energy and working, or having a higher amount that I'm doing, which then kind of ends in a crash that kind of takes me back to the depression. So I graduated in 2009 from law school and it was in 2015 after I had started my practice. So I worked for the prosecutor's office for a while, and then I went into private practice. And it was after I had made partner at the law firm that I was working at that I experienced another significant challenge with my mental health in 2015. And that's when I eventually got diagnosed with my full diagnosis that I have now, which is Bipolar II. So when I made partner and I had some additional struggles, I just felt like the medicine that I had wasn't working, I was having more intense depression that started to affect my ability to work throughout the day. And the main thing that I remember was that I was reaching the point where it just became kind of so overwhelming while I was in my office while I was trying to do work, that I would feel the need to like get some relief from that. And the main thing that I would do is I would just get up and leave my office. And there was this back stairwell that was hardly used and I would go walk in the stairwell and just kind of pace. And it was kind of a way for me to just escape. And but it was something that I felt a lot of shame doing, I didn't feel like that was what a law partner should be doing. And so I wanted help, I felt like I needed to talk to someone. Because what I had had been doing to manage this in the past and to manage it on my own without really telling anyone who could help me just wasn't working. And so I started to research what options I had and I found the Indiana Judges and Lawyers Assistance Program. And I remember how hard it was to reach out for help. The first time that I thought about it wasn't when I did it. I remember it took several times where I would pull up the website and I would think about doing it, and I just couldn't bring myself to do it, but eventually I did. Eventually, I just typed out an email and I simply said, "I've been struggling with my depression lately. I would like to talk to someone at JLAP. Please let me know how to do this. Thanks." So I found reaching out to the Indiana Judges and Lawyers Assistance Program very helpful. So I was able to go down and meet with the executive director who explained some of the resources that they have, and I was paired with a JLAP mentor. And so I had a one-on-one meeting. And I play golf and the mentor played golf, so that's what we decided to do. And after playing a few holes, just kind of talked about what I was going through, and the mentor kind of shared their own experience. And that was helpful. And then I also did go to one group meeting down in Indianapolis, which was about an hour away for me at the time for other people who have experienced depression or bipolar. And then through that group, I was able to get a recommendation for a psychiatrist. And that's the psychiatrist that I went to at that point to review my medication and to review my diagnosis. And through working with that psychiatrist, who I continue to work with today, is where I kind of got to the full diagnosis of Bipolar II. So as soon as I kind of made that step and I realized that there were mentors out there who are helping people and there were people in the group who were practicing lawyers with more experience and had dealt with these things on their own and reached a point where they were able to help people like me, I wanted to get to that point. Like I knew I wasn't there, I needed to focus on receiving help, but I immediately kind of saw that as something that I wanted to get to that point, and I also started thinking about the idea of disclosure, of publicly disclosing my diagnosis. So that was in the summer of 2015 when I was kind of going through that and I was still, it wasn't like an immediate fix, of course, with what I was dealing with at the law firm. So I was continuing to try to get myself back to where I was. Obviously, I had been working at a high level. I had been putting in the hours that were needed to make partner. And then all of a sudden, just felt like I kind of hit a wall and sometimes I would go in and I just wouldn't work a full day. I would need to, I felt the need to kind of distract myself or procrastinate just because doing the legal work was almost making me feel sick. And so I tried my best to just to get back to it, but this was, I found it very challenging. And as I continued on that year, it just was not an easy time for me. And I felt that it was affecting work, which I felt bad about. I felt if my work was suffering, that it was affecting others at the firm. And then I also felt that the mental health issues and the stress from work was also at the point where I was coming home and it was affecting family life. So I eventually made the decision to leave the law firm at the end of that year and opened my own firm, Murtaugh Law. And so that kind of put off the idea of disclosing because the focus was to try to focus on starting a new firm. And obviously, there was a lot to think about with disclosure. At that time, there really wasn't any other examples that I could go off of, of other people that had done it. And there was a big concern about whether it would affect my ability to have a successful law practice, or whether clients would not wanna hire me because of me publicly disclosing. And personally, at the time, we were also starting a new family. My wife was pregnant at the time. So that was another reason that I had put it off for a while, but I ended up disclosing through a Facebook post later that year, so basically 2016. So that was like the first year that I was out all on my own. And then I had pitched an idea to The Indiana Lawyer. So I had a friend who wrote a column regarding some of the work that he's done with technology. And so I thought that I could write an article about first disclosing and then writing additional articles, kind of about my experience of being open and trying to connect with other lawyers who deal with this and my experience. And fortunately, I was able to do that. And the first disclosure article was published in 2017. And the response was overwhelmingly positive. I had many people who reached out to me and shared that their lawyers who also deal with personal mental health, depression, anxiety, something like that themselves. I also had people who reached out to me because they don't, but they are an attorney and someone in their family, maybe a child has been affected by it. And they appreciated my article and it was helpful to connect. And then as I continued to write articles and talk more and share more, it just kind of grew. So I was fortunate to be able to connect with attorneys just really a across the entire United States. And I really just received a lot of love and support and felt that it was a good decision. And really, like it was beneficial to me as well. I mean, obviously there was a personal component of why I wanted to do it. I was suffering myself and I felt that it was kind of hard to keep it private. I kind of felt like I was building a reputation on something that wasn't my authentic true self and it just felt kind of cathartic to be able to be open and not have that kind of weighing on me and just the efforts that it took to kind of keep it private. I no longer had to worry about that. I could put a calendar appointment on my calendar. I was going to my therapist. It was just simple things like that, but I felt that it was positive for those reasons as well. So during that time, I was also looking to connect with other lawyers who were on a similar path to me. And I was lucky to be connected with an article written by Joe Milowic. So he was a partner at the time at Quinn Emmanuel, a law firm in New York, or he was located at their office in New York. And he wrote an article talking about his personal experience with depression. And I've read that article. And in the one of the last lines, he noted that he'd be interested in starting a online peer-to-peer support group. And so I was quick to reach out to Joe, and it was an instant connection between the two of us. And so I was lucky to kind of be included with what work he wanted to do from the beginning. And he formed the Lawyers Depression Project, and he worked with a couple people initially during the summer of 2018 to get some technology set up so that we could do online peer-to-peer calls that were anonymous. And that's really how everything started for the Lawyers Depression Project. And I remember being a participant on the first call, and I was going through a very difficult time in my career because I had reached a point with being a solo where I was enjoying it, but I was not having as much success financially as I had earlier on, and I was kind of unsure of whether I would be able to continue on to make it. And a lot of times when I had struggles or when the depression surfaced, a lot of times I would question whether I wanted to be a lawyer, whether I needed to give it up, maybe because of the struggles that I have. And I remember just being on the call and talking to other lawyers. Especially with me being in Lafayette, Indiana, which a small community compared to other markets, just to be on a call with people in other states and in different types of law offices and to hear other people kind of share the same experience as me was very helpful and kind of helped calm some of those fears that I had, that maybe I just needed to leave the profession solely because of my struggles with the bipolar and the depression. And I was able put that part of it aside and just determine whether I wanted to continue on, and I decided that I did. And that was something that I found very helpful at a point where I really needed that additional support. And I was lucky to be able to continue on. So as the group grew, we would have facilitators for the calls, and I was able to serve as a facilitator. And the Lawyers Depression Project has just continued to grow. So it was all kind of in place before the pandemic hit. So having the ability to connect 100% online, could just pick up a phone and do this peer-to-peer work like at home, I think was really helpful, and that project has just grown. So I've been very, felt very fortunate to be a part of it, to be able to serve as a facilitator. And those calls have certainly helped me as an attorney to be able to share just the day-to-day things with a law practice, but also to be able to talk about some of the mental aspects of it and what works for other people. And it's kind of, like you can do fitness, physical fitness on your own, but sometimes a group fitness can be better because you're more motivated while you're around other people and there's accountability to showing up. And so that's another thing that I've experienced with myself and just seeing the other people who were on the calls like every time that I didn't make that time for myself to do it, I felt that it was very beneficial. So some of the specific benefits for me that I've found from peer support and other group therapy that I participated in is I've learned coping skills. So I do meditation, I do journaling, physical exercise. I do individual therapy. I focus on sleep and trying to maintain a consistent sleep schedule. And have certainly noticed that if I don't get my proper sleep, that seems to be one of the biggest things that affects my symptoms. And a lot of times I feel it the next day. I just, my brain, a lot of times is in a fog, or I notice that I have more anxiety if I'm not sleeping well. And if I can't sleep, like if I wake up and can't fall back asleep, like that's one of the biggest indicators for me that I'm experiencing a mental health issue. And certainly, it can happen very quickly for me that if I have like one bad night, then the next night is bad, and that's what I try to work and manage. But I know now, I have more awareness that that's something that is gonna be affecting me, whereas before, I didn't really even have that connection. I definitely have tried to drink water throughout the day and also just to try to help with like proper diet. A lot of times, just if I was eating too much or eating more sugary foods because I was feeling bad and just trying to get through the day, I felt like using water instead of food when I wasn't really hungry was something that helped me. And just getting outside and doing a fun activity has been helpful. So for me, that's golf. I try to do other activities in the winter, like massage. I've also done other workout group exercises, like hot yoga in the winter. And then self-awareness. So sharing your experience with a group can allow you to gain a different perspective. It can kind of allow you to get out of just your internal monologue. And hearing people talk about their own law practice, the things that they do to manage their mental health when they are doing well or when they're doing poorly can kind of give you more feedback and kind of help you assess your own situation by listening and just the mutual sharing. And then there's certainly a benefit of just being heard and having space without judgment and people who care about you and are able to show empathy. And that is very, very evident and there's just a lot of kindness and love for each other on those calls that I've experienced. And then self-compassion. So that's something that's newer for me, but my default is to be hard on myself. And so a lot of what I think attorneys can get into is that kind of like viewing things through a negative lens or try to issue spot, to think about the worst case scenario, which is all important at times to do our jobs, but that sometimes can not be good for your mental health. And so sometimes being too critical or viewing yourself, being too hard on yourself, being too punishing on yourself seems like a good thing 'cause it's motivating, but it actually can be detrimental. And sometimes just viewing, allowing yourself to be compassionate towards yourself, understanding that putting in long hours is difficult, listening to clients, a lot of times when they're at their worst, is difficult, and kind of having some compassion for yourself, that you are going through a difficult situation, you are doing difficult work, and that you need to kind of take care of your own needs as well. And if you only focus on your client needs, if you only focus on the work, you're gonna kind of be pushed down so far that eventually you're worthless to your clients because you can't function that way. And then there's coping strategies with depression and anxiety and even suicidal thoughts, I personally certainly have experienced that. And that's something that is fairly normal and is something that can be treated, can be dealt with. And I've fortunately been able to definitely experience some improvement in that regard. It certainly has popped up from time to time when I'm experiencing some like high stress or situational things, but suicidal thoughts are definitely something that can be treated and better understood. So that's not so scary and is not something that leads to anything as far as further plans or anything like that. It's just something that can, instead of being afraid of talking about it, it's actually healthier to go ahead and address it, and that can help those things be resolved instead of it kind of ruminating. But it can be very, it's a very touchy subject, 'cause it can be triggering to others, and you wanna make sure that you're able to get support. And that if you're going to share those things, you're doing it with people who are equipped to kind of be able to have that conversation. So that can be something that is very, very difficult on an individual basis, but can be worked through in peer support. And then I think it helps with civility. Building, sustaining, and nurturing relationships, listening, setting boundaries. And then it can definitely help with feelings of isolation and loneliness, which is something that a lot of attorneys can experience. Like even if you're working in an office environment with other people, a lot of times your work becomes kind of focused on you. You're sitting at one computer, your emails, you're managing, and you can get so kind of like focused that a lot of your work ends up being isolating, even if you're in a large firm that has a lot of other lawyers. And so it can be helpful to connect. And that's the main thing is, humans do need a sense of belonging, a sense of connection to others, and that's what peer support can do. And then also just better treatment engagement. So obviously, peer support is not providing any professional mental health services. So the goal is to participate. The primary treatment for the condition is medicine, which is gonna be managed through a psychiatrist or a doctor and then any other mental health professional treatment, such as individual therapy or group therapy. So just having that accountability and talking to others about what you're doing, what you're not doing, can help you be more engaged and less likely to cancel that therapy appointment or forget about your medicine. And it can also help you do things for your own self-care, which if you're left to your own, a lot of times you can focus on the work or put pressure on yourself to feel like you always have to be doing things for others, whether it's work or home. And it would be helpful to remember that doing things for yourself that you enjoy, taking time out to truly relax and to truly get away for a period of time can really, really help your brain performance while you're working and while you're trying to take care of your responsibilities as a lawyer. So I wanna talk about some of the warning signs of burnout or poor mental health. So to start off, just go through the definition. So the term burnout syndrome was coined in early 1970s by Herbert J. Freudenberger, who is a New York psychoanalyst. And there's an article that's kind of summarized his work in the Scientific American Mind article in 2006, which was written by Ulrich Kraft, titled "Burned Out: Your job is extremely fulfilling. It is also extremely demanding and you feel overwhelmed." So in the article, Freudenberger was quoted as defining burnout syndrome as "a state of mental and physical exhaustion caused by one's professional life." And then the article discussed the research of both Freudenberger and his colleague Gail North, who identified 12 phases of the burnout cycle. So one, a compulsion to prove oneself. Two, working harder. Three, neglecting one's needs. Four, displacement of conflicts. Five, revision of values. Six, denial of emerging problems. Seven, withdrawal from social contacts. Eight, obvious behavioral changes. Nine, depersonalization. 10, inner-emptiness. 11, depression. And 12, burnout. So I wanna talk about my personal experience. So when I was at the law firm in 2015, I had no idea about burnout or the 12 phases of burnout. But looking back now, I can see that that's probably what I did experience. So I remember I started spending longer periods of time during the workday not doing legal work. So it became harder to start a new task after completing one task. And checking the news or a sports website started as a five minute break, but eventually became much longer and sometimes more than an hour. So that's one way that it negatively impacted my law practice was just my productivity. I was just struggling to sit down and focus. And again, a lot of times I would become so overwhelmed and really just not feeling well that I would also get up and leave and like go pace in the back stairwell. So obviously, I knew that this just did not feel healthy. I was going in, I wanted to work, I wanted to feel better. I wanted to get back to my normal self, but I knew this just wasn't feeling right. Some other things that I personally experience is also sometimes I would get myself to start a task, but I just couldn't keep the concentration of focus long enough to do it, especially if it was something that required me to really get into reviewing a lot of documents, and I take 45 minutes to 60 minutes. A lot of times, like I remember, like normally that would be fine, once you get into it, you're kind of focused on it. But also not only having trouble starting the work, but also having trouble focusing for long enough to complete it without taking a break, which then the break just kind of prolongs things. And you kind of get into this pattern where the more breaks you take or the more times that you procrastinate, you start to feel more, you start to feel worse about doing it, feel more stressed because the work is starting to pile up instead of getting completed as it should. So that can create an even more intense feeling of overwhelming panic. And that's something that I noticed just kind of at times spiraled. So I developed a habit of putting off work I was behind on because it was harder. Doing the old work was more stressful because I was stuck or there were some reason I didn't wanna do it. I might have to ask another attorney a question or I might have to call the client and apologize for the delay. So those things were harder to do. And at times, I would just kind of kick those because of the emotional stress that was with that and just prioritize easier work that was newer that was that I was not behind on, but that didn't really solve anything, that just added to the stress because of that neglected older work just became more of a problem the more you let it sit. And then I've also experienced brain fog. So this is, I think, best evidenced why even like the simplest task of like looking at your computer screen and moving the mouse to click on the folder that you wanna start seemed like a challenging task. So at times, it can just be really more where your brain's just completely shutting down and kind of telling you like, I don't want to work. It's where your brain just kind of fights against you. The other examples from the article, the Kraft article that I mentioned is how burnout can look in someone who's not a lawyer, and there's an example from a person identified as Larry. So Larry collapsed right outside the door to his apartment with a terrible headache, a racing heart, and vertigo. He said, "At first I thought I had a stroke," he recalls now a year later. But the doctor's diagnosis was different: burnout syndrome. So Larry was sick from years of excessive toil. Larry's not unique, and many experts believe that experience like his are occurring more frequently in area of lean staffing. Freudenberger also talked about what burnout can look like in others in general. So Freudenberger had noticed that his own job, which was once so rewarding, had come to leave him feeling only fatigued and frustrated. Then he noticed that many of the physicians around him over time turned into depressive cynics. As a result, those doctors increasingly treated their patients coldly and dismissively. Freudenberger soon began looking at examples outside of healthcare and found similar cases in many professions. So I think this is important to note that a lot of times burnout is something that happens, even though in the beginning the jobs, the same job is done without any negative effects on the body. I think we can be very excited about the work, we can feel that it's very rewarding and we feel a lot of satisfaction for helping clients and for being productive and helping the firm. And that's something that I experienced myself and found confusing. I didn't understand like why I'm feeling so terrible now and I'm really trying to do the same thing that I had done before. And what I realize now and what I look to when I start to kind of hit that, is that well, that probably means it's not necessarily that I'm in the wrong seat, it doesn't mean that I'm in the wrong profession, but I've probably neglected my own needs to a certain extent. I need to focus on whatever it is, whatever needs I have to be able to function so that I can do the work so that I get back to finding joy, to experiencing satisfaction for doing a good job. So that's a main takeaway is that this can happen to anyone and this can kind of pop up unexpectedly at any time. So that's why it's important to kind of be proactive with wellness and start some kind of routine for yourself, with physical exercise, noting your sleep, maybe find some things that are helpful for your brain, specifically with meditation or with maybe journaling. So doing those things before you impact your career or get to a place where you're totally burnout. It is gonna be an important thing to start. And hopefully doing those things can prevent a lot of people from ever experiencing burnout in their law careers. Some other observations from people who were affected by burnout and suffered is mood fluctuations, disturbed sleep, difficulty concentrating, and even more physical manifestations like back aches and digestive disorders. And then it can also get to a point where it's not just affecting your ability and making you feel bad, but there can be risks if these issues are left untreated. So some of the risks are that the ability to work can decline. It can become hard to concentrate. Memory can decline or even fail, can make mistakes. Procrastination can turn into neglect and missed court deadlines, not doing work and not telling the client or any anyone else in the firm. There's a couple examples that I've been aware of just from being in other groups where people have already kind of been in a situation where they were disciplined or were participating in the group because of something that had already happened. Was one, an attorney who drove around in a car and just couldn't make himself go into the office. And I remember him telling the story about how he was feeling a lot of pressure financially. And he just didn't feel like that him and his wife could have afford a house that they were looking at buying, a larger house. But even though he had concerns about it, they did it anyways. And so he had this... He felt a pressure to make more money. And it ended up that he just kind of developed this aversion and this stress that he associated with going in the office because of all the pressure and stress around doing the work. And so, yeah, he reached the point where like all of a sudden he just, I mean, he was working by like doing phone calls, but he was literally just driving around in a car instead of going to the office. And eventually, that didn't work and people in the office kind of noticed. But that's just an example of how burnout can kind of work and how the brain, if you don't take care of it, can kind of work against you. And then another example of just neglect, kind of, it can really be a problem if it's something that is not dealt with and goes on. And there's a case of one attorney who I think worked in the public sector and just stopped opening emails. And it reached a point where it was like hundreds of unread emails or even more that just were being neglected because that was his responsibility, and no one else was overseeing that. So yeah, I can only imagine the emotional impact of that, of knowing that you're not doing your job, you're not even opening the emails and you're feeling bad about it. So it's important, because these things can be treated, there is help out there. So before it gets to that point, hopefully people will have the awareness and reach out and tell someone what they're experiencing and get some help so that they can just treat it as any other health issue, that you need some time off and you need some care and then you'll get back to doing what you're trained to do, hopefully. And then another risk is that people with burnout syndrome sometimes experiencing a feeling of dragging themselves painfully through each day, and they may seek solace in alcohol or pills, and some even attempt suicide. So that's certainly something that you wanna avoid and is concerning and kind of scary. Another thing that I wanted to share with you is I created some mental fitness exercises when I wrote the articles for The Indiana Lawyer. And these were kind of created from some things that I learned from other people, from mental health professionals, just to manage my own mental health. And it's just really meant to be a suggestion to give you some ideas for creating your own routine, but I tried to create them so they could be done in a short period of time. I know the first one was a three minute body scan meditation. And I picked that one because it just takes three minutes. And there are a lot of things that can be done throughout the day while you're trying to get your work done in the three to five to 10 minute range that can be very helpful and you can kind of get you over that concern or the thought in your head that you just don't have time, 'cause you can find short things that that help very much. So an example here is a little more detail about the three minute body scan meditation. So the idea is then instead of trying to like relax your mind or to make the stress go away, which can be very frustrating 'cause it just doesn't work, you kind of do the opposite. So instead, you just kind of focus on each part of your body and allow thoughts and energies and feelings to surface and just note them and kind of give space for whatever is is going on. And a lot of times you'll feel some discomfort in a particular knee or you might hold a lot of tension in a shoulder or something like that. And so you allow everything that's going on in your body to kind of happen, and that can allow some of that to kind of calm. It's kind of like the opposite where you're trying to suppress or make things go away, avoid. It's very hard to intentionally just remove unwanted thoughts or make anxiety or fears go away. A lot of times, same thing with depression, it's just something that has to kind of pass, but this is something that I've found helpful is just doing a body scan meditation, and it can be very beneficial even if you do it for a short amount of time. And certainly, if you can do it fairly routinely, those three minutes really add up if you're doing it once a week or a couple times a week, it can be very helpful. And then wanted to share my self-care routine, which I've talked about a little bit. So a big one for me is sleep. And then I try to exercise. A lot of times, I just don't have the time to regularly go to the gym or to do a full workout class, but I can get in 10 to 15 minutes of something and sometimes maybe even a couple times a day. So I try to have things at the office that I can do. I have some weights, I have things at home that I can do. 'Cause you can get the mental benefit of physical exercise by doing a fairly short amount. If you have physical goals as far as weight loss or building muscle or things like that, a lot of times you need to put in more time, but there's a very significant mental benefit of exercise that can be found by doing shorter periods, even walking a short amount to get out of the office, I found helpful. And then I've talked about how I found water is helpful to try to avoid bad habits with foods and to try to also have good nutrition and also just having snacks that are good things to eat around the house or at the office can be helpful as well. I've used the Calm app for meditation and that's a paid one, but there are many out there that are free. I like the Calm app just because it has a daily 10-minute meditation that it offers. So it can kind of help you get into that habit. And I've found that meditation is beneficial if you can do it over time and do it consistently. I struggle much more in the winter. And so there's a light that I have used during the winter. It's called the Happy Light. There's certainly other brands, but that's the specific one that I've used just to put that on for about an hour while I'm working in the winter can help. 'Cause it can be very hard when there's just gray skies and you're not able to get outside and get fresh air. And then journaling, a lot of times I'll journal and then I'll just tear up the page. It's not something that. That way, you can just write whatever you wanna write. But I've also found that sometimes when you think of journaling, you kind of want to get things out that you're venting, which can be helpful. But also, sometimes like that can get you into a negative head space. So I've tried to end my journaling with some gratitude, and that's what we do for the Lawyers Depression Project cause as well. We give everyone the opportunity to share whatever they wanna talk about, but then we go back through everyone and we offer a moment of gratitude. And I found that the gratitude can be a very helpful way to manage your mental health. And then for me, a big thing that I'd like to do is an outside activity, so golf, but there's a lot of other things that can be done, kayaking, climbing, there's just getting into anything that's outside. If you can find something that you enjoy, a lot of people do horses. I mean, there's just a lot of things. Connecting with nature I think is something that is kind of, something that humans need to a certain extent. And I think there's just a lot of power with connecting with the sun and wind and some of those elements, and that's something that can be hard to do when you're practicing law and you're kind of surrounded by office walls and email and a computer. So I try to balance find that balance to get outside and connect with nature. And then in your materials, I've provided some mental health articles. So a lot of these were very impactful to me as I was going through the process of disclosing and trying to connect with others. So a lot of these articles are other individuals who are in the legal profession and other professions, or are celebrities who have talked about their own experience with mental health. And I remember like how year by year, more people made that decision to publicly talk about and share their story. And it's always been very, very positive, I think, as far as I'm glad that they did it. It's helped me. I think it helps others just feel more comfortable. Obviously not everyone has to disclose publicly, but it's not easy to disclose in any way. Just talking to a colleague, talking to a family member can be very difficult and take a lot of thought and planning for someone who struggles with a mental health condition. So reading these articles of others who have kind of expressed themselves might help you start with that process. Or if you're someone who doesn't have a mental health diagnosis, reading these articles might help you relate a little better to someone who you're working with and I think it could be beneficial. So wanted to share those with you. And then there's certainly a lot of other resources out there. There's some of the mental health books that I've found helpful. "Girl Walks Out of a Bar" by Lisa Smith. "The Addicted Lawyer" by Brian Cuban. There's a memoirm former NFL linebacker, Keith O'Neil, "Under My Helmet: A Football Player's Lifeline Battle with Bipolar Disorder." There's a great book by Adam Hill, who's a doctor, who has talked about his own personal experience with alcohol and depression. It's called "Long Walk Out of the Woods: A Physician's Story of Addiction, Depression, Hope, and Recovery". And some other mental health academic books that I found helpful for myself is "Self-Compassion" written by Kristin Neff. And then "The Mindful Way Through Depression: Freeing Yourself from Chronic Unhappiness" by Mark Williams, John Teasdale, Zindel Segal, and Jon Kabat-Zinn. And I know that there are also workbooks associated with those that can be helpful as well. Definitely encourage you to look at some mental health podcast. So couple examples. Angela Han is an in-house healthcare attorney and life coach who hosts "The Fit to Practice Podcast". And then "Mens Sana" is a new podcast started by two in-house attorneys and the link is on the page there. Overall, additional resources are available to legal professionals who do have mental health or substance abuse or misuse issues. First, if you have thoughts of harming yourself or others, please see a doctor immediately or dial 911. The Suicide Prevention Lifeline is 1-800-273-TALK, or you can text start to 741741. You can always reach out to try to find mental health professionals. So psychiatrists, psychologists, therapists, group therapy, there's other specific types of therapy that you can inquire about through, these would mean to be administered by a mental health professional, but there's cognitive behavioral therapy, dialectic behavioral therapy, there's mindfulness-based stress reduction. There's also other support groups out there to help with alcohol and other substance abuse issues. So there's Alcoholics Anonymous, Narcotics Anonymous, Co-Dependents Anonymous, Smart Recovery. I think every state has a state Lawyer Assistance Program. There's a Lawyers Depression Project, which we've mentioned. There's also The Mindfulness in Law Society. And then also if you're just starting off and you're not really sure if you need to reach out to your doctor or to find a mental health professional, there's some online self-assessments for depression, anxiety, and addiction. So you can kind of get an indication of whether you might be suffering and need help when there are a couple of those listed. So I thank you. I encourage everyone, regardless of whether you have dealt with a significant mental health or a substance abuse issue, to focus on some of these wellness techniques. At whatever point you are in your law career, I think it can be beneficial to just view this as something that's important, just like managing other aspects of your health, like exercising and eating, taking care of your mind is also important. And I think it can also just help you be more prepared in the event that one of your clients or one of your colleagues experiences some kind of struggle with mental health. So I appreciate you attending and I'm happy to share my story with you. Thank you.