Asahi Metal Industry Co. v. Superior Court
United States Supreme Court
480 U.S. 102 (1987)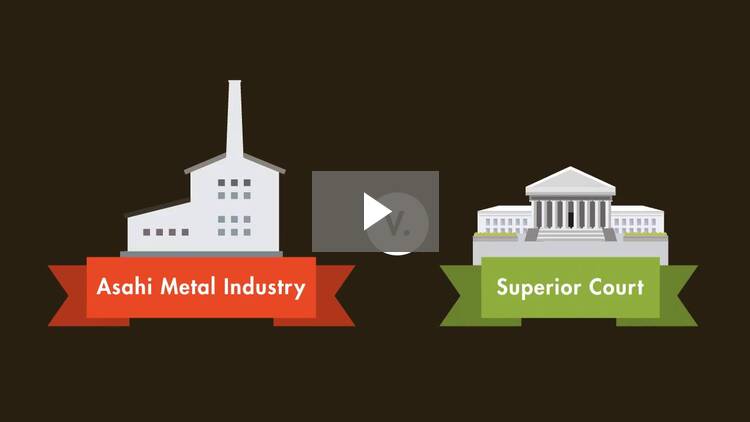 ---
Facts
Gary Zurcher (plaintiff) was injured and his wife, Ruth Moreno, was killed when they crashed their motorcycle due to a tire blowout. Zurcher filed a product liability suit over the defective tire against Cheng Shin Rubber Industrial Co., Ltd. (Cheng Shin) in California state court. Cheng Shin filed a cross-complaint for indemnification from Asahi Metal Industry Co. (Asahi) (defendant). All other claims were dismissed or settled. Asahi moved to quash the summons for lack of jurisdiction under the Due Process Clause of the Fourteenth Amendment. Asahi manufactured valve assemblies in Japan. Cheng Shin bought over 100,000 assemblies annually from Asahi. Cheng Shin incorporated the assemblies into its tires, which it sold worldwide. California accounted for 20 percent of Cheng Shin's sales in the United States. Cheng Shin alleged that it informed Asahi of its US tire sales. Still, Asahi never contemplated that third-party transactions would subject it to lawsuits in California. The trial court held that jurisdiction was appropriate, because it was not unreasonable to hold an international business accountable in the markets where it does business. The appellate court reversed and issued a peremptory writ ordering the trial court to quash the summons. The Supreme Court of the State of California reversed and invalidated the writ. The United States Supreme Court granted certiorari.
Rule of Law
Issue
Holding and Reasoning
(O'Connor, J.)
The holding and reasoning section includes:
A "yes" or "no" answer to the question framed in the issue section;
A summary of the majority or plurality opinion, using the CREAC method; and
The procedural disposition (e.g. reversed and remanded, affirmed, etc.).
To access this section, start your 7-day free trial of Quimbee for Law Students.
Concurrence
(Brennan, J.)
Concurrence
(Stevens, J.)