From our private database of 32,100+ case briefs...
Blakeley v. Gorin
Massachusetts Supreme Judicial Court
313 N.E.2d 903 (1974)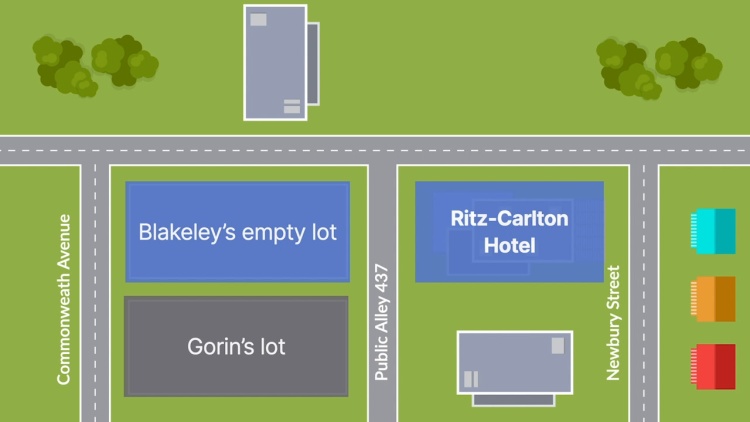 Facts
Blakeley et. al. (plaintiffs) owned two parcels of land that were separated by an alley. One parcel was a Ritz-Carlton hotel and the other was vacant, but the plaintiffs planned to construct a hotel-apartment building on the vacant lot and connect it to the Ritz-Carlton via a 12-story bridge over the alley. Gorin et. al. (defendants) owned an apartment building next to the plaintiffs' vacant lot. The properties shared the same alley. About half of the apartments in the defendants' building received their natural light and air from windows facing the alley. Each of the properties in this case is subject to the restriction that the common alley must "be kept open." The restriction was put in place when the neighborhood was mostly single family residences, but since that time, many of the small residences have been replaced by high-rise apartments and hotels. Blakeley filed suit seeking a declaratory judgment that the restrictions were obsolete and no longer enforceable. The Massachusetts Superior Court ruled that the restrictions were obsolete and that Gorin et. al. were entitled to only nominal damages. Gorin appealed.
Rule of Law
Issue
Holding and Reasoning

(Hennessey, J.)
Dissent
(Quirico, J.)
What to do next…
Unlock this case brief with a free (no-commitment) trial membership of Quimbee.

You'll be in good company: Quimbee is one of the most widely used and trusted sites for law students, serving more than 583,000 law students since 2011. Some law schools—such as Yale, Berkeley, and Northwestern—even subscribe directly to Quimbee for all their law students.

Unlock this case brief

Read our student testimonials

Learn more about Quimbee's unique (and proven) approach to achieving great grades at law school.

Quimbee is a company hell-bent on one thing: helping you get an "A" in every course you take in law school, so you can graduate at the top of your class and get a high-paying law job. We're not just a study aid for law students; we're the study aid for law students.

Learn about our approach

Read more about Quimbee
Here's why 583,000 law students have relied on our case briefs:
Written by law professors and practitioners, not other law students. 32,100 briefs, keyed to 984 casebooks. Top-notch customer support.
The right amount of information, includes the facts, issues, rule of law, holding and reasoning, and any concurrences and dissents.
Access in your classes, works on your mobile and tablet. Massive library of related video lessons and high quality multiple-choice questions.
Easy to use, uniform format for every case brief. Written in plain English, not in legalese. Our briefs summarize and simplify; they don't just repeat the court's language.