From our private database of 28,700+ case briefs...
Burrage v. United States
United States Supreme Court
134 S. Ct. 881 (2014)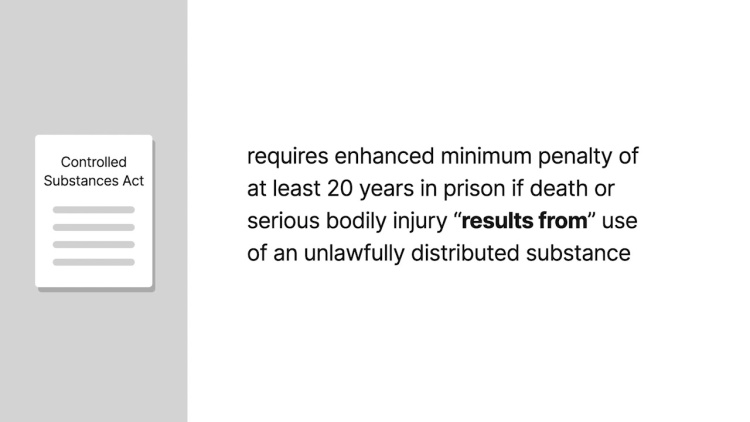 Facts
Marcus Burrage (defendant) sold one gram of heroin to Joshua Banka. Banka had already smoked marijuana; stolen oxycodone pills; and crushed, cooked, and injected the oxycodone when he purchased the heroin. After buying the heroin, Banka cooked and injected it several times that night into the next morning. Banka then died of a drug overdose. Burrage was charged with violating the provision of the federal Controlled Substances Act that applies if a death or serious bodily injury results from the use of such substance that was unlawfully distributed. At trial, two medical experts testified. Banka had heroin, codeine, alprazolam, clonazepam, and oxycodone in his system at the time of his death. Both experts testified that the heroin was a contributing factor to Banka's death, but neither expert could state whether Banka would have lived if he had not taken the heroin. The jury convicted Burrage, and he was sentenced to the mandatory minimum sentence of 20 years. Burrage appealed.
Rule of Law
Issue
Holding and Reasoning

(Scalia, J.)
What to do next…
Unlock this case brief with a free (no-commitment) trial membership of Quimbee.

You'll be in good company: Quimbee is one of the most widely used and trusted sites for law students, serving more than 546,000 law students since 2011. Some law schools—such as Yale, Berkeley, and Northwestern—even subscribe directly to Quimbee for all their law students.

Unlock this case brief

Read our student testimonials

Learn more about Quimbee's unique (and proven) approach to achieving great grades at law school.

Quimbee is a company hell-bent on one thing: helping you get an "A" in every course you take in law school, so you can graduate at the top of your class and get a high-paying law job. We're not just a study aid for law students; we're the study aid for law students.

Learn about our approach

Read more about Quimbee
Here's why 546,000 law students have relied on our case briefs:
Written by law professors and practitioners, not other law students. 28,700 briefs, keyed to 983 casebooks. Top-notch customer support.
The right amount of information, includes the facts, issues, rule of law, holding and reasoning, and any concurrences and dissents.
Access in your classes, works on your mobile and tablet. Massive library of related video lessons and high quality multiple-choice questions.
Easy to use, uniform format for every case brief. Written in plain English, not in legalese. Our briefs summarize and simplify; they don't just repeat the court's language.