From our private database of 30,500+ case briefs...
Coggins v. New England Patriots Football Club, Inc.
Supreme Judicial Court of Massachusetts
492 N.E.2d 1112 (1986)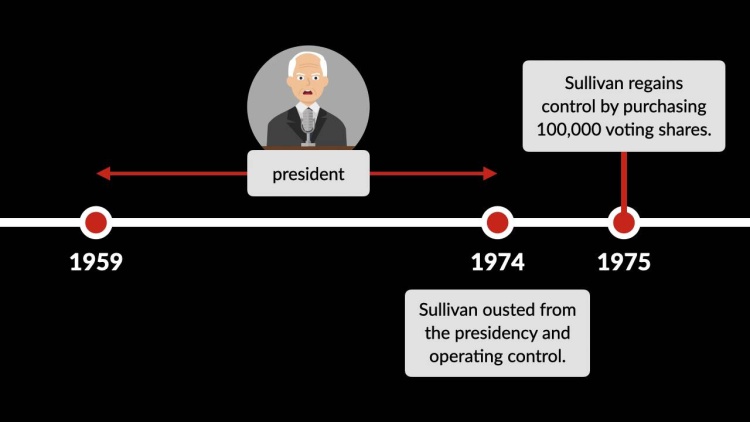 Facts
William Sullivan was the president of the New England Patriots (Patriots) (defendant) and had operating control of the franchise. However, in 1974, the other stockholders voted him out of his presidency and he lost his operating control. He still owned a significant amount of shares and by the end of 1975, he obtained ownership or control of all 100,000 voting shares in the Patriots. He then voted out all of the directors that had voted him out, elected a new board, and resumed his presidency. In order to pay for all of these shares, Sullivan was granted loans for over $5 million on the condition that the Patriots franchise would be reorganized to divert its income to the payment of the loans. In order to make this happen, Sullivan had to get rid of all nonvoting shares in the franchise. He thus organized a new corporation, the New Patriots Football Club, Inc. (New Patriots), and the Patriots and the New Patriots executed a merger agreement that provided that upon the merger, the nonvoting stock of the Patriots would be cashed out. The agreement also required Sullivan to give 100 percent of his stock to the combined entity. The merger was approved by the nonvoting stockholders of the Patriots. David Coggins (plaintiff) owned 10 shares of nonvoting stock in the Patriots. He voted against the merger and brought a class action suit on the grounds that its consummation was unfair and illegal. The Massachusetts Superior Court found in favor of Coggins and ruled that his class was entitled to rescissory damages. The Patriots appealed.
Rule of Law
Issue
Holding and Reasoning

(Liacos, J.)
What to do next…
Unlock this case brief with a free (no-commitment) trial membership of Quimbee.

You'll be in good company: Quimbee is one of the most widely used and trusted sites for law students, serving more than 551,000 law students since 2011. Some law schools—such as Yale, Berkeley, and Northwestern—even subscribe directly to Quimbee for all their law students.

Unlock this case brief

Read our student testimonials

Learn more about Quimbee's unique (and proven) approach to achieving great grades at law school.

Quimbee is a company hell-bent on one thing: helping you get an "A" in every course you take in law school, so you can graduate at the top of your class and get a high-paying law job. We're not just a study aid for law students; we're the study aid for law students.

Learn about our approach

Read more about Quimbee
Here's why 551,000 law students have relied on our case briefs:
Written by law professors and practitioners, not other law students. 30,500 briefs, keyed to 984 casebooks. Top-notch customer support.
The right amount of information, includes the facts, issues, rule of law, holding and reasoning, and any concurrences and dissents.
Access in your classes, works on your mobile and tablet. Massive library of related video lessons and high quality multiple-choice questions.
Easy to use, uniform format for every case brief. Written in plain English, not in legalese. Our briefs summarize and simplify; they don't just repeat the court's language.