From our private database of 28,700+ case briefs...
Cope v. Town of Brunswick
Maine Supreme Court
464 A.2d 223 (1983)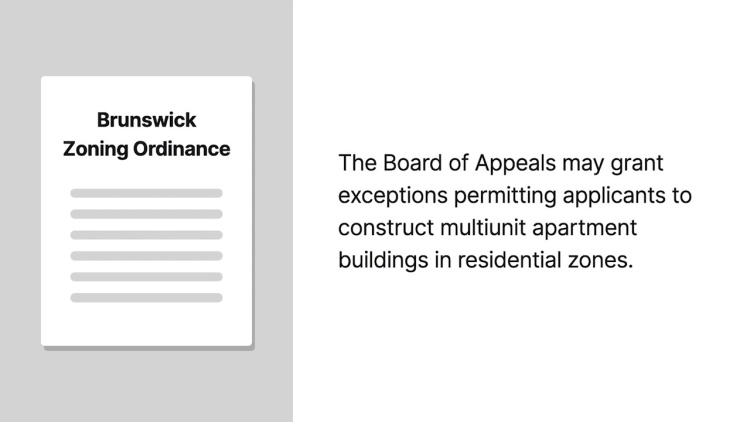 Facts
Mitchell and David Cope (plaintiffs) applied for a zoning exception to build eight six-unit apartment buildings on an undeveloped, wooded 21-acre parcel in the Town of Brunswick (defendant). The applicable suburban residential zoning ordinance permitted multi-unit apartment buildings if granted as special exceptions by the Brunswick Zoning Board of Appeals (the board). The board found that the Copes' project did not comply with two subsections of the ordinance, which contained vague, general language requiring that the requested use not adversely affect the public welfare or impair the neighborhood's essential character, but with no specifics as to how to apply those standards. The board decided that the proposed apartment complex would pose potential public safety problems and drastically change the character of the existing, quiet neighborhood, and denied the exception. The trial court affirmed. The Copes appealed, arguing that the special-exception conditions were too vague and discretionary to be enforced, and thus void as facially unconstitutional.
Rule of Law
Issue
Holding and Reasoning

(Wathen, J.)
What to do next…
Unlock this case brief with a free (no-commitment) trial membership of Quimbee.

You'll be in good company: Quimbee is one of the most widely used and trusted sites for law students, serving more than 545,000 law students since 2011. Some law schools—such as Yale, Berkeley, and Northwestern—even subscribe directly to Quimbee for all their law students.

Unlock this case brief

Read our student testimonials

Learn more about Quimbee's unique (and proven) approach to achieving great grades at law school.

Quimbee is a company hell-bent on one thing: helping you get an "A" in every course you take in law school, so you can graduate at the top of your class and get a high-paying law job. We're not just a study aid for law students; we're the study aid for law students.

Learn about our approach

Read more about Quimbee
Here's why 545,000 law students have relied on our case briefs:
Written by law professors and practitioners, not other law students. 28,700 briefs, keyed to 983 casebooks. Top-notch customer support.
The right amount of information, includes the facts, issues, rule of law, holding and reasoning, and any concurrences and dissents.
Access in your classes, works on your mobile and tablet. Massive library of related video lessons and high quality multiple-choice questions.
Easy to use, uniform format for every case brief. Written in plain English, not in legalese. Our briefs summarize and simplify; they don't just repeat the court's language.