From our private database of 22,300+ case briefs...
Ellerbee v. County of Los Angeles
California Court of Appeal
187 Cal. App. 4th 1206 (2010)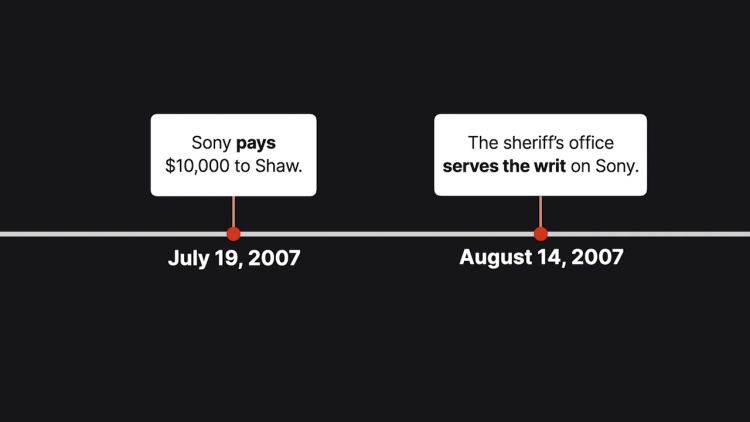 Facts
Bobby Ellerbee (plaintiff) was awarded a judgment of than $1 million against entertainer Todd Anthony Shaw due to Shaw's role in the death of Ellerbee's son. The judgment was amended to include various joint debtors in addition to Shaw, including Sony BMG (Sony) and MTV Networks (MTV). On June 18, the Los Angeles Superior Court issued a writ of execution on the judgment to the sheriff (defendant) of the County of Los Angeles (County) (defendant). The writ was delivered to the sheriff on June 21 by Ellerbee's attorney, Montie Day, along with written instructions that the writ be served as soon as possible. Day spoke to the sheriff on July 5, again expressing that the situation was urgent and requesting expedited service of the writ on Sony. The sheriff served the writ on Sony on August 14, within the 180-day period required by law, but not before Sony had already paid Shaw $10,000 for a project on July 19. On September 5, Day sent instructions to the sheriff similarly requesting prompt service of the writ on MTV. After further insistence from Day, the sheriff served the writ on MTV on October 12, but not before MTV had already paid Shaw $56,799.30 between September 6 and October 16 for his work on a television show. Thereafter, Shaw filed for bankruptcy. Unable to collect on the judgment, Ellerbee brought suit against the sheriff and the County, claiming that the sheriff had breached the duty of care imposed by California's Code of Civil Procedure § 687.010(b), which required a writ to be served according to the judgment creditor's written instructions. Ellerbee contended that the sheriff's actions resulted in a loss of nearly $66,000. The County moved for judgment on the pleadings. The trial court denied the motion, and the County appealed.
Rule of Law
Issue
Holding and Reasoning

(Johnson, J.)
What to do next…
Unlock this case brief with a free (no-commitment) trial membership of Quimbee.

You'll be in good company: Quimbee is one of the most widely used and trusted sites for law students, serving more than 517,000 law students since 2011. Some law schools—such as Yale, Berkeley, and Northwestern—even subscribe directly to Quimbee for all their law students.

Unlock this case brief

Read our student testimonials

Learn more about Quimbee's unique (and proven) approach to achieving great grades at law school.

Quimbee is a company hell-bent on one thing: helping you get an "A" in every course you take in law school, so you can graduate at the top of your class and get a high-paying law job. We're not just a study aid for law students; we're the study aid for law students.

Learn about our approach

Read more about Quimbee
Here's why 517,000 law students have relied on our case briefs:
Written by law professors and practitioners, not other law students. 22,300 briefs, keyed to 984 casebooks. Top-notch customer support.
The right amount of information, includes the facts, issues, rule of law, holding and reasoning, and any concurrences and dissents.
Access in your classes, works on your mobile and tablet. Massive library of related video lessons and high quality multiple-choice questions.
Easy to use, uniform format for every case brief. Written in plain English, not in legalese. Our briefs summarize and simplify; they don't just repeat the court's language.