From our private database of 22,600+ case briefs...
Fenwick v. Unemployment Compensation Commission
New Jersey Errors and Appeals Court
44 A.2d 172 (N.J. 1945)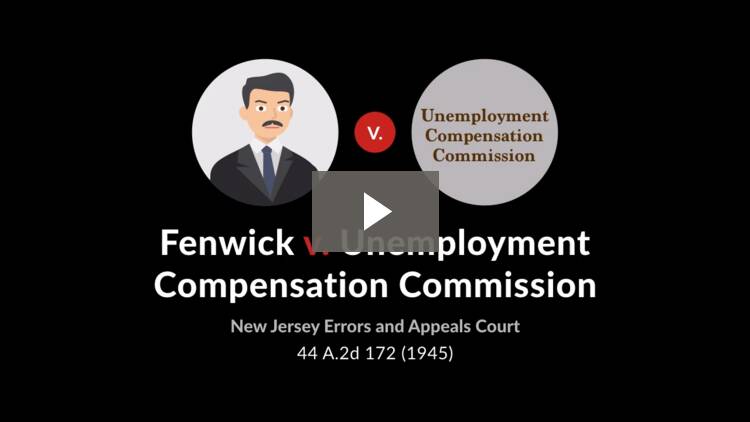 Facts
Fenwick (plaintiff) employed Chesire as a cashier and receptionist at his beauty parlor. Chesire initially worked for $15 per week, but after several months she demanded a raise. Not wanting to lose Chesire, Fenwick agreed to increase her compensation if his beauty parlor made more money. Fenwick and Chesire executed an agreement which described their association going forward as a "partnership," and each of them as a "partner." The agreement provided that Chesire would continue her current duties and be paid her existing salary plus 20 percent of the profits "if the business warrants it." The agreement also stipulated that Chesire would make no capital investment in the beauty parlor, and that Fenwick would retain complete control of it and be solely responsible for its debts. Chesire continued to work as cashier and receptionist for three years after the agreement was executed. She subsequently terminated the agreement and quit her job to stay home with her child. A case was brought before the New Jersey Unemployment Compensation Commission (Commission) (defendant) to determine whether Chesire was Fenwick's partner or employee. If Chesire was Fenwick's employee, Fenwick would be responsible for paying into the state unemployment compensation fund. The Commission found that Chesire was Fenwick's employee, holding that the agreement was simply an instrument used by the parties to set the level of Chesire's salary. The New Jersey Supreme Court reversed, relying heavily on the terms of the agreement and ruling that Fenwick and Chesire were partners.
Rule of Law
Issue
Holding and Reasoning

(Donges, J.)
What to do next…
Unlock this case brief with a free (no-commitment) trial membership of Quimbee.

You'll be in good company: Quimbee is one of the most widely used and trusted sites for law students, serving more than 519,000 law students since 2011. Some law schools—such as Yale, Berkeley, and Northwestern—even subscribe directly to Quimbee for all their law students.

Unlock this case brief

Read our student testimonials

Learn more about Quimbee's unique (and proven) approach to achieving great grades at law school.

Quimbee is a company hell-bent on one thing: helping you get an "A" in every course you take in law school, so you can graduate at the top of your class and get a high-paying law job. We're not just a study aid for law students; we're the study aid for law students.

Learn about our approach

Read more about Quimbee
Here's why 519,000 law students have relied on our case briefs:
Written by law professors and practitioners, not other law students. 22,600 briefs, keyed to 984 casebooks. Top-notch customer support.
The right amount of information, includes the facts, issues, rule of law, holding and reasoning, and any concurrences and dissents.
Access in your classes, works on your mobile and tablet. Massive library of related video lessons and high quality multiple-choice questions.
Easy to use, uniform format for every case brief. Written in plain English, not in legalese. Our briefs summarize and simplify; they don't just repeat the court's language.