From our private database of 22,300+ case briefs...
Fulkerson v. Van Buren
Court of Appeals of Arkansas
961 S.W.2d 780 (1998)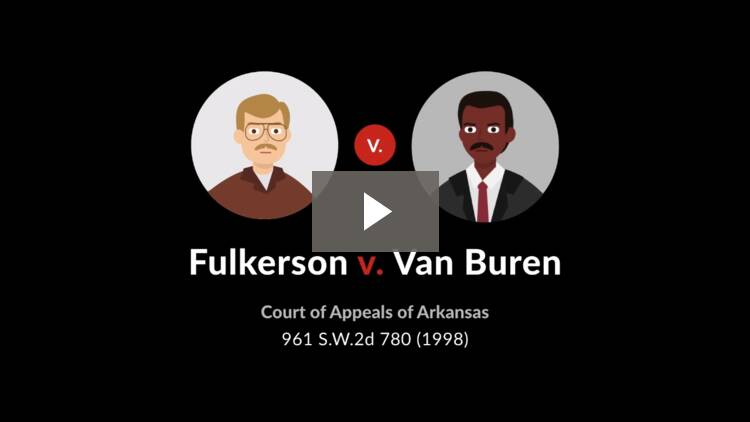 Facts
In 1949, Floyd H. Fulkerson (plaintiff) (Fulkerson) obtained legal title to a parcel of real estate in Arkansas. The parcel contained a church building. In 1985, the Progressive Church, Inc. (defendant) (Progressive Church) began using the church building. Also in 1985, Reverend Van Buren (Van Buren) and other members of the Progressive Church began cleaning up the parcel containing the church building, which was overgrown and littered with debris. Van Buren and the Progressive Church replaced the roof, siding, windows, and floor of the church building, added a 40-foot building and office, and installed central heat and air. In 1995, after asking the Progressive Church to vacate the premises and being refused, Fulkerson brought suit requesting that the Progressive Church be ejected from the parcel. The Progressive Church filed a counterclaim asserting it owned the parcel by adverse possession. At trial, Van Buren testified he would not have improved the property if he did not believe the Progressive Church had rights to the parcel. Van Buren also testified he learned the church did not have a deed to the parcel in 1990 or 1991, and prior to that time, had made no assumptions about whether the Progressive Church was on the parcel because it had purchased the land or because it had been given permission. Additionally, Van Buren testified that when Fulkerson told him Fulkerson held title to the parcel, Van Buren accepted it. Van Buren further testified the Progressive Church had no intent to hold the land adversely until 1994 or 1995, when Fulkerson sought to eject the Progressive Church. The trial court found the Progressive Church had title by adverse possession. Fulkerson appealed to the Court of Appeals of Arkansas, arguing the Progressive Church had not fulfilled the elements of adverse possession.
Rule of Law
Issue
Holding and Reasoning

(Jennings, J.)
Dissent
(Meads, J.)
What to do next…
Unlock this case brief with a free (no-commitment) trial membership of Quimbee.

You'll be in good company: Quimbee is one of the most widely used and trusted sites for law students, serving more than 516,000 law students since 2011. Some law schools—such as Yale, Berkeley, and Northwestern—even subscribe directly to Quimbee for all their law students.

Unlock this case brief

Read our student testimonials

Learn more about Quimbee's unique (and proven) approach to achieving great grades at law school.

Quimbee is a company hell-bent on one thing: helping you get an "A" in every course you take in law school, so you can graduate at the top of your class and get a high-paying law job. We're not just a study aid for law students; we're the study aid for law students.

Learn about our approach

Read more about Quimbee
Here's why 516,000 law students have relied on our case briefs:
Written by law professors and practitioners, not other law students. 22,300 briefs, keyed to 984 casebooks. Top-notch customer support.
The right amount of information, includes the facts, issues, rule of law, holding and reasoning, and any concurrences and dissents.
Access in your classes, works on your mobile and tablet. Massive library of related video lessons and high quality multiple-choice questions.
Easy to use, uniform format for every case brief. Written in plain English, not in legalese. Our briefs summarize and simplify; they don't just repeat the court's language.