Hammer v. Dagenhart
United States Supreme Court
247 U.S. 251 (1918)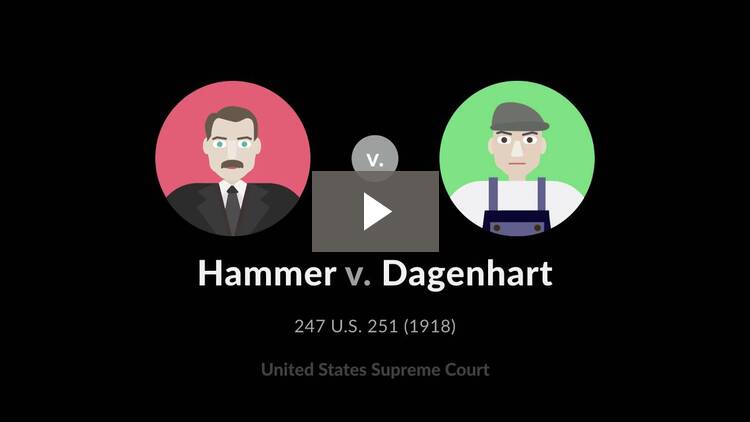 ---
Facts
In 1916, in response to increasing concerns over child labor conditions in mills and factories, Congress passed the Keating-Owen Act which prohibited goods made by children under a certain age from being sold in interstate commerce. Dagenhart (plaintiff) brought suit on behalf of himself and his two sons, who were minor children employed in a cotton mill in North Carolina, against Hammer (defendant), a United States attorney, alleging that the Act was an unconstitutional exercise of Congress's Commerce Clause Power. The District Court for the Western District of North Carolina held that Congress acted unconstitutionally in attempting to regulate a purely local matter. Both Hammer and the United States appealed to the United States Supreme Court.
Rule of Law
Issue
Holding and Reasoning
(Day, J.)
The holding and reasoning section includes:
A "yes" or "no" answer to the question framed in the issue section;
A summary of the majority or plurality opinion, using the CREAC method; and
The procedural disposition (e.g. reversed and remanded, affirmed, etc.).
To access this section, start your 7-day free trial of Quimbee for Law Students.
Dissent
(Holmes, J.)
What to do next…
Unlock this case brief with a free (no-commitment) trial membership of Quimbee.

You'll be in good company: Quimbee is one of the most widely used and trusted sites for law students, serving more than 97,000 law students since 2011. Some law schools—such as Yale, Vanderbilt, Berkeley, and the University of Illinois—even subscribe directly to Quimbee for all their law students. Read our student testimonials.

Learn more about Quimbee's unique (and proven) approach to achieving great grades at law school.

Quimbee is a company hell-bent on one thing: helping you get an "A" in every course you take in law school, so you can graduate at the top of your class and get a high-paying law job. We're not just a study aid for law students; we're the study aid for law students. Read more about Quimbee.
Here's why 153,000 law students have relied on our case briefs:
Written by law professors and practitioners, not other law students. 13,400 briefs, keyed to 183 casebooks. Top-notch customer support.
The right amount of information, includes the facts, issues, rule of law, holding and reasoning, and any concurrences and dissents.
Access in your classes, works on your mobile and tablet. Massive library of related video lessons and high quality multiple-choice questions.
Easy to use, uniform format for every case brief. Written in plain English, not in legalese. Our briefs summarize and simplify; they don't just repeat the court's language.