From our private database of 26,900+ case briefs...
Hohlbein v. Heritage Mutual Insurance Co.
United States District Court for the Eastern District of Wisconsin
106 F.R.D. 73 (1985)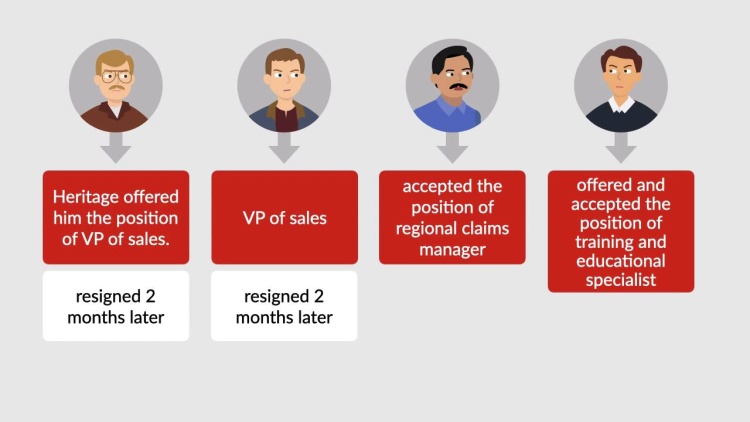 Facts
Heritage Mutual Insurance Co. (Heritage) (defendant) interviewed Norbert Hohlbein (plaintiff) for its Vice President of Sales position between February – December 1982. Winston Howell (plaintiff) claims that he was interviewed in April of 1981 for the same position. James R. Beckey (plaintiff) asserts that he interviewed for the Regional Claims Manager position between August and September 1983. Edward White (plaintiff) interviewed for the position of Training and Educational Specialist in March of 1982. All four plaintiffs claim to have accepted the roles based on some or all of Heritage's material misrepresentations or omissions regarding the duties, nature, and scope of the roles, promotion potential, the provision of relocation expenses, and the existence of an at-will probationary period. The plaintiffs filed a single lawsuit under Federal Rules of Civil Procedure (FRCP) Rule 20(a) against Heritage in Federal District Court for the Eastern District of Wisconsin under its diversity jurisdiction pursuant to 28 U.S.C. § 1332(a)(1), each asserting three claims for relief on theories of reckless misrepresentation, fraud, and breach of contract. Heritage filed a motion to sever the claims of the individual plaintiffs into four separate actions pursuant to FRCP Rules 20(a) and 21 on the ground that the plaintiffs' claims did not arise "out of the same transaction, occurrence, or series of transactions or occurrences" and did not involve common questions of law or fact. Heritage also claimed that allowing the joinder would likely confuse the jury. The plaintiffs objected to severance.
Rule of Law
Issue
Holding and Reasoning

(Warren, J.)
What to do next…
Unlock this case brief with a free (no-commitment) trial membership of Quimbee.

You'll be in good company: Quimbee is one of the most widely used and trusted sites for law students, serving more than 540,000 law students since 2011. Some law schools—such as Yale, Berkeley, and Northwestern—even subscribe directly to Quimbee for all their law students.

Unlock this case brief

Read our student testimonials

Learn more about Quimbee's unique (and proven) approach to achieving great grades at law school.

Quimbee is a company hell-bent on one thing: helping you get an "A" in every course you take in law school, so you can graduate at the top of your class and get a high-paying law job. We're not just a study aid for law students; we're the study aid for law students.

Learn about our approach

Read more about Quimbee
Here's why 540,000 law students have relied on our case briefs:
Written by law professors and practitioners, not other law students. 26,900 briefs, keyed to 983 casebooks. Top-notch customer support.
The right amount of information, includes the facts, issues, rule of law, holding and reasoning, and any concurrences and dissents.
Access in your classes, works on your mobile and tablet. Massive library of related video lessons and high quality multiple-choice questions.
Easy to use, uniform format for every case brief. Written in plain English, not in legalese. Our briefs summarize and simplify; they don't just repeat the court's language.