From our private database of 32,100+ case briefs...
Hood v. Webster
New York Court of Appeals
2 N.E.2d 43 (1936)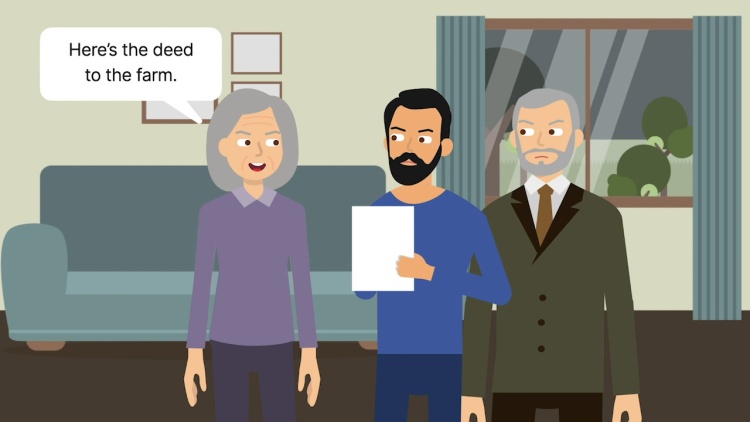 Facts
Florence F. Hood received a farm in her husband's will. The will provided that the farm would pass to Florence's brother-in-law, William J. Hood (plaintiff), if Florence predeceased him. Florence lacked sufficient funds to live on the farm, and thus Hood agreed to pay Florence $200 per year during Florence's lifetime, in exchange for the farm. In 1913, Florence executed an unrecorded deed and an agreement with Hood. The agreement required Florence to work on the farm and pay for taxes and maintenance from sales of the farm's produce, in exchange for the $200 annual payment. Florence gave the deed to Hood's lawyer to hold in escrow until Florence's death. Hood did not pay Florence as promised. However, Florence's nephew, Howard A. Webster (defendant), moved to the farm to help Florence. In 1928, Florence executed and recorded a deed that granted the farm to Webster and Florence's brother, Almon B. Farwell (defendant). The deed provided that consideration was "one dollar and other good and valuable consideration." Following Florence's death, Hood recorded the 1913 deed and brought an action to annul the 1928 deed. The court found in Hood's favor. On appeal, the parties conceded that § 291 of the Real Property Law governed the case's outcome. The statute provided that an unrecorded property conveyance was void against a subsequent purchaser with a recorded conveyance, if the purchase was made in good faith and for valuable consideration. Webster and Farwell claimed that their deed was valid under the statute, because they had purchased the farm without notice and for value.
Rule of Law
Issue
Holding and Reasoning

(Loughran, J.)
Dissent
(Crane, C.J.)
What to do next…
Unlock this case brief with a free (no-commitment) trial membership of Quimbee.

You'll be in good company: Quimbee is one of the most widely used and trusted sites for law students, serving more than 583,000 law students since 2011. Some law schools—such as Yale, Berkeley, and Northwestern—even subscribe directly to Quimbee for all their law students.

Unlock this case brief

Read our student testimonials

Learn more about Quimbee's unique (and proven) approach to achieving great grades at law school.

Quimbee is a company hell-bent on one thing: helping you get an "A" in every course you take in law school, so you can graduate at the top of your class and get a high-paying law job. We're not just a study aid for law students; we're the study aid for law students.

Learn about our approach

Read more about Quimbee
Here's why 583,000 law students have relied on our case briefs:
Written by law professors and practitioners, not other law students. 32,100 briefs, keyed to 984 casebooks. Top-notch customer support.
The right amount of information, includes the facts, issues, rule of law, holding and reasoning, and any concurrences and dissents.
Access in your classes, works on your mobile and tablet. Massive library of related video lessons and high quality multiple-choice questions.
Easy to use, uniform format for every case brief. Written in plain English, not in legalese. Our briefs summarize and simplify; they don't just repeat the court's language.