From our private database of 22,300+ case briefs...
Hoover v. Sun Oil Company
Superior Court of Delaware
58 Del. 553, 212 A.2d 214 (Del. 1965)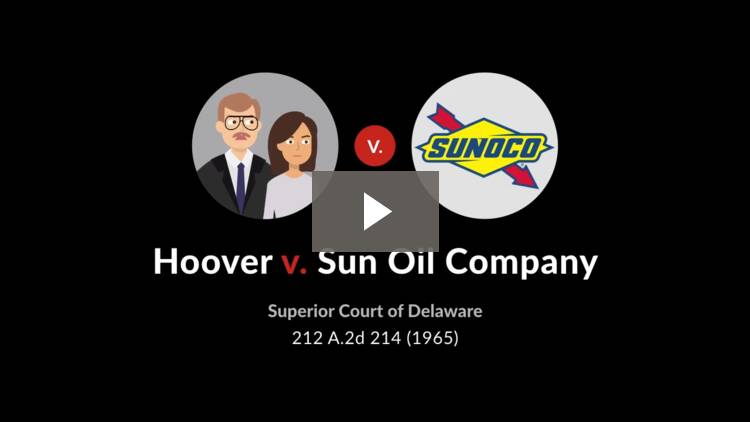 Facts
The Hoovers (plaintiffs) were injured in a fire caused by the negligence of an employee of a service station owned by Sun Oil Company (Sun) and operated by Barone (defendants). Barone's business relationship with Sun was based on a lease and dealer's agreement that the parties executed when Barone commenced the service station's operation. The lease, terminable by either party upon notice, provided for rental fees based on the amount of gasoline sold. The dealer's agreement stated that Barone would purchase petroleum products from Sun and that Sun was to loan equipment and advertisements to Barone. The dealer's agreement allowed Barone to sell products from competing oil companies, but required him to sell the Sun products under the Sun label. The dealer's agreement prohibited Barone from mingling Sun products with competitors' products. The service station had large signs advertising Sun products, but Barone's name was posted as proprietor. A Sun representative, Peterson, made weekly sales calls to the service station. In addition to selling Sun products, Peterson would discuss various business issues with Barone and advise him on station operations. But, Barone was not required to follow Peterson's advice. Barone set his own hours of operations, assumed the risk of loss in his business, and had sole authority over his employees. The Hoovers allege that Barone was acting as Sun's agent at the time of the fire and consequently Sun is liable for their injuries. Sun moved for summary judgment, contending that Barone was an independent contractor and as such, Sun is not liable for the Hoovers' injuries.
Rule of Law
Issue
Holding and Reasoning

(Christie, J.)
What to do next…
Unlock this case brief with a free (no-commitment) trial membership of Quimbee.

You'll be in good company: Quimbee is one of the most widely used and trusted sites for law students, serving more than 518,000 law students since 2011. Some law schools—such as Yale, Berkeley, and Northwestern—even subscribe directly to Quimbee for all their law students.

Unlock this case brief

Read our student testimonials

Learn more about Quimbee's unique (and proven) approach to achieving great grades at law school.

Quimbee is a company hell-bent on one thing: helping you get an "A" in every course you take in law school, so you can graduate at the top of your class and get a high-paying law job. We're not just a study aid for law students; we're the study aid for law students.

Learn about our approach

Read more about Quimbee
Here's why 518,000 law students have relied on our case briefs:
Written by law professors and practitioners, not other law students. 22,300 briefs, keyed to 984 casebooks. Top-notch customer support.
The right amount of information, includes the facts, issues, rule of law, holding and reasoning, and any concurrences and dissents.
Access in your classes, works on your mobile and tablet. Massive library of related video lessons and high quality multiple-choice questions.
Easy to use, uniform format for every case brief. Written in plain English, not in legalese. Our briefs summarize and simplify; they don't just repeat the court's language.