From our private database of 22,300+ case briefs...
Howe v. Palmer
Massachusetts Appeals Court
956 N.E.2d 249 (2011)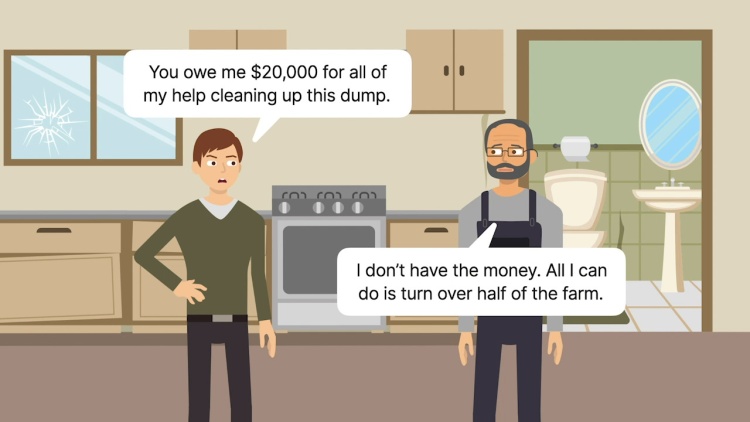 Facts
Over the course of several years, Ronald and Jeanette Palmer (defendants) convinced Virgil Howe (plaintiff) to sign over half the deed to his family farm and move out. Everyone described Howe as a simple person with severe dyslexia and slow mental processing. After a rough childhood, others intimidated him easily as an adult. When Howe met the Palmers, Ronald became Howe's only friend, and Howe told him his financial worries about losing the farm. Ronald offered to help, told Howe to pray, then the Palmers spent a trial week on the farm. Ronald told a friend, "[G]ive me a year and I'll have my retirement." The Palmers moved in, cleaned up the property, had a tag sale and 15 tons of junk hauled off, and kept the proceeds as a commission and for household expenses. Ronald convinced Howe he owed $20,000 to $25,000 for the help cleaning up his farm and that Howe needed to sell it or sign over half the deed to settle the debt. Jeanette had a lawyer draft a deed giving the Palmers a 50 percent interest as tenants by the entirety, with a life estate for Howe's wife. Next the Palmers started a ministry with four or five people, and Howe signed a document agreeing to counseling with a reverend. Howe agreed that if he did not "change" himself within five months, the ministry would leave, and he would reimburse them for all their work. The counseling was arguably designed to change Howe's resistance and ensure his loyalty to Ronald. Howe eventually reconciled with his wife, who said they were "learning to submit" and be "loyal" to Palmer's leadership, but both eventually left the farm. Less than a year later, Howe sued the Palmers, arguing that the deed was not valid because it resulted from undue influence, and also brought tort claims for intentional infliction of emotional distress. After the jury found for Howe, the court rescinded the deed and awarded Howe $60,000. The Palmers appealed.
Rule of Law
Issue
Holding and Reasoning

(Trainor, J.)
What to do next…
Unlock this case brief with a free (no-commitment) trial membership of Quimbee.

You'll be in good company: Quimbee is one of the most widely used and trusted sites for law students, serving more than 518,000 law students since 2011. Some law schools—such as Yale, Berkeley, and Northwestern—even subscribe directly to Quimbee for all their law students.

Unlock this case brief

Read our student testimonials

Learn more about Quimbee's unique (and proven) approach to achieving great grades at law school.

Quimbee is a company hell-bent on one thing: helping you get an "A" in every course you take in law school, so you can graduate at the top of your class and get a high-paying law job. We're not just a study aid for law students; we're the study aid for law students.

Learn about our approach

Read more about Quimbee
Here's why 518,000 law students have relied on our case briefs:
Written by law professors and practitioners, not other law students. 22,300 briefs, keyed to 984 casebooks. Top-notch customer support.
The right amount of information, includes the facts, issues, rule of law, holding and reasoning, and any concurrences and dissents.
Access in your classes, works on your mobile and tablet. Massive library of related video lessons and high quality multiple-choice questions.
Easy to use, uniform format for every case brief. Written in plain English, not in legalese. Our briefs summarize and simplify; they don't just repeat the court's language.