From our private database of 28,500+ case briefs...
In re IBP, Inc. Shareholders Litigation
Delaware Chancery Court
2001 Del. Ch. LEXIS 81, 789 A.2d 14 (2001)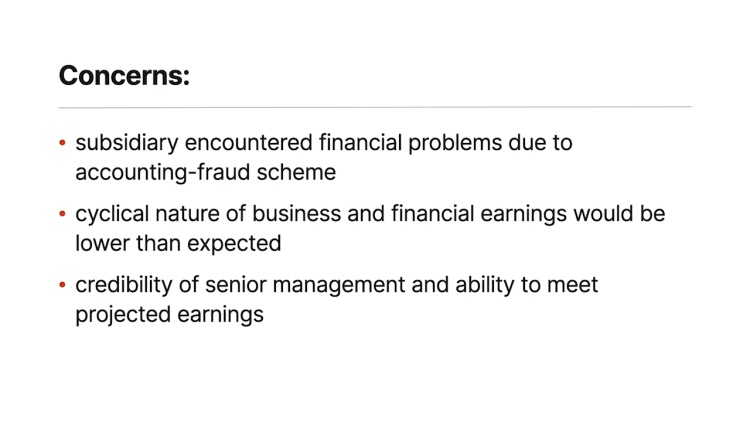 Facts
Tyson Foods, Inc. (Tyson) (plaintiff), the nation's largest chicken distributor, eagerly sought to enter into a merger agreement with IBP, Inc. (IBP) (defendant), the nation's leading beef and pork distributor. As a result of the merger, IBP shareholders would be able to receive their choice of $30 per share in cash or Tyson stock, or a combination of the two. Tyson's own investment banker approved the merger as being fairly priced at $30 per share. During negotiations, Tyson learned that one of IBP's subsidiaries had encountered serious financial problems due to a $30 million accounting-fraud scheme. Additionally, Tyson was aware that IBP's business was in a slump and that IBP's financial earnings would be lower than expected. Consequently, Tyson doubted (1) IBP's ability to project future earnings and (2) the credibility of IBP's senior management. Nevertheless, Tyson proceeded with the merger and raised its bid by $4 per share despite IBP's issues. After the agreement was signed, the merger was announced to Tyson shareholders and the financial community. Subsequently, IBP and Tyson were adversely affected financially after enduring an unusually harsh winter. Tyson began to lose interest in the merger with IBP and began to slow down the process. Eventually, Tyson sent a letter to IBP terminating the agreement. At the same time, Tyson filed suit against IBP, accusing IBP of fraudulently inducing the merger. IBP argued that Tyson had no legal basis to avoid the agreement, and requested specific performance.
Rule of Law
Issue
Holding and Reasoning

(Strine, J.)
What to do next…
Unlock this case brief with a free (no-commitment) trial membership of Quimbee.

You'll be in good company: Quimbee is one of the most widely used and trusted sites for law students, serving more than 545,000 law students since 2011. Some law schools—such as Yale, Berkeley, and Northwestern—even subscribe directly to Quimbee for all their law students.

Unlock this case brief

Read our student testimonials

Learn more about Quimbee's unique (and proven) approach to achieving great grades at law school.

Quimbee is a company hell-bent on one thing: helping you get an "A" in every course you take in law school, so you can graduate at the top of your class and get a high-paying law job. We're not just a study aid for law students; we're the study aid for law students.

Learn about our approach

Read more about Quimbee
Here's why 545,000 law students have relied on our case briefs:
Written by law professors and practitioners, not other law students. 28,500 briefs, keyed to 983 casebooks. Top-notch customer support.
The right amount of information, includes the facts, issues, rule of law, holding and reasoning, and any concurrences and dissents.
Access in your classes, works on your mobile and tablet. Massive library of related video lessons and high quality multiple-choice questions.
Easy to use, uniform format for every case brief. Written in plain English, not in legalese. Our briefs summarize and simplify; they don't just repeat the court's language.