From our private database of 22,600+ case briefs...
Kenton v. Hyatt Hotels Corp.
Missouri Supreme Court
693 S.W.2d 83 (1985)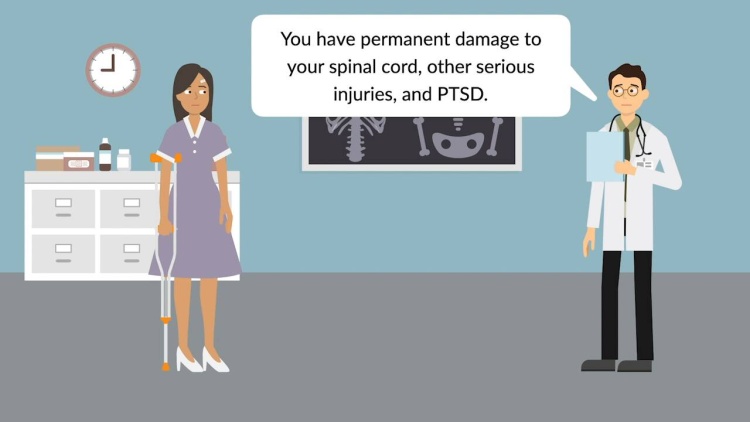 Facts
On July 17, 1981, two skywalks in the Hyatt Regency Hotel in Kansas City collapsed, causing substantial injury and death. Kay Kenton (plaintiff) was in her twenties and had completed two years of law school when she was injured in the skywalks' collapse. Her neck was broken, causing spinal cord damage that permanently impaired her ability to walk, breathe, have children, and otherwise function normally. Kenton was also diagnosed with chronic, severe post-traumatic stress disorder. She reached a partial settlement with Hyatt Hotels Corp. and certain other defendants (collectively, Hyatt) (defendants) whereby Hyatt would stipulate to liability and the parties would go to trial only to determine damages. The settlement prohibited Kenton from presenting evidence at trial regarding Hyatt's construction or maintenance of the skywalks. At trial, witnesses for Kenton testified to the chaos and carnage at the scene of the accident. Kenton also offered video and photographic evidence, none of which showed images of dead or injured bodies. Two law professors testified that Kenton's injuries made her completion of law school and future practice as an attorney unlikely. Ultimately, Kenton's evidence demonstrated a combined loss of income and medical costs ranging from $2,283,512 to $3,209,778. A jury awarded Kenton $4 million in compensatory damages. Hyatt filed post-trial motions challenging the award as excessive. The trial judge concurred and granted a new trial unless Kenton agreed to a remittitur of $250,000. Both parties appealed, with Hyatt requesting a remittitur of $2 million.
Rule of Law
Issue
Holding and Reasoning

(Dowd, J.)
What to do next…
Unlock this case brief with a free (no-commitment) trial membership of Quimbee.

You'll be in good company: Quimbee is one of the most widely used and trusted sites for law students, serving more than 519,000 law students since 2011. Some law schools—such as Yale, Berkeley, and Northwestern—even subscribe directly to Quimbee for all their law students.

Unlock this case brief

Read our student testimonials

Learn more about Quimbee's unique (and proven) approach to achieving great grades at law school.

Quimbee is a company hell-bent on one thing: helping you get an "A" in every course you take in law school, so you can graduate at the top of your class and get a high-paying law job. We're not just a study aid for law students; we're the study aid for law students.

Learn about our approach

Read more about Quimbee
Here's why 519,000 law students have relied on our case briefs:
Written by law professors and practitioners, not other law students. 22,600 briefs, keyed to 984 casebooks. Top-notch customer support.
The right amount of information, includes the facts, issues, rule of law, holding and reasoning, and any concurrences and dissents.
Access in your classes, works on your mobile and tablet. Massive library of related video lessons and high quality multiple-choice questions.
Easy to use, uniform format for every case brief. Written in plain English, not in legalese. Our briefs summarize and simplify; they don't just repeat the court's language.