From our private database of 22,300+ case briefs...
Kolodziej v. Mason
United States Court of Appeals for the Eleventh Circuit
774 F.3d 736 (2014)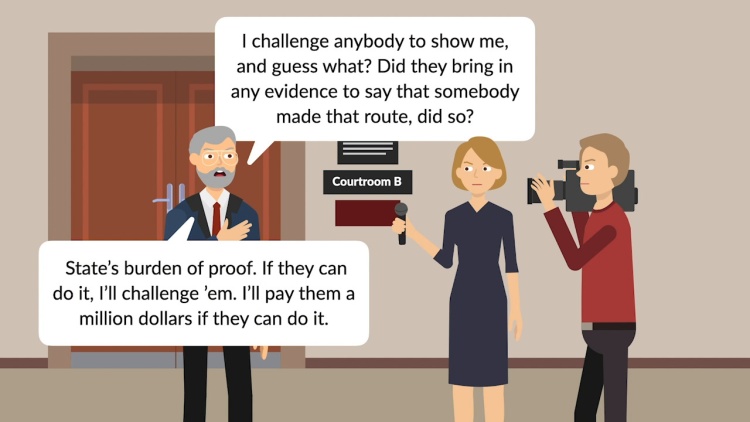 Facts
In the course of representing a man charged with quadruple murder, attorney James Mason (defendant) was interviewed on the NBC news program Dateline about the high-profile case. Mason claimed that his client could not have possibly committed the crimes because the client was several hundred miles away in Atlanta, Georgia, at the time the murders occurred in central Florida. During the interview, Mason purported to refute the prosecution's theory of the case, which required his client to have traveled via plane, commit the crimes, and then fly back to a location in Atlanta within a narrow timeframe. At one point, Mason stated, "I challenge anybody to show me, and guess what? Did [the prosecution] bring in any evidence to say that somebody made that route . . .? State's burden of proof. If they can do it, I'll challenge 'em. I'll pay them a million dollars if they can do it." The interview aired after Mason's client was convicted by a jury and sentenced to death. However, NBC edited Mason's comments to state, "I challenge anybody to show me—I'll pay them a million dollars if they can do it." Dustin Kolodziej (plaintiff), a law student, viewed Mason's interview, accepted Mason's challenge, and proceeded to videotape himself successfully making the trip. Kolodziej filed suit against Mason in federal district court after Mason refused to make payment. The district court for the Middle District of Florida granted Mason's motion for summary judgment, holding that Mason's hyperbolic statement directed at the prosecution did not amount to a unilateral offer that could be accepted by Kolodziej. Kolodziej appealed.
Rule of Law
Issue
Holding and Reasoning

(Wilson, J.)
What to do next…
Unlock this case brief with a free (no-commitment) trial membership of Quimbee.

You'll be in good company: Quimbee is one of the most widely used and trusted sites for law students, serving more than 517,000 law students since 2011. Some law schools—such as Yale, Berkeley, and Northwestern—even subscribe directly to Quimbee for all their law students.

Unlock this case brief

Read our student testimonials

Learn more about Quimbee's unique (and proven) approach to achieving great grades at law school.

Quimbee is a company hell-bent on one thing: helping you get an "A" in every course you take in law school, so you can graduate at the top of your class and get a high-paying law job. We're not just a study aid for law students; we're the study aid for law students.

Learn about our approach

Read more about Quimbee
Here's why 517,000 law students have relied on our case briefs:
Written by law professors and practitioners, not other law students. 22,300 briefs, keyed to 984 casebooks. Top-notch customer support.
The right amount of information, includes the facts, issues, rule of law, holding and reasoning, and any concurrences and dissents.
Access in your classes, works on your mobile and tablet. Massive library of related video lessons and high quality multiple-choice questions.
Easy to use, uniform format for every case brief. Written in plain English, not in legalese. Our briefs summarize and simplify; they don't just repeat the court's language.