From our private database of 22,300+ case briefs...
Lamps Plus, Inc. v. Varela
United States Supreme Court
139 S. Ct. 1407 (2019)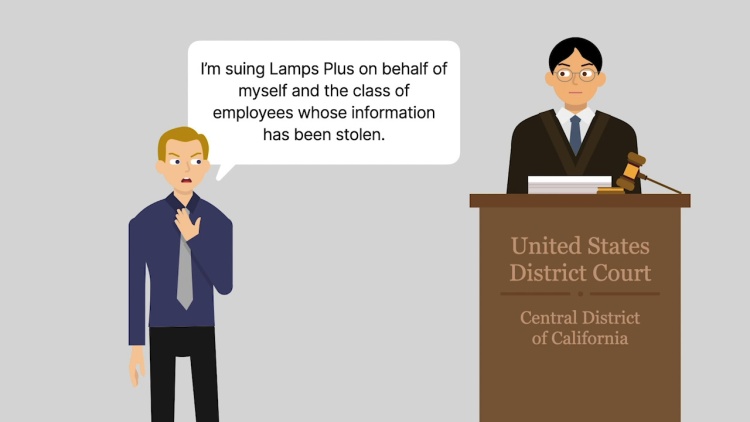 Facts
Frank Varela (plaintiff) signed an arbitration agreement when he started working for Lamps Plus, Inc. (defendant). The first sentence required arbitration of "any and all disputes, claims or controversies arising out of or relating to the employment relationship between the parties." The next paragraph said that arbitration "shall be in lieu of any and all lawsuits or other civil legal proceedings relating to my employment." The arbitrator could award "any remedy allowed by applicable law." A data breach resulted in a hacker obtaining the tax information of 1,300 Lamps Plus employees. Shortly afterward, somebody filed a fraudulent tax return in Varela's name. Varela brought a putative class action on behalf of all 1,300 employees whose information was disclosed. Lamps Plus moved to compel arbitration of the claims individually, but the trial court ordered arbitration on a class-wide basis. On appeal, the Ninth Circuit found the arbitration agreement ambiguous as to class arbitration and construed it strictly against Lamps Plus as a contract of adhesion. Accordingly, the appellate court agreed that the contract required arbitration of class claims and affirmed the trial court's order. Lamps Plus appealed to the United States Supreme Court, arguing that an ambiguous agreement cannot supply the contractual requirement to compel arbitration.
Rule of Law
Issue
Holding and Reasoning

(Roberts, C.J.)
Dissent
(Kagan, J.)
Dissent
(Ginsburg, J.)
What to do next…
Unlock this case brief with a free (no-commitment) trial membership of Quimbee.

You'll be in good company: Quimbee is one of the most widely used and trusted sites for law students, serving more than 518,000 law students since 2011. Some law schools—such as Yale, Berkeley, and Northwestern—even subscribe directly to Quimbee for all their law students.

Unlock this case brief

Read our student testimonials

Learn more about Quimbee's unique (and proven) approach to achieving great grades at law school.

Quimbee is a company hell-bent on one thing: helping you get an "A" in every course you take in law school, so you can graduate at the top of your class and get a high-paying law job. We're not just a study aid for law students; we're the study aid for law students.

Learn about our approach

Read more about Quimbee
Here's why 518,000 law students have relied on our case briefs:
Written by law professors and practitioners, not other law students. 22,300 briefs, keyed to 984 casebooks. Top-notch customer support.
The right amount of information, includes the facts, issues, rule of law, holding and reasoning, and any concurrences and dissents.
Access in your classes, works on your mobile and tablet. Massive library of related video lessons and high quality multiple-choice questions.
Easy to use, uniform format for every case brief. Written in plain English, not in legalese. Our briefs summarize and simplify; they don't just repeat the court's language.