From our private database of 22,600+ case briefs...
Lawlis v. Kightlinger & Gray
Indiana Court of Appeals
562 N.E.2d 435 (Ind.App.1990)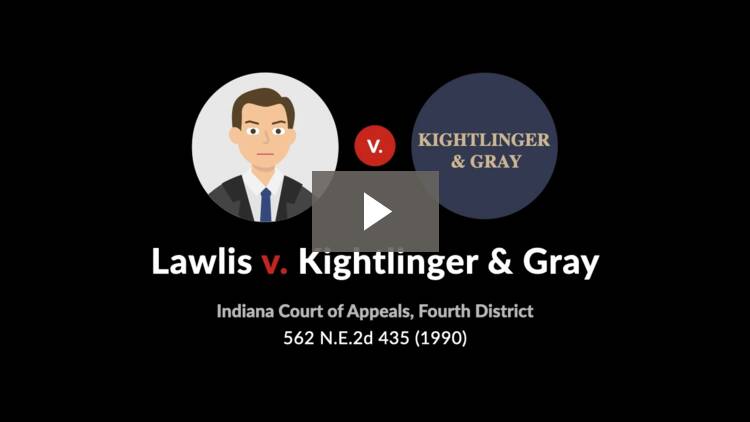 Facts
Lawlis (plaintiff) had been a senior partner in the law firm Kightlinger & Gray (K&G) (defendant) for a number of years when he developed an alcohol problem in 1982. Lawlis missed a lot of work time in 1983 and 1984 as he sought treatment for his addiction. Lawlis revealed his condition to K&G in mid-1983. In accordance with K&G's partnership agreement that Lawlis had signed, K&G reduced Lawlis's work units while he was recovering. Lawlis also signed a Program Outline, which set conditions for Lawlis's continuing partnership with K&G. The Program Outline stated that there was "no second chance" if Lawlis drank again. Lawlis started drinking again in March 1984, but K&G gave him another chance, allowing him to remain as senior partner as long as he stopped drinking permanently and met other conditions. Lawlis subsequently stopped drinking permanently. Two years after he ceased drinking, Lawlis asked K&G's Finance Committee to increase his work units. In late October 1986, Wampler, a member of the Finance Committee, told Lawlis that the committee was going to recommend severing Lawlis's senior partnership with K&G no later than June 30, 1987. K&G's partnership agreement stated that a senior partner may be involuntarily expelled from K&G if two-thirds of senior partners voted to do so. In December 1986, the senior partners voted to accept the Finance Committee's recommendation. All the senior partners except Lawlis voted in favor of the recommendation, which resulted in an addendum to the partnership agreement, providing that Lawlis would be given one unit of work and retain his senior partner status until he was terminated in June 1987. Lawlis refused to sign the addendum, and the remaining senior partners voted to expel Lawlis in February 1987. Lawlis sued K&G, alleging that K&G breached the partnership agreement's implied duty of good faith and fair dealing by expelling him for a "predatory purpose" of increasing the firm's partner to lawyer ratio. Lawlis based his allegation on a November 1986 memo which stated that K&G should increase its lawyer to partner ratio during the coming years in order to increase partner profits. The district court granted K&G's motion for summary judgment.
Rule of Law
Issue
Holding and Reasoning

(Conover, J.)
What to do next…
Unlock this case brief with a free (no-commitment) trial membership of Quimbee.

You'll be in good company: Quimbee is one of the most widely used and trusted sites for law students, serving more than 519,000 law students since 2011. Some law schools—such as Yale, Berkeley, and Northwestern—even subscribe directly to Quimbee for all their law students.

Unlock this case brief

Read our student testimonials

Learn more about Quimbee's unique (and proven) approach to achieving great grades at law school.

Quimbee is a company hell-bent on one thing: helping you get an "A" in every course you take in law school, so you can graduate at the top of your class and get a high-paying law job. We're not just a study aid for law students; we're the study aid for law students.

Learn about our approach

Read more about Quimbee
Here's why 519,000 law students have relied on our case briefs:
Written by law professors and practitioners, not other law students. 22,600 briefs, keyed to 984 casebooks. Top-notch customer support.
The right amount of information, includes the facts, issues, rule of law, holding and reasoning, and any concurrences and dissents.
Access in your classes, works on your mobile and tablet. Massive library of related video lessons and high quality multiple-choice questions.
Easy to use, uniform format for every case brief. Written in plain English, not in legalese. Our briefs summarize and simplify; they don't just repeat the court's language.