From our private database of 32,100+ case briefs...
Mill Street Church of Christ v. Hogan
Court of Appeals of Kentucky
785 S.W.2d 263 (1990)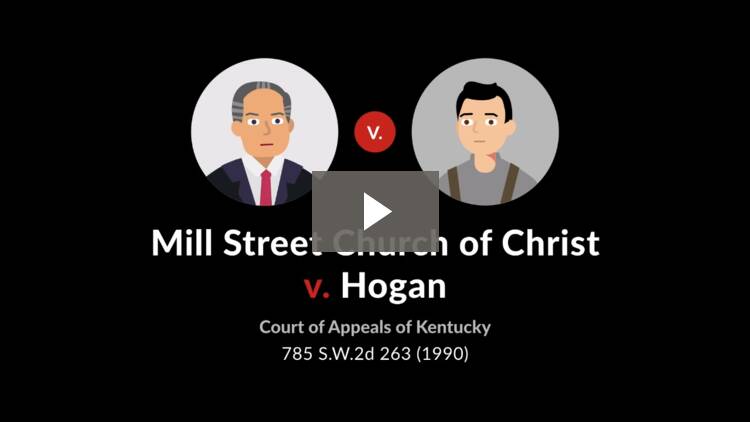 Facts
Mill Street Church of Christ (Church) (defendant) regularly hired Bill Hogan to paint and maintain the church building over a period of time. The Church had routinely allowed Bill Hogan to hire his brother Sam Hogan (plaintiff) as an assistant on painting projects. In 1986, Church Elder Dr. Waggoner hired Bill Hogan again to paint the church. No mention of hiring a helper was made during the discussion between Dr. Waggoner and Bill Hogan. During his painting, Bill Hogan reached a point where he could not finish the job without an assistant. Bill Hogan approached Dr. Waggoner about hiring a helper. The parties agreed that a helper was necessary and discussed the possibility of hiring a Mr. Petty to assist, but Dr. Waggoner acknowledged that Mr. Petty was hard to reach. The next day, Bill Hogan offered Sam Hogan the helper job. After hearing the details of the position, Sam Hogan accepted the offer and commenced work. A half hour after he started work, Sam Hogan fell and sustained an injury that required hospitalization. Bill Hogan reported the accident to the Church treasurer, who paid Bill Hogan for hours spent on the project, including the half hour Sam Hogan worked. Sam Hogan filed a claim for workers' compensation. The Old Workers' Compensation Board (Old Board) ruled that Sam Hogan was not an employee of the Church and denied his compensation claim. The New Board reversed the Old Board's ruling, concluding that Bill Hogan had implied authority as a Church agent to hire Sam Hogan, and that Sam Hogan was a Church employee entitled to compensation. The Church petitioned for review of the New Board's decision.
Rule of Law
Issue
Holding and Reasoning

(Howard, J.)
What to do next…
Unlock this case brief with a free (no-commitment) trial membership of Quimbee.

You'll be in good company: Quimbee is one of the most widely used and trusted sites for law students, serving more than 583,000 law students since 2011. Some law schools—such as Yale, Berkeley, and Northwestern—even subscribe directly to Quimbee for all their law students.

Unlock this case brief

Read our student testimonials

Learn more about Quimbee's unique (and proven) approach to achieving great grades at law school.

Quimbee is a company hell-bent on one thing: helping you get an "A" in every course you take in law school, so you can graduate at the top of your class and get a high-paying law job. We're not just a study aid for law students; we're the study aid for law students.

Learn about our approach

Read more about Quimbee
Here's why 583,000 law students have relied on our case briefs:
Written by law professors and practitioners, not other law students. 32,100 briefs, keyed to 984 casebooks. Top-notch customer support.
The right amount of information, includes the facts, issues, rule of law, holding and reasoning, and any concurrences and dissents.
Access in your classes, works on your mobile and tablet. Massive library of related video lessons and high quality multiple-choice questions.
Easy to use, uniform format for every case brief. Written in plain English, not in legalese. Our briefs summarize and simplify; they don't just repeat the court's language.