From our private database of 22,300+ case briefs...
Miller v. McDonald's Corp.
Court of Appeals of Oregon
152 Ore. App. 274, 945 P.2d 1107 (Ore. App. 1997)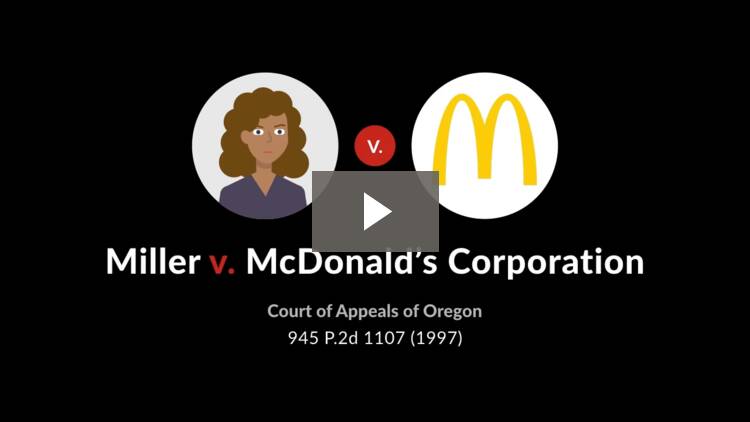 Facts
Miller (plaintiff) sued McDonald's Corporation (McDonald's) (defendant) for injuries sustained when she bit into a sapphire stone in a Big Mac hamburger she bought at a McDonald's restaurant. McDonald's had a franchise agreement (Agreement) with 3K Restaurants (3K) that conducted the business of the restaurant where the incident occurred. The Agreement had very strict and extensive requirements concerning how 3K was to operate the restaurant in conformity with McDonald's standards and practices. In essence, the Agreement required 3K to ensure that the restaurant appeared virtually identical to other McDonald's restaurants and provided the same type of food and standard of service. In spite of the rigid requirements, the Agreement stated that 3K was an independent contractor, solely responsible for injuries occurring at the restaurant. At the time of the incident, the general appearance of the restaurant and the food it served were indistinguishable from any other McDonald's restaurant. The restaurant, which was shaped like a common McDonald's restaurant, displayed McDonald's signs and served McDonald's food, including Big Macs. The restaurant's employees wore McDonald's uniforms. Outside of a sign near the front counter listing 3K as the owner of the restaurant, there was no indication that any entity other than McDonald's was involved in running it. At trial, Miller testified that she visited the restaurant because it looked just like any other McDonald's restaurant and she wanted the same type of food and service she had received in other McDonald's establishments. The trial court nonetheless granted McDonald's motion for summary judgment, holding that McDonald's was not liable for Miller's injuries because it did not own or operate the restaurant.
Rule of Law
Issue
Holding and Reasoning

(Warren, P.J.)
What to do next…
Unlock this case brief with a free (no-commitment) trial membership of Quimbee.

You'll be in good company: Quimbee is one of the most widely used and trusted sites for law students, serving more than 517,000 law students since 2011. Some law schools—such as Yale, Berkeley, and Northwestern—even subscribe directly to Quimbee for all their law students.

Unlock this case brief

Read our student testimonials

Learn more about Quimbee's unique (and proven) approach to achieving great grades at law school.

Quimbee is a company hell-bent on one thing: helping you get an "A" in every course you take in law school, so you can graduate at the top of your class and get a high-paying law job. We're not just a study aid for law students; we're the study aid for law students.

Learn about our approach

Read more about Quimbee
Here's why 517,000 law students have relied on our case briefs:
Written by law professors and practitioners, not other law students. 22,300 briefs, keyed to 984 casebooks. Top-notch customer support.
The right amount of information, includes the facts, issues, rule of law, holding and reasoning, and any concurrences and dissents.
Access in your classes, works on your mobile and tablet. Massive library of related video lessons and high quality multiple-choice questions.
Easy to use, uniform format for every case brief. Written in plain English, not in legalese. Our briefs summarize and simplify; they don't just repeat the court's language.