From our private database of 30,900+ case briefs...
Nelson v. Dolan
Nebraska Supreme Court
434 N.W.2d 25 (1989)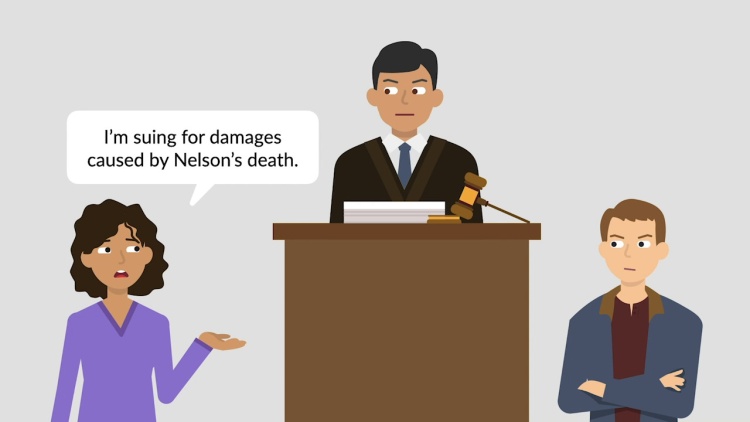 Facts
Seventeen-year-old Robert James Nelson (Robert) was driving a motorcycle with Kevin Coffin on the back when Paul Dolan (defendant) began following them in his car. Robert attempted to lose Dolan, who responded by speeding up and following the motorcycle more closely. At one point, Dolan was just one or two feet behind the motorcycle. After Coffin slapped the hood of Dolan's vehicle, Dolan slowed down. He then sped up and struck the motorcycle. The two vehicles became locked upon impact. They moved in tandem for about five seconds when the motorcycle hit a light post and fell beneath Dolan's car. Robert was killed instantly. His mother, Phyllis Nelson (plaintiff), filed a wrongful-death action on behalf of Robert's next of kin and a separate survival action on behalf of Robert's estate. Prior to trial, the judge sustained Dolan's motion in limine precluding Nelson from offering evidence of (1) the mental anguish suffered by Robert in the moments preceding his death and (2) the mental pain and suffering sustained by Phyllis on account of Robert's death. Dolan admitted that his negligence caused Robert's death. A jury awarded Nelson $37,968.26. She appealed the trial court's preclusion of evidence of pain and suffering.
Rule of Law
Issue
Holding and Reasoning

(Caporale, J.)
What to do next…
Unlock this case brief with a free (no-commitment) trial membership of Quimbee.

You'll be in good company: Quimbee is one of the most widely used and trusted sites for law students, serving more than 553,000 law students since 2011. Some law schools—such as Yale, Berkeley, and Northwestern—even subscribe directly to Quimbee for all their law students.

Unlock this case brief

Read our student testimonials

Learn more about Quimbee's unique (and proven) approach to achieving great grades at law school.

Quimbee is a company hell-bent on one thing: helping you get an "A" in every course you take in law school, so you can graduate at the top of your class and get a high-paying law job. We're not just a study aid for law students; we're the study aid for law students.

Learn about our approach

Read more about Quimbee
Here's why 553,000 law students have relied on our case briefs:
Written by law professors and practitioners, not other law students. 30,900 briefs, keyed to 984 casebooks. Top-notch customer support.
The right amount of information, includes the facts, issues, rule of law, holding and reasoning, and any concurrences and dissents.
Access in your classes, works on your mobile and tablet. Massive library of related video lessons and high quality multiple-choice questions.
Easy to use, uniform format for every case brief. Written in plain English, not in legalese. Our briefs summarize and simplify; they don't just repeat the court's language.