From our private database of 22,300+ case briefs...
People v. Olsen
Supreme Court of California
685 P.2d 52 (1984)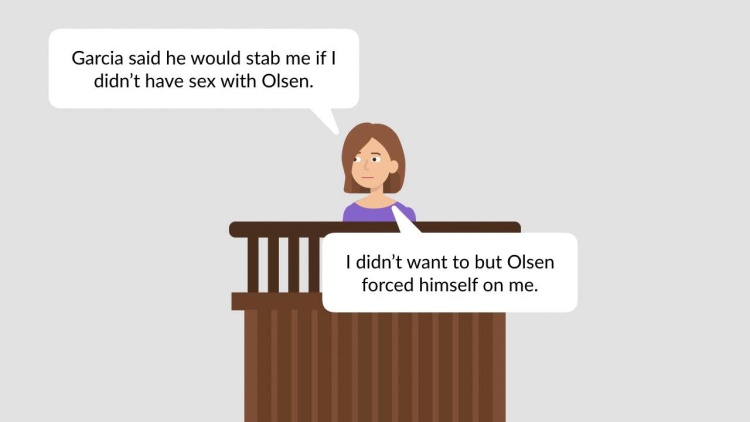 Facts
Shawn M., a female under the age of 14, slept in her family's camper parked in the driveway while out-of-town guests stayed in her room. On the third night, Shawn was awakened by the sound of barking dogs and by her "boyfriend," Garcia (defendant), standing over her with his hand over her mouth and a knife by his side. Garcia then told Olsen (defendant) to come into the camper and instructed Shawn to have sexual intercourse with Olsen or he would stab her. Shawn's father walked in on Olsen having sex with his daughter and attempted to pull him off of her when he was stabbed by Garcia. Garcia was charged with assault with a deadly weapon and both Garcia and Olsen were charged with burglary, forcible rape, lewd or lascivious acts upon a child under the age of 14 by use of force, and of violating § 288 of California's Penal Code, which stated: "[A]ny person who shall willfully and lewdly commit any lewd or lascivious act…upon or with the body, or any part of member thereof, of a child under the age of 14 years, with the intent of arousing, appealing to, or gratifying the lust or passions or sexual desires of such person or of such child, shall be guilty of a felony…" At trial, Shawn testified that she was good friends "off and on" with Olsen and that during one three-month period she spent nearly every day at Olsen's house. Shawn also admitted that she told both Garcia and Olsen that she was over 16-years-old. Garcia testified that on the day prior to the incident, he and Shawn had sex in the camper. Garcia then testified that Shawn invited him back the following night. When Olsen and Garcia showed up at the camper, Garcia testified that Shawn let them in the camper and that she wanted to "make love" to Olsen first. Garcia denied threatening Shawn with a knife. The jury found Garcia guilty of assault with a deadly weapon and found both Garcia and Olsen guilty of violating § 288 of the state's penal code. The jury also found Garcia and Olsen not guilty of burglary, forcible rape, and lewd or lascivious acts upon a child under the age of 14 by use of force. Garcia and Olsen appealed, arguing that a good faith belief as to the age of the victim is a defense to a § 288 charge.
Rule of Law
Issue
Holding and Reasoning

(Bird, C.J.)
Concurrence
What to do next…
Unlock this case brief with a free (no-commitment) trial membership of Quimbee.

You'll be in good company: Quimbee is one of the most widely used and trusted sites for law students, serving more than 518,000 law students since 2011. Some law schools—such as Yale, Berkeley, and Northwestern—even subscribe directly to Quimbee for all their law students.

Unlock this case brief

Read our student testimonials

Learn more about Quimbee's unique (and proven) approach to achieving great grades at law school.

Quimbee is a company hell-bent on one thing: helping you get an "A" in every course you take in law school, so you can graduate at the top of your class and get a high-paying law job. We're not just a study aid for law students; we're the study aid for law students.

Learn about our approach

Read more about Quimbee
Here's why 518,000 law students have relied on our case briefs:
Written by law professors and practitioners, not other law students. 22,300 briefs, keyed to 984 casebooks. Top-notch customer support.
The right amount of information, includes the facts, issues, rule of law, holding and reasoning, and any concurrences and dissents.
Access in your classes, works on your mobile and tablet. Massive library of related video lessons and high quality multiple-choice questions.
Easy to use, uniform format for every case brief. Written in plain English, not in legalese. Our briefs summarize and simplify; they don't just repeat the court's language.