From our private database of 30,900+ case briefs...
People v. Scott
California Supreme Court
927 P.2d 288 (1996)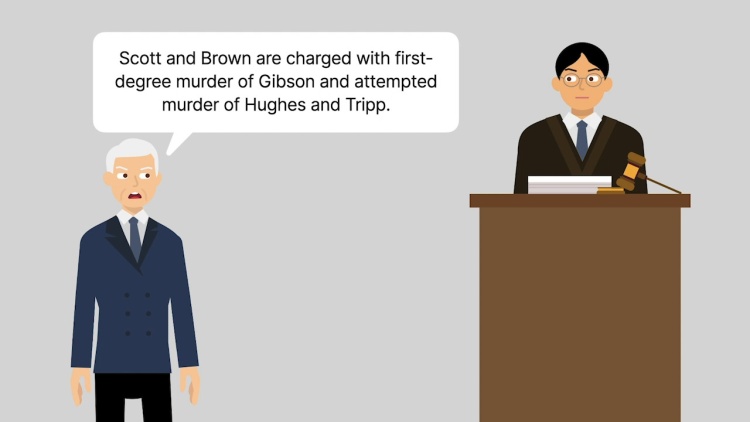 Facts
The romantic relationship between Calvin Hughes and Elaine Scott soured, and their interactions became increasingly hostile, resulting in a physical altercation one evening. Scott's adult sons, Damien Scott and Derrick Brown (defendants), came to their mother's aid and forced Hughes from the shared apartment. A few days later, Hughes and a friend drove to a neighborhood park. The defendants followed Hughes, drove into the park, and sprayed the area with bullets from an automatic weapon, intending to kill Hughes. Instead, a bystander was killed, and several others were injured by the gunfire. The defendants were indicted on several charges, including the murder of the bystander and attempted murder of Hughes and his friend. At the close of a second trial, the trial court instructed the jury on the doctrine of transferred intent as applied to murder. The defendants were convicted of second-degree murder and two counts of attempted murder. The defendants appealed. The court of appeals affirmed the convictions, rejecting the defendants' claim that transferred intent applies only if the prosecution charges a defendant with first-degree murder of the unintended victim and cannot apply if a defendant is charged with the attempted murder of the intended victim. The Supreme Court of California granted certiorari to review.
Rule of Law
Issue
Holding and Reasoning

(Brown, J.)
What to do next…
Unlock this case brief with a free (no-commitment) trial membership of Quimbee.

You'll be in good company: Quimbee is one of the most widely used and trusted sites for law students, serving more than 553,000 law students since 2011. Some law schools—such as Yale, Berkeley, and Northwestern—even subscribe directly to Quimbee for all their law students.

Unlock this case brief

Read our student testimonials

Learn more about Quimbee's unique (and proven) approach to achieving great grades at law school.

Quimbee is a company hell-bent on one thing: helping you get an "A" in every course you take in law school, so you can graduate at the top of your class and get a high-paying law job. We're not just a study aid for law students; we're the study aid for law students.

Learn about our approach

Read more about Quimbee
Here's why 553,000 law students have relied on our case briefs:
Written by law professors and practitioners, not other law students. 30,900 briefs, keyed to 984 casebooks. Top-notch customer support.
The right amount of information, includes the facts, issues, rule of law, holding and reasoning, and any concurrences and dissents.
Access in your classes, works on your mobile and tablet. Massive library of related video lessons and high quality multiple-choice questions.
Easy to use, uniform format for every case brief. Written in plain English, not in legalese. Our briefs summarize and simplify; they don't just repeat the court's language.