From our private database of 32,200+ case briefs...
Petrella v. Metro-Goldwyn-Mayer, Inc.
United States Supreme Court
572 U.S. 663 (2014)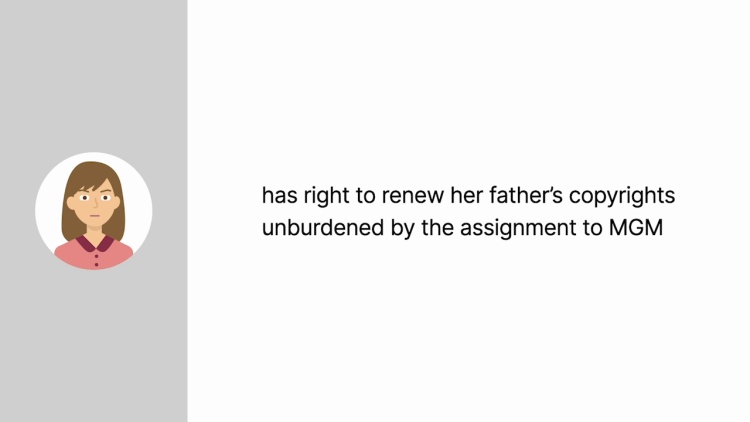 Facts
Jake La Motta was a famous boxing champion. After La Motta retired from boxing, La Motta and Frank Petrella wrote a book and two screenplays about La Motta's boxing career, each of which was copyrighted. One of the screenplays, which was registered for copyright in 1963, is at issue in this case. Frank Petrella and LaMotta assigned their rights in the book and screenplays to United Artists Corporation (defendant), a subsidiary of Metro-Goldwyn-Mayer, Incorporated (MGM) (defendant). The assignment granted exclusive rights to the works and purported to last forever, including during any renewal periods for the copyrights. MGM produced and released a film based on the works entitled Raging Bull. Raging Bull received critical acclaim, but did not make a significant profit until new versions of the film were released, which required a significant investment, about 20 years later. When Frank Petrella died in 1981, his interest in the copyrights was transferred to his daughter, Paula Petrella (plaintiff). Petrella renewed her copyright in the 1963 screenplay in 1991 and was the sole owner of the copyright. Petrella notified MGM of her copyright seven years later and asserted that any continued reproduction and distribution of Raging Bull constituted copyright infringement. MGM denied that Raging Bull infringed the copyright and continued to invest in new editions. In 2009, Petrella filed a copyright-infringement suit, seeking both injunctive and monetary relief for infringements that occurred within three years of filing. MGM moved for summary judgment based on the doctrine of laches, which the district court granted. Petrella appealed, and the circuit court affirmed the district court's decision. Petrella petitioned for a writ of certiorari.
Rule of Law
Issue
Holding and Reasoning

(Ginsburg, J.)
What to do next…
Unlock this case brief with a free (no-commitment) trial membership of Quimbee.

You'll be in good company: Quimbee is one of the most widely used and trusted sites for law students, serving more than 585,000 law students since 2011. Some law schools—such as Yale, Berkeley, and Northwestern—even subscribe directly to Quimbee for all their law students.

Unlock this case brief

Read our student testimonials

Learn more about Quimbee's unique (and proven) approach to achieving great grades at law school.

Quimbee is a company hell-bent on one thing: helping you get an "A" in every course you take in law school, so you can graduate at the top of your class and get a high-paying law job. We're not just a study aid for law students; we're the study aid for law students.

Learn about our approach

Read more about Quimbee
Here's why 585,000 law students have relied on our case briefs:
Written by law professors and practitioners, not other law students. 32,200 briefs, keyed to 984 casebooks. Top-notch customer support.
The right amount of information, includes the facts, issues, rule of law, holding and reasoning, and any concurrences and dissents.
Access in your classes, works on your mobile and tablet. Massive library of related video lessons and high quality multiple-choice questions.
Easy to use, uniform format for every case brief. Written in plain English, not in legalese. Our briefs summarize and simplify; they don't just repeat the court's language.