Plaut v. Spendthrift Farm, Inc.
United States Supreme Court
514 U.S. 211 (1995)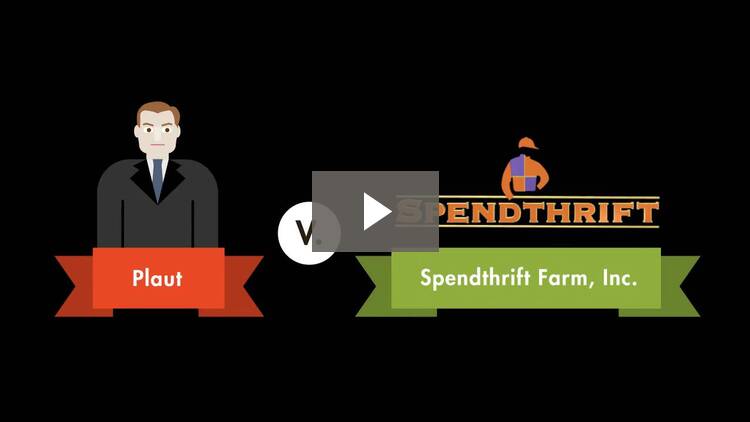 ---
Facts
In 1987, Ed Plaut (plaintiff) and several other Spendthrift Farm shareholders brought suit against Spendthrift Farm, Inc. (defendant), claiming that certain previous stock sales of the corporation in 1983 and 1984 violated Section 10(b) and Rule 10(b)(5) of the Securities and Exchange Act of 1934. The Supreme Court later ruled in 1991 that any actions brought under these provisions of the Securities and Exchange Act had to be brought within one year of discovering the facts giving rise to the violation, and within three years of the violation itself. The plaintiff shareholders' actions did not meet the statute of limitations, so a district court judge dismissed the suit in August 1991. Later, in December 1991, Congress passed the Federal Deposit Insurance Corporation (FDIC) Improvement Act, which required the courts to reinstate cases dismissed because they violated the statute of limitations created by the Supreme Court's 1991 decision. Shareholders then filed a motion to reinstate their actions. However, the district court denied their motion on the grounds that the FDIC Improvement Act itself was unconstitutional because Congress violated the Constitution's separation of powers when it required the courts to reopen matters that had previously received final judgments. Shareholders appealed, but the Sixth Circuit affirmed the lower court's decision on the same grounds.
Rule of Law
Issue
Holding and Reasoning
(Scalia, J.)
The holding and reasoning section includes:
A "yes" or "no" answer to the question framed in the issue section;
A summary of the majority or plurality opinion, using the CREAC method; and
The procedural disposition (e.g. reversed and remanded, affirmed, etc.).
To access this section, start your 7-day free trial of Quimbee for Law Students.
Concurrence
(Breyer, J.)