From our private database of 28,500+ case briefs...
Pohl v. County of Furnas
United States Court of Appeals for the Eighth Circuit
682 F.3d 745 (2012)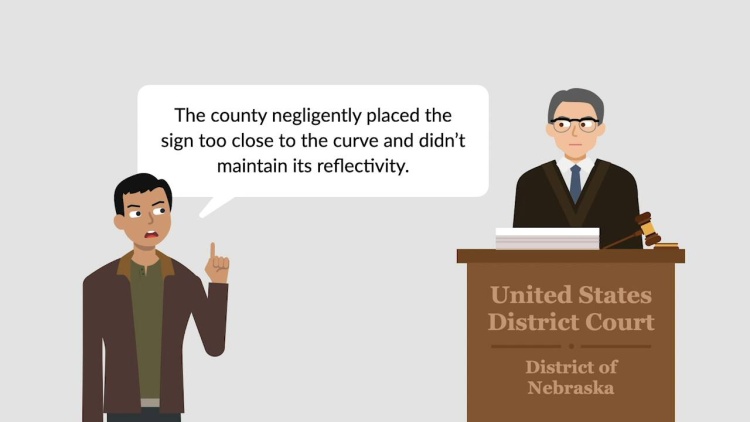 Facts
Juston Pohl (plaintiff), a resident of Michigan, was driving one night on unfamiliar roadways in rural Nebraska in an attempt to reach a friend's farmhouse when he ran off of the road, hit an embankment, and the car rolled down a hill. Pohl suffered serious injuries. At the time, Pohl was traveling approximately 63 miles per hour, in a 50 mile per hour zone. He did not see the posted sign warning of a sharp curve in the road ahead. Pohl filed a diversity suit for negligence in federal district court against the County of Furnas (the County) (defendant) for its improper placement of the warning sign and failure to maintain the sign. At trial, an expert for Pohl testified that the warning sign was severely deficient and failed to adhere to standards set by the U.S. Department of Transportation. The expert further testified that the warning sign was heavily scratched and, consequently, lacked the necessary retro-reflection to provide oncoming drivers with adequate notice of the curve in the road. The district court found the County negligent in its failure to maintain the warning sign and Pohl negligent in driving 13 miles over the speed limit. The court allocated 60 percent of the negligence to the County and 40 percent to Pohl. Pohl was awarded damages, which were reduced by his comparative negligence. The County appealed and Pohl cross-appealed the district court's findings.
Rule of Law
Issue
Holding and Reasoning

(Murphy, J.)
What to do next…
Unlock this case brief with a free (no-commitment) trial membership of Quimbee.

You'll be in good company: Quimbee is one of the most widely used and trusted sites for law students, serving more than 545,000 law students since 2011. Some law schools—such as Yale, Berkeley, and Northwestern—even subscribe directly to Quimbee for all their law students.

Unlock this case brief

Read our student testimonials

Learn more about Quimbee's unique (and proven) approach to achieving great grades at law school.

Quimbee is a company hell-bent on one thing: helping you get an "A" in every course you take in law school, so you can graduate at the top of your class and get a high-paying law job. We're not just a study aid for law students; we're the study aid for law students.

Learn about our approach

Read more about Quimbee
Here's why 545,000 law students have relied on our case briefs:
Written by law professors and practitioners, not other law students. 28,500 briefs, keyed to 983 casebooks. Top-notch customer support.
The right amount of information, includes the facts, issues, rule of law, holding and reasoning, and any concurrences and dissents.
Access in your classes, works on your mobile and tablet. Massive library of related video lessons and high quality multiple-choice questions.
Easy to use, uniform format for every case brief. Written in plain English, not in legalese. Our briefs summarize and simplify; they don't just repeat the court's language.