From our private database of 22,300+ case briefs...
Rubenstein v. Rubenstein
Supreme Court of New Jersey
120 A.2d 11 (1956)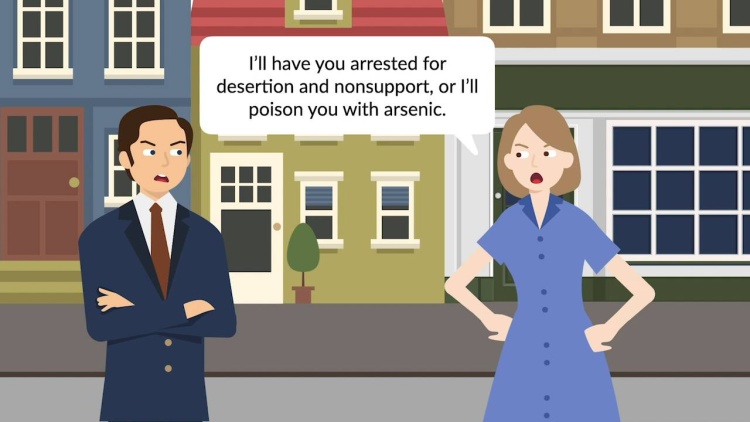 Facts
Mr. Rubenstein (plaintiff) and Mrs. Rubenstein (defendant) are married but separated. They have two children. In 1952, their oldest child was diagnosed with "childhood schizophrenia." Mr. and Mrs. Rubenstein strongly disagreed over the best course of treatment for their child. This disagreement led to their separation. Mr. and Mrs. Rubenstein owned several large pieces of property in tenancy by the entirety. Mrs. Rubenstein asked Mr. Rubenstein to transfer all of the property solely to her. She promised to care for their two children out of the income earned from the property. Mr. Rubenstein initially refused. In December 1952, Mrs. Rubenstein began threatening Mr. Rubenstein to attempt to convince him to transfer the property to her. Mr. Rubenstein testified that Mrs. Rubenstein threatened him with gangster violence, arsenic poisoning, and arrest. Mr. Rubenstein was particularly troubled by the threat of arsenic poisoning, and Mrs. Rubenstein's father was currently in prison on a charge of murder committed while he was a member of an "arsenic ring." In April 1953, Mr. Rubenstein responded to the threats by agreeing to transfer the property solely to his wife. Mr. Rubenstein brought suit against Mrs. Rubenstein in New Jersey state court, seeking to recover the property on the ground that he was induced to transfer it to Mrs. Rubenstein through duress. The trial court granted Mrs. Rubenstein's motion to dismiss, and the appellate court affirmed. Mr. Rubenstein appealed.
Rule of Law
Issue
Holding and Reasoning

(Heher, J.)
What to do next…
Unlock this case brief with a free (no-commitment) trial membership of Quimbee.

You'll be in good company: Quimbee is one of the most widely used and trusted sites for law students, serving more than 518,000 law students since 2011. Some law schools—such as Yale, Berkeley, and Northwestern—even subscribe directly to Quimbee for all their law students.

Unlock this case brief

Read our student testimonials

Learn more about Quimbee's unique (and proven) approach to achieving great grades at law school.

Quimbee is a company hell-bent on one thing: helping you get an "A" in every course you take in law school, so you can graduate at the top of your class and get a high-paying law job. We're not just a study aid for law students; we're the study aid for law students.

Learn about our approach

Read more about Quimbee
Here's why 518,000 law students have relied on our case briefs:
Written by law professors and practitioners, not other law students. 22,300 briefs, keyed to 984 casebooks. Top-notch customer support.
The right amount of information, includes the facts, issues, rule of law, holding and reasoning, and any concurrences and dissents.
Access in your classes, works on your mobile and tablet. Massive library of related video lessons and high quality multiple-choice questions.
Easy to use, uniform format for every case brief. Written in plain English, not in legalese. Our briefs summarize and simplify; they don't just repeat the court's language.