From our private database of 26,900+ case briefs...
State ex rel. Hayes Oyster Co. v. Keypoint Oyster Co.
Washington Supreme Court
391 P.2d 979 (Wash. 1964)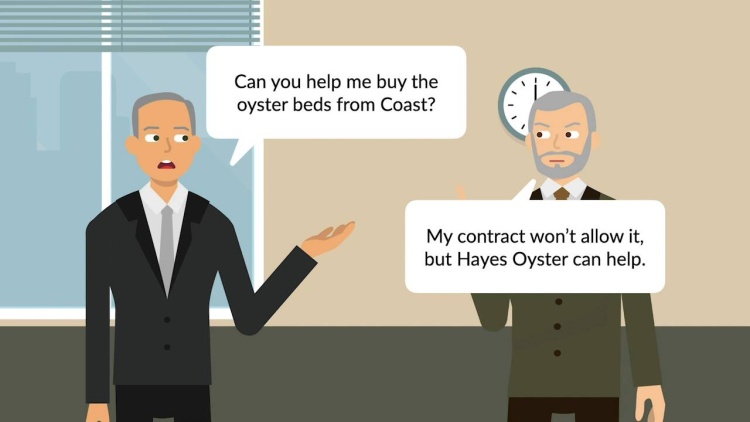 Facts
Coast Oyster Co. (Coast) was a publicly held company that owned oyster beds. Verne Hayes (Verne) was chief executive officer, director, and major stakeholder. Under his employment contract, Verne was not allowed to compete against Coast. Verne also co-owned Hayes Oyster Co. (Hayes) with his brother, Sam. The Coast employment agreement included an exception to its noncompete provision for Verne's dealings with Hayes. Coast had financial difficulties, and Verne proposed that Coast sell two oyster beds. Verne then negotiated for another Coast employee, Engman, to buy the beds on behalf of a to-be-formed corporation, Keypoint Oyster Co. (Keypoint) (defendant), with financing from Hayes. Engman and Verne would each own half of Keypoint's shares. Coast's board approved the sale for $250,000, with Verne voting a majority of the company's shares between his own and those for which he held proxies. Verne did not disclose his or Hayes's involvement with Keypoint. After Verne received his Keypoint stock, he had Coast make a payment that was Keypoint's obligation under the sale contract. Verne later sold his Coast shares and settled his employment contract. Coast then sued Verne and Sam, seeking their Keypoint shares and disgorgement of any profits Hayes derived from the oyster bed sale. The trial court found for the Hayeses, concluding that Verne had breached no duty to Coast. Coast appealed, arguing that even though the Keypoint transaction was otherwise fair, Verne should have to turn over his secret profits.
Rule of Law
Issue
Holding and Reasoning

(Denney, J.)
What to do next…
Unlock this case brief with a free (no-commitment) trial membership of Quimbee.

You'll be in good company: Quimbee is one of the most widely used and trusted sites for law students, serving more than 541,000 law students since 2011. Some law schools—such as Yale, Berkeley, and Northwestern—even subscribe directly to Quimbee for all their law students.

Unlock this case brief

Read our student testimonials

Learn more about Quimbee's unique (and proven) approach to achieving great grades at law school.

Quimbee is a company hell-bent on one thing: helping you get an "A" in every course you take in law school, so you can graduate at the top of your class and get a high-paying law job. We're not just a study aid for law students; we're the study aid for law students.

Learn about our approach

Read more about Quimbee
Here's why 541,000 law students have relied on our case briefs:
Written by law professors and practitioners, not other law students. 26,900 briefs, keyed to 983 casebooks. Top-notch customer support.
The right amount of information, includes the facts, issues, rule of law, holding and reasoning, and any concurrences and dissents.
Access in your classes, works on your mobile and tablet. Massive library of related video lessons and high quality multiple-choice questions.
Easy to use, uniform format for every case brief. Written in plain English, not in legalese. Our briefs summarize and simplify; they don't just repeat the court's language.