From our private database of 22,300+ case briefs...
Steinberg v. Columbia Pictures Industries, Inc.
United States District Court for the Southern District of New York
663 F.Supp. 706 (S.D.N.Y. 1987)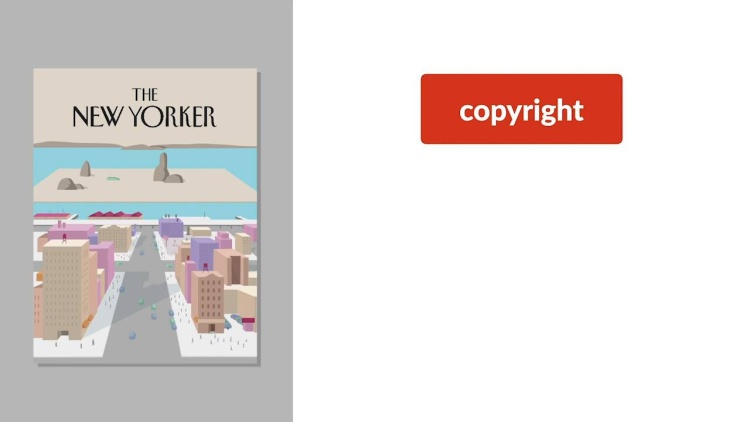 Facts
In March 1976, the New Yorker magazine published a drawing of New York City (NYC) by Saul Steinberg (plaintiff) on its front cover. The drawing was meant to depict the New York-centric view through which New Yorkers tended to experience the world, by representing four city blocks in the foreground with detail becoming less visible as the gaze moved toward the background, over the Hudson River and to other cities and countries. In addition to the general design, the drawing included several distinctive features, including the lettering used to label the streets; certain building facades, which were meant to represent the style of buildings in the West; and a wide boulevard used as the road ending at the Hudson River. The executive art director for Columbia Pictures Industries, Incorporated (Columbia) (defendant), Kevin Nolan, was tasked with making the movie poster for Moscow on the Hudson. Nolan admitted that he had seen Steinberg's New Yorker cover and that he kept a print of the cover in his office. The movie poster for Moscow on the Hudson ultimately showed four city blocks, with more detail at the foreground and less detail as the viewer's gaze moved toward the background, over the ocean to other cities and countries. The Hudson River was depicted in the foreground, some NYC landmarks were added in the represented city blocks, and the names of the streets were changed. However, the lettering used and some building facades looked like those in Steinberg's drawing, and the main boulevard extending to the water was also wide to allow for two-way traffic. Steinberg sued Columbia, some of Columbia's affiliates, and some newspapers that published the movie poster for copyright infringement. Steinberg moved for summary judgment.
Rule of Law
Issue
Holding and Reasoning

(Stanton, J.)
What to do next…
Unlock this case brief with a free (no-commitment) trial membership of Quimbee.

You'll be in good company: Quimbee is one of the most widely used and trusted sites for law students, serving more than 517,000 law students since 2011. Some law schools—such as Yale, Berkeley, and Northwestern—even subscribe directly to Quimbee for all their law students.

Unlock this case brief

Read our student testimonials

Learn more about Quimbee's unique (and proven) approach to achieving great grades at law school.

Quimbee is a company hell-bent on one thing: helping you get an "A" in every course you take in law school, so you can graduate at the top of your class and get a high-paying law job. We're not just a study aid for law students; we're the study aid for law students.

Learn about our approach

Read more about Quimbee
Here's why 517,000 law students have relied on our case briefs:
Written by law professors and practitioners, not other law students. 22,300 briefs, keyed to 984 casebooks. Top-notch customer support.
The right amount of information, includes the facts, issues, rule of law, holding and reasoning, and any concurrences and dissents.
Access in your classes, works on your mobile and tablet. Massive library of related video lessons and high quality multiple-choice questions.
Easy to use, uniform format for every case brief. Written in plain English, not in legalese. Our briefs summarize and simplify; they don't just repeat the court's language.