From our private database of 32,200+ case briefs...
Steinberg v. United States
United States Court of Federal Claims
90 Fed. Cl. 435 (2009)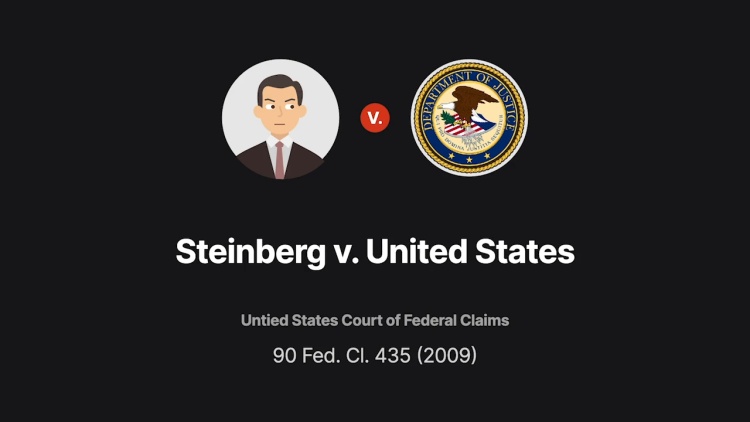 Facts
The Joint Congressional Committee on Inaugural Ceremonies (JCCIC) distributed 240,000 free tickets for the 2009 presidential inauguration to the general public through congressional offices. The tickets warned attendees "to arrive early due to large crowds." Attorney Michael Steinberg (plaintiff) contacted his congressperson and a staff member emailed saying he could pick up tickets himself or have someone else pick them up if he supplied contact information. Steinberg picked up his tickets himself, travelled to D.C. with a guest, arrived several hours beforehand and stood in line, but ultimately did not get in to see the inauguration. Steinberg sued the United States to recover his travel expenses under a contract theory, claiming that having to pick up the tickets in person supplied consideration for a valid contract. Steinberg argued that the JCCIC knew many ticket holders would not get in and had a contractual duty to advise him publicly of that fact before he incurred travel expenses. The government moved to dismiss on the ground that Steinberg could not recover for breach of contract. [Ed.'s note: Steinberg also asserted promissory-estoppel claims, but those were omitted from the textbook version of the opinion as a later chapter addresses promissory estoppel.]
Rule of Law
Issue
Holding and Reasoning

(Hewitt, C.J.)
What to do next…
Unlock this case brief with a free (no-commitment) trial membership of Quimbee.

You'll be in good company: Quimbee is one of the most widely used and trusted sites for law students, serving more than 585,000 law students since 2011. Some law schools—such as Yale, Berkeley, and Northwestern—even subscribe directly to Quimbee for all their law students.

Unlock this case brief

Read our student testimonials

Learn more about Quimbee's unique (and proven) approach to achieving great grades at law school.

Quimbee is a company hell-bent on one thing: helping you get an "A" in every course you take in law school, so you can graduate at the top of your class and get a high-paying law job. We're not just a study aid for law students; we're the study aid for law students.

Learn about our approach

Read more about Quimbee
Here's why 585,000 law students have relied on our case briefs:
Written by law professors and practitioners, not other law students. 32,200 briefs, keyed to 984 casebooks. Top-notch customer support.
The right amount of information, includes the facts, issues, rule of law, holding and reasoning, and any concurrences and dissents.
Access in your classes, works on your mobile and tablet. Massive library of related video lessons and high quality multiple-choice questions.
Easy to use, uniform format for every case brief. Written in plain English, not in legalese. Our briefs summarize and simplify; they don't just repeat the court's language.