From our private database of 22,300+ case briefs...
Stepp v. Freeman
Ohio Court of Appeals
694 N.E.2d 792 (1997)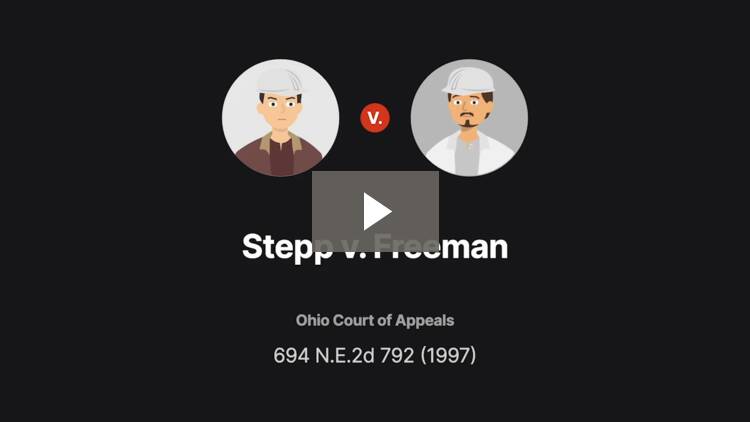 Facts
Lionel Stepp (plaintiff) and Donald Freeman (defendant) were co-workers and members of a group of 20 fellow employees in a weekly lottery pool. The group had regularly purchased lottery tickets for over five years and although there were no written rules about how the group functioned, there were established patterns of conduct. In fact, there was a waiting list of employees wanting to be added to the group. Freeman was the organizer of the group. He kept a list of the members on a card and informed the members when the lottery reached $8 million and tickets would be purchased. Each member contributed $2.20 to the pool and, sometimes, a member would cover another group member's payment if that employee was on vacation or sick. No member had ever been unilaterally removed from the group by Freeman for failure to timely pay his or her share. After Freeman and Stepp had a serious work-related argument, Freeman did not ask for Stepp's $2.20 ticket-buying share the following week. Freeman also did not inform Stepp that the lottery had reached $8 million and that the group was going to purchase tickets. The group won the lottery that week but Stepp was denied his share by Freeman because he had not paid. Stepp filed suit against Freeman for breach of express contract, breach of implied contract, and equitable estoppel. A magistrate found in favor of Stepp and a trial court concurred with the findings. Freeman appealed.
Rule of Law
Issue
Holding and Reasoning

(Young, J.)
What to do next…
Unlock this case brief with a free (no-commitment) trial membership of Quimbee.

You'll be in good company: Quimbee is one of the most widely used and trusted sites for law students, serving more than 518,000 law students since 2011. Some law schools—such as Yale, Berkeley, and Northwestern—even subscribe directly to Quimbee for all their law students.

Unlock this case brief

Read our student testimonials

Learn more about Quimbee's unique (and proven) approach to achieving great grades at law school.

Quimbee is a company hell-bent on one thing: helping you get an "A" in every course you take in law school, so you can graduate at the top of your class and get a high-paying law job. We're not just a study aid for law students; we're the study aid for law students.

Learn about our approach

Read more about Quimbee
Here's why 518,000 law students have relied on our case briefs:
Written by law professors and practitioners, not other law students. 22,300 briefs, keyed to 984 casebooks. Top-notch customer support.
The right amount of information, includes the facts, issues, rule of law, holding and reasoning, and any concurrences and dissents.
Access in your classes, works on your mobile and tablet. Massive library of related video lessons and high quality multiple-choice questions.
Easy to use, uniform format for every case brief. Written in plain English, not in legalese. Our briefs summarize and simplify; they don't just repeat the court's language.