From our private database of 32,100+ case briefs...
Thomsen v. Greve
Court of Appeals of Nebraska
550 N.W.2d 49 (1996)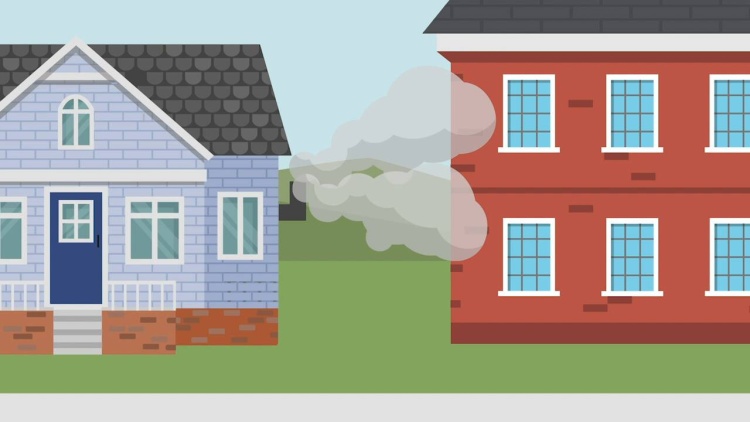 Facts
Elmer and Phyllis Thomsen (plaintiffs) owned land adjacent to Ron and Nancy Greve (defendants). The Greves installed a wood-burning stove on their property and used it as their primary heat source. The Thomsens complained about odor and smoke from the stove and sued for an injunction and damages, alleging the stove was a nuisance. At trial, the Thomsens testified smoke entered their house 140 times over four years, had a noxious smell that they believed was from burning creosote, and made them physically ill. The Thomsens further testified the smoke sometimes prevented them from sleeping, forced them to leave their home, infiltrated their home to such a degree that the clothes dryer was filled with it, and prevented them from having visitors. The Greves testified the smoke was not malodorous, because they only burned wood and never burned anything containing creosote. The Greves and the Thomsens presented witnesses to collaborate their testimony. Three witnesses, the police chief and two village board members, testified they did not smell creosote but did smell a strong odor of smoke in and around the Thomsens' house. There was no source of smoke other than the stove. The trial court found the smoke a nuisance and ordered the Greves to raise the height of the chimney by three feet and burn only clean, dry firewood. The trial court further found the Thomsens had failed to prove damages. The Thomsens appealed, and the Greves cross-appealed. The Greves argued the wood-burning stove was not a nuisance as a matter of both law and fact. The Thomsens argued the stove was a nuisance that merited an award of damages.
Rule of Law
Issue
Holding and Reasoning

(Hannon, J.)
What to do next…
Unlock this case brief with a free (no-commitment) trial membership of Quimbee.

You'll be in good company: Quimbee is one of the most widely used and trusted sites for law students, serving more than 583,000 law students since 2011. Some law schools—such as Yale, Berkeley, and Northwestern—even subscribe directly to Quimbee for all their law students.

Unlock this case brief

Read our student testimonials

Learn more about Quimbee's unique (and proven) approach to achieving great grades at law school.

Quimbee is a company hell-bent on one thing: helping you get an "A" in every course you take in law school, so you can graduate at the top of your class and get a high-paying law job. We're not just a study aid for law students; we're the study aid for law students.

Learn about our approach

Read more about Quimbee
Here's why 583,000 law students have relied on our case briefs:
Written by law professors and practitioners, not other law students. 32,100 briefs, keyed to 984 casebooks. Top-notch customer support.
The right amount of information, includes the facts, issues, rule of law, holding and reasoning, and any concurrences and dissents.
Access in your classes, works on your mobile and tablet. Massive library of related video lessons and high quality multiple-choice questions.
Easy to use, uniform format for every case brief. Written in plain English, not in legalese. Our briefs summarize and simplify; they don't just repeat the court's language.