From our private database of 22,600+ case briefs...
Trivedi v. Cooper
United States District Court for the Southern District of New York
1996 U.S. Dist. LEXIS 18715 (S.D.N.Y. 1996)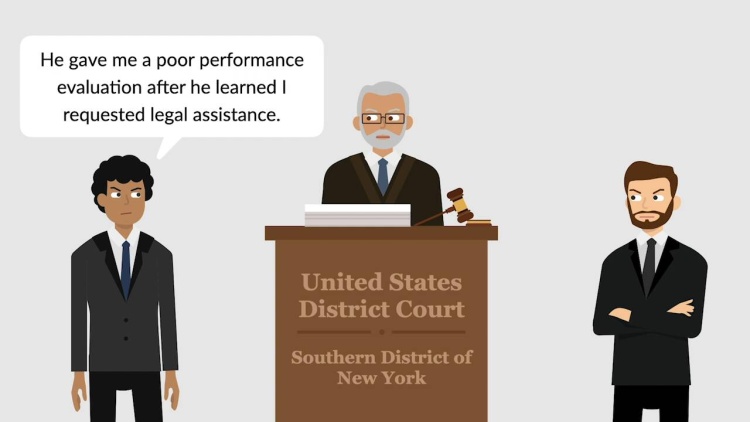 Facts
Vipin Trivedi (plaintiff) worked as a scientific researcher in the New York State Office of Mental Health from 1982 to 1995. Thomas Cooper (defendant) supervised Trivedi. In 1995, Trivedi sued Cooper in the United States District Court for the Southern District of New York for employment discrimination under 42 U.S.C. §§ 1981, 1983 and N.Y. Exec. Law § 296 (McKinney 1996). Trivedi was of East Indian national origin and claimed that on this basis Cooper harassed him, prevented him from being promoted, and retaliated against him for attempting to vindicate his legal rights. In rebuttal, Cooper offered evidence that Trivedi behaved bizarrely and suffered from mental illness. Cooper moved for a directed verdict on the retaliation and failure to promote claims at the end of Trivedi's case in chief, which was denied. The jury returned a verdict for Trivedi and awarded damages of $700,000 for pain and suffering, compensatory damages for back pay, and nominal damages of $1. Cooper then moved for judgment as a matter of law (JMOL) or a new trial.
Rule of Law
Issue
Holding and Reasoning

(Cote, J.)
What to do next…
Unlock this case brief with a free (no-commitment) trial membership of Quimbee.

You'll be in good company: Quimbee is one of the most widely used and trusted sites for law students, serving more than 519,000 law students since 2011. Some law schools—such as Yale, Berkeley, and Northwestern—even subscribe directly to Quimbee for all their law students.

Unlock this case brief

Read our student testimonials

Learn more about Quimbee's unique (and proven) approach to achieving great grades at law school.

Quimbee is a company hell-bent on one thing: helping you get an "A" in every course you take in law school, so you can graduate at the top of your class and get a high-paying law job. We're not just a study aid for law students; we're the study aid for law students.

Learn about our approach

Read more about Quimbee
Here's why 519,000 law students have relied on our case briefs:
Written by law professors and practitioners, not other law students. 22,600 briefs, keyed to 984 casebooks. Top-notch customer support.
The right amount of information, includes the facts, issues, rule of law, holding and reasoning, and any concurrences and dissents.
Access in your classes, works on your mobile and tablet. Massive library of related video lessons and high quality multiple-choice questions.
Easy to use, uniform format for every case brief. Written in plain English, not in legalese. Our briefs summarize and simplify; they don't just repeat the court's language.