From our private database of 32,100+ case briefs...
Turyna v. Martam Construction Co., Inc.
United States Court of Appeals for the Seventh Circuit
83 F.3d 178 (1996)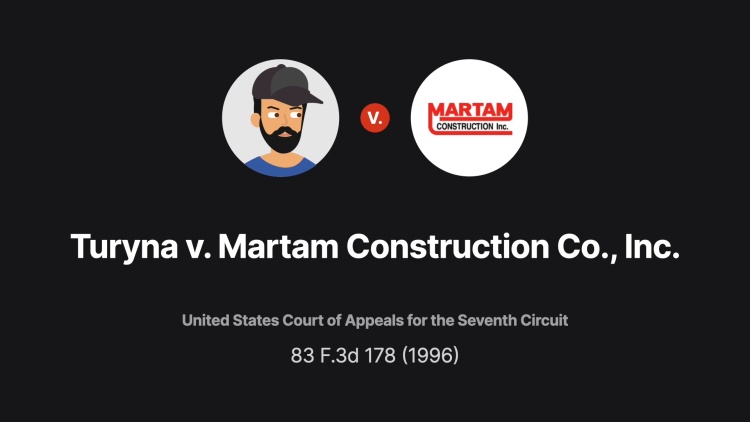 Facts
Brad Turyna (plaintiff) was fired from his job as a truck driver for Martam Construction Co., Inc. (Martam) (defendant). Turyna sued Martam, its owner Tamas Kutrovacs, and vice president Claude Koenig (defendants) for (I) back overtime pay under the Fair Labor Standards Act (FLSA), 29 U.S.C. § 201, (II) retaliatory firing under the FLSA and in violation of Illinois public policy, and (III) breach of contract. The court entered summary judgment for the defendants with respect to the breach of contract claim, but the remaining questions were put to the jury. The judge instructed the jury that if it found in favor of the defendants on both counts it did not have to address the question of damages. The judge instructed further that if the jury found in favor of Turyna on Count I or either of the two parts of Count II, damages would have to be assessed. The jury was given a verdict form that was neither a special verdict form nor a general verdict form. The jury found for Turyna on Count I and the defendants on Count II. Under Count II, the jury filled in the blank awarding Turyna $3,109.22 in unpaid overtime pay. The form then asked the jury whether it awarded Turyna "punitive damages under Count II." The jury filled in a punitive damage award against Martam for $35,618.01. Neither party's attorney was present when the jury returned its verdict, and the court entered judgment for Turyna with compensatory, liquidated, and punitive damages. Martam moved the court to set aside the punitive damage award pursuant to Rule 59(e) of the Federal Rules of Civil Procedure (FRCP) on the ground that it was inconsistent with the jury's finding that the defendants were not liable for retaliatory firing under either part of Count II. The court denied the motion, and the defendants appealed to the United States Court of Appeals for the Seventh Circuit.
Rule of Law
Issue
Holding and Reasoning

(Wood, J.)
What to do next…
Unlock this case brief with a free (no-commitment) trial membership of Quimbee.

You'll be in good company: Quimbee is one of the most widely used and trusted sites for law students, serving more than 583,000 law students since 2011. Some law schools—such as Yale, Berkeley, and Northwestern—even subscribe directly to Quimbee for all their law students.

Unlock this case brief

Read our student testimonials

Learn more about Quimbee's unique (and proven) approach to achieving great grades at law school.

Quimbee is a company hell-bent on one thing: helping you get an "A" in every course you take in law school, so you can graduate at the top of your class and get a high-paying law job. We're not just a study aid for law students; we're the study aid for law students.

Learn about our approach

Read more about Quimbee
Here's why 583,000 law students have relied on our case briefs:
Written by law professors and practitioners, not other law students. 32,100 briefs, keyed to 984 casebooks. Top-notch customer support.
The right amount of information, includes the facts, issues, rule of law, holding and reasoning, and any concurrences and dissents.
Access in your classes, works on your mobile and tablet. Massive library of related video lessons and high quality multiple-choice questions.
Easy to use, uniform format for every case brief. Written in plain English, not in legalese. Our briefs summarize and simplify; they don't just repeat the court's language.