From our private database of 32,200+ case briefs...
United States v. Check
United States Court of Appeals for the Second Circuit
582 F.2d 668 (1978)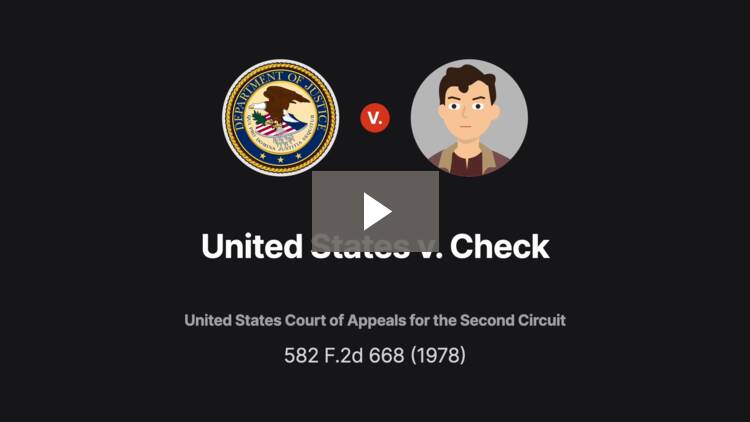 Facts
Stephen Spinelli, a detective in the New York City Police Department, was assigned to investigate allegations against Sandy Check (defendant), a New York City police patrolman. Spinelli's investigation involved posing as a potential purchaser of cocaine and working with an informant, William Joseph Cali, to set up a meeting with Check. At Check's trial, Spinelli testified that Cali arranged a meeting with Check and pursuant to that arrangement, Spinelli and Cali met at a restaurant. Then Check appeared in the window and motioned for Cali to go outside and speak with him. After Cali spoke with Check, Cali returned to speak with Spinelli. Spinelli further testified that after concluding his conversation with Cali, Spinelli left the restaurant and went to a topless bar where he had another conversation with Cali, after which Check indicated that he wanted to speak with Spinelli directly. Cali refused to testify at trial. To introduce the substance of Spinelli's conversations with Cali without violating the hearsay rule, the government (plaintiff) asked Spinelli to repeat what Spinelli said to Cali, without repeating Cali's statements to Spinelli. Spinelli's testimony included, inter alia, statements that: (1) Spinelli would not front the money for the cocaine that Check was to purchase for Spinelli, (2) Spinelli was unhappy that Check did not bring the cocaine which Check instead left at his house, and (3) Spinelli was unwilling to pay Check $300 that Cali owed Check from a previous deal. In response to Check's hearsay objections, the government asserted that Spinelli's testimony was admissible because it consisted of his own prior statements and that he was subject to cross examination. The district court denied Check's motion to strike all of Spinelli's testimony regarding his conversations with Check. Check was convicted of cocaine possession with intent to distribute and appealed to the United States Circuit Court for the Second Circuit. Check asserted on appeal that the court erred in allowing Spinelli's testimony because it served merely as a conduit for inadmissible hearsay evidence.
Rule of Law
Issue
Holding and Reasoning

(Waterman, J.)
What to do next…
Unlock this case brief with a free (no-commitment) trial membership of Quimbee.

You'll be in good company: Quimbee is one of the most widely used and trusted sites for law students, serving more than 585,000 law students since 2011. Some law schools—such as Yale, Berkeley, and Northwestern—even subscribe directly to Quimbee for all their law students.

Unlock this case brief

Read our student testimonials

Learn more about Quimbee's unique (and proven) approach to achieving great grades at law school.

Quimbee is a company hell-bent on one thing: helping you get an "A" in every course you take in law school, so you can graduate at the top of your class and get a high-paying law job. We're not just a study aid for law students; we're the study aid for law students.

Learn about our approach

Read more about Quimbee
Here's why 585,000 law students have relied on our case briefs:
Written by law professors and practitioners, not other law students. 32,200 briefs, keyed to 984 casebooks. Top-notch customer support.
The right amount of information, includes the facts, issues, rule of law, holding and reasoning, and any concurrences and dissents.
Access in your classes, works on your mobile and tablet. Massive library of related video lessons and high quality multiple-choice questions.
Easy to use, uniform format for every case brief. Written in plain English, not in legalese. Our briefs summarize and simplify; they don't just repeat the court's language.