From our private database of 28,700+ case briefs...
United States v. Havens
United States Supreme Court
446 U.S. 620, 100 S.Ct. 1912, 64 L.Ed.2d 559 (1980)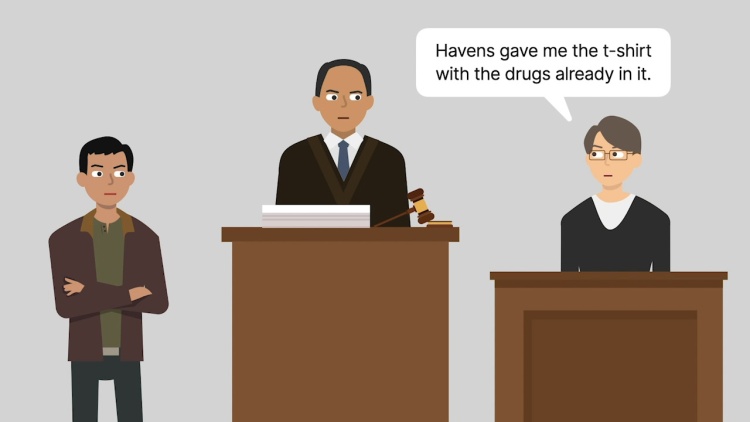 Facts
A customs officer at the Miami airport searched John McLeroth after his flight arrived from Lima, Peru. The officer found packets of cocaine sewn into pockets on McLeroth's T-shirt. McLeroth told the officer that Havens (defendant), who was on the same flight and had cleared customs, was responsible for sewing the cocaine pockets onto his T-shirt. Havens was arrested and his suitcase searched without a warrant. The officers found a T-shirt with cut-out sections that corresponded in size and shape to the pockets sewn onto McLeroth's T-shirt. However, this evidence was suppressed on a pre-trial motion. McLeroth testified against Havens at his trial for conspiracy to import, importing, and intentional possession of a controlled substance. McLeroth testified that Havens sewed the pockets and gave the T-shirt to McLeroth. Havens took the stand and responded on direct examination that he had not been involved with the "material" that was "taped or draped around [McLeroth's] body." On cross-examination, the court allowed the United States (the government) (plaintiff) to ask Havens about the T-shirt in his suitcase, including whether sections of the T-shirt were missing and if he knew that the T-shirt was in his luggage. Havens denied knowledge of the T-shirt. On rebuttal, the government had a government agent testify that the T-shirt with missing sections had been found in Havens's luggage and regarding alleged statements by Havens regarding the T-shirt in his luggage. The district court instructed the jury to consider the evidence presented on rebuttal solely for impeachment purposes. Havens was convicted and appealed his conviction to the Court of Appeals, which reversed. The appellate court held that illegally obtained evidence was not admissible for impeachment unless used to contradict a statement made by the defendant during direct examination. The government appealed to the United States Supreme Court.
Rule of Law
Issue
Holding and Reasoning

(White, J.)
Dissent
(Brennan, J.)
What to do next…
Unlock this case brief with a free (no-commitment) trial membership of Quimbee.

You'll be in good company: Quimbee is one of the most widely used and trusted sites for law students, serving more than 546,000 law students since 2011. Some law schools—such as Yale, Berkeley, and Northwestern—even subscribe directly to Quimbee for all their law students.

Unlock this case brief

Read our student testimonials

Learn more about Quimbee's unique (and proven) approach to achieving great grades at law school.

Quimbee is a company hell-bent on one thing: helping you get an "A" in every course you take in law school, so you can graduate at the top of your class and get a high-paying law job. We're not just a study aid for law students; we're the study aid for law students.

Learn about our approach

Read more about Quimbee
Here's why 546,000 law students have relied on our case briefs:
Written by law professors and practitioners, not other law students. 28,700 briefs, keyed to 983 casebooks. Top-notch customer support.
The right amount of information, includes the facts, issues, rule of law, holding and reasoning, and any concurrences and dissents.
Access in your classes, works on your mobile and tablet. Massive library of related video lessons and high quality multiple-choice questions.
Easy to use, uniform format for every case brief. Written in plain English, not in legalese. Our briefs summarize and simplify; they don't just repeat the court's language.