From our private database of 28,500+ case briefs...
X.L.O. Concrete Corp. v. Rivergate Corp.
New York Court of Appeals
634 N.E.2d 158 (1994)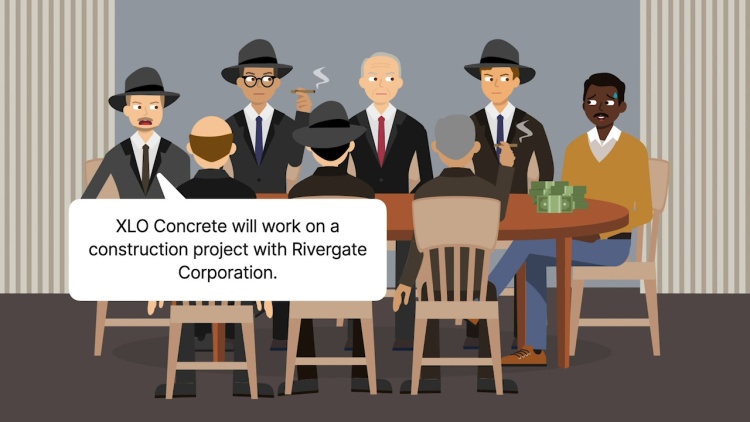 Facts
X.L.O. Concrete Corp. (X.L.O.) (plaintiff), a subcontractor, entered into a contract with Rivergate Corporation (Rivergate) (defendant) to do work on a project in Manhattan which included building a concrete super-structure. X.L.O. completed the work and, after Rivergate refused to pay the balance due on the contract, commenced an action against Rivergate. Rivergate asserted a defense alleging that the contract could not be enforced because it was illegal under the Donnelly Act, an antitrust statute. Rivergate alleged that the contract was an integral part of "the Club" which engaged in bribery and extortion. The Club consisted of a conglomeration of organized crime bosses called the "Commission," seven concrete construction companies conducting business in New York City and various labor organizations. The Commission typically determined what concrete companies would be allowed to perform large contracts and took back a percentage of the contract to guarantee that there would be no labor problems. The Commission also engaged in bid rigging. The Commission would use threats of labor unrest or violence to maintain control. X.L.O. had joined the Club prior to entering into the contract and Rivergate had full knowledge of the Club's activities at the time of contract negotiations. The Commission assigned the Rivergate project to X.L.O, who paid the requisite percentage for labor peace, and then negotiated a contract with Rivergate. The trial court dismissed the complaint and, upon appeal, the Appellate Division re-instated it. Rivergate then appealed to the New York Court of Appeals.
Rule of Law
Issue
Holding and Reasoning

(Ciparick, J.)
What to do next…
Unlock this case brief with a free (no-commitment) trial membership of Quimbee.

You'll be in good company: Quimbee is one of the most widely used and trusted sites for law students, serving more than 545,000 law students since 2011. Some law schools—such as Yale, Berkeley, and Northwestern—even subscribe directly to Quimbee for all their law students.

Unlock this case brief

Read our student testimonials

Learn more about Quimbee's unique (and proven) approach to achieving great grades at law school.

Quimbee is a company hell-bent on one thing: helping you get an "A" in every course you take in law school, so you can graduate at the top of your class and get a high-paying law job. We're not just a study aid for law students; we're the study aid for law students.

Learn about our approach

Read more about Quimbee
Here's why 545,000 law students have relied on our case briefs:
Written by law professors and practitioners, not other law students. 28,500 briefs, keyed to 983 casebooks. Top-notch customer support.
The right amount of information, includes the facts, issues, rule of law, holding and reasoning, and any concurrences and dissents.
Access in your classes, works on your mobile and tablet. Massive library of related video lessons and high quality multiple-choice questions.
Easy to use, uniform format for every case brief. Written in plain English, not in legalese. Our briefs summarize and simplify; they don't just repeat the court's language.