From our private database of 22,300+ case briefs...
NetJets Aviation, Inc. v. LHC Communications, LLC
United States Court of Appeals for the Second Circuit
537 F.3d 168 (2d Cir. 2008)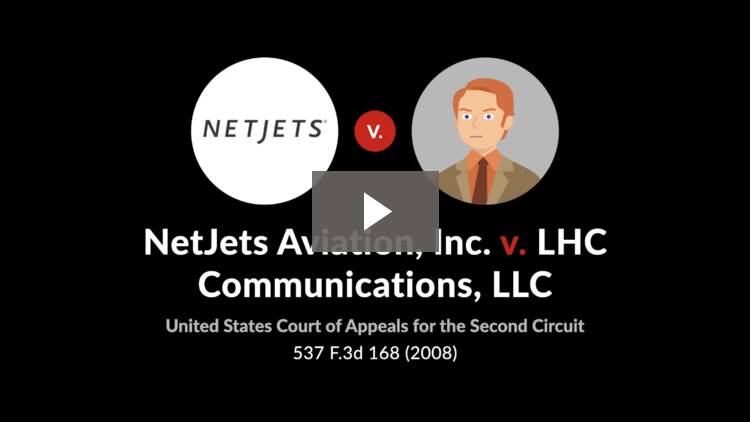 Facts
NetJets Aviation, Inc. (NetJets) (plaintiff) leased to LHC Communications, LLC (LHC) (defendant) an interest in an airplane for a term of five years. LHC was a limited liability company (LLC) whose only member-owner was Zimmerman (defendant). Zimmerman had sole authority to make all financial decisions with respect to LHC. He often withdrew money from LHC's account for personal use and transferred money into LHC's account from his own personal account. Zimmerman did not have any written agreements with LHC regarding this comingling of funds. Many withdrawals from LHC's account were for personal expenses, including a residence, phone and cleaning bills, a car, and health insurance for his family. Much of the flight time used by LHC under the lease with NetJets was used by Zimmerman and his family for personal trips. LHC terminated the lease agreement with NetJets about one year into the agreement. The next year, LHC ceased operations, owing NetJets a balance of $340,840.39. NetJets brought suit against LHC and Zimmerman. NetJets presented evidence that, among other things, Zimmerman took more money out of LHC's account than he put in, continued withdrawing money for personal uses even while refusing to pay debts LHC owed to NetJets, and identified his deposits to LHC as loans when other evidence suggests that they were capital contributions. NetJets filed a motion for summary judgment. The district court granted the motion with respect to LHC, but denied the motion with respect to Zimmerman's personal liability. The district court sua sponte granted Zimmerman, personally, summary judgment and dismissed the claims against him. NetJets appealed.
Rule of Law
Issue
Holding and Reasoning
What to do next…
Unlock this case brief with a free (no-commitment) trial membership of Quimbee.

You'll be in good company: Quimbee is one of the most widely used and trusted sites for law students, serving more than 518,000 law students since 2011. Some law schools—such as Yale, Berkeley, and Northwestern—even subscribe directly to Quimbee for all their law students.

Unlock this case brief

Read our student testimonials

Learn more about Quimbee's unique (and proven) approach to achieving great grades at law school.

Quimbee is a company hell-bent on one thing: helping you get an "A" in every course you take in law school, so you can graduate at the top of your class and get a high-paying law job. We're not just a study aid for law students; we're the study aid for law students.

Learn about our approach

Read more about Quimbee
Here's why 518,000 law students have relied on our case briefs:
Written by law professors and practitioners, not other law students. 22,300 briefs, keyed to 984 casebooks. Top-notch customer support.
The right amount of information, includes the facts, issues, rule of law, holding and reasoning, and any concurrences and dissents.
Access in your classes, works on your mobile and tablet. Massive library of related video lessons and high quality multiple-choice questions.
Easy to use, uniform format for every case brief. Written in plain English, not in legalese. Our briefs summarize and simplify; they don't just repeat the court's language.