From our private database of 30,900+ case briefs...
Stampede Presentation Products, Inc. v. Productive Transportation, Inc.
United States District Court for the Western District of New York
2013 WL 2245064 (2013)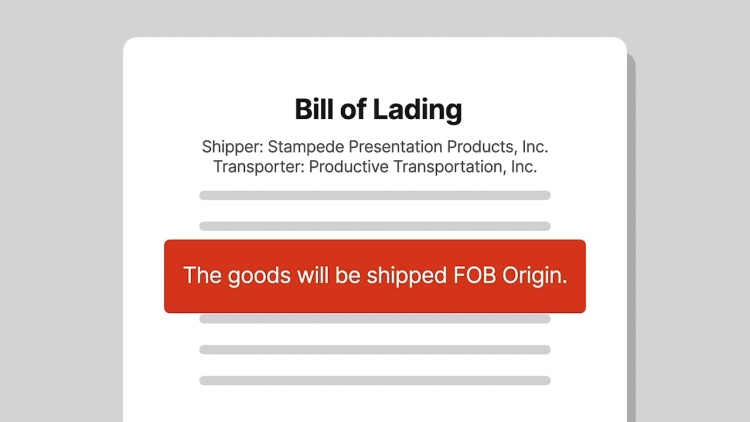 Facts
Stampede Presentation Products, Inc. (Stampede) (plaintiff) purchased 960 flat-screen televisions from 1 SaleADay (defendant). The purchase invoice for this transaction said that the televisions were to be shipped to Stampede's customer in Illinois. Stampede hired Productive Transportation, Inc. (Productive) (defendant) to transport the televisions from 1 SaleADay's warehouse in California to Stampede's customer in Illinois. The agreement between Stampede and Productive was set out in a bill of lading that said the goods were to be shipped "FOB Origin," which is trade shorthand meaning the seller's responsibility ends once the carrier picks up the goods for transportation. Additionally, the bill of lading identified Stampede as the shipper. Productive then subcontracted with MML Transport to transport the televisions. MML Transport picked up the televisions, but the televisions were either lost or stolen in transit. Stampede sued Productive and 1 SaleADay, alleging, among other things, breach of contract. 1 SaleADay moved to dismiss Stampede's claims. 1 SaleADay argued that it had a shipment contract with Stampede that placed the risk of loss on Stampede once the televisions were transferred to MML Transport.
Rule of Law
Issue
Holding and Reasoning

(Schroeder, J.)
What to do next…
Unlock this case brief with a free (no-commitment) trial membership of Quimbee.

You'll be in good company: Quimbee is one of the most widely used and trusted sites for law students, serving more than 553,000 law students since 2011. Some law schools—such as Yale, Berkeley, and Northwestern—even subscribe directly to Quimbee for all their law students.

Unlock this case brief

Read our student testimonials

Learn more about Quimbee's unique (and proven) approach to achieving great grades at law school.

Quimbee is a company hell-bent on one thing: helping you get an "A" in every course you take in law school, so you can graduate at the top of your class and get a high-paying law job. We're not just a study aid for law students; we're the study aid for law students.

Learn about our approach

Read more about Quimbee
Here's why 553,000 law students have relied on our case briefs:
Written by law professors and practitioners, not other law students. 30,900 briefs, keyed to 984 casebooks. Top-notch customer support.
The right amount of information, includes the facts, issues, rule of law, holding and reasoning, and any concurrences and dissents.
Access in your classes, works on your mobile and tablet. Massive library of related video lessons and high quality multiple-choice questions.
Easy to use, uniform format for every case brief. Written in plain English, not in legalese. Our briefs summarize and simplify; they don't just repeat the court's language.